Launch Maritime Festival in Maine
New Englanders have been a patient bunch this year awaiting the warmer temperatures and good beach weather. If you're looking to kick of the summer season in seafaring style, head to the second annual LAUNCH!, a Maritime Festival in Maine, June 15-18th.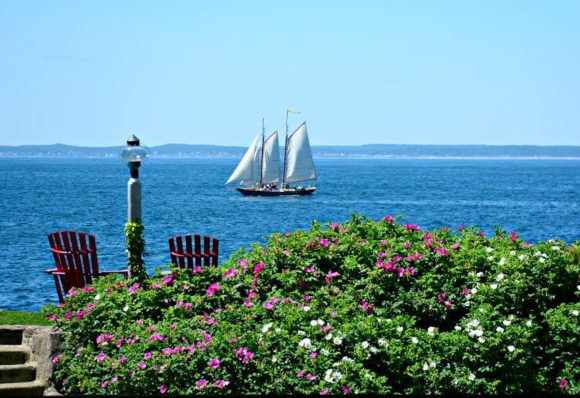 Celebrating the rich coastal history of the area, Kennebunk, Kennebunkport and Arundel will be filled with activities dating back to the 1600's mixed with a modern twist.
Shipbuilding, lobstering and commercial fishing have made this area famous and continue to be an important part of the lifestyle and culture. Families and couples of all ages will be able to enjoy the traditions of yesteryear in a contemporary festival.
Bringing to life this integral part of the towns' lifestyle and culinary scene, LAUNCH! will highlight the community's love of the sea through various events and activities over the three days. Young and old will be entertained with culinary offerings featuring Castaway Cove at the Seafood Center of Maine with homemade clam cakes and ice cream and a touch tank filled with creepy crawlies from the sea.
A "Chopped" style chef competition and a chowder cook-off guarantees lots of favorite seafood sampling. Local food trucks gathering in downtown Kennebunk put the exclamation point in Lauch! foodie experiences.
Bring out your inner mermaid at the Sailors & Siren's 5K. Work up an appetite with a beachside run complete with nautical costumes, sure to be a crowd pleaser with many a photo op.
This year there is the addition of a Pirate Pub Crawl  featuring a beer specially brewed for the maritime festival in Maine. Kennebunkport Brewing Company will introduce Launch! beer.  In addition, there will be an authentic Lobster Bake with the ubiquitous red and white checked tablecloths at the Pilot House, overlooking the Kennebunk River. Fresh and local seafood will be the focus of the many food-centric activities. It's all part of an iconic New England summer.
Families can enjoy historic walking tours with costumed interpreters from the Historical Society sharing legend and local lore, a buoy decorating experience and a bouncy house for kids. Stroll along the river green and get familiar with area crafts and local artisans. Couples can take a brewery tour and enjoy a tasting at the Kennebunkport Brewing Company or enjoy the VIP "Rock the Boat" adults-only shipboard after party.
Saturday evening's instagram worthy event will be a spectacular River Lights boat parade, free to all attending. Sunday morning, the festival will conclude with a resurrection of the traditional Blessing of the Fleet in beautiful Cape Porpoise village, wishing captains and crew a safe and bountiful season.
Several hotels will offer nautically themed packages to celebrate LAUNCH! The selection of  historic Inns and B&B's in the area offer a range of options, antique décor and indulgent gourmet breakfasts. My favorites include Captain Jefferds Inn,  the 1802 House and the Inn at English Meadows. Each are unique in their own special way and wonderful!
If initial ticket sails are any indication, LAUNCH! Maritime Festival in Maine will be the can't miss start of the summer season in New England for coastal travelers and residents. The Kennebunk, Kennebunkport, Arundel Chamber of Commerce can assist visitors planning their stay. For information on hotel room availability and more event details, please call 207-967-0857, visit Go Kennebunks or Launch! Festival.
Traveling to Maine this summer?
SaveSave
SaveSave
SaveSave
SaveSave
SaveSave
SaveSaveSaveSave