Kenya's Loisaba Tented Camp and Best Things to Do
The magic of Africa awaits in a dreamy and life-changing bespoke adventure. Loisaba Tented Camp is the perfect combination of luxury and responsible travel; the bucket list safari vacation you've always wanted to take.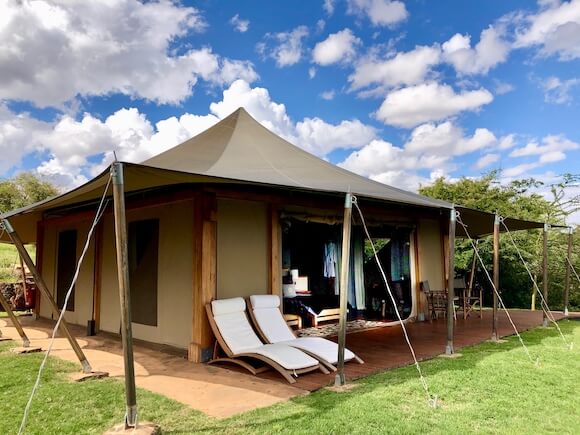 Found in the highlands on Laikipia Plateau, the property occupies an enviable setting with expansive views of the Karissia Hills and off in the distance, Mount Kenya. Loisaba Tented Camp is one of three luxury properties located within the Conservancy of the same name and the ideal setting for the ultimate wildlife holiday in Kenya.
All three of the interior properties in the Conservancy are part of the Elewana Collection, which includes Loisaba Tented Camp, Loisaba Lodo Springs and Loisaba Star Beds. The location allows guests unprecedented access to animals within the conservancy, including the country's second largest population of elephants and a healthy lion population.
As part of an active cattle ranch, wildlife research and community conservation are integral parts of the day to day operations. Animals are free to roam without fences and the area is a haven for over 250 bird species. Two rivers flow through the conservancy year-round making it an important drinking haven for wildlife throughout the seasons. While the Masai Mara, Lake Nakuru National Park and Amboseli Park might be more well known, Loisaba has the advantage of an exclusive one-of-a-kind experience it's difficult too replicate elsewhere.
History of Loisaba Conservancy
Readers might be surprised to learn that Loisaba Conservancy, a park larger than many of Kenya's other national parks, was the original vision of an Italian Count. During a visit in the 1960's the area's beauty and rich wildlife captured the heart of Count Ancilotto. He purchased a wide stretch of land with unhindered views across the bush. Living in the shadow of Mount Kenya, the Count called it home for 30 years.
Almost 20 years later, he leased the land to a group of young Kenyans and an American investor who began the transition into a successful trinity of tourism, ranching and conservation.
In 2014, the Count's daughter made a critical move by selling the property to The Nature Conservancy and Space for Giants, thus ensuring the land will be protected for future generations of both tourists and wildlife in the Loisaba Community Trust.
By following its core values of responsible travel and development, Loisaba is able to insure the the area will remain sustainable and self-reliant. Working in partnership with additional community led conservancies, the local population better understands the value eco-tourism brings to their land. That understanding is critical in eradicating animal poaching. If the local community doesn't buy into the concept, conservationists are fighting a losing battle. Space for Giants offers a frightening statistic:
One in four elephants alive in 2007 has since been killed. 
Loisaba's vision of establishing 15 million acres of conservation-managed lands across northern Kenya is both admirable and promising. Visitors will find it very exciting to experience this empowering story of conservation. The successful collaboration between conservation, communities, low-density ranching and tourism is an award-winning model for others to emulate.
Getting There
Elewana's luxury Loisaba Tented Camp is in a secluded area of Kenya's Laikipa county. While most guests will travel by air on small bush planes, my travel partner and I chose to drive across this remote part of Kenya from Lewa Safari Camp.
The four and ½ hour journey gave us extraordinary views across the Laikipia plateau and savanna and brought us through small colorful villages and abundant marketplaces along the way. Mount Kenya's shadow often followed in the distance. While flying from camp to camp is certainly a time saver in Africa, and one we chose for departure, if time allows, driving is a worthwhile alternative offering numerous sensory rewards.
The Best Things to Do at Loisaba Tented Camp
Visitors will quickly learn there's much more to Kenya than wildlife safaris!
Support Conservation and Responsible Travel
Loisaba Conservancy is one of those rare places where conservation and a luxury stay go hand in hand with total respect for the environment. Eco warriors are hard at work inside the ridges and savannas of the 56,000 acres of wilderness located in Laikipia county.  Looking at the macro picture, Loisaba represents an indispensable link opening safe passage in the elephant movement corridor.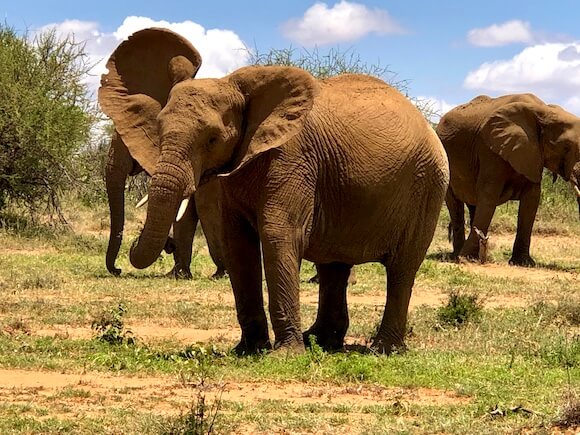 The Elephant Corridor
The corridor is an essential migration route, mapped using collared elephants. Moving from north to south, the route includes such mitigators as a highway underpass allowing the animals and villagers to co-exist and move safely near busy roads and new development.
Loisaba is critical for wildlife due to its year-round water and well managed grass. It links dry season grazing areas in Laikipia County with wet season range to the north. Keeping Loisaba intact will help ensure that Kenya's wildlife-based economy stays viable and resilient

—Matt Brown, Africa conservation director for the Nature Conservancy
Tourists are often confused about the How To's of incorporating responsible travel into their itinerary. One of the best suggestions for supporting conservation here is simple. Begin with a decision to stay at Loisaba Tented Camp. Guests are traveling responsibly by choosing one of the eco-friendly Elewana properties.
Visitors to Loisaba are offered a myriad of activities to experience the wildlife and landscape on many different levels. Elewana Loisaba boasts a fleet of custom-designed Land Rover safari vehicles for game driving both day and night. Other activities include horseback-riding, camel-trekking, guided bush walks, fishing, mountain biking, cultural visits to Samburu villages and visits to the anti-poaching sniffer dogs.
Wildlife Lovers Game Drive
One of the best ways to view the kaleidoscope of abundant wildlife in Loisaba is on a game drive. Vehicles are well equipped and custom designed, ensuring that everyone has a ringside seat. Blankets and jackets protect against cold, wind and rain.
Binoculars can be passed around, and game drive frames and roll bars give guests something to hold on to as you cross hill and dale where the wild things are. Game drive options include early morning and late afternoon, each unique in the opportunities to see a wide variety of flora and fauna.
The excellent guides are in constant radio contact with each other providing detailed coordinates of animals they've spotted in their location. Sometimes a riverbank is the viewing locale, but the open plains and more heavily treed areas also provide great chances to see four of Africa's Big Five in Loisaba Conservancy.
Experience Some of the Best Guides in Kenya
One of the standout experiences of my stay at Losiaba's Tented Camp, Elsa's Kopje and Lewa Safari Camp was the high quality of the guides. Travelers know a guide can make or break an experience. As I got to know each of our guides during our game drives, I was so grateful for the insider knowledge Akiba, George and Lomello shared with us. Later, I had the opportunity to speak at length with the general manager of Loisaba Tented Camp, George van Wyck.
 We are originally from Zimbabwe where I was a professional guide for over 30 years. We (my wife and I) moved to Kenya in September 2014. Loisaba is the fourth property that we have run for the Elewana Collection. We were originally in the Shaba National Reserve at the border region north of here for 18 months. Then we did seven months down in the Masai Mara, followed by three years at Elsa's Kopje in Meru National Park and then moved here in August 2019. It is a common thing to move around the properties as you move up the ranks.
George shared that Elewana invests heavily in guide training across their collection of 16 properties in Kenya and Tanzania.
Some people remain as professional guides all their lives, I still do a bit of guiding myself from time to time. Elephants are my passion and I spend any time I can with them. Loisaba Tented Camp is a very exciting property to be a part of. This is certainly a property we are looking forward to getting our teeth into for a number of years to come."
The standard of the guides is very, very good. By rotating to different camps, they have insight to all of Kenya. For many (visitors) this trip is a once in a lifetime bucket list trip.  It is a tremendous privilege as well as tremendous responsibility to make or break that experience.
I can't underscore enough how fortunate I felt to be the recipient of that knowledge on each day. What a significant difference it made on each bespoke adventure.
Double Your Big Five Bucket List with Kenya's Big Five
Every first timer to Africa has Viewing the Big 5 at the top of their bucket list. The lion, leopard, Cape buffalo, elephant and rhino are the African Big Five. In Loisaba Conservancy, you can tick off 4 of these magnificent creatures and I am assured by those in the know the eastern black rhino will soon be introduced again once fencing is complete to make the list all-inclusive.
Originally, the list had roots in big game hunting. These five were the most dangerous animals to bring home in a trophy hunt. Fortunately, in 1977 hunting of these creatures was banned in Africa and the tourism industry was able to successfully market the big five as the bucket list animals to see on an African wildlife safari. In Loisaba,  you can add Kenya's Northern Five as well.
Kenya's Northern Five
With 25,000 animal species in Kenya, you'd be doing yourself a disservice by not looking further into the rich biodiversity found here. Like many of us, if lists are your thing, you can also add a second group–Kenya's Northern Five to the that checklist.
Keep your eyes peeled for the East African Oryx, an endangered population that looks like a cross between a goat and a gazelle. Their specific adaptations allow them to conserve water and hold off sweating until the temperatures reach over 115 degrees.
Second on this list is the Giraffe Gazelle, a vegetarian whose discerning feature is their elongated neck. Living in small groups, they are the hardest to spot of the five, as they are also the rarest. These gazelles prefer to eat from trees and you'll often see them on their hind legs stretching to get goodies off the branches.
Zebras are one of the most dramatic herds to see along the African plains and savanna. Standing in mass against the azure skies, they make quite a visual site. As one of the largest zebra species, the Grevy can be identified by their larger ears, mane and the black stripe that runs down its back. They also have white stomachs. One of many interesting animal facts Lomello shared with us is the fact that all zebras are born black. The white stripes grow in as the animals age and act as a cooling system for the zebras. The Grevys are increasingly endangered because of habitat loss.
Northern Kenya is also home to the reticulated giraffe. Their characteristic long necks allow them to eat the upper leaves and fruit of the acacia trees. The darker the spots, the older the animal is and no two giraffes will have the same spots. Polygonal in shape, they are separated by bright white lines. Each patterning is unique like a set of fingerprints. This is the giraffe most commonly found in zoos, but in the wild, under 9,000 remain.
The Somali Ostrich rounds out the group of Kenya's Northern Five. With a population categorized as vulnerable, they were only recently distinguished as a species separate from the Common Ostrich. Look for their ice blue necks and legs accented with red markings on their shins of the males. Females are larger than the males and have a pinkish skin coloration.
Go Luxury Glamping at Loisaba Tented Camp
One of the most chic and exclusive boutique stays you can have in Africa is at Loisaba's Tented Camp. Combining eco-friendly design with African themed elegance, the property is nestled on the edge of a bluff with breathtaking views across a dramatic landscape. When Mother Nature cooperates, Mt. Kenya reigns in the backdrop.
The camp is thoughtfully designed with just twelve tents; each accommodation takes advantage of the expansive panorama. Guests will enjoy the ultimate in glamping experiences. The flawless transition and blending of the camp into the landscape is evident from the moment you step foot on the property.
The spacious and airy gathering tent includes a large living space for relaxing with a beverage from the attached bar. Next door an additional tent presents dining with floor to ceiling "windows" taking advantage of the views. Large wooden decking further enhances the outdoor space and a pool/lounge area welcomes guests to relax beside one of Africa's most gorgeous infinity pools. Below this area a staircase leads to a fire pit overlooking the watering hole further afield.
There is no sacrificing any modern amenities during your Loisaba stay. From the Afro-chic furnishings, to the plush robes, high thread counts, and rain shower fixtures visitors needn't worry about comfort level. The interior of the individual tents presents a unique accommodation, combining luxury and nature in the very best of ways.
One of the spots with the most breathtaking views was our private pool area. Equipped with an outdoor kitchen and dining space, this is a three tent (mini Loisaba) complex which would be especially wonderful for a group or multi-generational travel. The area is bold, dramatic and truly unique.
Fire devastated Loisaba Tented Camp in 2015 and rebuilding began the following year. The silver lining of the tragedy was the incorporation of even more sustainable practices into the project garnering awards and accolades from those in the industry.
The sustainable restructuring involved a comprehensive grey water system used for irrigation, impressive collection of rainwater and expansive use of solar power. Cattle and goats, milk, eggs and local produce all come from the ranch and nearby farms.
Sleep Under the Stars
Just a short distance from the tented lodge, the Loisaba Star Beds provide a chance to live out a sleeping under the stars fantasy. Sitting on a elevated platform, the beds are partially protected by a thatched roof. Constructed of enormous tree timbers and draped in a dreamy protection of mosquito netting, this sleeping experience brings glamping to a whole new level.
And because we don't spend the entire day in bed, rest assured the rest of the property is just as dazzling. The walk to your pod in the wild is on a raised wooden platform. Inside, after you catch your breath from the mind-blowing visual, guests will find an open-air rain-shower and washroom maintaining the luxe treehouse aesthetic.
When weather permits, the beds are wheeled out on to a stage overlooking Mother Nature's theatre. A waterhole with the sounds of the falls flowing below provides the background music. A stay here is a dream come true for anyone who has wanted to play a part in a true-life fairytale. Heated water bottles take away the chill and blankets adapted from the Maasai and Samburu patterned shuka chase away any cold temperatures trying to invade the the evening's one of a kind performance.
Waking up to the sunrise is truly a pinch me moment. Hot coffee or tea is delivered at the requested hour. Songbirds serenade, hippos are drinking along the kopje of rocks in the water below. All is right in the world; the memory will live in my mind's eye forever.
Up at the main lodge, an indoor fireplace opposite comfy couches and arty travel books makes for a cozy spot to curl up and process the day's activities.
Dinner by candlelight of local grilled fish follows an evening game drive. Breakfast on the outdoor terrace of local fruits and eggs and strong Kenyan coffee couldn't have been a better way to start the next day after sleeping under the stars of the endless African sky. I can't say enough about the warm Kenyan hospitality I received at every turn during my stay.
Visit a Samburu Tribe at Loisaba Tented Camp
The Samburu are a sub-tribe of the more well-known Maasai. As a semi-nomadic group, they herd cattle, sheep and goats. Originally from the Nile Valley, this group of Nilotic people migrated south hundreds of years ago to an area between Mount Kenya and Lake Turkana.
Well known for their commitment to sustainable tourism, Elewana works closely with local communities. At Loisaba, the hotel group provides health care and education thru partnerships with locals NGOs. Developing positive economic growth for local communities thru tourism is the key to defeating wildlife poaching. The relationship must be symbiotic. Guests are able to connect with the communities through a variety of activites. One such undertaking was a visit to a local Samburu tribe in a nearby village.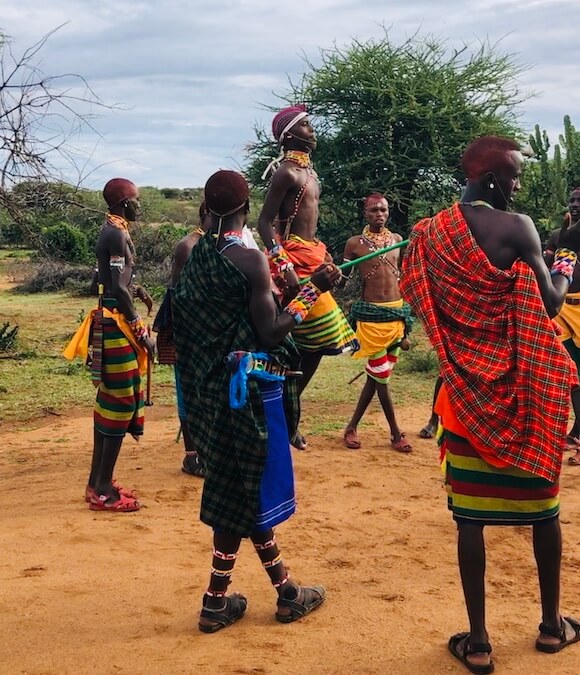 Our guide at the village, the son of the elder, spoke extensively about the transition to the different stages in life. Each is marked by ceremonies and rituals that have their beginnings in ancient tradition. Afterwards, the young men of the village demonstrated adamu, commonly referred to as the jumping dance.  We were then welcomed into a mantana, a hut made of cow-dung and branches, where each family lives. The entire experience was surreal.
As a travel writer, I crave the authentic, deeper and more meaningful piece of an itinerary. I am often conflicted about these visits; they are usually staged for the visitor, and can make one feel uncomfortable. There's a fine line between a learning experience and locals on display for tourism.
Over the years, I've had such experiences around the world. Dancing in Rajasthan, cooking lake fish in Myanmar and a music performance in Molokai are three that immediately come to mind. Many more swirl in my travel bank sub conscious. I've come to realize that when responsible tour operators engage with sensitivity and respect for local culture, guests can come away with a better understanding and appreciation for indigenous communities, their culture and  living conditions. And, if you can get out of your own way the adventure can  be a remarkable experience no matter how staged it might feel in the moment. Having a temporary window into diverse cultures is a privilege of travel. Connecting with an exchange of universal smiles can be understood in any language and leave a lasting impression.
My beaded bracelets. made by the village women will always remind me of Loisaba and help me spread the word about this life changing trip. Cross cultural exchange  will always be a good thing. No matter where I travel, I always hope to come away with a deeper appreciation and understanding of the country and culture. A visit such as this is part of the process of sharing authentic local knowledge and ancient traditions.
Camel Safari
My pop culture mind immediately swings to the Sex in the City women when I hear the term camel safari. Miranda in flowing silks having a moment in the sand dunes of Morocco. I was not anticipating finding camels at Loisaba Tented Camp!
In actuality, a camel safari gives true meaning to the Swahili word safari–as this adventure is truly a journey. Moving across the plains atop a camel with a Samburu guide illustrates the intimate relationship between he and the animal.
Historically, the Samburu and other tribes have used camels to transport their nomadic camps across the wilderness. Like a walking safari, this adventure allows guests the chance to see the landscape on a more intimate level. Following animal tracks, my guide points out different kinds of scat and I learn more about elephant poop than I ever thought possible. Within minutes we were yards from a giraffe twosome striping leaves from the thorned acacia tree.
There is a special calm that comes from being surrounded by the wilderness without a motor in earshot. The motion of the camel, the wide expanse of the savanna and the surreal sight of a Samburu warrior leading the adventure is truly an unforgettable part of the Elewana customized safari.
Walking Safari–Loisaba Tented Camp
Charging elephants, ferocious lions and dangerous snakes. These are the first images when I thought about a walking safari at Loisaba Tented Camp. However, a bush walk is not really about a risky experience. Getting two feet on the ground is all about an immersive encounter. You'll learn about tracking techniques, scat (poop) and the flora and fauna in a more holistic way. Guest will learn they never want to be downwind of an elephant or lion for that matter.
This is a slow-paced adventure where you'll spot small details often overlooked when your bumping by in a safari vehicle. Wildlife is from a different angle when walking and if the wind is right, your guide might even follow the tracks of big game.
A walking safari a Loisaba Tented Camp brings an up-close understanding of the African wilderness and can be uniquely crafted for every kind of traveler. Guests can take nature walks-on their own within the perimeter fence around the camp or book a guided walk with an armed ranger out in the conservancy.
as van Wyck explained –Walking is my favorite thing to do. It gives you an opportunity to get out of the car, put your feet on the ground and have a look at all the interesting little things that you miss when you are in the vehicle. You can look at tracks and beetles and taste fruit and smell flowers and feel things in a much more enriching experience that puts you more in touch with nature I always say.
Being an active participant will allow your senses to come alive. You'll learn about animal tracks and local vegetation–how plants are used medicinally and how the entire eco-system works together. It's all about an authentic experience in the bush.
Adding to this concept is the van Wycks desire to install a game hide overlooking the waterhole below the camp. This would add another dimension to game viewing and guests would be able to observe and photograph wildlife from the protection of the shelter.
Birdwatching in Loisaba Conservancy
An array of spectacular animals can be seen while traveling through the conservancy to Loisaba Tented Camp. Majestic lions, leopards precariously balanced in acacia trees, the endangered reticulated giraffe and the dizzing herds of Grevy zebras were just the short list of my daily game drive.
Guests might also be surprised to hear there is an additional category of wildly diverse vertebrates–over 250 species of birds. At the top, the Verreaux eagle with a wingspan of almost nine feet can be seen riding the winds currents. Binoculars might come in handy for catching a glimpse of the minute firefinch weighing in at less than an ounce.
Kenya's national bird, the lilac-breasted roller, is a colorful beauty. I'm not that much of a birdwatcher, but must admit to being quite chuffed  when I (okay, our guide, Lomello) spotted the enchanting creature just a few feet away on our ride to the airport. Sporting almost every color of the rainbow, they can be seen diving to capture grasshoppers, lizards and beetles before flying back to the trees.
Keep your eyes peeled for the grey-crowned crane. These birds breed for life and stand over 3 feet tall. Topped with an impressive crown of feathers, the elaborate dance they perform with jumping and bowing could compete in an avian Dancing With the Stars. You might catch it any time of year, as they are active even during non-breeding periods. Gotta work to keep those monogamous relationships alive even in the world of flight.
Samburu Celebration Spa Journey at Loisaba Tented Camp
A signature spa treatment is always a good way to dig a little deeper into local culture. I always try and search out natural body products using local ingredients before I travel to a new destination. I knew African shea butter had its origins in this culture centries ago and has been used to treat skin and scalp ailments. The fat is a byproduct extracted from the edible nut of the shea tree. I was familiar with the brand Alaffia, an award winning Fair-trade company, and find their product even superior to cocoa butter for dry skin. They source many of their natural ingredients from Africa.
Treatment begins with a Samburu foot ritual. Salt crystals are mixed with local healing herbs and extracts to purify outside elements and ensure positive flow of energy. After a body polish using a heady combination of coffee and orange oils, your skin is ready to receive the relaxation massage. Shea butter, coconut oil and fragrant spices renew both body, mind and soul in delightful harmony. Yes, I was glowing!
Rain sticks transport you into a gentle and cooling rainstorm in the savanna. The soft sounds gently bring your mind back to reality with a fusion of traditional celebration. Your masseuse will leave you with a final gift of tribal beadwork from the indigenous Samburu connecting your treatment to Mother Earth and all her powers of renenwal.
The Sundowner Tradition
The tropical grassland begins to change color when the day starts to transition. As the golden hour sets in, the African tradition of a Sundowner marks the easing into the Golden Hour. A warm rainbow of hues–unique, just like the day's events–slowly paints the sky into an ombré display of color.
Our guides always managed to find the perfect place to wind down and reflect on the amazing visuals of the day. What began with a medicinal origin, has become an integral part of the safari experience. Whatever your sundowner of choice (and rest assured it will have been carefully planned) the quiet time of winding down, comparing notes and being present in the moment will become one of your favorite memories from a luxury safari at LoisabaTented Camp.
Final Thought from Loisaba Tented Camp
When asked if he had a final thought to leave with my readers, van Wyck smiled,
I love that moment when guests fall in love with Africa. They are hooked, Africa is hopelessly addictive. You will always want to come back and plan the next trip as soon as you get home. It's a wonderful thing to be involved with the conservation of wildlife. Come and experience it, this adventure is a life changing experience, there's no doubt about that. The message I'd like to communicate is–come and experience it. 
I couldn't agree more!
PIN ME For Later ♥ Loisaba Tented Camp
Disclaimer: The author was the guest of The Elewana Collection during her trip to Africa. As always, experiences and content on Green With Renvy are the opinion and reflection of the writer without edit from outside sources. We always (and only) want to share fantastic responsible travel experiences we believe our readers will enjoy.