JetBlue Mint Experience A Luxury Flight
When you travel, do you want luxury amenities without paying the hefty price tag flying from  coast to coast? In the past, travelers would have to wait in long lines at the ticket counter or at the gate to  put their name on a list for a flight upgrade. Another option was to just bite the bullet and pay the business class ticket. Ouch! A JetBlue Mint experience offers another option for luxury seeking travelers.
With their Mint Service, passengers can take advantage of the luxuries that you would pay dearly for on legacy airlines for just a fraction of the cost of your average business class ticket. Tickets start at $600. depending on route and time of booking.
The company rolled out the Mint Service several years ago and it is available on select coast-to-coast and Caribbean routes. On a recent trip to Hawaii, my husband and I flew the JetBlue Mint experience on the LA-Boston portion of our flight. If you aren't sure if you should splurge and try it out, here are 8 reasons I think it's worth every penny, especially when you are traveling from west to east coast.
JetBlue Mint Experience Expedited Check-In
I don't know about you but I like to get in and settled as soon as possible, especially with an upgraded seat. Waiting in long lines at the airport appears to be the new normal, but with Mint, you don't have to worry about the checkin process taking a long time because you have priority checkin.
Expedited Security
My husband and I both have TSA Clearance, so security is usually not an issue. However, if you don't, another time saver is the expedited security clearance. You won't have to wait with the masses and can get thru what can be a snail paced line more quickly. This time-saver can be invaluable when in some airports(JFK and Orlando are you listening) the security screening process can take a hour or more!
Early Boarding
Mint also gives you early boarding so you can get in your seat ahead of the other passengers and enjoy a glass of champagne while getting acquainted with the amenities that await.
Longest Lie-flat Seats on JetBlue Mint Experience
Have you ever sat in coach on a cross country flight and wished you could just stretch out and get some sleep? Yes, right, I know-who hasn't! Well the biggest selling point for me are the lie flat seats. No more contorting your body or resting your head on the window.  Now you can lay down and enjoy the flight on the longest lie-flat seats on any domestic flights (they are over 6 feet long!). The seats also have massage functions, lumbar support, a TV and a myriad of places to store your valuables (and shoes, too).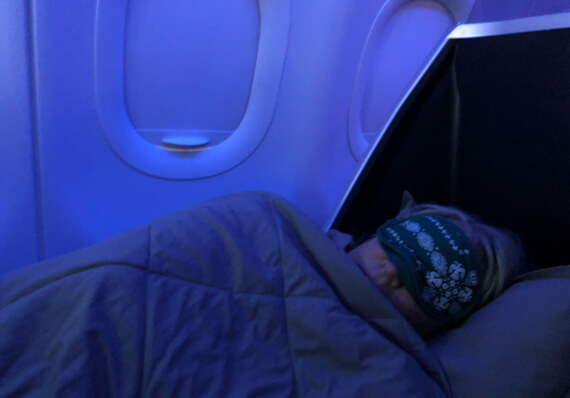 If you're traveling alone, grab the singles available in row 2 and 4. These are the best seats in the house, offering your own closed-door suite for additional privacy. (Row 2 is the seat in the feature photo)
Waiting on our seats atop sealed pillow and blanket was a signed personal note from the cabin crew. Touches like that are so rare these days. A little extra effort goes a long way; we were impressed. Once we settled in, our two flight attendants, Jessica and Angelica, greeted us by name and passed out menus while explaining the amenities in our cozy cubicles.
There was one bathroom at the front of the cabin reserved for Mint passengers and another across from the self-serve bar between Mint and the main cabin that was available for all passengers. The bathroom at the front of the plane was identical to those in the back, except only a few passengers were using it!
Accessory Kits
The accessory kit you receive at JetBlue Mint is from Hayward & Hopper, an American luxury brand inspired by Hollywood. Incuded are toiletries, ear plugs, face wipes, and a moisturizer. This way you can stay rested and refreshed when you arrive at your destination. Fingerless gloves and a pair of socks in the Mint navy and green brand colors complete the kit.  Hand-crafted SR60e headphones from Grado Labs in Brooklyn are also available and  will transform your Mint seat into an inflight theater.
Free Fly-Fi
I am a frequent flyer on Jet Blue-so I love there in flight wi-fi. It's such a help to be able to get a few hours of work done when moving from point A to B.  For me, It's one of the most productive times I have during travel. Anyone who has tried to use the pricey (and painfully slow) Wifi on most flights will rejoice on the JetBlue Mint flight as a ticket comes with free Fly-Fi access. This high speed internet access is complimentary and will allow you to stream your favorite movies and videos, as well as catching up on social media.
Meal Service JetBlue Mint Experience
Before takeoff, Mint passengers were offered the signature JetBlue RefreshMint pre-departure beverage. This honey-infused limeade with fresh mint can be made with or without vodka. We had one of each and found the flavors refreshing and tangy. Throughout the flight complimentary wine and beverages are available.
JetBlue is known for working with local purveyors. Who isn't a fan of their signature blue potato chips?  Meal selections are inspired by the New York City restaurant Saxon + Parole. The two companies pair nicely for a menu of "comfort food with a twist". Offerings change monthly and can be previewed on JetBlue's website.
In flight meals reflect that small business comittment, offering a rotating small plates menu of fresh and local, no matter what time of day. In addition, there are snacks of fresh fruit, munchies and cappuccino and espressso offered 24/7.
Our flight featured brunch, a choice of three selections:
fresh fruit
tomato soup
panetonne bread pudding
smoked gouda and carmelized onion omlet
A serving of Coolhaus sorbet finished off the meal as the sun was beginning to rise.
Jut before landing Jessica and Angelica served warm chocolate chip cookies from Milk Bar. A nice touch as the wheels touched down in Boston.
Luggage Priority at Baggage Carousel
When you finally land after a long coast to coast flight, if you are like me you can't wait to hit the ground running.Unfortunately, unless you're traveling with only a carry-on, there is one important and sometimes time consuming hurdle. The Baggage Carousel! Waiting at the baggage claim can take forever but with Mint, your luggage is the first to appear on the carousel and you can get out the door as fast as possible.
Overall Impression JetBlue Mint Experience
My first Mint flight exceeded expectations. From the comfortable seats, luxe pillow and blanket to the effort they make to include artisan makers of both food and ammenities, I'd have to say it was the best domestic business class product I've experienced.
Being able to sleep on a red-eye flight, deal with jet-lag and have a productive next day is a huge perk of flying Jet Blue's Mint service. When you factor in the work hours you gain from having a decent amount of sleep on a red-eye flight, the expense suddenly becomes a lot more affordable. Especially when you are self-employed. The JetBlue Mint experience is a luxury that has an excellent return on investment.
Pin Me 
♥

JetBlue Mint Experience
Pin Me Too 
♥ Save for Later