Island Luxury Marthas Vineyard Bed and Breakfast
The quintessential New England vacation formula usually includes a scenic seaside town and a picture-perfect inn. A Martha's Vineyard bed and breakfast provides the scenery for a unique island getaway; the chic Nobnocket Boutique Inn offers the very best luxury choice for an upscale island accommodation.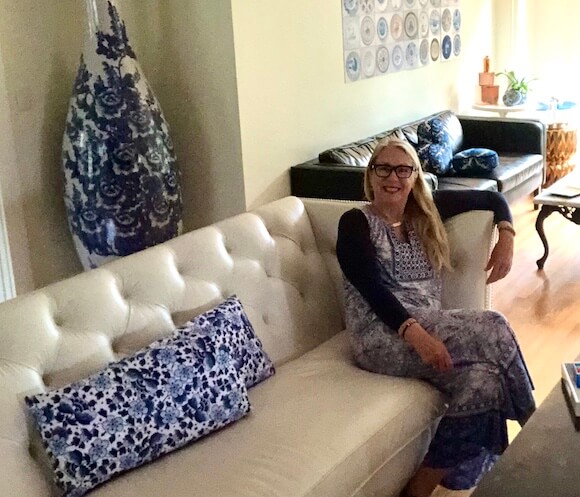 Combining understated Vineyard flavor with a modern nod towards timeless décor, the award winning Nobnocket Inn is named for the Native American area of Vineyard Haven where it is located. Just a short distance from the ferry, the property is a lush hideaway, complete with songbirds, an expansive green lawn and attractive flowering gardens.
The locale is ideal for guests wanting to explore the island in what feels like a country setting. A wide variety of outdoor activities on Martha's Vineyard allow for social distancing and a great way to dip your toes back into the travel scene.
The InnKeepers Journey to a Marthas Vineyard B&B
The route to Martha's Vineyard for owners  Annabelle and Simon Hunton was a circuitous one. Armed with a passionate desire to become innkeepers, their search for the right property began in Italy's Umbria region. They eventually said Ciao, as Italy was not meant to be. After a bid on a Cape Cod property was unexpectedly accepted, Annabelle and Simon quickly learned the ropes of seamlessly renovating a New England inn and hosting guests with aplomb. Five years later they sold West Harwich's Platinum Pebble Inn fully furnished with an offer "too good to refuse" from an unexpected knock on the door.
Their next stop might have been Martha's Vineyard, as the Nobnocket was on the market, and they took a look, but the two felt like a change of scenery was in order. Perhaps the south was calling their name. Savannah and New Orleans were options.
As they were exploring southern inn locations, fate again intervened. Friends on the Cape asked them to come back north for two weeks and run their Inn while they dealt with a family emergency. Another serendipitous trip to the Vineyard followed, and the rest, as they say, is history.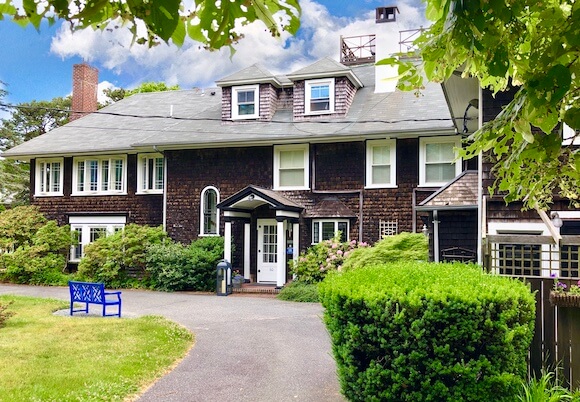 History of the Martha's Vineyard Bed and Breakfast
Built in 1908, the Hunton's property was known as The Doctor's House after a series of island physicians called the sprawling mansion home. They acquired the Arts and Crafts house in 2016 and used their previous experience to transform the Nobnocket into the luxury Martha's Vineyard boutique bed and breakfast retreat it is today.
Their worldly travels in Europe (the owners are British) shine through in the eclectic décor and accessories decorating the interior. International living in Brussels, Italy, Germany and France contributes to the flair.
It came as no surprise that living in the Netherlands for seven years played a role in the design aesthetic. Inspiration for the updating originated with a sensuous blue and white vase from the Delft company designed by post-modern Dutch designer Marcel Wanders. The clean lines, modern design and marine color inspiration would carry them through the renovation of the entire space.
Personally, I always enjoy a space that doesn't take itself too seriously and is designed with a touch of whimsy. Smaller boutique properties with a sense of place are my jam. Happily, touches that bring a smile are found throughout the Nobnocket.
Decoupaged plates are fashioned with fun sayings, a quirky metal sheep sculpture is a creative nod to the first domesticated animals introduced to the island. The hanging above the white couch is a clever way to introduce Dutch plates onto the wall with trompe l'oeil photography. Personal touches are carefully curated and allow the property to shine with its individual style.
Annabelle made a trip off island one day for supplies and  came back with an unusual piece that truly puts an exclamation point on the property's common space. Featured in the corner of the living room, guests will be reminded of The Daughters of Edward Darley Boit by John Singer Sargent in Boston's MFA. The enormous blue vase combines contemporary with traditional and feels perfectly at home in coastal New England.
Rest Assured Safety at Nobnocket Boutique Inn
For the summer 2020, rooms have changed slightly for recommended protocol by the CDC and the Commonwealth of Massachusetts. Personal touch items–such as pens, paper and magazines have been removed from the room. Masks are to be worn inside the property and hand sanitizer stations have been placed throughout.
The owners have gone above and beyond with several of their own touches as well. Bath towels, robes and toiletries are placed on the freshly laundered bed. A welcome envelope with room key removes hand to hand touch at check in.
TV and AC remotes are sanitized and thoughtfully placed in a sealed bag for safety.  With two staircases, guest traffic to the rooms goes up one staircase and down the other assuring no awkward staircase encounters.
Guests currently have the three options for housekeeping services:
 Daily housekeeping and evening turn-down service.
 Limited housekeeping with make-up of bed and towel change (if requested). No cleaning of room/bathroom.
 No housekeeping with no hotel staff entering room during stay. Replacement towels and amenities will be placed outside room ("Rest Assured" notice will be placed on door for the duration of your stay).
Nobnocket Rooms
The seven-bedroom property is filled with New England charm and tranquil sanctuaries There are many intimate spots to retreat to after a busy day of fun in the sun. The grande dame of the Nobnocket Boutique Inn  is the former owner's luxury suite complete with fireplace and soaking tub.
The additional rooms of the inn are located on the 2nd floor and overlook the surrounding 1.8 acres of landscaped grounds. It's hard to imagine the property, with all of the towering trees once had a view down to the water.
Bright white Frette luxury linens are a crisp contrast to the deep navy painted floors. Our corner room had windows on two sides. A ceiling fan and in-room air-conditioning provide additional options for temperature control.
The bath has a marble countertop with subtle shades of green running throughout. The moss color is again reflected on the floor of the glass and tiled walk in shower, a nod to  the waves rolling into the cliffs and beach surrounding the island. Gilchrist & Soames toiletries are appropriately from the company's London Collection.
Historic pedigree still remains, but has been updated and enhanced with modern amenities guests would expect in a boutique stay. Reinterpreting the past with an eye towards the future in an appealing casual luxury.
Ammenities at the Marthas Vineyard Bed and Breakfast
One of the best perks of visiting a boutique property is the owners being on site and actively involved with a guest's stay. The Nobnocket exemplifies this. The Huntons are intimately invested in each and every guest's stay.
Simon and Annabelle view insider tips as an important part of their job as hosts. They are ambassadors for the island and are filled with suggestions to help you navigate the area. Look to them for ideas for the ultimate sunset, the best farm to table dining or the most invigorating hike. They have taste tested, paddled and viewed an incredible selection. Annabelle has a particular expertise with testing masseuses. Afterall, it is her job!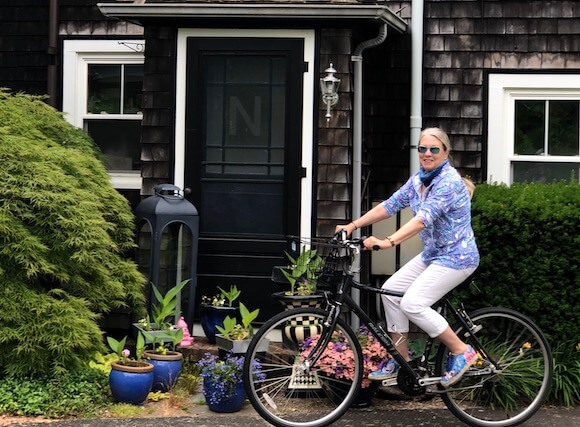 The location is perfect for exploring on the inn's complementary bikes, complete with helmets and locks. If you haven't brought your own, ask for one of their branded water bottles before you leave. A ride to nearby Oak Bluffs and Edgartown is easy enough to explore by bike. Pack a picnic and inn provided beach towels for a perfect recharge and rest stop at one of the many beaches along the way.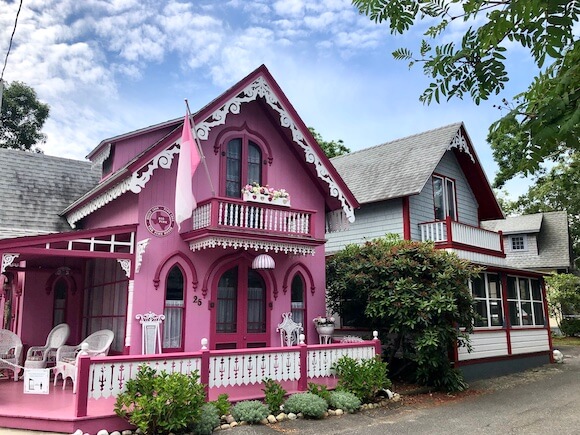 Croquet and an expansive collection of DVDs, books and games round out the activity list if you ever get enough of all the beaches and outdoor activities a Martha's Vineyard bed and breakfast getaway has to offer.
Complimentary wi-fi, on site parking, Frette luxury linens, and a fireplace in the inviting common area are just a few of the many amenities guests will appreciate. Although there is not a bar, there is a wine fridge and corkscrew for a BYOB option to enjoy in one of the many outdoor "rooms" the owners have created. Complimentary hot and cold drinks are also available, as are brandy, port and whiskey for a night cap.
On Site Food + Drink
For those of us who like to indulge in breakfast, the inn is ready to please. Breakfast is served between 8:30 – 9:30 am. Guests have the option of enjoying the meal in the privacy of your own room, outside on the lovely outdoor patio, in the sunroom, or on the side patio. Plenty of seating allows for easy social distancing, even if all guests were eating at the same time.
Annabelle is an amazing baker and the still warm bear claws stuffed with almond paste were a delight I am still dreaming about. Baguette and muffins rounded out the pastry basket with local jams on our first morning. The bento box was filled with yogurt from Mermaid Farm, freshly made granola, tart cherries and other fruits. Day two brought a poached egg with avocado along with fruit yogurt and granola. Coffee from Chilmark Coffee Company provided the wake up call.
Our first night we enjoyed a fantastic dinner at Garde East, recommended by Annabelle and Simon. Overlooking the Vineyard Haven harbor, I could not have asked for a more perfect view for an outdoor setting.
Sustainability Quotient:
Practices of the Nobnocket Boutique Inn
Green With Renvy's responsible travelers will be happy to hear about the sustainable practices of the Inn.
Serving and selling local products is part of the Nobnocket mantra.
The inn employs a water conservation program.
Their "Go Green" package stay is available for guests who don't want to bring a car to the island with bikes and bus passes available.
The Inn was selected to be a part of the +Impact Travel Collection
Local culinary tours are available with Farm.Field.Sea, Grey Barn Farm and Cottage City Oysters.
Renovation and restoration of a property is always a good thing.
♥
As I chatted with the owners, Annabelle left me with a parting thought…
It's said the Island picks you rather than the other way around.  When its done with you, it will kick you out. Simon adds–The place is absolutely magical. We were accepted right away, there's a year-round community here with a more diverse demographic that we love. We will always be wash ashores, and that's ok. We hope the island isn't done with us for a very long time!
Finding a welcoming respite at the end of the day in what can be a busy beach location, this property combines the best of island luxury with a pair of the most welcoming innkeepers travelers are sure to find. When visiting a Marthas Vineyard bed and breakfast, Nobnocket Boutique Inn should be at the top of your list.
Nobnocket Boutique Inn is located at 60 Mt. Aldworth Rd.  Vineyard Haven on Martha's Vineyard, Massachusetts. You can check availability on their web site.
Disclaimer: The author was a guest of the Nobnocket Boutique Inn for review purposes. As always, opinions and experiences are her own. 
Pin Me ♥ Marthas Vineyard Bed and Breakfast Nobnocket Inn