Innovation at Boston's Envoy Hotel
One of the fastest growing neighborhoods in Boston is the hotter than hot waterfront. Called by a number of different names, the Seaport district is home to scores of hip, new restaurants, the ICA, Boston's Design Center and residential real estate, often sold before it even hits the market. Located right in the center of it all, it's no wonder that guests find innovation at Boston's Envoy Hotel. Boasting a coveted waterfront vantage point, Forbes named the property Best New Hotel in Boston in January 2016.
The unique Autograph Collection of Marriott properties is a thoughtfully selected ensemble of exceptional, independent hotels characterized by quality, originality and unique details. A member of the Marriott Rewards program, their tagline reads "exactly like nothing else", and that is indeed a defining characteristic of The Envoy. The Autograph Collection spans across the U.S., Canada, Caribbean, Latin America, Europe, Asia, the Middle East and Australia/Pacific.
As you enter The Hotel Envoy Boston, guests are greeted by dramatic, oversized chandeliers made from up-cycled materials including coiled phone cords and rope. Collaborative work stations seamlessly fit into a sculptural seating area, and the unusual reception desk features an interactive background that mirrors guests movements at check in. Look closely at the portrait of a woman in sunglasses to reveal the artists' use of the once ground breaking VHS tapes as a canvas.
The private collection of art is thoughtfully curated and includes the work of many local artists. Each floor has a major piece greeting visitors as they step out of the elevator, which by the way, features a mural depicting the nearby ocean.  Materials are often recycled and textural; all are thought provoking.
The 136 fashionably designed rooms, including two suites,  have a boutique feel and easy vibe. Rooms are sleek and urban-modern with surprising splashes of color, often in the Envoy's signature yellow. Accents are carefully considered details, rooms are bathed in plenty of natural light with inspired views.  Furnishings are earthy, yet sleekly contemporary, constructed with reclaimed wood. TV stands specifically created for the hotel are made from up-cycled bike frames. EcoSmart televisions have Dynamic Power Saving technology which has won the Green Elsa Award for energy saving efficiency. An alternative to the standard minibar, ladder shelving or wooden trays offer organic snacks and environmentally friendly packaged water for purchase.
Wall coverings in the entry are made from recycled newspaper and magazines, an eco-friendly technique I wish we would see more of in the industry.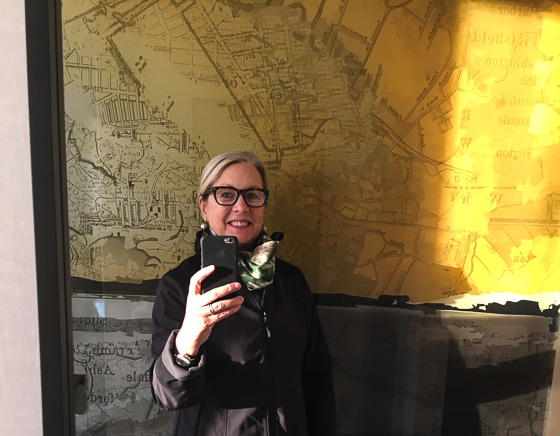 Baths are chic, glass cubicles etched with a collage of historic area maps separating the bedroom from bath. Fresh bath products, a favorite Boston founded company dedicated to natural ingredients, are featured. Classic rooms offer superior style with partial water or city views, workspace, Wi-Fi and contemporary comfort.
The bold interiors of the Deluxe King rooms are in sharp contrast to the city's traditional style but right in line with the emerging vibe of the Innovation District. Sophistication, well thought-out design and use of technology provide an artful space for water views through floor-to ceiling windows from floating king beds. Corner rooms and suites are a stunning 800 square feet and are the epitome of innovative, high-tech décor with a mirrored TV wall, gaming chairs and a 65-inch TV. Acrylic-legged tables offer a space for dining or conducting business without interrupting the magnificent floor-to-ceiling views.
The hotel offers a fitness center on the second floor, free Wi-fi throughout the property, valet parking and is pet-friendly. A vintage billiards table in the lobby has been reimagined into an interactive touchscreen workstation with six separate screens.
The location affords easy access to Boston's cultural, sports and dining options. From the hotel, guests can walk to the Institute of Contemporary Art, stroll Boston's Harborwalk, shop at historic Faneuil Hall or take a tour at Harpoon Brewery. The hotel's concierge assist with dining reservations, tours and tickets to hot shows and sporting events.
The Envoy Boston is home to two on-site restaurants. The Outlook Kitchen and Bar offers a "one of a kind" approach to dining with fresh, local, seasonal ingredients garnered from the Boston Public Market. Local seafood figures prominently. The s'mores desert is a hit with anyone who indulges.
Food is hand crafted, drinks are from small-batch distillers, microbreweries and single-vineyard labels. The bar offers craft cocktails, fresh juices and house-made sodas. The Lookout Rooftop and Bar has become an area hotspot. Panoramic views of the Boston skyline and harbor, one of the best in the city, top off the perfect social experience. The uniquely shaped bar offers intimate seating and glowing firepits. The covered seating areas have ceiling-mounted heaters for cooler evenings. House-made cocktails are prepared by master mixologists and the lite bites menu offers small plates perfect for sharing. Local spirits from Bully Boy distillers are served in both locations.
The hotel offers several packages, including an "Exactly Like Nothing Else Package" for foodies that includes a trip to the Boston Public Market with Chef David Verdo to source the ingredients for the evening's meal. Also included is a one-hour instruction and demo session with Chef Verdo, reservations for two at the intimate Chef's Table for dinner, autographed menu and photographs with the chef. The Institute for Contemporary Art package includes deluxe room accommodations for one night, complimentary valet parking, a cocktail for two at Outlook, and two tickets to the ICA.
Boston is a city full of culture, history, great restaurants and recreational  activities. The Harbor is a center for activity in the summer. Special events are held throughout the year such as the Boston Marathon, Pride Festival, Head of the Charles Regatta and the epic 4th of July Celebration with the legendary Boston Pops. With so many hotels to choose from, you can be sure that the Hotel Envoy Boston has thought of every detail and is a great base for exploring one of the oldest cities in America and my beloved hometown. There's no denying this area hotspot is the perfect place to eat, sleep and play. Buzzing with energy, you'll find an innovative jewel in Boston's crown at The Envoy Hotel, an authentic connection to the heart-beat of Boston.
Feature photo and Rooftop bar via The Envoy Hotel.