Homemade Face Scrubs for Glowing Skin
Sugar, fragrant olive oil, cinnamon  and coffee grounds. No, not the ingredients for a delicious tea cake, but everyday pantry items that can be mixed into  homemade face scrubs for glowing skin. You too can turn your home into a wellness retreat. With a bit of imagination and a scented candle or two, transport yourself back to that incredible spa treatment you had on vacation.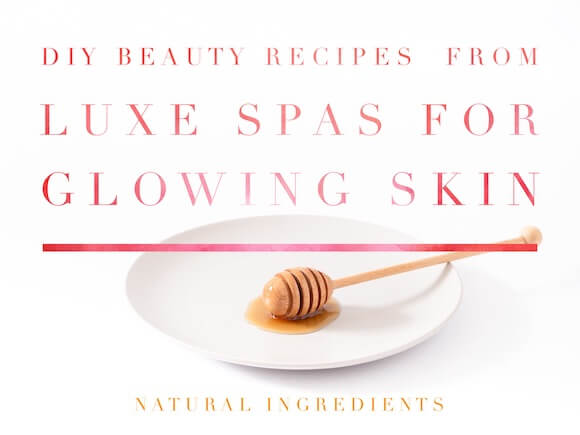 Self care is always important, but stressful times call for a focus on whole-body wellness and me time. You'd be hard pressed to find someone who hasn't stayed in sweat pants a day too long or left their hair in shambles because, aside from Zoom, there's little reason these days for anything fancy from the waist down! I've found during self quarantine that the little things can be a big mood-booster: a soothing scent, an aromatic meal, a fragrant soak. All can help me feel my best.
When I travel, a first-class spa is not a prerequisite, but somehow, I usually manage to squeeze in a massage or facial treatment just about every time I pack my suitcase. It does wonders for my psyche and even more for my jet lag. Focusing on practices that support our mental health and wellbeing are two of the best things you can do for yourself during times of stress.
I've had the good fortune to experience spa treatments all over the world. Looking for simple face scrub recipes with minimal  ingredients that could be found right in  your pantry, I turned to the beauty experts at some of the best luxury destinations around the globe. My daughter and I tested their recommendations for homemade facial scrubs for glowing skin and our favorites are featured below.
Early Natural Remedies for Skin Care
Honey
It should come as no surprise when talking about the history of natural beauty treatments, Cleopatra is involved. She was famous for her use of honey, adding the liquid to her milk baths to keep her skin smooth and firm. Other historical figures who used liquid gold in their beauty regimes include Nefertiti and the wives of Emperor Nero.
Olive Oil
Olive oil has a long history of being used as a home remedy for skincare. Egyptians used it alongside beeswax as a cleanser, moisturiser, and antibacterial agent since the times of the Pharaohs. And surprise–Cleopatra was said to use olive oil as a skin treatment, along with her other renowned beauty treatments such as her honey face scrubs for glowing skin.
Mud and Papaya
From my own household, my mother was a big proponent of natural remedies and still to this day I use a hot mud pack to quiet and remove the sting of a bee.  Meat tenderizer was always in the first aid kit when  waterskiing in case of an encounter with jelly fish. A small amount mixed into a paste is a time-honored remedy recognized by the American Medical Association for a variety of stings. The papain enzyme (taken from the fruit of the papaya tree) breaks down the protein in the venom relieving itch and sting. Aloe was another natural ingredient we would massage in a circular motion on the many unfortunate sun burns following the Barrett sisters throughout our childhood.
Sugar
On a trip to the Bahamas, my girlfriend's daughter was plagued with dry, scratchy skin on her legs and feet. Mom whipped her up a body scrub of olive oil and sugar.That was the end of her skin irritation,  flakes and dead skin begone.  To see her pull those ingredients out of her pantry and solve a problem so quickly left an impression and solidified my interest in natural remedies for skin treatments.
Face Scrub Recipes for Glowing Skin From The Experts
Several experts at some of the world's most exclusive spas and hotels weighed in. They were kind enough to share a few simple recipes to create at home treatments that will leave you feeling refreshed and rejuvenated right from the comfort of your own retreat. I wanted simple recipes to share and perk up your own stay at home routine. Ingredients found in the pantry and refrigerator that would take only minutes to whip into treatments.
We think you'll feel refreshed in both body and soul after you've finished any of these at-home-pampering treatments. With just a few essentials, you'll feel like you spent a day at the spa (almost).
Are you ready to be transported and pampered? During our spa day, we cranked it up a notch by projecting an image of the spa represented by the recipe on our screen and turned on some relaxing music. As we closed our eyes, visions in our minds eye of each of the destinations carried us even further during our experience. Stunning hotels around the world will do that to you-don't you agree!? For a few hours, we left quarantine and traveled the globe.
Tomato Face Mask
from Garcia Alcorta, Spa Manager
Anantara Villa Padierna Palace Benahavis Marbella Resort, Spain
Use this brightening mask to breathe life back into dull and lifeless skin and reduce the appearance of blemishes. Tomato helps brighten skin tone, cools and freshens skin, while honey has beneficial moisturizing properties.
Ingredients
½ ripe tomato
1 Tbsp honey
Blend tomato with honey until it becomes a paste. Gently apply paste to face avoiding eye area and leave on for 15 minutes. Wash off with cold water and pat skin dry with a clean towel.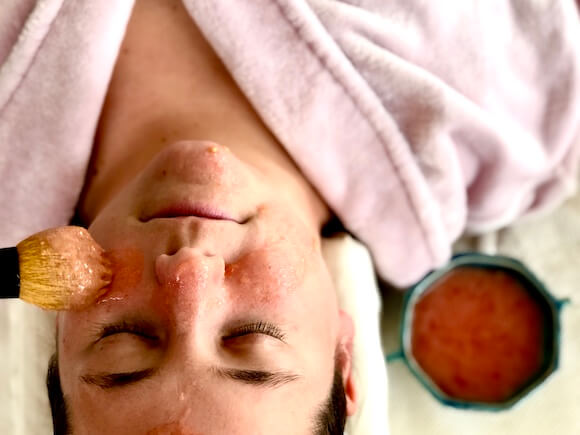 ♥
Cooling Cucumber & Yogurt Face Mask
from Lucia McMallion, Director of Spa & Recreation
Anantara Mai Khao Phuket Villas, Thailand
 The combination of cucumber and yogurt has a soothing effect on skin. The natural ingredients in cucumber moisturize, soften, smooth, and reduce puffiness, while yogurt is refreshing for tired skin.
Ingredients for Cooling Cucumber & Yogurt Face Mask
Half a cucumber, grated
3 Tbsp. of plain natural yogurt
Whip up a quick mask by combining yogurt and grated cucumber. Apply to face and neck and leave on for 20 minutes; and wash it off using cool water. Use this mask at least three times a week for fresh-faced results.
♥
Coffee and Honey Homemade Face Scrub for Glowing Skin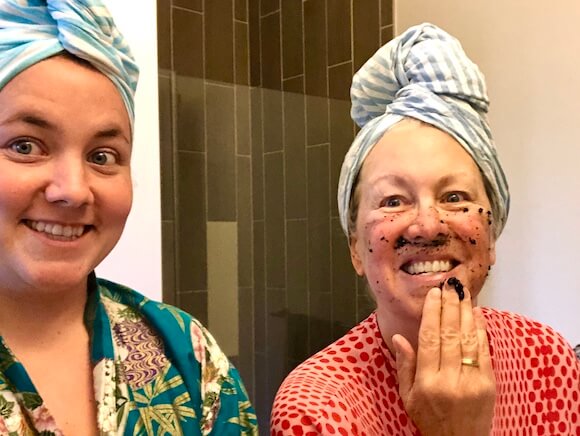 from Galina Antoniuk, Spa Director and Wellness Guru
Anantara Dubai The Palm Resort
Don't throw away your coffee after you've ground it for your morning brew. Coffee is rich in anti-aging properties and honey keeps your skin moisturized. I added in the coconut oil. My skin is especially dry and oil-well oil is good…
Ingredients for Coffee and Honey Facial Scrub
1 Tbsp. coffee grounds
3 Tbsp. honey
1 Tbsp. Coconut oil melted
Take a spoonful of the powder and mix it with honey. The sticky cream- like texture makes for a good scrub as well as a face wash. If you have dry skin, you can also add a few drops of coconut oil to the mix. If using as a scrub, keep on for 15 minutes before washing off.
*Color me a convert. This might become my daily routine. I loved the way it smelled, and my dry skin was lustrous after the quick treatment.
♥
Luscious Lips
from Vina Teodoro, Spa Manager
Anantara Vilamoura Algarve Resort, Portugal
Quite often lips are overlooked and only tended to in cold dry weather when they become cracked and chapped. A lip scrub is a great way exfoliate and buff away dry skin. Make sure to hydrate with a next-level moisturizer to keep those lips luscious!
Ingredients:
1 Tbsp brown sugar
1 tsp lime juice
2 Tbsp honey (one for the scrub, one for the moisturizer)
1 Tbsp olive oil
For the scrub, blend brown sugar, lime and honey together with a spoon until the mixture is consistent. Add a drop of flavored extract (vanilla or mint are good) to the mix (optional).
Use a soft toothbrush to apply the scrub to the lips. Spread the mix over the lips with light movements. Wash with warm water after 10 minutes.
Next, create a simple softening lip moisturizer with honey and olive oil. Add the 2 ingredients in a bowl and mix until completely blended. Apply the mix directly to the lips using fingers like a lip balm after the lip scrub and allow the lips absorb the mixture.
New England Winters can take their toll on delicate skin. I was thrilled with this go-to recipe for lips.  
♥
Body Care Scrub
Body Brushing from Bodina Qureshi, Spa Director
Maldives Anantara Dhigu Resort
A full-body exfoliation is the perfect pampering treatment to combat dry and dull skin leaving a beautiful glow – and the best part is you do not have to leave the comfort of your home to achieve this!
A combination of grated coconut, cinnamon and nutmeg with a sprinkle of salt make for a beautiful body scrub with the perfect texture and an incredible scent.
If you have some coconut oil hiding in your cupboards add some for extra moisture, but a little water will also create the perfect consistency. Nutmeg has long been used in herbal medicine as a treatment to sustain and promote skin appearance.
In Ayurvedic medicine it is used for its anti-bacterial and anti-viral properties decreasing the likelihood of infections and helping control sebum production.
Cinnamon is a powerful antioxidant with anti-inflammatory properties and is a great addition to any combination with its bold flavor and scent.
♥
Turmeric Sugar Homemade Face Scrub for Glowing Skin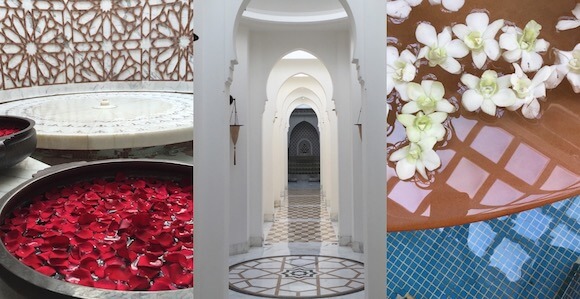 Jiva Spa
Blending ancient Indian wisdom with contemporary therapies, JIVA offers the best in Indian rejuvenation therapies ranging from Indian aromatherapy massages, time-honoured Indian treatments, body wraps and facial scrubs for glowing skin.
Turmeric – Turmeric is high in anti oxidants that help to deep clean pores and remove dead skin cells. It's a natural skin brightener that will even out skin tone for clear glowing skin. Do not be alarmed if you see a yellow cast on your skin. This is only temporary. Sugar acts as a base for most facial and body  scrubs. It has tiny grains that naturally exfoliates the skin to remove dead skin cells. It also has the ability to increase blood flow and promote the growth of new skin cells.
Cinnamon is both stimulating to the olfactories as well as to the blood circulation. Properties allow it the ability to draw nutrients and oxygen to the skin, making it a great antibacterial for blemishes. Mixing a little bit of cinnamon and honey together and dabbing it on pimples is a home remedy to be reckoned with.
Ingredients-Turmeric+Sugar Facial Scrub
1/2 cup sugar
1 Tbsp of Turmeric powder ( organic)
1 teaspoon cinammon
2 Tbsp of extra virgin olive oil
Method
Mix all the ingredients together in a clean bowl.
Apply the scrub all over the  body /or face in areas where needed. Ensure the skin is damp so it can go on much easier.
Rub gently in upwards circular motions for a few minutes.
Rinse off with warm water and pat dry.
Leave on up to 30 minutes for even brighter glowing skin.
Pin Me ♥ Homemade Face Scrubs for Glowing Skin