5 Highlights of Spain
MAD
 After a recent trip, I asked my dear friend Jane to share 5 Highlights of Spain.  She takes us on a quick tour....
Here in the States we know tapas as a generic term for a variety of appetizers, but while in Madrid, go tapas crawling!!!  There is plenty of opportunity to eat local and enjoy organic delicacies. You will find it a totally social experience amongst the Spanish, a time after work to eat a little,  drink a little, catch up with friends, then move on to the next specialty snack featured at another eatery close by.  Without much effort you can easily tapas crawl into the wee hours of dawn….. A must!!
Scallops and seaweed-a highlight of our tapas crawl.
If you have the time, plan for a full day at the very famous Museo del Prado. Seeing one of the most important galleries in the world, you'll be inspired by exhibits from all schools of art spanning medieval times to the end of the eighteenth century. Velaquez and Goya are well represented as are an extensive collection of decorative arts.
The Royal Palace in the city of Madrid is the largest in all of Europe and houses richly appointed rooms filled with ornate collections from royalty since late 1700s. The dining room is probably one of the most impressive in the country.  Seating 145, decorated with Flemish tapestries and crystal chandeliers, it's pretty easy to imagine the pomp and circumstance that would accompany a meal here. Only 50 of the 2600 rooms are open to the public, but that doesn't stop the visitor from seeing examples of the extravagant lifestyle.
The highlight of this area for me was an hour outside the city in Toledo, the earliest capital of Spain. El Greco lived in this medieval town, and today, his original "Burial of the Count of Orgaz" sits in the Cathedral that dates back to 1200s. This piece will be familiar to those who studied Catholicism, but to see its defining lines of heaven and earth in person really brings the legend to life.
The cathedral of Toledo is one of three 13th -century High Gothic cathedrals in Spain.  Considered by many to be the high point of Gothic style in the country, the high alter is breathtaking.
If you are in Barcelona, take a drive to another treasure town, Girona. Hidden away, and off the beaten path, it is colorful, and like Toledo, also houses a "must see" cathedral.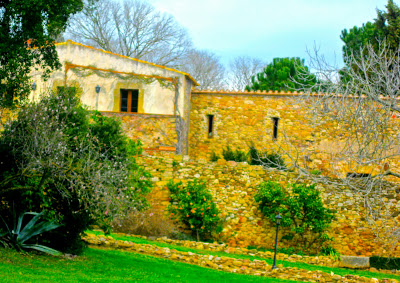 Not to be missed is the Can Solivera olive oil farm; you can't leave this area without a tasting at the source. This haven of lush greenery and wonderful aromas will capture a piece of your heart.
Can Solivera
produces some of the most pristine EVOO you could have on your table.  Buttery, with a slight tang, this artisan product will leave a deep memory on your taste buds.  There is ample opportunity to induge with oils, soaps and other skin care products made from the purest ingredients.  Bring home a treat or two!! You will not soon forget the warmth of this family who will open their home to you and leave you wanting to discover more of Spain.
Well, I'm certainly ready to book a ticket! What about you?  If you'd like to see some of Jane's terrific mixed media artwork, often inspired by her travels, visit Shadowstories.