Farmer's Market Healthy Chilled Soup Recipes
Vichyssoise.  The first time I had a healthy chilled soup, my third grade vocabulary bastardized the pronunciation. My ever so proper grandmother corrected me by rounding her lips and whispering  a drawn out Alison it's viiishy swaaaa. In the sweltering August heat, we were on our annual trek into Manhattan to buy my winter coat at Bonwit Tellers.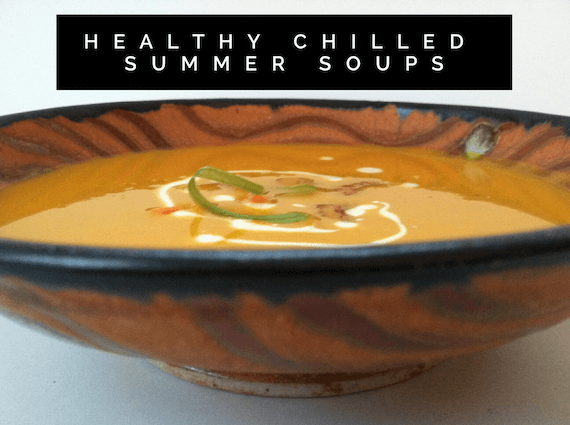 I was much more interested in twirling on the stools at the counter, spinning like a top, than in eating something I thought tasted like wall paper paste. Although I downed most of the bowl, it still tasted like wall paper paste when it came back up shortly thereafter amongst the coats in the very posh children's department much to the horror of grandmother and the doting sales person. Lesson learned; healthy chilled soups and spinning seats don't mix with lunch at any age.
My second memory isn't much better. Babysitting in my teen years, I always found something sugary and delicious in the fridge of my favorite employer. In the darkened kitchen, I snuck a big spoon into the bowl of what I thought for sure was sweet, chocolate and sinful. Cold, spicy gazpacho is hardly what I was expecting and I spit the contents into the sink. Not looking good for my healthy, cold soup romance!
Fast forward and nowadays, I can't think of a dish I love more in the summertime than a bowl of flavorful, healthy chilled soup. A walk around any farmers market in the country is enough to inspire even the biggest carnivores in the universe!. All those plump, ripe vegetables are just dying to be made into easy meals.
Last year I had an amazing eco-tourism schooner experience in Maine aboard the J&E Riggin and along with all the spectacular food, one of my favorite takeaways from Chef and co-captain Annie Mahle's cookbook was a delicious summer pea soup.
From around the web is a selection of favorites in every color of the rainbow.
A Roundup of Healthy Chilled Soup Recipes
Watermelon Gazpachoby Coley Cooks

Zucchini Basil Soupby Love And Lemon
Chilled Vegan Sweet Corn and Cauliflower Bisqueby Blissful Basil
Summer Pea Soupby Simply Recipes
Persian Style Cucumber Yogurt Soupby Gourmande In The Kitchen
Ginger Turmeric Spiced Carrot Soupby Gourmande In The Kitchen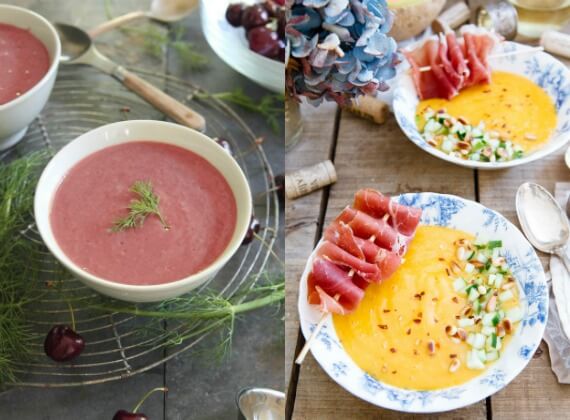 Chilled Cherry Fennel Soupby Running To The Kitchen
Mango Melon Soupby Running To The Kitchen
Chilled Vidalia Onion Soupby Garlic And Zest
Chilled Cherry Tomato Soupby She Likes Food
Now that your Meatless Monday is covered, let me know which soup would be your first choice in the comments.
Pin Me ♥ 10 Healthy Chilled Summer Soups
Pin Me To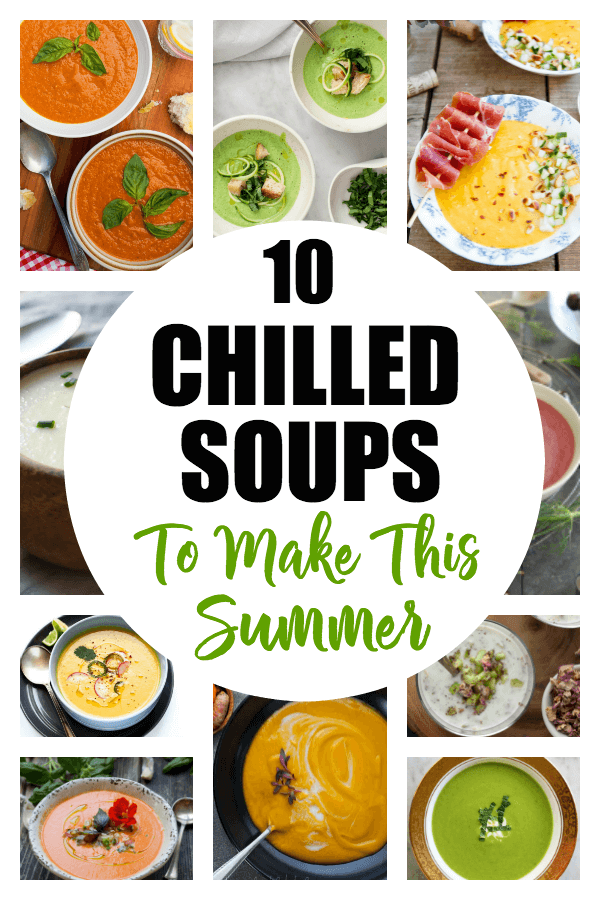 If you liked this post, consider: ♥ Subscribing to Green With Renvy above  ♥ becoming a fan on Facebook, ♥ Checking out my Wanderlusts on Instagram or ♥ following me on Pinterest. If you enjoyed this post, please show the love by sharing it! xoxo