Florida's Best Beaches Jupiter and Beyond
The Sunshine State has over 1,350 miles of beautiful coastline. Travel to the beaches of Jupiter and the surrounding area to find some of the most stunning. Turquoise waters, sun, surf and sand await.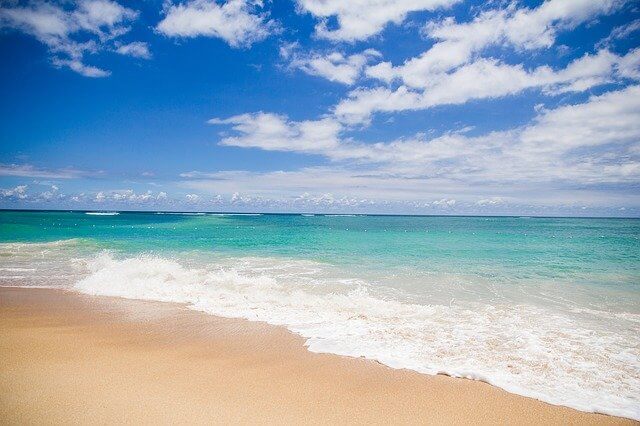 Every tourist and resident has an opinion about their favorite Florida beach. Much of it depends upon where they live or visit. Trust me when I say 'It's nearly impossible to see them all!"  I've been traveling to Florida for over 60 years and had the opportunity to dip my toes into more than a few on the state's shorelines; I still have a long way to go.
Going Coastal in Florida
Anyone who loves the beach as much as I do will love a state divided by coastal regions. Florida has the unique designation of being the only state with 12 appointed shorelines. Seven are on the western Gulf of Mexico and five on the eastern Atlantic. With names like Nature, Emerald, Gold and Space Coasts, each is known for their unique characteristics.
The Treasure Coast
The area in this post goes Coastal on the Treasure Coast and covers the 12 mile slice  of beaches from Hobe Sound to Singer Island surrounding Jupiter.
Ships have been sailing along the Jupiter coastline from the 16th century to the present. Map makers have planned navigational routes to Central and South America along the unique area of the Jupiter Inlet from as early as 1565.
During the 17th century, Spanish galleons and merchant ships navigated the treacherous waters off the Florida coast. These vessels carried silver and gemstones from the mines of Mexico and Peru. They routinely ran a narrow gauntlet of shallow water, sand bars, coral reefs, and occasional hurricanes off the Jupiter Inlet as they followed the Gulf Stream's swift north current. The ships that did not survive the passage left a wealth of weaponry,  anchors, navigational tools, coins, silver and gold scattered across the ocean floor.
Today, this area is nicknamed "The Treasure Coast".  A hurricane in 1715 saw several ships of the Spanish Armada wreck on the surrounding reefs. Modern day treasure hunters will enjoy a visit to McLarty Treasure Museum in nearby Sebastian to see some of the many treasures found on the ocean floor.
Gulf Stream Waters
The Jupiter beaches are known for their warm, clear waters and shores that are enveloped by the natural environment. Dunes, mangroves and sea grape trees add visual splendor to the beach experience. The gulf stream pulls azure waters north and the natural color scheme – a sea of greens and astonishing shades of blue – can be breathtaking in different areas.
With year-round sunny weather, there is arguably no other destination on the east coast to rival the water wonderland that makes up this area of the North Palm Beaches and Martin County. The meeting of three waterways – the Loxahatchee River, the Intercostal Waterway and the Atlantic Ocean – gives this adventureland a wide variety of options for tourists looking for outdoor activity. Visitors won't have any trouble finding beach areas perfect for snorkeling, diving, paddleboarding, windsurfing and of course, swimming and boating.
Although driving through the area might give the impression of a sea of strip malls, the protected acreage is massive and once visitors dig beneath the surface, they'll discover a coastal playground filled with scenic beaches and protected land committed to conservation of both the environment and wildlife.
Best Beaches Traveling North to South
Beginning north with Blowing Rocks in Hobe Sound and traveling south approximately 12 miles, we end the tour on Singer Island at John D. Macarthur Park. The Palm Beaches is well known for hypnotizing visitors into vacation mode. Pull up a chair and open your umbrella, one of these outstanding beaches is calling your name.
Insider Tip : The weather and wind can always impact a beach visit. One of the cool things about this area is the live cam where you can check out the conditions of the sea and surf before making your plans. This view is from the Jupiter lighthouse.
Location Signs
There are 50 Crossover signs running from Jupiter Beach Park to Juno Beach Park. Marked by number from 72 (north) to 22 (south) they provide the path from the street to the beach. Some have spigots to wash sand off and boardwalks. Others are just small pathways to the beach.
The markers are a way to identify the area. You can download a helpful, printable map of them for your trip. Dog friendly beaches, parking and lifeguard stands are all marked.
Nature Conservancy Blowing Rocks
We begin our tour of the best beaches in the Jupiter area at one of my favorite destinations, the Nature Conservancy Blowing Rocks Preserve. Located on Jupiter Island (and technically part of Hobe Sound), this beach is just a few miles north of the Jupiter Lighthouse. Beach lovers looking for a unique destination have found their mark! If you are interested in seeing the blowing rocks in action, visit at high tide when the saltwater plumes can rocket skywards up to 50 feet. It is indeed a spectacular sight.
Blowing Rocks Preserve was born in 1969 when the conservation minded and generous residents of Jupiter Island donated 73 acres of the barrier island to The Nature Conservancy.
The dramatic rock formations, called Anastasia limestone are usually found underwater. This type of limestone is composed of shell, coral fragments and fossils. If you look carefully, small clams and pieces of oyster shell are also visible. These rock formations are the largest of their kind on the Atlantic coast and because of their shape visitors might mistake them for lava flow.
The Nature Conservancy is hard at work on this barrier island preserving the environment, as well as the home for nesting of loggerhead, green and leatherback sea turtles. Enjoy swimming and snorkeling from the protected beach but note there is no lifeguard on duty.  Observe rare birds, plants and animals on three hiking trails.
Ammenties:
The preserve has free on-site parking during open hours. When the preserve closes at 4:30pm the parking lot gates close and lock. Street parking is not permitted, per the Town of Jupiter Island Public Safety Department. Rest rooms are available.
An optional $2 per person donation helps to maintain this coastal preserve.
Address:
574 S Beach Rd. (also known as 707)
Hobe Sound, FL
Coral Cove
Like many of the beach sites in this area of Florida, there is plenty of free parking and amenities. This waterfront park is located in Tequesta, right over the bridge from Jupiter on State Road 707. With over 14 acres and swimming access in both the Atlantic and intercoastal the options are endless.
After parking, there is a boardwalk through Instagram worthy tunnels of seagrapes. The sight of the sparkling azure waters is remarkable when you exit onto the beach. This beach is a popular snorkeling destination because of the eroded rocks of the Anastasia limestone formation that are in the area. When combined with the nearby reefs, they make a hospitable spot for sea life. Make sure to bring water shoes. The rocks are sharp and can cut feet easily!
The beach has a lifeguard for a stretch of shore. You can launch a canoe or kayak from the south extension of the park. You can also saltwater fish here.
This is a great spot for spending the day with family.  The stretch of road along the Inland Waterway across from Coral Cove is loaded with small beaches perfect for families, especially with young kids. At low tide, the sand bars are exposed and make for great calm waters to keep kids busy for hours (especially if they are wearing their Coolibar sun protection clothing to help avoid a sunburn).
Amenities:
Grills, covered picnic tables, a playground, restrooms, and outdoor showers. On weekends or busy holidays, get here early for the best parking options.
Address:
19450 State Road 707
Tequesta, FL 33469
Side Step Off the Beach Jupiter Lighthouse
While making your way through these scenic beaches in the Jupiter area, don't miss the iconic Jupiter Inlet lighthouse. Just after the bridge from Jupiter Island and Coral Cove Park, the entrance to the lighthouse sits on Beach Road. This landmark was completed in 1860 and has withstood many a storm barreling through Palm Beach County. In Lighthouse Park, you'll find a cemetery as well as a museum.
Travel Tip: If you are interested in visiting, schedule your climb for just before sunset. The Lighthouse Association has special nights for sunset photos. Photo ops from the top of the light are legendary!
DuBois Park
Dubois Park is an unusual "beach" and the perfect spot for families. The water in the lagoon is shallow and calm. Often folks will plop their chairs right in the water and spend the day there. The tides bring in hermit crabs which are guaranteed to keep little ones entertained for hours!
Facilities include boating, swimming, fishing, picnic areas and a playground. Being adjacent to the inland waterway gives the opportunity to watch boats go by all day on their way to the ocean and right across the inlet is a great view of the Jupiter Lighthouse.
The Dubois Pioneer home is also on the property and is listed on the National Register of Historic Places. Built in 1898 by Harry and Susan DuBois, the house is one of the oldest surviving homes in Palm Beach County.
Inspired by Harry's childhood at the Jersey Shore, the "House on the Hill" is an example of Victorian Shingle architecture. Standing atop a Native American Mound, the home was originally a one-story structure that was later expanded to accommodate a growing family. Withstanding numerous hurricanes, this unique and well loved homestead is rich in both historic and archeological value.
Address:
19075 DuBois Road.
Jupiter, FL.
Jupiter Beach Park
Bordered on the north by the entry of Jupiter Inlet to the Loxahatchee River, Jupiter Beach Park is a popular beach for visitors and locals alike.  This rough water strip is a great spot for "boat watching" captains make their way the often treacherous current out into the Atlantic. In addition, there is an active fishing pier and jetty walk. The beach is a popular destination for surfers who catch the waves around the jetty.
The park has playgrounds, picnic areas, volleyball courts along with easy parking. A surf-wheelchair can be arranged in advance through the park's website and is one of the few in the area. Pets are allowed, but must always be leashed. Outdoor showers and restrooms are in the area. There is also a surf-wheelchair that can be arranged in advance.
Address:
1375 Jupiter Beach Road
Jupiter, FL 33477
Carlin Park
Carlin Park is an expansive 120 acre beach area that truly has something for everyone. The sprawling area and activities mean that it's a busy place with lots of people. A great spot for families, and get togethers, this is not the place for some quiet beach time. The beach itself is long and full of activity.
With over 3,000 feet of guarded beach this park is especially busy on weekends, so plan to arrive early. It's hard to miss the blue Loggerhead café for simple snacks or light up one of the grills for a barbecue. The Seabreeze Amphitheater features live music, special events and the annual Shakespeare by the Sea Festival.
Visitors will find bocce ball, tennis, volleyball, playgrounds and picnic areas. Restrooms are on site, along with outdoor showers.  This is a great spot for a large gathering of friends or family guaranteeing something to keep everyone happy.
Address:
400 S. S.R. A1A
Jupiter, FL 33477
Dog Friendly Jupiter Beach
Dog lovers rejoice! Jupiter is home to one of the last friendly dog beaches around.  Dogs are allowed on the beach between dune crossovers  26-57, or approximately between Ocean Cay Park and Carlin Park. Note the reference to the Jupiter beaches map above for the printable link. The entrance to the dog beach area is also marked on the map. Dog stands with bags are available at most entrances and the outdoor showers are an added bonus for sandy rinse offs before getting in the car.
Beach Rules for 4 legged friends owners
Owners are responsible for removing any animal waste on any areas of the beaches, walkways or recreational areas.
Dogs must not create a nuisance and while on the beach or in the recreational corridor.  Nuisances are behaviors that disturb or endanger the comfort, peace or safety of others, such as habitual barking, whining, or howling, or chasing people or vehicles.
Dogs must be under control, either on a leash or near the responsible person and obediently under voice command.
Dogs must have proper tags and licenses worn visibly and securely around the neck and must show evidence of vaccination for rabies.
Address: 
Dune Crossovers between #26 and #57
Ocean Cay Park
Just north of the Juno Pier, visitors will find Ocean Cay Park. With beach frontage and lifeguards, this is a popular spot and a bit less crowded than down by the pier. This beautiful park has many amenities for the whole family to enjoy. Picnic pavilions, shelters, playgrounds, restrooms, outdoor showers, sand volleyball courts, bus shelter and a seating plaza.
This is a terrific beach for the whole family no matter what time of year. Plenty of open grassy space allows for activity when you want a change from the ocean. Play a short volleyball game or light up a grill and barbecue.  The beachfront is large and tucked over the path below the dunes.
There's a nice sidewalk along the roadway. For parts of the day it is covered by the shade of sea grapes and makes a great route for walking or jogging. Accented with pockets of turquoise from the ocean peeking through the greenery, it's easy to hit 10,000 steps before you even know it!
Address:
2188 Marcinski
Jupiter, FL 33477
Juno Beach Park
One of my favorite spots tucked between Jupiter and West Palm Beach is the charming town of Juno Beach. Like a throwback to older times in Florida, this small town is filled with hidden gems and an unspoiled coastline. The vibes are blissfully laid back on this stretch flanked by the Intercoastal waterway and the Atlantic Ocean.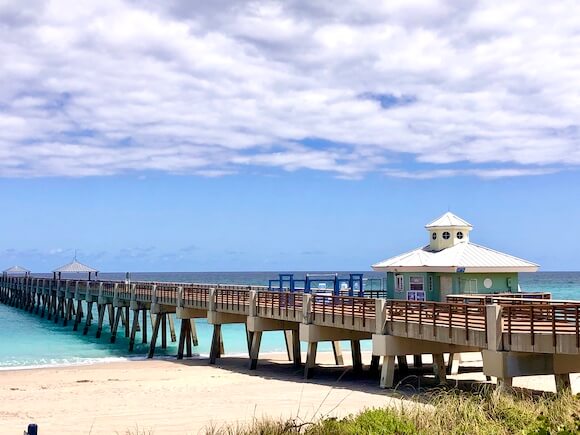 Scores of sea turtles make their nests here between the months of May thru October. The newly renovated Loggerhead Marinelife Center is a renowned hospital and nature center loved by both visitors and residents alike. Conservation takes top priority with the folks who call Juno home.
This beach, located on a barrier island, has a 900 foot Pier as the center of activity. Attracting a wide range of visitors from salty fishermen to selfy snapping instagrammers, the T shaped pier stretches out over the water and provides prime viewing for ocean lovers. Visitors can rent a fishing pole at the bait shop or find a snack there.
Sunrise here is spectacular and because of the waves, it is a popular spot for surfers. If you are looking for more outdoor activity, enjoy a hike or paddle through nearby Juno Dunes Natural Preserve. This 569-acre park features a maritime hammock and mangrove swamps as well as the highest natural point in The Palm Beaches.
Ammenities :
There is plenty of parking both along the road and in a large lot at the address below. The Pier has fish cleaning tables, a food concession and shade structures. There are picnic areas, restrooms, and outdoor showers to remove sand and salt. A bike/walking trail runs through the area along the ocean and snorkeling is also available. A lifeguard stand is to the left of the pier. There is a small fee to go to the end of the pier.
Address:
14775 U.S. Highway 1
Juno Beach, Florida 33408
John D. MacArthur State Park
At the southern end of this best beaches strip of sand, lies Macarthur State Park. The landscape is a naturalist's dream beach and I'll promote it any chance I get. This beach stretches the boundary to the bottom of the Treasure Coast. It is one of the last public beaches before reaching the private enclave that encapsulates the million dollar condos and private homes of Singer Island.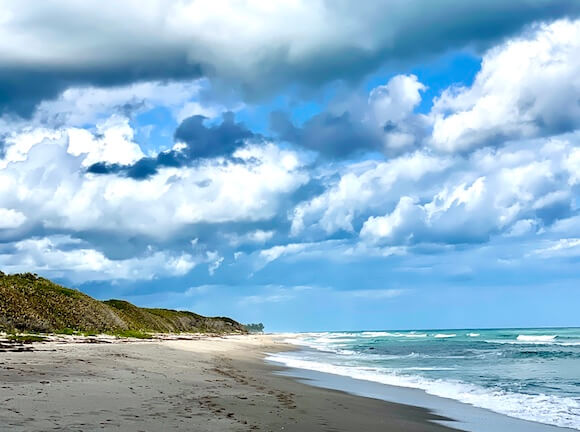 I will let you in on a little secret. Most visitors would never know this park was here. John D. MacArthur State Park is a gem filled with opportunities for eco-tourism. While there are 161 state parks in the state of Florida, this is the only one in Palm Beach County.  Considered an environmental treasure, two miles of pristine beach preserve the natural, subtropical habitat.
The pristine beach is perfect for swimming, snorkeling and diving. You can surf fish from shore if you have a license. Marine life here is abundant and will delight both snorkelers and divers. There are two self-guided nature trails for your exploration. The Dune Hammock Trail takes you through a forest of tropical and sub-tropical trees. The Satin Leaf Trail is made up of predominantly tropical plant species.
The park is a nesting ground for rare sea turtles such as the loggerhead and leatherback. These endangered turtles come ashore to lay their eggs. The Park draws 150,000 visitors annually to enjoy the beach and participate in environmental education programs such as sea turtle talks and walks, snorkeling reef tours, kayak tours, nature hikes, summer youth camps and estuary exploration.
The next time you're in Palm Beach County, take time to experience the eco-tourism in this South Florida state park.  Visiting the John D. MacArthur Beach State Park will allow you to witness conservation in action and learn about the man it is named for. Kayak the mangroves, snorkel the reef and experience a unique eco-friendly environment and one of the best beaches on the east coast of south Florida.
Ammenities :
With 4 habitats within the park, visitors will find an abundance of activities to keep everyone busy. There is a small fee to enter the park. Check the web site for more details.
The park is open from 8am to sunset, 365 days a year. Kayaks and Paddleboards are available for rental. There is a nature center, gift shop and restrooms.  Picnic tables and grills are available. Pavilions are available for rent. There are no beach lifeguards and there is a fee to enter.
Address:
John D. MacArthur Beach State Park
10900 Jack Nicklaus Drive
North Palm Beach, FL. 33408
Tips for Eco Friendly Visits to Jupiter Beaches and Beyond
Beaches are the gateway to the ocean and enjoyed by communities around the world. Protecting the largest ecosystem on earth is the job of everyone. Overuse and abuse can damage sensitive habitats and marine health. Luckily, there are many ways we can all help to protect these fragile environments. A few of my top responsible travel tips to follow:
Bring a reusable drink bottle(s).
Pack snacks in reusable containers or bags.
Remember to leave only footprints – take only memories.
Stay protected from the sun with reef-safe sunscreen. Bring or wear sun-protection clothing to protect yourself from harmful UV rays and eliminate the need for all over sunscreen.
Pack in, pack out – if you do have waste, be sure to collect it all to properly dispose of it before leaving or take it with you. Bins for recycling and trash are available onsite at all areas.
Keep wildlife wild. Keep a safe distance. It can be dangerous for wildlife to be fed, touched, chased, or crowded.
Protect our dunes by staying off and encourage (insist) children to do the same. Fill in any holes and flatten any sandcastles when you're done because they can be dangerous to sea turtles (and humans).
Before you leave, rinse or brush yourself and your gear off to prevent species from traveling to new habitats.
The beach is a great place to celebrate, but balloons can be extremely dangerous to wildlife. They are forbidden at several local parks and can wreak havoc with sea turtles, birds and other marine animals.
The area of Juno and Jupiter beaches is a well-known sea turtle habitat. Avoid disturbing nesting females and leave nests, eggs and hatchlings undisturbed.
In the evening turn off lights that shine on the beach and could confuse nesting turtles.
Final Thoughts
With a coastline known for its beauty, Florida has many spots for ocean lovers to spend a vacation. This stretch from Hobe Sound to the tip of Singer Island ranks high for azure waters, a variety of beach parks and miles of beautiful coastline to recharge and renew, the ingredients for a perfect vacation.
Pin Me &  Save for Later
♥ 

Best Beaches Jupiter Area of Florida