Finding Sanctuary Inle Lake View Resort
Located within the Shan State of Myanmar, amidst some of the most beautiful and expansive mountain scenery, guests will discover the perfect backdrop for finding sanctuary at Inle Lake View Resort Hotel.  The warm and welcoming luxurious property is close to nearby areas of interest, yet just far enough away from all else, making it an unusual haven for a peaceful escape in a region that is developing quickly to try and keep up with the tourism demand.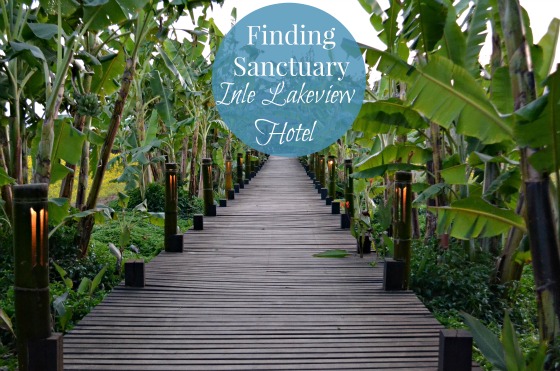 Location:
The population of Intha people on Inle Lake, some 70,000 of them, live in four towns bordering the lake, in numerous small villages along the lake's shores, and on the lake itself. The hustle and bustle of life takes place on the water. Wooden houses are on stilts above, tomato farms are in the middle of the lake on floating pods, fisherman are active, produce is brought to market. It all takes place right in front of you on Inle Lake. Approximately 40 minutes from Heho's Airport, Inle Lake View Resort & Spa is easily accessed by both car or boat. Arriving by boat is a unique way  to get a feel for the surrounding area and a welcome change from all the driving that inevitably takes place when exploring Myanmar.
Most transportation on the lake is traditionally by small boats, or by somewhat larger boats fitted with single cylinder inboard diesel engines. (think small lawn mower NOISE). Local fishermen are known for practicing a distinctive rowing style which involves standing at the stern on one leg and wrapping the other leg around the oar. This unique style evolved from the environmental makeup of a lake covered by reeds and floating plants, making it difficult to see above them while sitting. Standing provides the rower with a view beyond the reeds. That being said, most of the transportation you will be taking will be in a motorized boat, but the other is mesmerizing to watch. Situated right along the shores of the lake itself, but removed by a narrow canal and spread out over 24 acres, one arrives at the hotel to a sight filled with the lush greenery of trees and flowers, immediately enveloping you in a jungle like surrounding. I was filled with anticipation as I took the initial walk down the boardwalk with only the landscape in front of me and shore birds circling overhead. A water buffalo ignores, yet keeps me in sight. This is the start to a special few days that I am already hoping will last beyond our reserved stay.
Rooms:
The resort offers 40 rooms, each one spacious, comfortable and paired with a balcony in which guests can take in the picturesque views of the lake. Our garden view had a lovely deck with two chaise lounges that were a welcome site after a day out exploring.  Guests are able to choose from either deluxe rooms, suites or a lakeside villa, each one with beautiful hardwood floors and light colors making the room exceptionally airy and bright. The use of local materials in both the building design and the textiles within the décor add to the eco-friendly quality of the entire property. Inle Lake is world renowned for it's expertise in hand weaving. I loved the texture and quality of my locally woven robe so much I bought it to take home!
Restaurant:
Another added eco-friendly feature that the hotel provides is within its restaurant, where guests can enjoy fine wines and cuisines, many incorporating organic vegetables and salads that come directly from the hotel's private garden. Using their World Health Organization Standard purified water system, they are able to ensure safe and clean care of all produce that they offer guests, although I would still recommend drinking bottled water.
A visit to the resort's Bougainvillaea Restaurant with both indoor and outdoor seating creates a comfortable, peaceful and charming atmosphere. Early in the morning, the cool fog rises over the lake, slowly letting the sun break through. In the evening, stone hearths take the chill from the air. The high quality of the food paired with the natural setting are just the ticket to an evening filled with fresh air, good company and a sense of calming satisfaction after a day of exploration. Fish is always on the menu.
Activities:
During the stay, guests can explore the activities that are offered both on the lake and in its surroundings. For those hoping to soak up the natural beauty of the mountains and hillsides, plenty of hiking and trekking options are available within a much cooler climate than that of its neighboring areas. Head out on either a canoe or motorboat, which are necessary for arriving to surrounding sites, to get an up close and personal feel for Inle Lake while you make your way to the treasures nearby. Crafts are many and the market is not to be missed.
One of the favorite escapes amongst guests is a visit to the Inle Lake Sanctuary, a wetland spread across 642 square miles that helps protect the flora and fauna within its lands. It not only offers its visitors a natural beauty unlike any other but it also helps to ensure that this place continues to be conserved with the geological characteristics and allows visitors to gain a better understanding of the traditional floating agriculture practiced by the local Inthar people.
Of course days filled with cultural visits and activities must come to an end; guests are able to retreat to the spa to enjoy some much needed rest and relaxation. Walking into a calmly lit structure filled with the aroma of flowers and essential oils allows for a sense of peace even before the treatments have begun. Guests can enjoy a menu featuring traditional and oil massages, essential oils, manicures and pedicures along with a suite offering a warm and relaxing Jacuzzi to put muscles on the road to relaxation.
In the lake area, it's important to choose a luxury hotel with a good restaurant. Getting around after dark on the unlit lake is nearly impossible and drivable eateries are few and far between. Many of the hotels can only be reached by boat, which is another piece of critical information to ask about when booking your trip. Lunch is a good time to explore other eating establishments in the area, arriving back to the hotel as the sun sets amongst the surrounding mountains. A charming separate out building at Inle Lake View houses a bar where guests can mingle and share stories of the days adventures. Pack an herbal mosquito repellant, the area is too beautiful to not enjoy at dusk.
You will undoubtedly fall in love with this special piece of Myanmar. The Lake View Hotel was an oasis amongst the mountains and will hopefully continue to optimize its sustainable efforts for continued success as development moves into the Inle Lake region.
The 411 on Inle Lake View Resort 
Kaung Daing Village,
Nyaung Shwe Township.
Southern Shan State, Myanmar
Telephone:      +95 (9) 787 644 701
Fax:                   +95 (1) 333 8842
Website:           www.inlelakeview.com
Email:              rsvn@inlelakeview.com
40 rooms. On site Restaurant and Spa