Farm to Table Embraced at Luxury Hotels
As the farm-to-table trend becomes part of our every day vocabulary, I've found that using locally sourced foods has also been embraced at luxury hotels and resorts. Taking it a step further, some destinations have actually installed roof top gardens in the city, or farm plots adjacent to their property. While it's obvious these sources will not supply all their needs, it's exciting to see the properties embrace the use of homegrown and sustainable foods. These days, it's practically unheard of to not have at least a selection of herbs growing in your outdoor space or kitchen.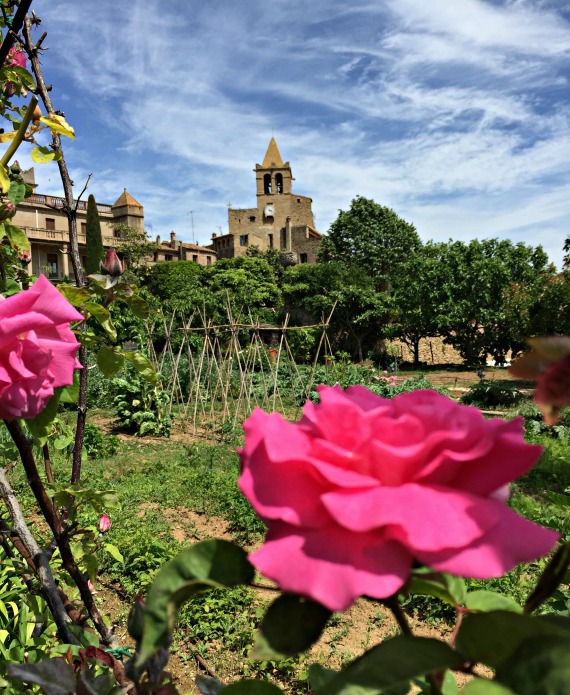 When I look at many of the destinations I have visited in the last two years, it's remarkable that most of the hotels I have stayed in had some sort of garden and incredible restaurant serving local ingredients attached to the property.  While I  would certainly would not want to eat exclusively in the hotel, this concept is an indication that the dynamic has changed. Some of the best meals I've had were  found on the premises. The concept of  Stay and Eat has become a new standard for luxury properties. Much of that has to do with the fact that ingredients are sourced locally, are incredibly fresh and talented chefs are preparing tasty meals in house.
Several Fairmont Hotels & Resorts properties in cities like Seattle and Toronto and Vancouver have adopted the sustainable living philosophy. The Vancouver hotel has a third floor terrace rooftop with a 2100 square foot herb garden and bee farms. The sunny climate allows for over 20 herbs, vegetables, fruits and edible blossoms, including rosemary, lavender, bay leaves, tarragon, garlic, kale, leeks, rainbow chard, carrots, peppers, green onions, strawberries, pumpkins and apples. Hay is also grown and harvested to smoke our chicken in-house. 600 pounds of honey are produced and their Bee Butler allows guests to see the apiary action up close. The bees provide a symbiotic relationship with plants in the area and of douse the honey is incorporated into the menu by the culinary team. Chocolate, pastries, salad dressings and cocktails all benefit from the hives.

In the Caribbean, a new resort is taking this trend to a whole new level. Belle Monte Farm in Kittitian Hill is located on the northern tip of St. Kitts. The resort specializes in an organic, sustainable, farm-to-table experience. Guests can join with the farmer to pick greens for the days menu selection.
Litchfield Hills, Connecticut, is home to a farm resort offering organic, non-GMO cuisine along with it's 18 unusual cottages. Winvian Farm's three acre property, with fruit trees, greenhouses, livestock and an apiary, offers agriturismo, the Italain term for agricultural tourism. Here, guests can not only stay and eat on the farm, but work picking crops and assisting with chores. For over half of the year, 70% of the produce served by chef Chris Eddy comes directly from the property. Cooking classes, a luxurious spa and pool and a special events barn round out the offerings of the hotel. Guests will find earth to table menus filled with health options.
New companies have sprung up to assist with the maintenance of these projects. Boston's Seaport Hotel has worked in conjunction with Green City Growers to bring an urban farm to the seaport. Their company builds and maintains urban gardens by converting unused property into plots for growing. Tamo, the Seaport Restaurant has been named a 3 Star Certified Green Restaurant. In addition, there are over 1 million bees on the rooftop and in collaboration with Vermont-based Long Trail Brewing Company, they have introduced Seaport Honey Ginger IPA, which was created using 300 pounds of the hotel's honey.  It is available exclusively on tap at TAMO Bistro & Bar.
Bees are also buzzing at the luxury Taj Boston where the rooftop has once again welcomed the sounds of honeybees. Best Bees has partnered with the Taj for maintenance of the hives. "The addition of the apiaries is our contribution to the preservation of the honey bee. Should the honey bee continue to drop in numbers, it will most definitely have a negative impact on the environment," says Maureen Albright, Director of Engineering at Taj Boston. "The bees pollinate in the Boston Public Garden, which is directly across the street. They also enjoy the roof top gardens of our neighbors," explains Albright, adding that some neighbors have positively commented on the bees and how they enjoy their visits. "Once we plant the Chef's rooftop garden this year filled with herbs and vegetables, most definitely the bees will enjoy that area as well."
Incorporating the honey into the menu you might find items such as a Ginger Honey Ricotta Cheesecake or a Spiced Golden Bees Martini, which blends their honey with Kettle One vodka, fresh lime, sweet Vermouth, dry chili, and a splash of orange juice.
During my recent trip to Costa Brava, I had the opportunity  to stay in two properties that embraced the farm to table concept in their adjacent restaurants. Nearby gardens supplied vegetables, fruits and herbs.
The fairy tale like setting (top photo) of La Placa in Madremanya, just outside Girona, Spain. This small, beautiful hotel has a jewel in the heart of it's stone setting. Guests can walk through the garden on the way to the pool and take in the heady scent of roses that are interspersed throughout the vegetables. The creative cuisine, much of which came from the garden and surrounding area was subtle and memorable.
Off the beaten path outside of Lloret del Mar is Sant Pere del Bosc. This unique environment was a former benedictine monastery. The buildings have gone through many incarnations, but I hope for all travelers that it remains in the current state in perpituity. I will be featuring this location in an upcoming post, but wanted to end with the Sant Pere del Bosc because it embodies everything I would hope to find in a destination. The buildings have been exquisitely renovated with care  and respect for the past. Gardens supply the restaurant with amazing ingredients and floral displays. Morels are foraged in the woods. Wines are remarkable. Soon there will be sheep roaming the property. The list goes on and on.  This luxury resort pleases all the senses.
Luxury means different things to everyone. When resorts are able to incorporate sustainability into their mission statement, it becomes a piece of my luxury requirement. While there is a lot more to sustainable travel then a rooftop garden, I think I can safely say farm-to-table is here to stay. The fact that it is part of a resort's vocabulary is a great step in the right direction.