Farm Fresh Veggie Tacos and Lentils
My grill is having a bit of an identity crisis. Being a pescatarian, I don't use it as much as I used to, and it feels a bit lonely. About a year ago, one of my clients showed me how to easily crisp up taco shells on a gas stove. It was such a brilliant idea to bring out the flavor, and I thought some Farm Fresh Veggie Tacos with Sriracha Cream Sauce would give me the perfect opportunity to toast them up on the grill for Meatless Monday.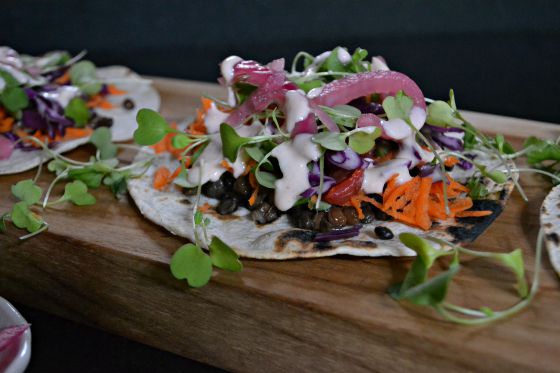 I also find myself struggling with my relationship with raw red onion. It is no longer a friend to my stomach, but I still love using it to add color and flavor in recipes. My solution- I make a quick pickle with this member of the Allium family and it solves my digestive issues, preserves the color and of course tastes delicious. Here's how I now roll with red onions (and enjoy them on everything from smoked sandwiches to an avocado/egg smash:

Quick Red Onion Pickles
Cut a red onion in half and thinly slice each half into pieces. Separate the pieces and pour boiling water over the onion. Let sit for about 10 minutes in the hot water. Drain and cover with 1 cup rice vinegar, 2 Tsp honey, 1 T. salt and 1 T each of fennel and mustard seeds. Ready for use in about 1/2 hour, you'll find they only get better with age in the fridge.
This is a really flexible recipe and you can vary the vegetables depending on your families likes and what is fresh at the farmer's market. I wanted to try something other than the traditional black beans for the protein, and added lentils. They were delicious in this combo and might be a new favorite. Be creative. Making this with an assortment of vegetables is a perfect way to demonstrate how you can use what's in the fridge if you just have the taco shells and sriracha as basics in your pantry. A combination of crunchy and softer vegetables as well as variety of colors make these as pretty to look at as they are good to eat.
Farm Fresh Veggie Tacos with Lentils and Sriracha Cream Sauce
Ingredients:
Corn Taco Shells
Assortment of Veggies-I used purple cabbage, carrots, tomatoes, spicy sprouts
Cooked lentils-if you use the precooked ones, you can keep the stove off
Pickled onions (recipe above)
Yogurt (you could also use mayo, but I like to try and keep it lighter)
Sriracha Sauce
Prepare lentils if you are using dried version. Make the pickled onions and set aside. Make Sriracha Cream Sauce by combining sriracha with greek yogurt to taste. (I use Stonyfield) Prepare veggies by chopping finely for tacos. Toast taco shells on grill, watching them puff and be careful to keep them from flaming. Turn and repeat. Prepare tacos or put ingredients in bowls and let everyone enjoy making their own. Perfect for a hot summer night!
Pinnable Image