Exploring Greenspace Atlanta's DeKalb County
Exploring Greenspace Atlanta's DeKalb County, Georgia
One of the first things you see on the flight approach to Atlanta is the incredible urban growth. As a mater of fact, the city has not one, but three skylines, and city sprawl is everywhere.  Just east of the city limits and 10 miles from the Hartsfield-Jackson Airport, Atlanta's DeKalb County has made protecting greenspace a priority.
The benefits of establishing parks and greenspace are well known and an important component for a sustainable lifestyle. Overall health, both physical and mental, improve with exercise.  The more greenspace DeKalb offers, the more residents and visitors are encouraged to spend time outside enjoying Mother Nature. Hiking, biking, canoeing and running are just a few of the many offerings. Along with the exercise component, it is well documented scientifically the important roll trees play in removing carbon dioxide from the atmosphere during photosynthesis.
With a population of over 700,00 the county is the third most populous in Georgia. Over the years, DeKalb  has placed an emphasis on protecting and preserving a wide variety of greenspaces in different forms.
Some of the most alluring eco-friendly parks, recreation spots and farmer's markets are in this area of metro Atlanta. A mild climate makes this location ideal as a year round destination for exploring greenspace in DeKalb County. Residents and visitors alike find recreational space to take the family, trails to walk or run or somewhere to just relax and disconnect for a while; DeKalb county has them all. I was able to enjoy a few of the many eco-friendly spaces during a recent visit.
Arabia Mountain
On an early mountain hike I found one of the most breathtaking spaces in DeKalb, the Arabia Mountain National Heritage Area. This area is dominated by two granite monadnocks, Arabia Mountain and Panola Mountain, and has several sites worth visiting. Granite ecosystems and forest trails explode with life and color.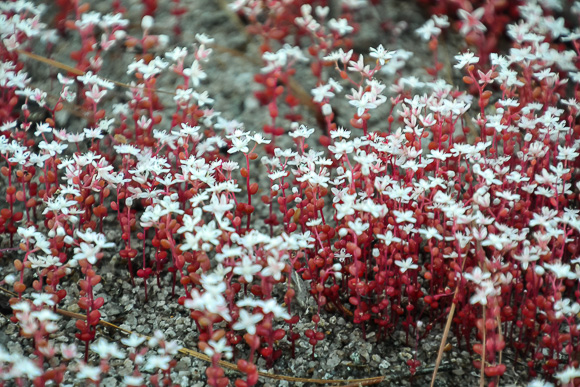 I was lucky enough to be visiting when the mountain was rolling out the red carpet. Once a year, the rare dimorpha smallii blankets the area with a small eye-catching crimson stem topped by a white flower. The visual treat circles the mountain pools and is a photographer's delight. Crimson shadows greet the rising sun each morning during their show-stopping display.
Arabia Mountain is a part of the Davidson-Arabia Nature preserve and provides great trails for hiking and biking. Panola Mountain is a National Landmark that is a part of the Panola Mountain State Park. This mountain is pristine and has never been quarried.
Visitors to both areas can enjoy a myriad of activities from hiking and biking, to fishing, archery, tree climbing and geocaching. In fact, the Arabia Mountain National Heritage Area includes over 30 miles of multi-use PATH trails for walkers, joggers and cyclists. The trails are expertly designed to take you past historic landmarks and amazing vistas which will enhance the quality of your experience. These trails are popular among locals and visitors alike.
Monastery of the Holy Spirit
Also located in the Arabia Mountain National Heritage Area is the Monastery of the Holy Spirit. Nestled into more than 1,000 acres of wetlands, streams and forests, you'll find a true haven for appreciating nature, spiritual reflection and viewing beautiful architecture. It is amazing to realize the Trappist monks built the Abbey Church themselves. You can plan a walk through the Rockdale River trail which runs through the Monastery's property, or participate in mid-day prayers or mass with the monks. Self-guided tours of the Monastery are possible as is exploring the Prayer Walk, Magnolia Lane and observing the wildlife at the Monastery Lakes.
The Monastary has created one of the few eco-friendly burial grounds in the United States. What exactly does that mean? Natural cemeteries save land and create significant nature preserves. Traditional practices are replaced with a plain pine box or  shroud. Cremated remains are also accepted at Honey Creek Woodlands. Bodies are not embalmed, thus saving the earth from harmful chemicals. The simple practice which honors all faiths is an affordable alternative to traditional burials and allows a beautiful space to visit and contemplate in the 70 acres designated for the grounds. Hundreds of plant species have been recorded by botanist Jim Allison and can be studied on sit
Stone Mountain Park
Stone Mountain Park is a popular greenspace in DeKalb County. It is situated on 3,200 acres of natural flora and fauna and is known for a multiplicity of family friendly and eco-friendly activities. A family friendly destination, some of the more popular activities are family picnics, taking a train ride around the mountain, skyriding to the top of the mountain on a high-speed cable car, visiting the historic square where you will find a collection of restored historic Georgia buildings, visiting the farmyard and exploring the Stone Mountain Park Museum.
Fernbank Forest
Another gem in DeKalb County worth visiting is the Fernbank Forest. Part of the Fernbank Museum of Natural History, this is 65 acres of Georgia Piedmont, some of which are remnants of original Georgia forest vegetation. The addition of the Forset to the Museum makes it a terrific indoor/outdoor spot for families to explore the benefits of nature.
The many trails of natural terrain make for some great hiking (not stroller friendly) and guided tours by the rangers are great for learning about the biodiversity. It is an area that is widely studied by scientist due to this fact. The forest is dominated by unique trees such as the white oak, black oak and American beech. A guided tour of the forest is offered, and you will learn about the forest ecosystem and biodiversity. You will also leave with an appreciation for the need to preserve forested areas.
DeKalb Farmers Market
One of the most iconic spaces in the county is the worldly DeKalb Farmers Market. It was established forty years ago and supplies consumers with fresh produce at competitive prices. The market offers a wide variety of produce, food and responsibly sourced seafood items, many of which are very hard to find elsewhere.
It is therefore not surprising that the market attracts customers from many different cultures. DeKalb county is one of the most diverse areas in Georgia. More than 64 languages are spoken and that international flavor is reflected in the market.  Taste your way around the globe with the many offerings. In addition to shopping, you can just walk around with the family or purchase a meal and enjoy it on site at one of several gathering sections.  What stands out about the DeKalb Farmers Market is that the produce is naturally grown and always fresh, while offering such a myriad of selections from around the world.
♥
Wandering outside the city limits of a destination can often bring unexpected surprises. DeKalb County was one such unanticipated pleasure has many greenspaces and recreational areas for everyone to enjoy. I have to say there was something for everyone. The county promotes a balance between economic growth and environmental preservation and can serve as a model for other towns and cities across the United States.
PIN Me 
♥

Exploring GreenSpace in Atlanta's Dekalb County
Disclaimer: I was a guest of JetBlue on their inaugural flight from Boston-Atlanta and hosted by Atlanta CVB and Discover DeKalb during my stay. As always, opinions, views and experiences are 100% my own.
SaveSave
SaveSave
SaveSaveSaveSave
SaveSaveSaveSave
SaveSave
SaveSave
SaveSave