Eco Beauty Products for your Travel Bag
What goes on your skin is just as important as what we eat, how we travel and live every day. It's all part of the puzzle of moving towards a more sustainable lifestyle. Finding eco beauty  products that make you feel and look good on the outside doesn't have to cost a fortune. I've spent the last few months testing a slew of products and weeding through the green washing that comes along with many.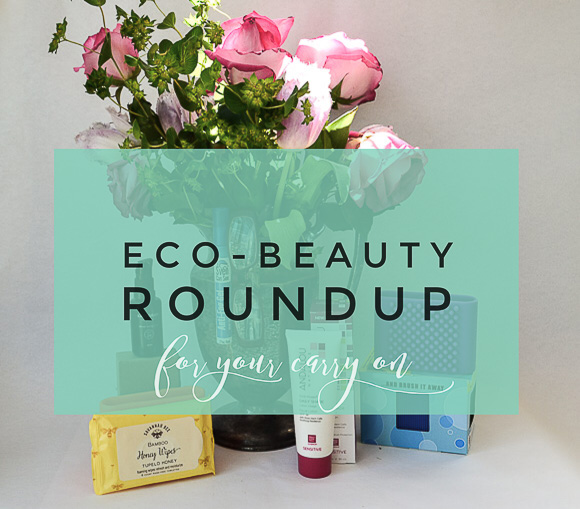 Here are some great eco beauty brands that won't break the bank and make a great addition to your travel carry on. Little changes that we can make every day add up to monumental change. Let's work towards making Earth Day every day for future generations to come.
So why does Mother Earth want you to think about sustainable skin care?
Keep your skin safe. Take a look at the ingredients listed on the back of your favorite skin care product. It's likely that you'll find various tongue-twisting terms that represent a concoction of chemicals that may or may not be healthy for your skin. That's because the FDA doesn't require safety tests before beauty and personal care products enter the market. In addition, whether a product is green or not, always research the company and ingredients.
Keep the earth clean. Unfortunately, beauty products that contain certain chemicals can harm the environment once they go down the drain. If mercury, lead acetate, toluene or petroleum catches your eye, you might want to opt for another choice that's safe once it hits the septic system. If it will damage the environment, those things don't belong on your skin either.
Support a sustainable economy. Many natural, eco-friendly cosmetic and skin care companies are started by small business entrepreneurs interested in making a difference. Many can also be local. Putting your dollars in a place that creates change and supports the community is a way to keep your dollars close to home. The combination of both represents an economy that promotes products and services that are healthy for you and the planet. By purchasing from companies committed to organic or all-natural ingredients and practices, you're contributing to an economic effort that will better the planet and the global economy.
1. Andalou 1000 ROSES® DAILY SHADE FACIAL LOTION SPF 18
My dry and delicate skin drinks up the moisture in this face cream. My nose drinks up the heady scent of roses. I may or may not use it more then I really need to. This ultra-sheer SPF 18 facial lotion with alpine rose stem cells, combines essential hydration with easy to wear sun protection, a must during the day.  Retail: $14.95  2.7 fl oz
♥
2. Adventure seekers will be thrilled with Sven Can See , a pocket-sized anti-fog solution that delivers instant results. How many times have you gulped for air in a semi panic when your goggles have gone hazy underwater? Whether you are snorkeling, skiing, biking or off roading in an ATV, this product keeps you seeing clearly. The formula contains a biodegradable active ingredient, is free of isopropyl alcohol, harmful chemicals, fumes and odors, and is non-flammable. It's an environmentally-friendly alternative that's safe for eyewear users of any age. Added benefit of use on foggy mirrors when you are on the go! Great travel packaging-the size of a pen. Retail: $10.95
♥
3.KARI GRAN–I must admit I am having a bit of a love affair with my Kari Gran travel kit. Hailed as  the little black dress of eco-skin care, I'd have to say I agree. This eco-luxe, all natural brand provides a simple and elegant solution for women on the move, and dresses it up in recyclable dark violet, light blocking bottles, thus preventing molecular decay for their preservative and toxin free ingredients.
Now I can add in their new everyday sunblock to my repertoire. Three Sixty Five is a broad-spectrum, facial sunscreen designed to be used 365 days of the year — rain or shine. Broad-spectrum sunscreens protect against both UVA, rays that age the skin, and UVB, rays that burn skin. Both types of UV radiation have been linked to cancer.
I tested the sunblock in Colombia and Florida earlier this year and the coverage was solid for someone who burns quite easily. The scent takes me back to my Jersey shore days of zinc oxide and surfing! Plus, they've contributed to life changing surgeries for children in India, my favorite country, through partnering with Wonderwork. Need I say more…   Retail: 30ml $48.00
♥
4. I just had to include Bump It OFF™  in the round up because-well, I love a cool product that can multi task! This silicone 'glove' fits over your fingers in a variety of ways. Concentrate scrubbing  power in your palm, or with your fingertips. The rounded bumps on one side are great for a gentle loofah like exfoliation in the shower. Ramp up circulation all over your body with a massage to help alleviate jet lag.
Comes in four colors, so you can keep them separate for different jobs in the house. Also an excellent tool for pets, removing stains and in the kitchen. The award winning tool is easy to clean and dishwasher safe on the top rack. I especially liked that unlike a sponge or washcloth, it resists odor and mildew.  Retail : $19.99/2 pack
♥
5. I first learned about the  Savannah Bee Company  during a trip to Charleston, SC when I happened upon one of their retail stores. Can you say #sweetsuccess? Their Tupelo Honey is the gold standard by which all other honey varieties are measured. For two weeks every spring, White (Ogeche) Tupelo Trees in the Southeastern swamps bloom with fine sunburst-shaped flowers that glisten with nectar.
Beauty products are made with organic ingredients straight from the hive. Standout eco-friendly item: the NEW Honey Wipes are made out of sustainable and biodegradable bamboo fibers. Tupelo Honey blossom scent is perfect for any occasion and features notes of honey, vanilla, and lemon zest. A quick and portable refresher that reinvigorates and moisturizes your skin at home or on the go. Wipes have a light foaming action that immediately absorbs, without the use of water. Think of how handy they would have been on my small ship cruise to Alaska when a shower wasn't always the easiest or warmest event of the day. They are also perfect for the car, gym bag, or your desk at work. An 8 pack travel size retails : $4.00
♥
Just think, your skin is your largest organ and absorbs everything you put on it. Make a simple change today for just one product you use on your body. Forgive my preachiness for a second and make a statement with your wallet and support a sustainable eco-beauty business. It will be the start of something great!
Pin Me 
♥

Eco Beauty Roundup for Your Carryon
Disclaimer: I receive product samples and/or compensation for sharing eco beauty news and products with my readers. As always, thoughts and opinions are 100% my own. All were Green With Renvy tested. I would never recommend a product that I didn't think my readers would love and I wouldn't use myself.