Eating My Way Thru Costa Brava
If you've been following me on Instagram you might be under the impression that I've been eating my way through Costa Brava. You know what? You'd be absolutely right! While I have plenty more to share about this beautiful part of Spain, I'm leading off with a bit of food porn that will keep me in the gym for extra hours in May. It is impossible to even begin to count the calories I've consumed over the last twelve days.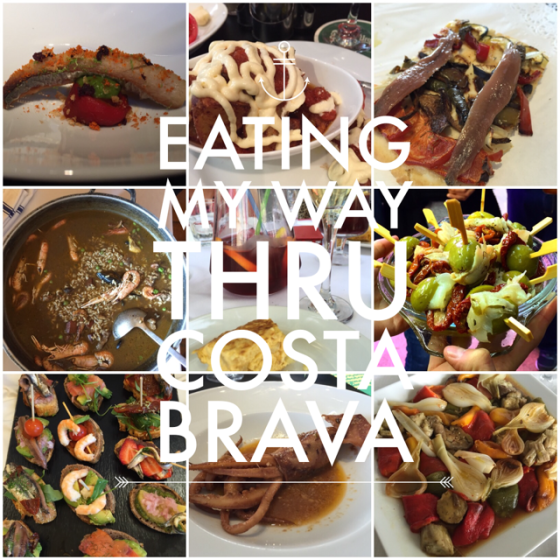 I was in Spain attending the TBEX conference, the largest Travel Bloggers gathering in the world (more to follow on the event). What I discovered in Catulunya is that gastronomy is a huge part of the cultural experience. This trip was over the top for food tasting: 2 hour lunches, 3 hour dinners, copious amounts of Cava. The people of Costa Brava are a hearty bunch, and I had a hard time keeping up. Slow living and slow eating is the mantra in this area of the world. I hope I can take part of the concept home with me.
This digestive liquor, is claimed to have medicinal properties (that's my story and I'm sticking to it!) As the Catalan writer Josep Pla says,  a glass of Ratafia gives us the essence of the people and the landscape in which it was done.  I have to say I agree, as the flavor of this particular brand was unlike anything I had ever tasted. I searched for the particular 1842, as none of the others has quite the same heavenly flavor, but to no avail. It is only available in the small town of Santa Coloma de Farners, and represents one of the oldest recipes around. A return trip is in my future.
After this tapas making workshop, my cocktail parties will never be the same! The idea of pairing simple fresh ingredients together in unique ways makes for some pretty interesting combinations.
On the beach, hotel owners and chefs from the town of Tamariu welcome us into the perfect little fisherman's shack. Membership here is passed down from generation to generation. Cooking instruction, demonstrations, broken conversation and good laughs. Perfect temperatures, live music and flaming cremat-does it get any better than this? Experiences like this are why I love Travel Blogging. My third career reinvention hasn't been easy, the financial reward can be elusive, but this type of authentic personal interaction has the ability to bring tears to my eyes when I remember how warm and fuzzy I felt on this afternoon. I know it sounds cliche; it was one of those events that is hard to describe, but will live with me forever.
Cava is ubiquitous in Spain. Always available, light and delicious, I can't wait to search for it at home in Boston. Could be habit forming…
Somehow I managed to save room for dessert at every meal. This clever take on a soft boiled egg was from the lovely Hotel Aigua Blava, overlooking the Mediterranean in Begur. I love a chef that doesn't take himself too seriously and this combination of white chocolate with an oozing strawberry interior was a great way to end a feast filled with local ingredients.
I've given you just a little taste of all the flavors I was able to sample in this beautiful part of Spain, eating my way through Costa Brava. Make sure to come back to learn more about life in Catalonia.
This post is part of Instagram Travel Thursday, a great way to discover new bloggers and Instagrammers who love travelling as much as we do – have a look through the links below and if you're a blogger, join in!.
Loading InLinkz ...