Design at the Taj
The Taj Mahal Palace Hotel is filled with old world charm. The haunt of Mumbai's beau monde, the old wing houses opulent suites filled with historical references. Despite the horrific events of 2008, the only physical evidence to the building is the massive security presence surrounding this historic sight.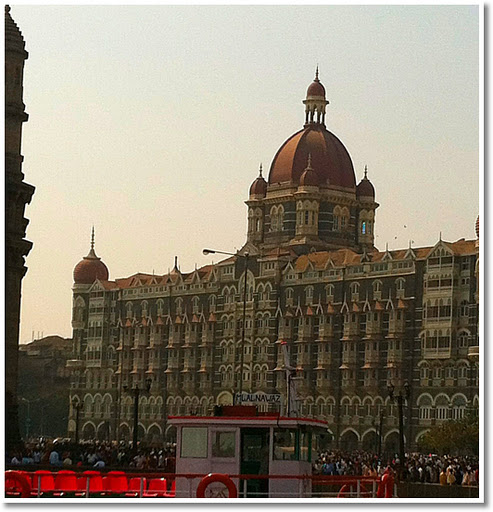 Originally built by a Parsi industrialist in 1898 after he was refused entry to a "whites only" hotel, the Taj has a leader in the city since the day it was completed hosting visiting dignitaries, royalty and rock stars. The grande dame, with her grey and white facade and red domed tiled roofs, presides over the waterfront next door to The Gateway to India.
Architectural details and design reflect the British influence as well as the Moorish traditions of the area.
The art and antique collection is impressive, rivaling the historical significance of the building. Massive Belgian chandeliers, tribal art, Goan artifacts and contemporary sculpture reflect the myriad of styles that are India.
Sitting majestically at the edge of the sea, The Taj Mahal Palace, Mumbai exudes everything old world, everything charming and elegant. Inviting you to imagine the days of the mogul power when it played such an intrinsic part in the life of the city. It is hard to imagine it was the scene of such violence just a few Thanksgivings ago. I for one, am glad to see it back with such a flourish.