Delicious Vegetarian Food in Spain
Food is a integral part of Spanish culture, boasting rich flavors, diverse ingredients, and unique cooking methods. Those searching for vegetarian food in Spain will be pleasantly surprised by the delicious variety.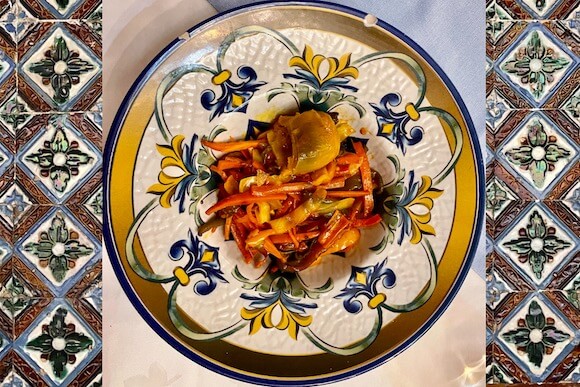 It's no secret that Spanish cuisine is known for its broad use of meat, particularly beef and pork as well as specialty seafood dishes. Traditionally, meat makes up a significant component of Spanish diets, but that doesn't mean you can't eat delicious vegetarian food too!
One of the best things about Spanish food is that it's packed with flavor. Get ready for a blast  of some of their favorite ingredients – extra virgin olive oil, saffron, cumin, garlic, tomato, and paprika.
How Many Vegetarians in Spain?
Vegetarians are on the rise! In a meat-eating country famous the world over for their jamón, you might be surprise to lean that in recent years, Spain has become one of the most vegetarian countries in the world. Approximately 3.8 million Spaniards follow a vegetarian or mostly vegetarian diet, about 8% of the population.
How do You Say Vegetarian in Spanish?
You'll just need to be sure to specify that you're looking for "non-meat" options – SIN CARNE. I found many locals were not familiar with the word "vegetarian". Vegetarian in Spanish is vegetariano (masculine) or vegetariana (feminine).
What to Eat in Spain for Vegetarians
Here is some of the most appetizing vegetarian food in Spain. By no means  is this a complete guide­–a girl can only eat so much…What you will  find are the dishes I enjoyed during my travels. As a bonus, there is a special focus on several dishes that originated in Cordoba, located in the center of Andalusia. Almost everything included can be found throughout the country, but each region has its specialties and variations. Foodies will enjoy tasting the subtleties as they explore the bounty of Spain.
Appetizers
Gazpacho
Put simply, gazpacho is a type of cold soup that is generally made with raw vegetables – including ingredients like tomato, bell pepper, cucumber, and garlic, blended with vinegar, olive oil, and water. Totally vegetarian! This is one of my favorite cold soups and I make it with a wide variety of ingredients at home. My family likes to call it Eating Down the Fridge.
Now, if you're used to a nice, hot traditional soup to warm your belly during the winter time, the concept of gazpacho may sound a little odd. But, considering Spain's warm climate, it's no wonder people prefer something cool! Not only is it delicious and unusual, but it's incredibly refreshing too.
Gazpacho is generally enjoyed as an appetizer because it's so lovely and light, and it's often served in a drinking glass.
Salmorejo
If you're fond of gazpacho, this creamy, salmon-colored purée from Cordoba, Spain, is thicker, smoother and creamier than its gazpacho cousin.  A simple mixture of tomatoes, bread, garlic and olive oil, the addition of bread is the main ingredient that gives the rich texture and differentiates the consistency.
Like most dishes, the quality of the main ingredients ­– olive oil and tomatoes – constitutes its success. Authentic salmorejo has a large amount of olive oil, but don't hesitate to reduce the amount if you're making it at home. Traditionally, the soup is garnished with Ibérico or Serrano ham and diced hard-boiled eggs, so just order sin carné. A terrific version is sold in the supermarkets and with a fridge in your room, makes a light, refreshing snack.
Vegetarian Tapas
Vegetarian tapas options are surprisingly common in Spain these days, even though it's a big meat-eating country. The Spanish tend to enjoy their legumes, so be prepared for your fair share of chickpeas, beans, and lentils. Vegans will be able to enjoy many vegetarian items on the menu.
The best thing about Spanish food is that it's all about flavor, so even if you're not having meat, it's still going to be amazing and creative! Expect some interesting versions of potatoes and vegetables cooked in several different ways – make sure you try out the traditional fried eggplant!
A few of my favorite vegetarian tapas include:
Pan con Tomate – Simple bread and tomatoes
Pimientos de Padrón – Spanish green peppers
Patatas Bravas or Patatas a lo Pobre – Spanish fried potatoes with sauces
Olive Tapas
Olives are pretty much everywhere in Spain. Locals love them and chow down on them all day long, be them as simple snacks or appetizers, in salads, and on top of pintxos. Salty olives are also a great pairing option for a number of Spanish drinks, from beer to wine to vermouth.
Potato Chips – They just taste different here!
Vegetarian Pizza – Of course you can never go wrong with a Spanish version of vegetarian pizza!
Croquetas
One of the most popular vegetarian tapas options in Spain, croquetas are delicious finger food that is slightly different in Spain from some other parts of the world. Traditionally, they're cylindrical-shaped fritter snacks filled with cured ham and bechamel sauce! However, the vegetarian version simply excludes the ham, while some restaurants may get creative and add other fun ingredients.
They're super popular all over the country and are found on most tapas menus. The perfect vegetarian snack!
Cheese
The variety of cheese from Spain is impressive. Each region of the country will have its own varieties. Asturias, in the northwest, is the largest cheesemaking region in all of Europe. With more than 100 types to choose from, the flavors run the gamut from fresh to cured and from fermented to smoky.
Lucky for me, cheese is an important part of a typical Spanish diet. It can be either enjoyed as tapas, in bocadillos, or even dessert.
Two of the most popular cheese types in Spain are the Manchego cheese (sweet, nutty, with a semi-soft texture) and the Mahon cheese (fruity, matured in underground cellars for up to two years, typical of the Balearic Islands).
I normally say
The smellier, the better
If this is your cheese philosophy as well, seek out Cabrales, a cave-aged cheese with a distinct smell from northern Spain.
Side Dishes
Russian potato salad 
It's pretty much just a fancier version of an ordinary potato salad, but it sure is scrumptious. The Spanish version of Russian potato salad is basically a dish made up of boiled, peeled and chopped potatoes with mayo, tuna, cooked carrots and peas, boiled eggs, and roasted red pepper mixed in.
It's normally dressed in extra mayo and even some white asparagus, olives, and red pepper. Definitely not your ordinary potato salad! Russian potato salad has become one of the pretty common vegetarian dishes in Spain, despite its eastern European origins.
Espinacas con garbanzos
Espinacas con garbanzos is a flavorful version of a chickpea and spinach salad that can be served as a meal, a side, or a vegetarian tapas option in Spain. In addition to the two main ingredients, this dish is a throw-together of garlic, extra virgin olive oil (always), tomato, bread crumbs, almonds, sherry vinegar, and a mixture of other tasty spices.
This dish is often referred to as a spinach and chickpea stew, and it's not difficult to understand why. It may seem simple, but it makes for a really wholesome dish full of flavor and nutrients.
Roasted Vegetables
Self explanatory, but the combination of flavors is irresistible.
Calçots with romesco sauce
Calçots are a sign that spring is in the air. This variety of onion with a large white stalk is usually grilled and charred over an open fire. Topped with a romesco sauce (roasted tomatoes, garlic, sun-dried peppers, nuts olive oil and bread) don't miss this speciality of Catalunya.
Main Course
Samfaina
Often compared to the French dish, ratatouille, samfaina is mostly made from eggplant, tomato, onion, bell peppers, garlic, and, you guessed it, extra virgin olive oil. The main difference between this vegetarian tapas dish in Spain and its warm, hearty counterpart in France is mostly that in Spain it's served as more of a fresh, side salad rather than a warm, hearty meal. It's often used to accompany a meat dish, sometimes even fish, but it's also commonly served on its own as a vegetarian dish. Mine featured an egg.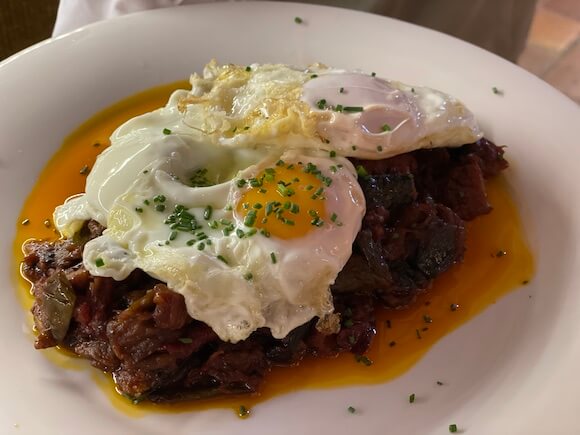 Take note! This was without a doubt the most delicous dish I had in Spain. I am still dreaming about the party in my mouth that took place in Cordoba. Granted, the flavours might have a lot to do with the chef, so I share that this encounter took place at Ermita de la Candelaria. In fact, every bite I had here was pretty extraordinary. If you're in town – GO!
Setas a la plancha
Translating to "Spanish grilled mushrooms", setas a la plancha is a hearty vegetarian food in Spain. Essentially, it's a mixture of chopped wild mushrooms, along with garlic, parsley, extra virgin olive oil, fresh lemon juice, and salt. It may sound simple, but it sure is tasty.
Morels
For another take on mushrooms, I indulged in morels several times. Two very different restaurants complementing the rich flavor with a creamy egg sauce, so rich it almost translated to a dessert. Surprise fresh ingredients that made for an unforgettable combination.
Paella de Verduras
Ordinary paella is a traditional Spanish rice dish made with saffron and a mixture of chicken and various types of seafood, all tossed together in a shallow pan. Paella de verduras, however, is the vegetarian version, and it's just as scrumptious.
Normally, it's made using the traditional saffron and a mixture of vegetables such as artichokes, red pepper, and zucchini. But paella is always about the flavor, so cooking it over a fire is an absolute must!
Desert and Sweets for Vegetarians
Napolitana de Chocolate
If you enjoy a good pastry and you have a sweet tooth, there's no way that you won't like the Spanish napolitana de chocolate. The pastry is light, fluffy, and delicious – its delightful, sweet flavor makes it tasty enough to enjoy as it is!
But it's the creamy, decadent chocolate filling that you're after. There's nothing better than enjoying your morning cup of coffee with a napolitana de chocolate. Biting through the expertly baked pastry to the sweet and rich center filled with high-quality chocolate, there really is nothing better!
They come in different shapes depending on where in the country you go, so you're bound to try them in all different shapes and sizes. Got to try them all, right?
Churros
Lets face it, like napolitana, churros are all about the chocolate. Did you know that Spain was the first European country to use chocolate as an ingredient? The history of its origin is up for debate, but it is well known that Christopher Columbus brought cocoa beans to Spain after his 4th voyage in 1502. Nearly 40 years later, the Maya people from Guatemala came with gifts, including chocolate, to the court of Prince Philip.
The Spaniards added something the Mayans and Aztecs could not – sugar – and the first version of a chocolate dessert was born. Somehow they managed to keep the secret sauce from the rest of Europe for almost a century.  It then quickly swept across the rest of the elite in Europe. Chocolate is part of Spain's culinary history and I had no idea the country had such a love affair with this ingredient.
As far as I'm concerned, churros are basically a vehicle for getting the creamy chocolate into your mouth. And you could probably just spoon it in with less calories, but one thing you can't do in Spain is count calories!
Mató I Mel
Mató is a soft textured cheese similar to ricotta or farm cheese. Traditionally served with local honey, it is a light, flavorful ending to what is often a very large meal. I wanted to try both of the sauces, the waiter was horrified to put them on the same plate; the honey definitely reigned supreme. Served with a bright dessert wine from the Mediterranean, it is a take away I have repeated often after returning home.
Pastel Cordobés
As the name suggests, this traditional dessert hails from the city of Córdoba. The cake consists of two layers of flaky puff pastry and a filling made from a tasty squash jam, also known as cabell d'ángel or angel's hair. The filling is traditionally made from Figleaf gourd, a perennial vining squash. This is a lovely, not too sweet end to a meal.
Bonus – Eat Local in Cordoba
Where is Cordoba?
Cordoba is a city in Andalusia, Spain, and the capital of the province of Córdoba. Located in southern Spain, It is the third most populated municipality in Andalusia and the 11th overall in the country.
Cordoban Food for Vegetarians
What could be a better reason for visiting a destination than the excellent gastronomy? The essence of different cultures that have passed through this region is inherent in the flavors and recipes of Córdoba. Discover the influence and exotic mix of the Romans, Arabs and Jews.
Make sure to taste the "golden liquid" of the surrounding olive groves. Making the most of ingredients from the surrounding mountains and countryside, the taverns and restaurants offer the deliciousness and health factor of the Mediterranean diet. In fact, Cordoban Gastronomy has recognized by UNESCO as the Intangible Heritage of Humanity since 2013.
The food itself is as diverse as its history with the combination of flavors from all who have left their mark here. The regional ingredients of almonds, dates, oranges and figs all reflect the Moorish influence. Pumpkin, squash and the flavors of saffron, cumin and garlic are heady in the marketplace. And let's not forget the role the Moors played in the development of olive oil production.
There are many vegetarian specialties in Córdoba that have been mentioned above. Here are a few places to indulge in their special flavors while having a sensational meals.
Restaurants in Córdoba
Built in an old hermitage, down a cobbled street is the beautifully designed Ermita de la Candelaria. The restaurant showcases a simple and elegant ascetic, much like the delicious food. The best of ingredients available to feed all the senses. Every bite here was on point including the classic cordoban creamy Russian salad,  orange ice cream with olive oil and of course the samfaina mentioned above.
After a performance of the Andalusian Horse Show (link) the plant filled atrium of Puerta Sevilla  was the perfect respite from the heat. The charming taverna is owned by the gracious Ortegas and welcoming us for another round of Cordoban dishes is their specialty.
Highlights included Ajo Blanco, a cold soup thickened with almonds and bread and a mouth watering artichoke in wine reduction over local vegetables. Natural Andalusian wines were served throughout and we topped it all off with a serving of Pastel Cordobés.
Mercado Victoria first food market in Andalusia with dozens of stalls selling everything from wine and cheese to tapas and seafood. Sightseeing can work up quite an appetite and the perfect solution for an epic, casual tasting of Cordoba is the Mercado Victoria. This food hall brings the flavors of Andalusia into one location and promises your tastebuds will leave filled with gastronomic pleasure.
Was it possible for me to try another bowl of salmorejo? What about mushrooms and champagne or Cordoba's take on sherry with a glass of Montilla-Moriles wine? Empanadas–check, cheeses–check, nido de patatas–check. All this and so much more awaits at this fun venue!
Conclusion – Can a Vegetarian survive in Spain?
I think you can see the answer to that question is a resounding YES! Vegetarian Spain offers a wealth of flavor for visitors who are not meat eaters. Vegan and vegetarian restaurants might not be bursting onto the scene in smaller villages, but in Barcelona and Madrid, there is an abundance of top choices for both. Check the Happy Cow APP when you are making your plans. The beauty of the tapas culture is the wide variety of choice and I guarantee you will come away with happy tastebuds!
¡Buen provecho!