Cruise on The Most Luxurious Ship Ever Built
Looking for a luxury cruise for your next vacation? Look no further than Regent Seven Seas Cruises. With a fleet of five ships, the company's showstopper Seven Seas Explorer is billed as the "The Most Luxurious Ship Ever Built".  Guests will have to judge for themselves whether she lives up to her reputation, but after touring the ship, I can enthusiastically say that the amenities for guests provide a luxury experience like no other. My concept of small ship cruising has grown exponentially after my visit aboard Seven Seas Explorer.  
My first observation after coming on board was the sumptuous details. Coming in at a cost of $450 million, she rightfully exudes luxury in every detail.  Artwork is everywhere. In fact, the ship's museum-worthy art collection includes pieces by Picasso, flanking the doors of the ultra-luxe Regent Suite, as well as other works from Miró, Chagall and Arranz-Bravo.
Sparkling crystal chandeliers highlight many spaces with remarkable variations of Murano glass.  An impressive selection of black and white photography lines the hallways of each floor of guest suites and is organized by theme. I especially loved the shots of Hollywood glamour from days gone by.
Suites on Regent Seven Seas Explorer
With a maximum of 750 passengers on board in 375 suites, the interior of the ship feels like an opulent boutique hotel. The crew of 552 insures a high level of personalized service. The only time I felt like I was in a larger space was riding on the elevator, and even then I was too distracted by the chandeliers and views to even remember I was on a cruise ship.
Suites on Seven Seas Explorer line the outside of the ship and include balconies. While masculine in feel, the dark wood and colors exude an elegant and luxurious atmosphere. I was thrilled to see lighted make-up mirrors and original artwork in all the suites. They also include a stocked in-suite mini bar and 24 hour room service.
All Inclusive on a Regent Luxury Cruise
Like myself, Seven Seas Explorer is a bit of a snowbird, following the good weather around the world. Winter will bring itineraries to the warmer climates, typically like the Tropics and Asia. In summer, she will be found in cooler countries such as Russia and Norway. Guests can also choose from ports in the sunny, picturesque coastlines of Spain, France and Italy.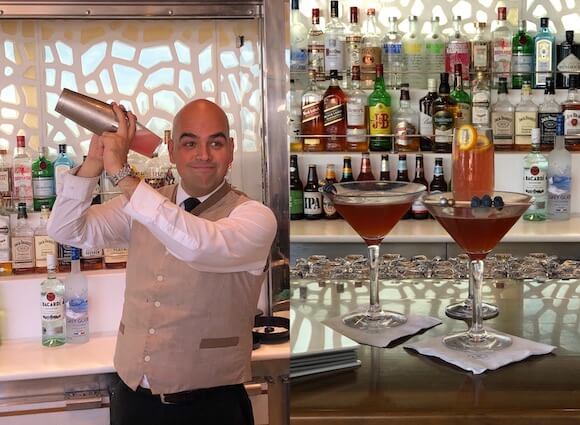 Forget any notion you might have had about the term "all-inclusive". From the business class flights (for international guests), unlimited shore excursions, unlimited beverages, wines and spirits, unlimited wi-fi, airport transfers, pre-paid gratuities, specialty restaurants and much more, this is a cruise where you can relax without a care in the world. The Details are Regent's forte.
Fine Dining Aboard the Regent Seven Seas Explorer
With six restaurants from which to choose, Seven Seas Explorer offers a broad spectrum of choices for the guest. I had the pleasure of dining in Chartreuse, a majestic space with views to match.  Reminiscent of a smart Parisian restaurant with furnishings in one of my favorite colors, the gold-accented dinnerware perfectly accentuated the elegant decor. 
I was able to try a selection from the plant-based menu which just happened to feature my favorite vegetable in a light and delicious beet carpaccio with dots of a heavenly cashew cream. Hearts of artichoke followed and the finishing touch was Baked Alaska. All were accompanied by wine selections, and of course, Vero sparkling or still water.
Plant Based Menu
You don't have to be strictly vegetarian to enjoy the selection from the ship's plant-based menu. In fact, luxury travelers with an eye on the environment and healthy eating are embracing plant-based dishes like never before. With offerings available for breakfast, lunch and dinner, flavor profiles are influenced by destinations including Italian, Greek, Middle-Eastern, Vietnamese and Malaysian essences. I was especially thrilled to see my new obsession, The Impossible Burger, as one of the selections — along with skinny fries! 
Culinary Arts Program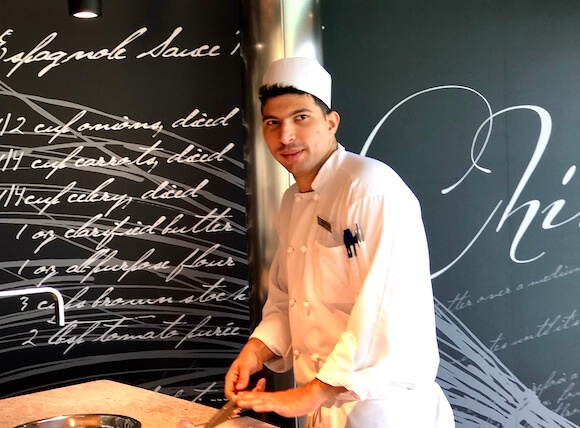 Regent boasts a culinary arts program that would give well-known educational facilities a run for their money. Focusing on technique, the classes are often inspired by the destination. Guests can tour local markets with the chef and come back to the ship to have a hands-on learning experience in a well-equipped kitchen that just happens to come with a glorious ocean view.
Chef Linda Miller explained that part of the Regent mission is for guests to learn about the local culture during the class and how to take the lessons home. There, they can incorporate new ideas into their own hospitality while entertaining friends and relive a great memory of their travels.  
Sustainability and Eco-Friendly Practices
As a frequent water-based traveler and small ship cruise lover, exploring a company's eco- philosophy and sustainability practices is important before I embark on any travel experience. Regent is very aware of the importance of protecting the oceans as well as the environment. The company has many programs in place enabling them to act as a steward for the sensitive waterways its fleet visits. Progressive waste management and energy efficiency programs work to save natural resources and keep waste out of landfills.
Some eco-friendly practices on the Regent fleet include:
    Plant based menu selected from a repertoire of over 200 dishes; options available at all meals.

    Installation of a Vero water purification system on all ships as an alternative to bottled water. Available in either sparkling or still, the system eliminates close to 2 million plastic bottles annually.

    Partnering with

The North American Marine Environmental Association

advocating the preservation of the marine environment. #saveourseas

    #SayNotoPlastic – The gradual implementation of the removal of approximately 50 million single use plastics annually, including straws and plastic water bottles.

    Environmental Officer on board every ship focused on training and compliance. Also available to answer guests' environmental questions and provide hands-on crew training.

    Wasted Heat Recovery Program – recovering heat from the engines and transferring it to the freshwater piping. Saving fuel and improving efficient water production has been the result of this successful implementation.

    Work with

the Alaskan Raptor Center

, a critical mission I have experienced in Sitka, Alaska, to protect and rehabilitate the national bald eagle and other birds, as well as educating the public.

Globally inspired treatments in the spa incorporating natural ingredients and unique traditions from around the world.
With one of the most inclusive packages of all cruise ship lines, their high percentage of repeat customers is proof that the formula of An Unrivaled Experience® is clearly successful on the world's most luxurious ship.
Disclosure: I was the guest of Regent Seven Seas Cruises for review purposes and this experience.