Cook Like a Tico from Costa Rica
Costa Rica was most probably the first destination to come onto the eco friendly radar. Long known for offering all levels of sustainable tourism, the phrase Pura Vida or pure life weaves a web  throughout the country's culture and lifestyle. While it might not currently register as a foodie destination, that my friends is quickly changing. I recently had the opportunity to talk food and indigenous ingredients when I was invited to Cook Like a Tico with Costa Rica's Gastronomic Chef Ambassador for Sustainable and Healthy Plan, Randy Siles. Chef Siles has been busy traversing the globe, surprising guests like myself with innovative recipes that highlight the sustainable food chain in Costa Rica.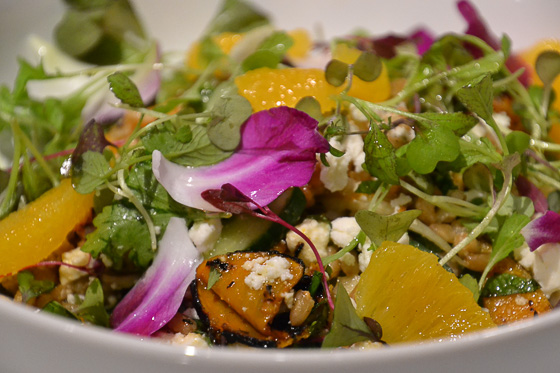 Farm to table was a way of life here long before it became a phrase in the popular eco friendly lexicon. Locals in this country make daily trips to the bakery. Farmer's markets are common shopping destinations to get the freshest ingredients. You are probably acquainted with the rich and aromatic Costa Rican coffee and the brewing vehicle, known as chorreardores. What are the other indigenous ingredients you'll find in this Central American country? Dig a bit deeper and you'll find plenty more than rice and beans.
When you are bordered on one side by the Caribbean and the other by the Atlantic ocean,  rest assured there will be plenty of seafood on the menu. Casado. Mahi-mahi, red snapper, sea bass and tuna are all very common. You'll also find fresh lobster, clams, calamari and crab, all mainstays that the Caribbean waters are known for.
I discovered how fertile volcanic soil allows for sustainable methods of farming on my recent trip to the Azores. A warmer climate in Costa Rica combined with the rich soil enhances the agricultural methods even further, allowing for a much wider variety of ingredients. While bananas, pineapples and watermelon might be the countries largest exports, farmer's markets will offer a dizzying selection of giant green avocadoes, mangoes, tamarind, lychees, guava, and golden Peruvian brown cherries, looking a bit like tomatillos in their pods. Pear squash, peach palm fruit, mangosteens, star fruit, passion fruit, noni, lemandarina and coconuts are also part of the picture in season. Hungry yet?
Let's start to Cook Like a Tico!
Chef Siles spoke about available local fish, fruits and vegetables in Costa Rica and substitutes that anyone can find in their own marketplace while we chopped away for the recipes on the menu.
Red Snapper Ceviche (enough for 2 people)
Ingredients: 
 1/2 lb.  fresh red snapper (chopped)
 2T. fresh lime juice
 2T. mango (chopped)
 2T. heart of palm (chopped)
 A handful of Cilantro (chopped)
 1/2 small purple onion (chopped)
 Salt (to taste)
 Pepper (to taste)
 1/2T.  Olive oil
It goes without saying that you must find the freshest fish available from your local fish monger.  Mix everything in a bowl and serve. What could be easier. Enjoy!
♥
Squash + Farro Salad
Ingredients: (serves 4-6)
1 medium butternut squash grilled
1 1/2 c. cooked farro
2 fennel bulbs (raw chopped)
1 cucumber chopped
basil (handful chopped)
mint (handful chopped)
1/2 c. cashews (chopped)
1/2 c. feta cheese (chopped)
coriander (handful chopped)
segments of an orange
1/2 c. olive oil
1/4 c. lime juice
micro green (for plating)
edible flowers (optional)
salt and pepper to taste
This recipe is very loose and flexible. We made it for the Cook Like a Tico dinner in bulk, so I cut down the ingredients when I tried it at home and the amounts above worked for me. If you like more or less of an ingredient, feel free. It is a light, fresh dish and could be made with a variety of components. The point chef Siles was illustrating: when you have fresh ingredients, recipes can me made by taste, as you like and put a smile on your guests face because it has such a bright flavor. Experiment!
Cut the squash into slices and coat lightly with oil. Grill until done. The chunks should be bite size, so cut them down if the squash was large. Let farro cool. Mix together ingredients through coriander. Wish lime juice and olive oil together, pour over salad and add salt and pepper to taste. Plate with micro greens and edible flowers.
Traveling to Costa Rica makes it easy to be a responsible traveller at every level. You can focus on wellness with an eco friendly yoga retreat, spend time exploring approximately 5% of bio-diversity in the world, and now you know how easy it will be is to Eat like a Tico with fresh, local ingredients.  Surely the Pura Vida awaits.
Pin Me 

♥

Cook Like A Tico
OR: