Chowmahalla Palace Hyderabad India
It took me a few minutes to recover after entering the Chowmahalla Palace in Hyderabad, India. I have a bit of a love affair with sparkly, glass objet d'art, and the fixtures inside this Heritage Site were enough to give anyone chandelier envy. Built by the Nizams, and completed by 1869, the Chowmahalla Palace was home to the Asaf Jahi dynasty and is a synthesis of many architectural styles and influences. Today, it houses one of the most over the top collections of Belgian crystal chandeliers I have ever laid eyes on!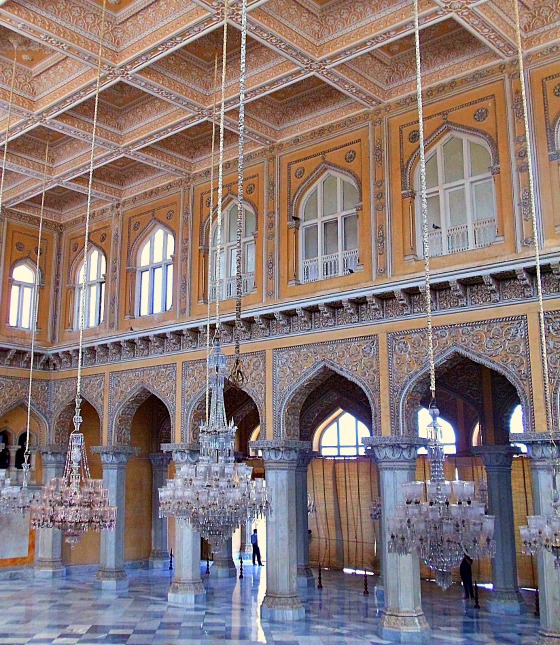 Although the chandeliers are rarely turned on, the sunlight streaming through the expansive windows was more than enough to make them one of the most dramatic features of the palace.
Coupled with the white marble floors, the room presents a stunning picture of royalty and the culture during that time.
Fairy tale scenery from Cinderella comes to mind. The Nizams were legendary for their patronage to the arts and science. The elegant rooms contain hundreds of exhibits, costumes and photographs, rare manuscripts and priceless books-all shedding light on a time of extravagance of a bygone era. In one of the outbuildings, visitors can be served pre-arranged high tea. It's a rather odd experience: elegant, sophisticated, and dusty all at the same time, but very Indian in nature, and not to be missed.
I got a bit dizzy taking this photo between the complex ceiling design and sparkle of the chandelier, it was hard to keep my balance looking up.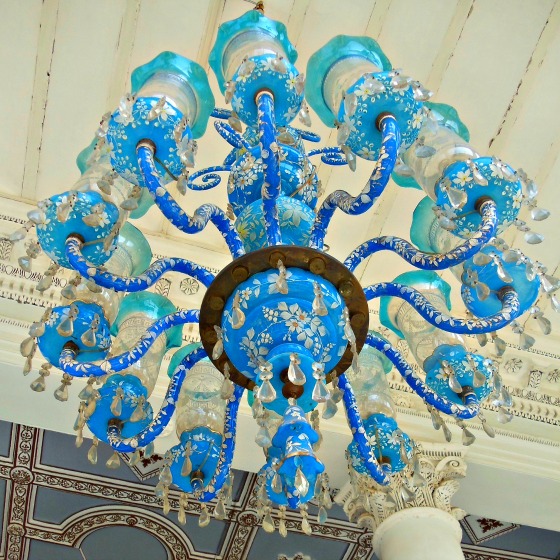 Be still my heart…I've saved the best for last, clearly my piece de resistance was this beauty!
Photo credits: Bottom-Chowmahalla Palace by Evstaquio Santimano, All other photos by Alison Abbott.
Visit the Palace 10am-5pm. Closed on Fridays. Cameras are allowed, fee must be paid.