Celebrating Women Who Travel
March is Women's History Month. This year, the theme is #BalanceforBetter, a balanced world is a better world. I can't think of a better reason for marking the occasion of women's achievement and trying to raise awareness against bias.
Celebrating women who travel is just one of the many categories of impressive females in our history. We've all heard of Amelia Earhart, Jane Goodall and Nellie Bly, the list of inspiring women is a comprehensive one.  Intrepid explorers all: one part bravery, one part brains and a whole lot of wanderlust and passion.
In celebration of International Women's Day, I thought I'd share the stories of  a group of relatively unknown women with very different histories. One a survivor, one a wealthy explorer, one a remarkable artist and a group of women scaling new heights of adventurer. The common thread- women who travel runs through and changes their lives in unexpected ways.
Women Who Travel To Survive
Ada Blackjack (1898-1983)
I learned of Ada Blackjack, an Iñupiat woman,  during my trip to Alaska's Inside Passage in 2016. Often called the female Robinson Crusoe, she was born in Alaska and spent much of her life in the unexplored territory.  Her husband drowned and left her penniless without a lot of options. In 1921, at the age of 23, the petite Inuit woman  joined an expedition, led by Canadians, as the cook and seamstress. They were crossing the Chukchi Sea to claim Russia's Wrangei Island for the British.
The five settlers soon ran into terrible conditions and were unable to forage and hunt enough food to survive. When three of the men left to try and cross the sea into Siberia, Ada was left with a sickly 'explorer' and the expedition's cat.  The men were never heard from again.
Ada survived the freezing conditions for nearly two years, all the while keeping a journal of her struggles. When she was rescued, many tried to exploit her story. She was horrified by the media frenzy and never profited from the experience. She spent the rest of her life in Alaska until she died at the age of 85. Her story is recounted in compelling detail by Jennifer Niven in Ada Blackjack: A true story of Survival in the Arctic.
Women Who Travel for Physical Adventure
Lucy Smith, Jane Inglis Clarke and Mabel Jeffey
Have you watched the Oscar winning documentary Free Solo? It's filmed with breathtaking beauty and gives quite a perspective on modern day climbing. Equipment is loaded with safety features, high tech shoes and harnesses are part of the picture.
Now just imagine early female climbers and the challenges they faced. Picture ankle length skirts and a length of rope tied around the waist. Add in a dose of discrimination and you have a picture of the Ladies' Scottish Climbing Club. Founded in 1908 by Lucy Smith, Jane Inglis Clarke and her daughter Mabel Jeffey, these athletes laid the ground work for modern day female adventureers and climbers.
Don't dare tell a woman who travels- she can't. Although women were banned from joining the Scottish Mountaineering Club in the 1900's, these three female leaders decided to form an organization of their own.   Membership in the group involved first scaling four different 3,000 ft peaks; two snow and two rock ascents.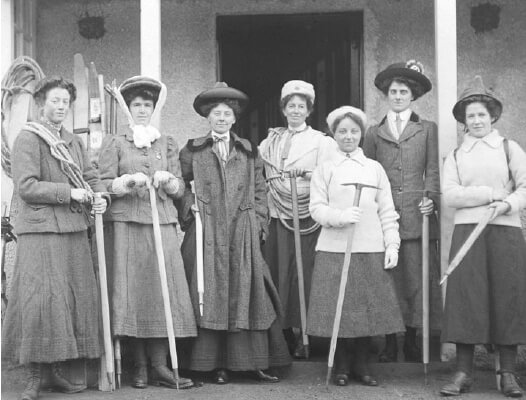 Beginning their climbs in the dress of the day, including hats, and street shoes, once on the mountains, the women would often disrobe and move on in knickers, knee length pants hidden under their dresses.Imagine scaling the peaks of  Suilven, Glencoe and Skye  without modern day equipment
In 1908 with their 14 members, the Ladies Scottish Climbing Club was a force to be reckoned with. They challenged the conventions of the day and broke barriers leading the first Women's Expeditions to the Himalayas and Greenland. Trailblazers all, the club today is the oldest all women mountaineering club still in existence.
Women Who Travel For Their ART
Marianne North Botanical Painter (1830-1890)
Marianne North was an artist who stepped outside Victorian convention in England and painted flora around the world. Her early travels with her father took her to Syria and along the Nile, resulting in a strong case of wanderlust. After his death in 1869, she made capturing the world's exotic flora on canvas her life's work.
Over the next 15 years she traveled to 17 countries. She especially enjoyed the jungles of the world and captured the tropical and unusual flowers of Borneo, Ceylon, New Zealand Japan and countless other countries.
Independently wealthy and unmarried, she had the means to fund her passion and independent lifestyle. Her trailblazer spirit took her to many countries other citizens of the conservative era deemed unsafe. Often the artist became the topic of conversation in the British newspapers.
She was a contemporary of Charles Darwin who encouraged her travels, and often consulted with her about destinations. Marianne gave her collection to the Royal Botanic Gardens at Kew, where a gallery was created and more then 833 of her paintings hang there today. The unusual layout of the tightly hung paintings seems to echo her life devoted to travel and painting with little time for any other pursuits.
Women Who Travel To Explore
Harriet Chalmers Adams (1875-1937)
This American adventurer's love of exploring little known parts of the world began with camping trips with her father, a mining engineer with a taste for the gold rush.
Touring with her husband took her to Central and South America. She became a regular contributor to National Geographic in 1907, and it was as a lecturer and writer she found herself traveling more than 100,000 miles, many of them solo, to study important linguistic groups in North and South America. Solitary rivers, impenetrable jungles and dugout canoes were her only companions crossing the Peruvian Andes on mule.
Adams was a fierce believer in a woman's ability to succeed and as one of the organizers of the Society of Woman Geographers, she was their first president.  Through her solo travels, she faced many difficulties, but never felt being female a burden to accomplishing her goals.
I've wondered why men have so absolutely monopolized the field of exploration. Why did women never go to the Arctic, try for one pole or the other, or invade Africa, Tibet, or unknown wildernesses? I've never found my sex a hinderment; never faced a difficulty which a woman, as well as a man, could not surmount; never felt a fear of danger; never lacked courage to protect myself. I've been in tight places and have seen harrowing things.

Celebrate Women Who Travel to Discover Themselves

Join me in celebrating women who travel both past and present.  In today's climate there is no better way to open our hearts to other cultures and understand populations throughout the world. Embracing a sense of adventure, I wish you all safe travels and a Happy International Women's Day.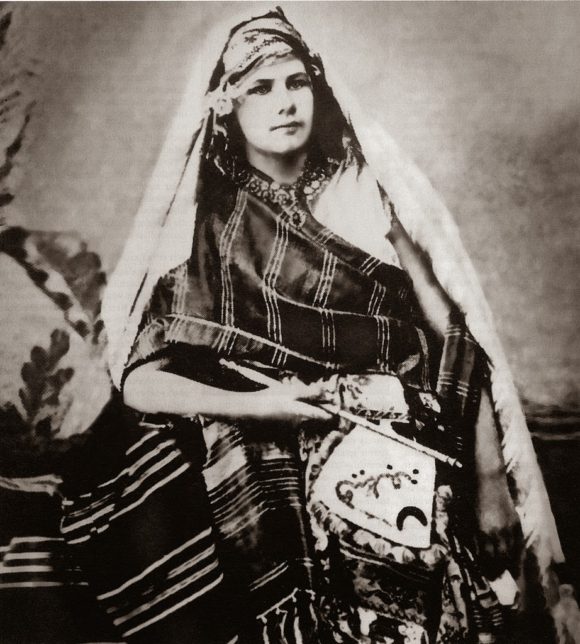 Far away there in the sunshine are my highest aspirations. I may not reach them, but I can look up and see their beauty, believe in them and try to follow where they lead.  ~Louisa May Alcott
All photos via Creative Commons