Catalonia's Romantic Hotel la Plaça
Set in a charming medieval village landscape that has inspired artists for decades, Catalonia's romantic Hotel la Plaça is a beautiful and dreamy place to stay in Madremanya, Spain. This property is a peaceful destination to relax, but close enough to some of Catalonia's best-known attractions.
Madremanya is just 5km from Gala Dalí Castle in Púbol, the former home of Salvador Dali and a 30 minute drive from Girona. Greetings from the staff on arrival are warm and friendly; they are more than willing to help with any suggestions, or leave you to your own devices.
History
Madremanya is an exquisite walled town where time appears to just stand still. It is little wonder the area is used for film sets. While I was visiting, it was rumoured that the set designer from Game of Thrones was in town scouting the location.
Dating from the 11th century, the town was once called Madremania. There is evidence of Roman settlement nearby with the discovery of pottery fragments and Neolithic caves, and it is thought the town was linked to the famous Via Augusta. Hotel La Plaça is an idea base to explore the historic elements here and of the surrounding area.
Location
Offering a setting with its own vineyard and comfortable rooms, the Hotel La Plaça looks out over stunning countryside and Gavarres hills. This is on the renowned Dali Route where visitors can explore locations from the artist's life.
 The picturesque village of Cadaques (home to the Salvador Dali House Museum) and the Costa Brava is a short drive away and the city of Girona is within easy reach. Exploring Madremanya is a must with its cobbled stone streets and large square or Carrer Processo. Buildings appear to be original and are tastefully restored in an eco-friendly way with repect for their history. The narrow corridors are so quiet, at times, you might think the town is deserted. Many cats make their home on the windowsills and steps taking in the rays of sunshine on a warm afternoon.
My visit was during the shoulder season and the narrow cobbled streets provide a delightfull opportunity to explore the town and imagine you are a character in a period piece. I never saw another sole as I made my way up and down the paths. Around each passageway I was unsure if I would end up in someone's backyard or at a dead end overlooking an incredible vista. The town is small and easy to explore on foot, but you'll want to linger and take it all in. It's not often you can be solo in such dramatic and historical surroundings. I spent a good deal of pensive time wondering what it would be like to live here, not only many years ago, but today; what a different, simple pace of slow living.
There are beautiful countryside walks and cycling routes in this part of Catalonia. This is the heart of rural Spain. The hotel has bikes available for guests. Nearby,  Cruilles houses the historic Romanesque monastery of San Miguel de Cruilles, whilst Quart is famed for its ceramics and fine restaurants.
For active visitors the Emporda Golf Course is close by and for the adventurous there are hot air balloon rides over the spectacular Catalonian countryside. Families will love the water park at Platja d'Aro whilst the River Ter has some awesome kayaking. There is even a jam making museum in the area and at Bisbal a Terracotta Museum.
Rooms
At La Plaça Madremanya the hotel is decorated in an elegant but much understated style. Common space includes a cozy library well appointed with a myriad of selections and charming lounging spots throughout the hotel. Vintage rugs decorate the floors and antiques subtly flavour the space with elegance. The terracotta floor tiles and décor give the rooms a country style. Some have wood burning stoves, flat screen TVs and a minibar.
Rooms are spacious, ensuite, and most have inspirational views out onto the surrounding countryside. Mine had a delightful terrace where I set up shop for the afternoon, caught up on some work and tried not to get too distracted by the views down over the hillsides. Poppies were blooming in the distance and the odd cow or goats strolled by, their bells the only sound breaking the concert of diving swallows whistling by in the azure sky. Ultimately, I gave up and just enjoyed the short amount of time I had to spend in this lovely landscape.
The large tub looked out over the same view and made for a perfect spot to watch the sun set. Ochre walls glisten and reflect the inviting light bouncing off the hills as only hand crafted plaster finishes can. The suites have living areas and there are also studios with a kitchenette making them very practical for an extended holiday. Most rooms have air conditioning. Pets are also welcome at the Hotel La Plaça. There are a variety of packages available to stay here including room only and half board.
Restaurant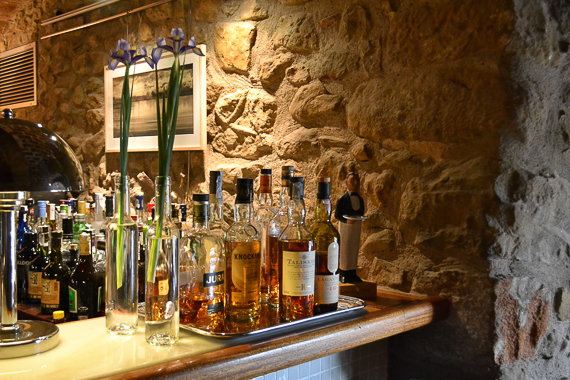 Start your evening with a cocktail at the intimate bar area. One of the highlights of a visit to this hotel is the Restaurant la Plaça which has an excellent reputation for fine local food and wine. Vegetables are grown in the gardens.
Guests can either eat in the intimate stone walled restaurant or on the terrace with its beautiful views. The wine is produced next to the hotel and can be enjoyed with a meal in this very relaxed and subtly elegant restaurant. The chef focuses on seasonal cooking of traditional dishes with a twist. Eating local is a way of life. The food in this area of the country will surprise you and the meal here was one I still hold in my Top 10 and you can read about it in the near future on Green With Renvy.
Amenities
The Hotel La Plaça has scented gardens to explore and a winery on site. The rose collection is exquisite and perfumes the clear air with a fragrance all its own. There is also an outdoor swimming pool with strategically placed teak lounge chairs to take in the views.
It will be hard for guests to leave the premises for walking, cycling, kayaking and golf within a short distance of the hotel. The staff are helpful and also have lots of ideas for tours nearby. People come to this area to see the places associated with Salvador Dali but to also enjoy rural Catalonia.
The ambiance at Hotel la Plaça, Madremanya is second to none and set in a gorgeous, tranquil environment. I love a destination that offers the opportunity to be active in the morning and then relax, wind down and transition into a romantic evening, all the while being surrounded by an idyllic location.
My love of travel and new experiences makes it rare for me to even toy with the idea of a return trip. However, this area of Spain and Catalonia's romantic Hotel la Plaça in particular, is a destination I would jump at the chance to visit again.
Pin Me

♥

 Catalonia's Romantic Hotel la Plaça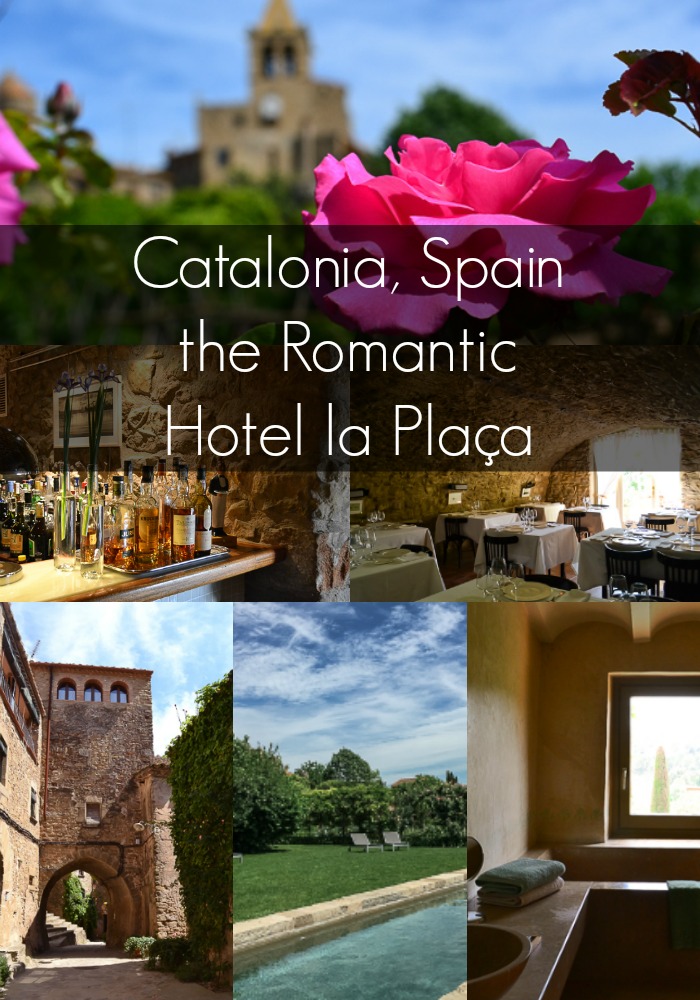 Disclaimer: I was a hosted guest of Catalonia's romantic Hotel la Plaça. Opinions and thoughts about the property are based purely on my experience there.
If you liked this post, enjoy some additional  armchair travel in Spain: