Casa Particular Cuba Homestay
Experiential travel. Is the popular phrase at least partially responsible for the explosion of Airbnb globally? I'd answer a resounding yes. The concept of staying in a home rather than a hotel has helped travelers around the world experience staying local.  The Casa Particular, a Cuba homestay is the equivalent on the island, allowing visitors a true cultural understanding.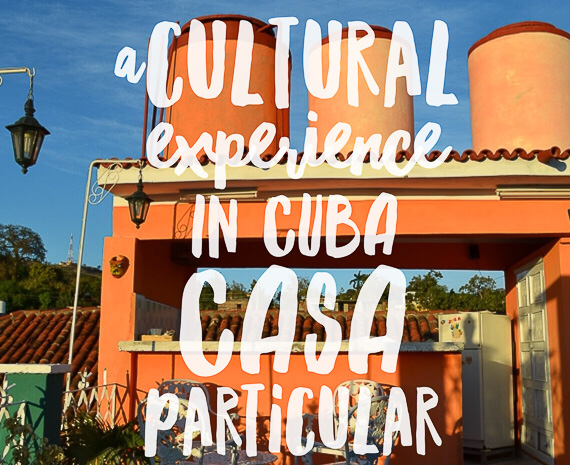 The recent death of Fidel Castro and the presidential election  in the United States has everyone wondering what the next chapter will be for this island less than 90 miles from Miami.
"If Cuba is unwilling to make a better deal for the Cuban people, the Cuban-American people and the U.S. as a whole, I will terminate the deal", Trump tweeted in November.
What a difference a year makes, when Obama became the first sitting U.S. president to visit the country in 88 years. I would urge you to travel to Cuba now, while the opportunity exists, before thawed relations move toward the very real climate change taking place on the rest of the globe.
History
Cuba has been economically and politically isolated from most of the world since the Cuban Revolution in the 1950s. This has molded the Cuban people to be strong, proud, self reliant and sustainable. Cubans know the true worth of goods, nothing there is wasted.
As you explore the colonial streets of popular towns, such as the colorful Trinidad, you will notice 1950s cars driving around the cobbled streets, heritage buildings and refurbished furnishing. You will also see decaying structures everywhere. I was shocked to learn from a meeting with the well known architect Miguel Coyula that a building collapses every three days in the country. Even the former assistant city planner is unsure of the direction this next period will take.
Cuba is a country full of contrasts. Moving forward will be a challenge. When I visited, the country was treading water and just barely handling the influx of tourists who were challenging all parts of the infrastructure. Friends who have traveled there since relate how it has gotten much worse. There are not enough hotel rooms and restaurants are running out of food. With the doors now open for major airlines from the US, I can only imagine how the country will struggle further, before it improves for visitors.
That being said, you'll find a warm and embracing culture. The arts are thriving, the music is infectious and the landscape some of the prettiest I've seen.  Exploring Cuba can really feel like you're stepping back in time and I don't know of another place, except perhaps Myanmar, to exist in the same sort of time warp.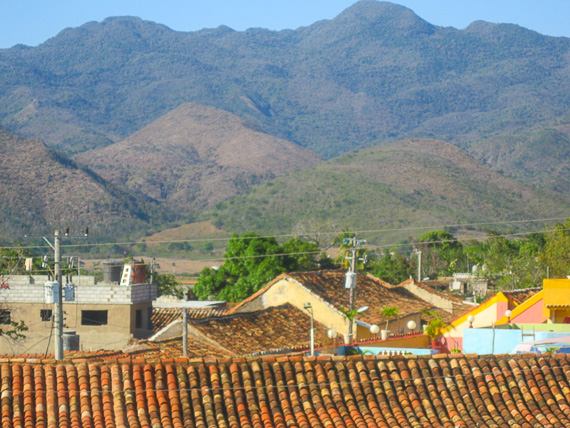 Casa Particular Cuba Homestay
When visiting Trinidad, I had the opportunity to experience a Casa Particular, Cuba homestay firsthand. You'll find few hotels in the charming Unesco World Heritage site. One way to get around the hotel shortage and experience the real Cuba is to reserve a stay in one of the 500 casa particulares. I would call it Cuba's version of AirBNB. They are guesthouse style accommodations, offered by local families throughout Cuba. Staying in a "casa," means literally private home. On the responsible travel side, your money will go straight into the local economy, instead of a chain hotel or foreign owned resort. It is also a great opportunity to get insight into the local culture and meet a Cuban family.
You will have to do some research as obviously all casas are not created equal. Generally speaking, rooms are comfortable and always private (unless otherwise specified), with either a private or shared bathroom. It's not common for rooms to have A/C, however most rooms will have a fan. Fresh linen and towels are provided. They are very clean and basic. I visited rooms in several different homes and all had the same décor. The only variety was color. Ruffled faux satin is the fabric of choice. It's important to remember this is a cultural exchange not the Four Seasons. If you keep an open mind, you will be richly rewarded.
Amenities:
Casa Particulares will vary in amenities, however at a minimum, casas will have a common area, where you can sit, read a book or chat to the owners and a dining area, where you will be served breakfast and dinner. Some "casas" will be more equipped with private seating areas, balconies or outdoor areas. Internet and wifi are luxury items in Cuba. Most casas will not have either. As a matter of fact, wifi is rare and spotty in most of the country. Laundry services are often available.
We had a lovely roof deck with views of Trinidad. The evening sunsets were spectacular, when a quiet hush came over the small town. Barking dogs quieted, cicadas started to hum, neighbors visited on the street. It was lovely insight into the community, especially when you could observe it unnoticed from above.
The owners of the casa are usually very knowledgeable about the area and are more than happy to recommend some activities and sights to see. They are also very connected, and can usually help arrange tours, accommodation in other towns and transport. Basic Spanish would be very helpful.
Dining:
Almost every "casa" will offer home-cooked, local meals for breakfast and dinner. Meals are sometimes additional to the price of the room, but are usually great value and plentiful. It's also an opportunity to taste real, local food. Dietary requirements can usually be accommodated, however you may need to explain exactly what you can and can't eat. Most Cubans are not familiar with vegan or gluten free diets. If you have food allergies and don't speak the language, bring a printed version of your needs from google translate. You'll find it helpful everywhere.
For breakfast you can expect organic, home grown fruits, freshly baked bread, local eggs and an assortment of homemade jams. Strong coffee is always offered with breakfast, along with some freshly squeezed fruit juice. Aside from growing their own fruit and vegetables, some "casas" even grow, roast and grind their own coffee.
Dinner at a casa is another event not to be missed. The most typical Cuban dinner is roast chicken, rice, black beans and fried plantain. Since I don't eat meat, my hosts offered a fresh white fish and soup. It may sound simple, but it's all sourced locally, home-cooked and delicious; one of the best meals I had while visiting Cuba. In addition, the mojitos flowed freely and local beer was available.
How to book A Casa Particular Cuba Homestay
There are plenty of websites and directories specifically for booking Casa Particulares, such as Casa Particular . Airbnb has listings, which seemed a bit more expensive, but I am comfortable booking on their site. Trip Advisor has ratings,  I would research before making a reservation anywhere.
Book at least your first homestay before arrival. If your plans are flexible, once you arrive at your first casa, the owners will help you arrange accommodation in the next town or city. Owners are well connected and you'll soon noticed an  well developed "casa network" between all the different Casa Particulares Cuba Homestays.
Pin Me 
♥

Casa Particular Cuba Homestay Experience