Boston to Martha's Vineyard Weekend Getaway
Right about now, everyone's looking for an awesome weekend getaway. A trip from Boston to Martha's Vineyard is the answer. Seven miles off the coast of Cape Cod, across Vineyard sound, is a destination that exudes laid back, unspoiled New England charm. Pristine beaches and towering cliffs are framed by a seafaring backdrop of maritime history.
Six towns are spread over close to 100 square miles, each with their own distinct flavor. Tisbury offers an excellent natural harbor, Oak Bluffs is famous for its multicolored, fanciful cottages; Edgartown is more formal: manicured lawns and white picket fences generously draped with fragrant roses and includes the infamous island of Chappaquiddick.
Gently slopping hills and acres of green space are found in Chilmark; West Tisbury and Aquinnah (formerly Gay Head) boast striking, colorful cliffs leading down to the Atlantic.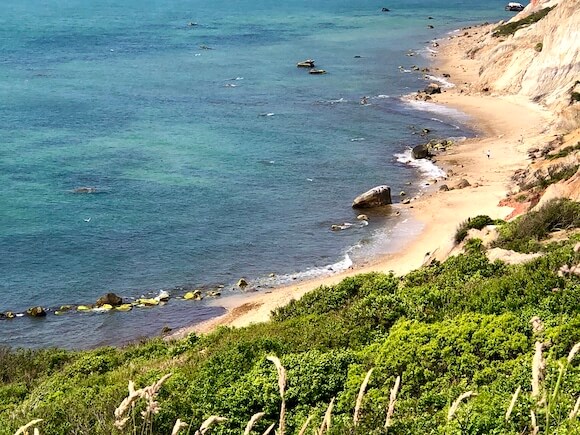 Beaches are the common thread knitting them all together. Some of the 125 miles of coastline are private; others require a parking sticker, and some are unrestricted and open to the public. High season runs from Memorial Day through Labor Day; the fall can be especially beautiful when the crowds have disappeared, and the water has been kissed by the summer sun.
Getting from Boston to Martha's Vineyard
By Ferry for a New England Trip
The award winning destination of Martha's Vineyard is New England's largest island and can be reached by sea or air. Ferries to the island leave from several locations along Cape Cod as well as from New Bedford, Massachusetts, and Kingston, Rhode Island. The ride only takes about 35-45 minutes.
The SeaStreak ferry from New Bedford, MA that takes approx. 1 hour. A bus from Boston also has a stop at the Seastreak Ferry. Flights to Martha's Vineyard depart from big city hubs as far south as Washington, D.C.  If you plan on bringing a car, ferry reservations fill up early, so plan ahead. There is also a stand by option if you will be on island for an extended period of time.
Woods Hole, Massachusetts is the most popular departure point and is approximately 80 miles from Boston. Avoid heavy traffic travel times if possible. The Steamship Authority leaves from Woods Hole and is the only ferry for cars.
Getting from Boston to Martha's Vineyard aboard the Island Queen is a favorite for many visitors. Departing from Falmouth, visitors can relax with a cup of chowder or a cocktail and be there in no time. A round trip passenger ticket is $22.00.
Insider Tip: Taking the ferry from Rhode Island or Fall River allows travelers to avoid the Cape Cod traffic on a busy weekend.
By Bus from Boston to Martha's Vineyard Departure Point
You can also take Peter Pan Bus from Boston's Logan International Airport or From South Station in Downtown Boston to Woods Hole to catch the Steamship Authority ferry. From the airport, the trip takes about 2-½ hours, from South Station about 2 hours. Of course, that's with favorable traffic. In heavy traffic, it could take much longer. Sit back and relax, you started out early enough from your hometown to allow for delays.
Getting to Martha's Vineyard by Train
The Cape Flyer travels from Boston's South Station to Woods Hole with a connection at Buzzards Bay station to the Steamship Authority ferry via a FREE Steamship Authority shuttle bus to Woods Hole. Cape Flyer operates on weekends only during the season.
By Air from Boston to Martha's Vineyard
Cape Air has regular flights from Boston Logan International Airport to Martha's Vineyard. Tickets can also be booked from the Hyannis Airport on Cape Cod.
Insider Tip: Up island, down island, on island, and off island are all part of the local lingo used to describe someone's whereabouts or give directions. It actually refers to longitude. The towns of Edgartown, Oak Bluffs and Vineyard Haven are said to be down island, while West Tisbury, Chilmark and Aquinnah are up-island.
Island Vibe for a Martha's Vineyard Getaway
The casual ambiance of the Vineyard means you'll rarely feel out of place with a wardrobe of flip-flops, shorts, a bathing suit and sundress. Some of the restaurants might be a bit more fancy, but you can leave the sports jackets and spiked heels at home. Pink and green still makes an appearance, along with the infamous coveted Lilly's and Vineyard Vines. The trend definitely swings towards an artsy boho feeling.
Best Outdoor Activities on a Martha's Vineyard Getaway
This desirable island destination has a population that soars from 17,000 to close to 200,000 in the summer. Luckily plenty of outdoor activities await to avoid the crowds.
Make sure to check individual web sites for Covid-19 regulations and opening times and dates.
Cottage City Oyster Tour
Oysters are one of those lightening rod foods. There is no middle ground, you either love 'em or leave 'em. Consumption of the bivalve has skyrocketed in recent years and you can find them on menus around the world. Approximately 35.5 million pounds of oysters are harvested and consumed annually in the US. By far, the Eastern Oyster is at the top of that list, making it one of the most popular seafood choices in the nation.
Self contained, and packed with plenty of nutrients, they represent one of nature's pure, perfect foods. I always love learning more about where my food comes from as well as meeting the small business purveyors producing it. One of my favorite outings on Martha's Vineyard was a visit and tour of the sustainable oyster farm–Cottage City Oysters. They are a trusted source, following vital farming and harvesting practices and helping to insure the sustainability of oyster farming for the future.
Owned by entrepreneurial brothers Dan and Greg Martino, the business, started in 2014, is a true labor of love. It's obvious the brothers are passionate about not just the oysters, but the artisan process of creating their product. We met at the Vineyard Haven lagoon landing dock and after a brief safety review, went out on the water to get a lesson in oyster culture. Production begins inside Lagoon pond where the seed first grows in the nursery to about a one-inch size.
Each farmer has a specific site that is leased for their production. Oysters improve the health of the water by acting as a natural filtration system, thus creating a healthier environment for eel grass and the wildlife living within. The farms are a win/win for both the environment and the consumer. Greg shared that the environment in the immediate area of their farm has changed substantially since they planted their oysters, hosting a vast array of plants and animals now thriving below.
The oysters are then transferred to the open ocean farm where they mature over the next 2.5 years in deep water cages. The raft they have built for cleaning the oysters is built entirely from eco-friendly products and runs off of solar power. Dan explained the labor-intensive technique (each oyster is handled over 100 times) of cleaning and hand shaving the shells at regular intervals to insure a uniform shape and develop a deep teardrop cup to hold the tasty delicacy of meat. The complicated process takes 100's of hours to reach the point at which they are finally culled and harvested for sale. Each year there are subtle nuances that shape the flavor of the meat.
Like anything grown in the soil, oysters pull their flavor from the surrounding environment, or as the brothers call it-merrior–flavor from the sea. Each oyster is intimately impacted by the body of water it comes from, the algae it feeds on, the strength of currents and tides, the mineral content of the seafloor, rainfall, temperature, season and more.
Although oysters can be the same species and grown in a similar manner, just a difference of a few miles in location can have a big effect on their flavor. Oysters grown in the open ocean will have a higher salinity or salty palate. Each is created with a unique merroir.  Since Cottage City holds the only open ocean lease on the Vineyard, the oysters have a very unique composition.
At this point my mouth was watering–who knew I would be foaming for a fresh oyster breakfast? Honestly, they were half a dozen of the tastiest oysters I have ever eaten. The flavor was clean and salty, like I had just taken a dip in the ocean. For an island girl who grew up on the Jersey shore, it doesn't get any better!
Island Spirit Kayak
The view from the water always offers a different perspective and I'll never say no to a bit of vitamin sea adventure. One of the best outdoor activities on the island is a kayak tour with Island Spirit Kayaks. Owned by Chick Stapleton, the award winning company has been an island mainstay for over 20 years. With a passion for water sports and travel, Chick has been sharing her love of both as a guide and dedicated environmentalist around the world for years.
The headquarters are located on State Beach, just 1.5 miles from the town of Oak Bluffs. Our guide, Allyse, was a great ambassador. As someone who grew up on the island, her enthusiasm and joy for its offerings was infectious. For close to an hour, we paddled Sengekontacket Pond exploring nooks and crannies while Allyse shared some of her favorite experiences and places on the island that continue to bring her joy each time she returns.
We passed mansions and private areas of nature along Sengekontacket Pond and its barrier beaches. Two small islands in the middle of the pond are dedicated bird sanctuaries and were loaded with several different species raucously telling us not to come too close!
As one of the largest outdoor adventure companies on MV, Island Spirit takes great pride in sharing their role as environmental stewards. They actively promote the evils of plastic and want to insure they and their clients leave the environment better than they found it. After a beach cleanup, the company fashioned a 20ft great white shark–Nipsy–out of recycled beach trash. He frequently makes appearances in parades and island events.
Island Spirit offers a wide variety of tours for both kids and adults. All skill levels are welcome and many of Island Spirit's clients get their feet wet for the first time with the company. It's a perfect place to learn.
I can only imagine the sunrise or sunset versions would be beautiful over the pond's glassy surface. For stand up paddle boarders, I think my favorite choice would be the full moon adventure. Yoga on SUP while the sun sets into the light of the moon would be a fantastic way to close out the day.
Insider Tip-There are no facilities on the site. Make sure to use the restroom before you arrive. Wet bags are provided for cell phones and cameras.
Polly Hill Arboretum
One might not expect to find an arboretum on an island vacation destination, but the Polly Hill public garden is a Martha's Vineyard landmark. Developed by the well-known horticulturist Polly Hill (1907-2007), the 25 acres of cultivated landscape were established in 1998 as a landscape to educate, observe and enjoy.
Rare trees and shrubs from around the world are beautifully landscaped amongst stone walls, meadows and scenic fields. The spectacular azaleas, rhododendron and mountain laurels were in bloom during my visit in late June. Additionally, dogwood, perennials and magnolias are favorites with visitors at other times of the year. Interactive and scavenger type lists are a fun activity for families.
New plants are collected with a focus on species from North America (especially Atlantic coastal plain) and Japanese varieties. The grounds also include an additional 47 acres of preserved woodlands as well as an educational component. Recognized as a Historic District by the National Register of Historic Places in 2015, this tranquil landscape is a true island treasure.
795 State Rd, West Tisbury, MA 02575
Take a Hike
Miles of hiking trails await on a Boston to Martha's Vineyard getaway. Like the plethora of beaches, there is also a trail for everyone. Stretches along seaside cliffs, wooded paths and open fields run easy to medoerate, as the topography is fairly flat. In fact, the highest point on the island (aside from the lighthouse) is only 311 feet on Peak Hill in Chilmark. Sheriff's Meadow Foundation  conservation protecting 2,900 acres of land on MV @trailsmv app has 22 public trails. After taking a poll of favorites from island insiders, we chose Cedar Tree Neck and Sepiessa Point Reservation
Cedar Tree Neck Sanctuary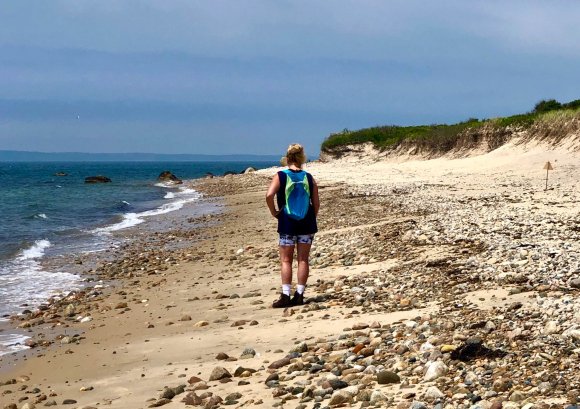 Located in West Tisbury, the 300 acre sanctuary has a number of trails, so you can decide how far you want to go. My only prerequisite was an ocean reward at the end. The trail takes visitors through a number of environemtns, all contributing to vistas that make the Vineyard such a special place. Tall beach grass slowly gives way to openings and at last, Vineyard Sound and the surrounding cliffs are a stunning finale before you head back.
The road in to the trail head (Obed Daggett Rd) is narrow and unpaved. Keep your eyes peeled for oncoming cars, there is only room for one lane and meetups involve one person backing up to a wider spot. Don't worry-it's all worth it!
Insiders Tip: Download the Trails MV app. It is one of the best designed hiking tools I've found.
Sepiessa Point Reservation
Sepiessa Point Reservation has a number of trails running along Tiah's and Tississa Coves and includes 173 acres. You'll find the entrance off Edgartown West Tisbury Road. Tisbury Great Pond Trail is 2.5 miles round trip. The pond was formed from glacier melt and almost 11,000 feet of shorefront is conserved here. The trail is mostly wooded, but the reservation also includes grasslands and a savanna with rewarding views of shoreline along the way. Hawks and owls can be seen foraging in the area. We saw many runners along the trail with dogs-which must be leashed.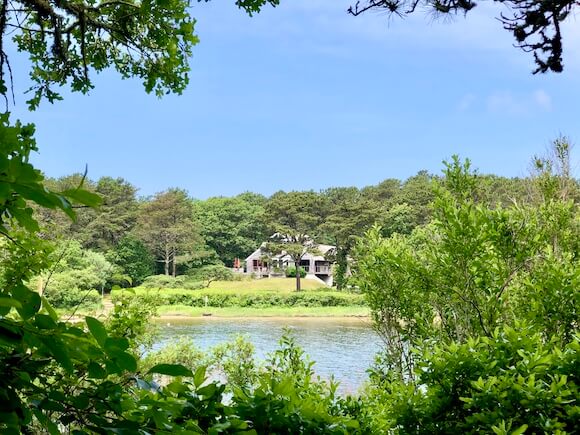 Chase Lighthouses
Home to five lighthouses, visitors will find each unique with its very own history. Originally, the Edgartown light could only be reached by boat. Built in 1828, the shifting sands have since filled in the passageway and the spit is a popular place to take photos. Like the Brant Point light in Nantucket, you'll see the familiar shape appear in many island wedding photos.
This group of five structures represents one of the most diverse groupings to be found in such a small area around the United States.  Find them in Aquinnah (formerly known as Gay Head), East and West Chop and Cape Poge on Chappaquiddick. All still function are important guides for ships in what can be treacherous waters or currents, sand bars and shoals.
Wander Through Cottage City in Oak Bluffs
A Methodist community found their way to Oak Bluffs in the 1860's and 70's. Originally known as The Campground, they built a canvas city of tents surrounding a central outdoor tabernacle or cathedral. The group eventually built more permanent structures, replacing the tents. The resulting gingerbread cottages are trimmed with white icing and represent every color of the rainbow.
Visitors feel like they are walking into a fairy tale out of the Brother's Grimm imagination. Out of the original 500 or so structures, 318 still remain. Each has their own take on over the top Victorian extravagance and the flower displays are just as charming and effusive as the homes.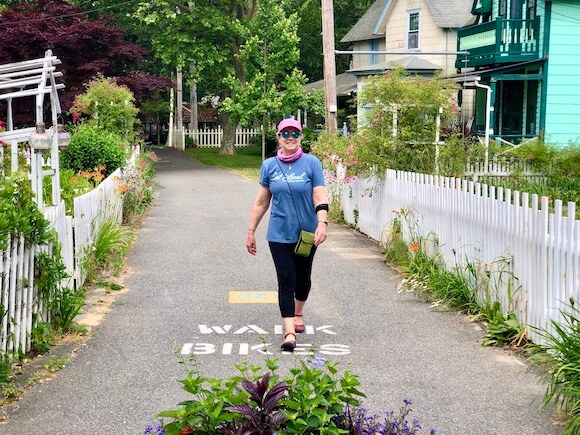 In 1907, Cottage City was changed to Oak Bluffs. Today the area is well known as a vacation spot for and resort for a diverse and vibrant community. The iconic Tabernacle, designated a National Historic Landmark,   continues to celebrate the areas historic and religious roots dating back to the early 1800's.  If you happen to be on island for the dates of Illumination Night-don't miss it!
Mytoi Japanese Gardens
A fun and unusual experience awaits at he secluded Mytoi Japanese Gardens on Chappaquiddick. Hop on the Chappy Ferry for a quick ride across the channel to the historic little island found on the south side of the island behind Edgartwon harbor. The ferry line moves quicky, but because of unpredictability, make sure to include extra time for any specific reservations you might have.
The gardens are sustained by one of my favorite Massachusetts conservation organizations– The Trustees of the Reservation. In addition, they manage about 1,000 acres of land including the Cape Poge Light, Cape Poge Wildlife Refuge and beach on the island.
This calming, Asian inspired space has over 14 acres of land complete with walking trails, flower gardens and a lovely pond, it's an unexpected treasure on this island escape. Poucha Pond is a particularly scenic spot for a picnic. Make sure to take in all of the Japanese inspiration.
Mytoi Japanese Garden, 41 Dike Rd, Edgartown, MA, USA
Eat Seafood on a Martha's Vineyard Getaway
Fresh and local–doesn't get any better when it comes to seafood. The island is particularly known for lobster, oysters and fresh line caught fish. While there are many spots to try all three, when I asked around for favorite spots of those in the know, 19 Raw in Edgartown was mentioned frequently. I can concur, the oysters and lobster roll were delicious.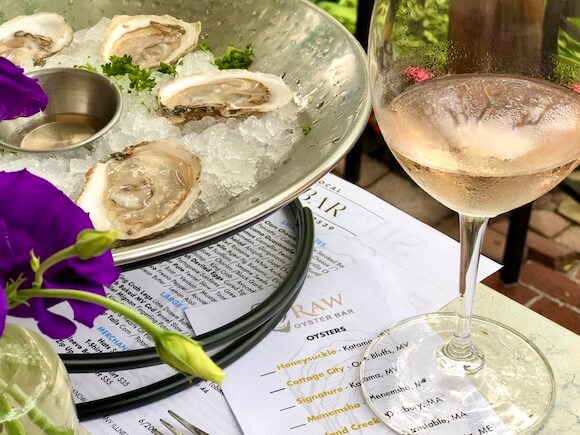 Make sure to pick up some Cottage City oysters from the West Tisbury Farmer's Market held Wednesday and Saturday along with other local favorites from the island's farms and artisan small batch producers and flower vendors. Held rain or shine for over 25 years, the event is an iconic MV institution.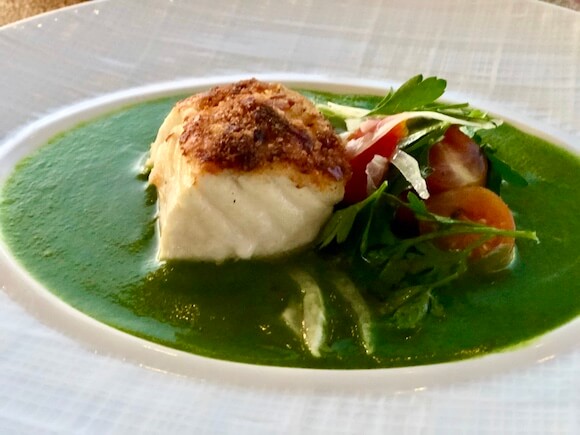 For a special dinner with outstanding views of the harbor, make a reservation for a waterfront outdoor table at GardeEast. We had the vegetarian tasting menu along with a delicious piece of local fresh catch surrounded by a sauce of herbs. I was tempted to lick the plate and it was one of the best meals I've had in a very long time!
Beaches
Of course, the main attraction on this summer playground for the rich and famous is the beaches. Over 124 miles of varied coastline circle the island. Visitors can find small, quiet spots with calm waters for families with children to demanding waters with intense surf for a challenging day of fun in the sun. Be mindful of riptides and currents
Lifeguards and facilities are available at only some of the locations, so be sure to check before heading out. A good resource for the public beaches is here. A good map will also show a multitude of additional choices. The majority of the beaches in the down-island towns – Vineyard Haven, Oak Bluffs and Edgartown – are public.
Just remember that other choices might need a permit for access and some are private. Renters might be able to apply for a permit depending on the town. Make sure to inquire.
Visit Edgartown
Like the island of Nantucket, Martha's Vineyard was a key player in the profitable whaling industry. Edgartown was a major hub during the 1800's. Incorporated in 1671, many a ship captain built impressive Greek Revival or Federal-style mansions looking out over the harbor. The unique widow walks atop the roofs were places for the women to pace and look out to sea waiting for their husband's return.
Present day finds the charming town as the center of the island's tourism.   White clapboard mansions surround or actually house a world class selection of restaurants and shops lining the cobblestone streets. The elegant community has been carefully preserved making this seaport village a piece of living history from the 19th century.  Tourists looking for additional information on times gone by will enjoy a visit to the Edgartown lighthouse, The Daniel Fisher House, Vincent House Museum and the Old Whaling Church all of which highlight the island's maritime past.
Take a Bike Ride
Bike riding on Martha's Vineyard is a fantastic way to take in the sites and get a feel for the island. You can bring your own or rent a bike when you get off the ferry. In addition, check with your hotel to see if they have complimentary bikes and helmet available like my stay at the Nobnocket Boutique Inn did. The island even has a bike ferry that gives you a shortcut if riding to Aquinnah across the Menemsha Pond inlet. (also avoiding some of the steepest riding).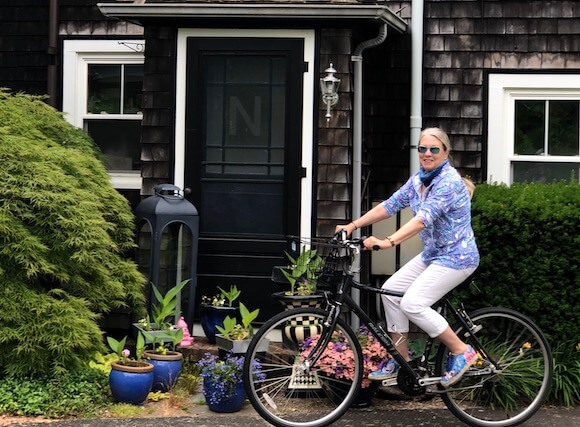 The extensive network of paths allow you to circle the island. Depending on where you are staying, biking is a great way to visit some or all of the six towns on a Boston to Martha's Vineyard getaway.  Long stretches of road are scenic and at times have sweeping views of the Atlantic. Sprawling pastureland, quaint farmhouses and expansive cliff views all are part of the experience. Be mindful that many of the country roads can be sandy at times (skidding) and have blind spots around corners and driveways.
A downloadable map is available from the Chamber of Commerce here. And no worries if your eyes were bigger than your peddle legs. Two bikes can be carried on each of the public transportation buses if you need a return ride.
Hard core adventure bikers will want to take their mountain bikes to the Manuel F. Correllus State Forest. In the middle of the island, adventure seekers will find 8 miles of trails that include paved paths and horse-back riding trails.
Take note: On most of the extensive conservation land in Martha's Vineyard, mountain biking is prohibited for environmental reasons.
Menemsha-Catch a Sunset and Find the Sculpture
More than one local islander told me Menemsha was the very best spot to capture a sunset. If you get there a little early, make sure to check out the statue that stands back in the dunes at Mememsha beach.
This recently refurbished bronze commemorates the once abundant swordfish which were harpooned off the coast of the island. Honoring the once healthy swordfish industry and fishery which fed many a harpooned swordfish to seafood lovers, the majestic sea creature is no longer abundant, but still a favorite delicacy.
Where to Stay on Martha's Vineyard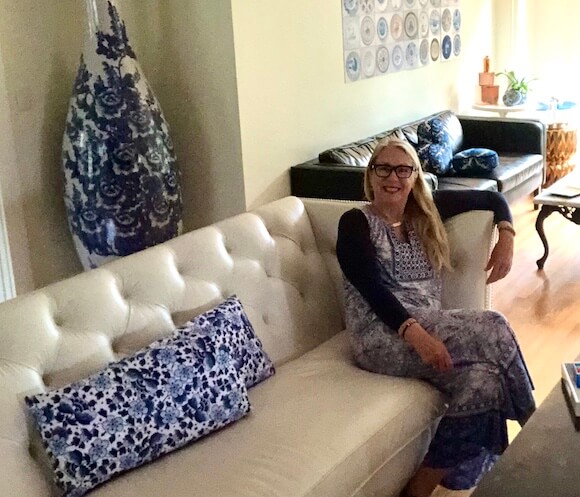 Of course, what would a Boston to Martha's Vineyard getaway be without a charming inn to go along with your escape. For the quintessential stay, complete with delicious breakfast, island chic décor and a cozy fireplace when the weather is right, The Nobnocket Boutique Inn checks all the boxes and guarantees a wonderful, luxurious retreat. For a more detailed review of my stay, you can refer to this post on Green With Renvy.
Pin Me ♥ Best Outdoor Activities on Martha's Vineyard