Best Outer Banks Restaurants Keep it Local
How do you like your local flavor? Does it come in the form of seafood, seasonal vegetables, a local brew or maybe a hand crafted treasure? The best Outer Banks restaurants compete wholeheartedly with the scenic coastline in North Carolina. As an iconic beach destination, the area attracts visitors from around the world. Miles of  barrier islands offer an abundance of opportunity to taste local flavor throughout this TOP vacation spot.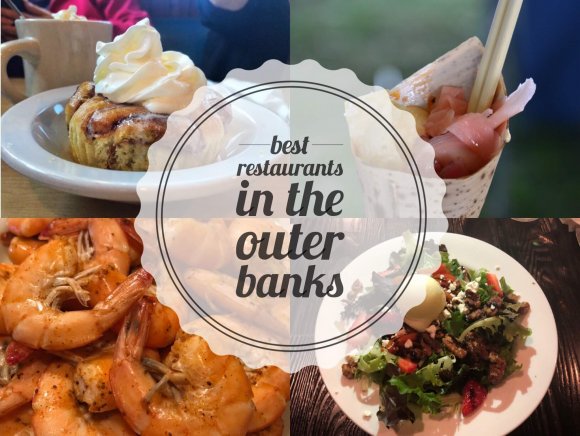 This east coast destination represents a string of barrier islands off the coast of North Carolina and southeastern Virginia. They offer unsurpassed views of nature, half a dozen state and national parks and shipwreck diving sites for the swashbuckler in all of us. For additional enjoyment, the Outer Banks restaurant scene features a plethora of flavors to taste the bounty from both the sea and local fertile soils.
Getting to The Outer Banks
Fans of the area are familiar with the OBX nickname: you'll find evidence of the area's acronym everywhere. While I struggled to find the story of its true origin, I choose to believe it signifies an imaginary airport handle for a local runway that doesn't exist.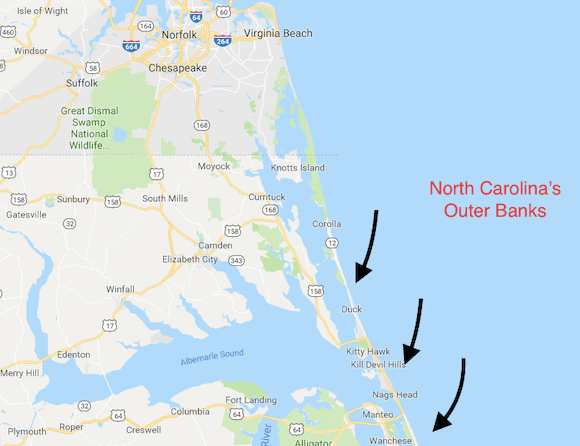 Yes, that's right folks. While the area boasts a robust highway/bridge system just awaiting your next road trip, the closest airport for visiting the Outer Banks is Norfolk (82 miles) or Raleigh-Durham (192 miles away). And that's a good thing! Part of the area's charm is the fact that it's not exactly easy to get to. Like Nantucket, off the coast of Cape Cod, the journey is all part of the excitement and delightfully manages to keep tourism in check.
Of course everyone's to do list of North Carolina's Outer Banks attractions has to include beaches and lighthouses. That goes without saying, and there are plenty of both to keep visitors busy! In addition, at the top of your activities, make sure to enjoy some of the local flavor on the Outer Banks in between the surf and sand.
Responsible Travel in the Outer Banks
Keeping it Local is always a good idea. Especially when you are trying to travel responsibly. Supporting local businesses preserves dollars in the surrounding economy and supports small entrepreneurs who are often the key to making a destination unique. In fact, for every dollar spent locally, twice as much circulates back into into the neighboring economy.
Living on this coastline might mean a certain susceptibility to storms and hurricanes; it also portends the home of the areas top producer of tasty seafood. The fresh catch, over 14 million pounds, combines with plentiful seasonal vegetables and local brews for tasty meals and places to eat throughout this part of North Carolina. When mixed with a hearty combination of talented creatives calling the OBX home, visitors will find a taste of local Outer Banks flavor around every corner.
From the beginning, area restaurants were working hard on seduction. How did they know to greet me with Skip the Straw. What really impressed me however was how the eco-friendly action followed my itinerary throughout the trip. Without fail, every eating and drinking establishment encouraged diners to Skip the Straw and follow their lead with this piece of environmental responsibility.
Over 500 million single use sucking tubes are used daily and I commend the effort when anyone tries to keep single use plastics out of waterways. They do untold damage to wildlife.
OBX Eating Local Looks Like This
Seafood Flavor in The Outer Banks
Living on the coast of Massachusetts means an extraordinary amount of fresh seafood comes my way. To say I'm spoiled by fresh+local might be a bit of an understatement. Since I hadn't been to North Carolina since the 80's, I was more than a little excited to experience what shape local flavor in the Outer Banks takes  currently. looks like.
Years ago, seafood felt like an unending resource. Plenty of fish in the sea so to speak. Now we know better; overfishing and by catch have lead to a crisis in the fishing industry. The Outer Banks works towards providing sustainable seafood that is both farm rasied and wild-caught. If you're interested in learning more, visit Outer Banks Catch. It's a great resource for seasonal seafood information.
Shrimp-Pink, Brown and White
Weighing in at over 4.5 million pounds, the yearly shrimp haul from local Carolina waters is an impressive catch. The short life span of the crustacean means shellfish are currently a good sustainable source of protein. You'll find it on the menu in soups, bisques, as stuffing, dips and toppings. Steamed, fried or broiled, the pink, brown or white varieties are all delicious.
Boutique Marine Oyster Farming
The Nature Conservancy is working in North Carolina to build oyster reefs and restore aquatic vegetation. Good news for foodies as these efforts go a long way to ensuring that oysters along with other shellfish will flourish in the changing environment. Oysters are a great natural water purifier wherever they establish a home and when talking nutrition, remember, when done responsibly, marine aquaculture produces the greenest form of protein on the planet.
Boutique oyster farming is thriving on the Outer Banks. While the price of these bivalves might be a little higher in restaurants, the flavor will be worth it. Look for the Cape Hatteras Oyster Company brand on local menus.
Hatteras Chowder
For true clam lovers, this soup really lets the flavor of little neck clams shine through. It consists of simple broth made with clam juice that is traditionally flavored with bacon, onion, and potato.
Like the tomatoe based chowder I make with Nantucket clams every year up north, the Hatteras chowder recipe has been handed down through the generations for many years. On a cold rainy day, there is no better local flavor found in the Outer Banks restaurants to warm you up than Hatteras chowder.
Produce
The land surrounding the Outer Banks is rich, fertile farmland. Curious about local produce that is unique to the area? Look to farm stands, they are always good for clues. In the spring to early summer, Mattamuskeet sweet onions rival the better-known Vidalia from Georgia.
Camden County potatoes are a restaurant favorite and I've been told sweet potatoes from the region are sugary enough to stand in for dessert. Rocky Hock melons and Knotts Island peaches appear on desert menus. The state fruit, the scuppernong grape is used in jams, jellies and wine production (see below). This variety of muscadine grape was the first in the country to be made into wine.
Annual Seafood Festival
Are you ready to start eating? Let's begin with the seafood festival. As luck would have it, my off-season visit coincided with the Annual Outer Banks Seafood Festival. Lucky me!
I'm a big fan of visiting coastal destinations during the shoulder season. It helps to make the area more sustainable by giving a little added support to local businesses after the large crowds have left. Combined with deserted beaches the opportunity to taste a wide variety of seafood all in one place was more than enough reason to pay the Outer Banks a visit during the fall.
Taste testing a selection from area restaurants just primed the palate for what was to come. Tuna poke, fried crab sandwich, Hatteras chowder. Top it off with local brews from any of the five breweries in the area and live music. My intro to the flavors of the OBX restaurant scene could not have been tastier!
The Best Outer Banks Restaurants
The beach culture keeps the restaurant scene decidedly casual here, but that doesn't mean there isn't an array of options to suit all tastes and budgets. Some are looking for a quick bite in flip flops and t-shirt as they come off the beach. Others want a meal more formal and inventive. Not to worry. Rest assured everyone will be happy with the restaurants of the Outer Banks. Put it all together and taste local in my favorite restaurants.
Nags Head, North Carolina
Breakast at Sam and Omie's, Nags Head, NC
This one doesn't need much description. Old fashioned diner-like setting, the best cinnamon roll EVAH…finished off with crab eggs Benedict. I'm good to go now for the rest of the day! Sam and Omie's can get crowded, but the line moves pretty quickly.
Owen's
As one of the oldest Outer Banks restaurants, Owen's exudes warmth and a welcoming atmosphere that comes from being an OBX institution. The décor is loaded with nostalgia and memorabilia. I especially loved the collection of vintage oyster plates hanging on the walls.
The feeling was sophisticated without being stuffy. Our group began with appetizers and devoured the complimentary crock of pimento cheese. The crabstack was photo worthy with layers of mango, avocado and a key lime vinagrete. I was jealous of my friends choice. My fresh catch of the day was delicious, but I was swooning over the perfectly cooked grits which are hard to find up north.
Our arms were twisted for the dessert tray, and as we passed around the choices on the lazy susan, I stopped the spin more than once for the Key lime pie.
Breakfast at WaveRiders Coffee and Deli
Waveriders has a cool local vibe and a focus on healthy. This is the type of spot where locals hang on the comfy couches and surfboards decorate the walls. Visitors can pick up ingredients for a picnic, great sandwiches or a six pack. The coffee's good and the egg sandwiches on fresh bagel even better.
Captain Andy's Oceanfront Tiki Bar and Grill
Can't beat the location at Captain Andy's  (aka Nags Head Pier House). Overlooking the ocean and adjacent fishing pier, this popular spot exudes what I've come to expect when I visualize casual beachside dining. After starting with a southern classic of pimento cheese and legendary crab dip, my grilled, blackened tuna sandwich was a tasty classic.
For the fisher folk in the group, come early, head out to the pier and toss in your hook. The restaurant will cook up what YOU catch and clean, and serve it up with French fries, slaw and hushpuppies. In season, the Tiki bar has live music throughout the week.
Blue Moon Beach Grill
Don't let the mall location fool you. The Blue Moon Beach Grill has a menu filled with fresh flavorful seafood, great salads and a Blue Moon margarita that will put a smile on your face. I was craving some (more) shrimp and grits and they did not disappoint.
Vidalia onions flavored the shrimp along with some Cajun spices and garlic. Stone ground grits along with some smoky Gouda and cheddar cheese were the perfect vehicle for all that flavor.
Duck, North Carolina
Duck Donuts
Custom Donuts TO Order. Oh yeah, they found my sweetspot. All this deliciousness begins with a vanilla cake base. Patrons choose their coating (maple, chocolate etc) and then dust with a custom topping, all as you stand by mouth watering, watching your order come to life.  Peanuts, toasted pecans and sprinkles are just the beginning of the final touch.
Duck Donuts offers endless combinations! Visit the Duck Donuts Menu and start planning your donuts order.
The resulting instagram worthy bakers dozen has created quite a buzz on the app –even garnishing their own hastag #MyDuckDonuts. Maple Bacon is their best selling flavor, Salted Caramel- the winner for me.
Life Saving Station at Sanderling
The most luxurious stay on the Outer Banks is undoubtedly the Sanderling Resort. Tucked inside this property is the beautifully renovated Lifesaving Station Restaurant. As an original Jersey Shore Girl, I was thrilled to see this beautiful building brought back to life as the casual dining option on the property.
The maritime themed décor was spot on and carried thru with the menu's southern coastal cuisine. Local ingredients monopolized the menu in the very best of ways. I loved my salad; local greens were taken to the next level here with roasted pecans and a slowly melting frozen lemon dressing with a balsamic drizzle. So unique!
Entrée's featured local seasonal seafood(I had the scallops), and buttermilk fried chicken along with surf and turf.  Blueberry cobbler was crowned with ice cream and was served in a classic iron skillet. Tons of moaning was heard as deserts were passed around the table. Frankly, I was full, but managed a bite or two of sweet delight. For a fine ding option in the resort, visit Kimball's Kitchen with gorgeous views of Currituck sound.
Cape Hatteras, North Carolina
Diamond Shoals Restaurant
The laid back casual vibe of Diamond Shoals restaurant belies the terrific seafood served inside. This is the only restaurant I visited with a salad bar, and although it looked tasty, I had other fish to fry–so to speak. The tasty sweet potato fries were the only deep fat item to appear on our table. Fresh glorious seafood took center stage.
I didn't think I was a fan of peel and eat shrimp, but when it arrived a the table loaded with Old Bay Seasoning, well let's just say  FINGER LICKIN' good. I'm a convert! Diamond shoals slaw accompanied all the plates and we downed a few local beers. Yum! In the summer, I dig clams on Nantucket and make an awesome chowder. As a chowder conneser of sorts, Their award winning chowder was a delisous surprise as well. Topped off with a grilled grouper sandwich, I was ready for my nap.
Wanchese, North Carolina
O'Neal's Sea Harvest
Located on the busy shores of the Wanchese harbor, O'Neal's Sea Harvest is a vertical operation where the fresh catch arrives from the boats. Being able to watch the fisherfolk return from the sea and unload is always of interest to me. Seeing the whole fish leaves an impression and I'm much better able to identify the filets in a market. Part of the sustainable food movement to Know Your Food.
This family owned and operated seafood wholesaler supplies many of the area restaurants as well as the general public. Best of all, they will do the cooking for you with their menu of seafood, sandwiches and desserts. We were between meals when we visited, but there's a soft shell crab BLT with my name on it in the future!
Kitty Hawk, North Carolina
TRiO  Wine, Beer and Cheese
Our last stop was one of my favorites. Trio really feels like a gathering place for visitors and locals alike. Vast amounts of wine, cheese and beer are available in their inviting shop as you enter the building. They carry over 500 labels of beer and micro brews from around the world. How could you go wrong with the likes of  Figwood Toast, Captain Laurence Galactic Fog and Foothills Sexual Chocolate?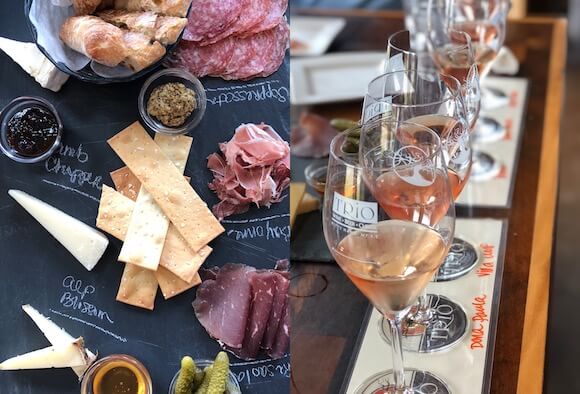 TRiO also houses a terrific tasting destination with live music three to five nights a week. Snacks, sandwiches and small plates to share are their forte and I'm always a quick study for a dynamite charcuterie board.
In addition there's local seafood and seasonal produce. Our group discovered new tastes by ordering a sampling of tapas and I was in heaven with a rosé flight, the perfect way to end a discovery of new tastes in Outer Banks restaurants.
Thirsty? Drink UP at OBX Local Restaurants
Beer, Wine, Liquor… The Outer Banks makes it all! There are five breweries in the region, each with several beers on tap: The Weeping Radish in Grandy, the Northern Outer Banks Brewing Company in Corolla, the Outer Banks Brewing Station in KDH, the Lost Colony Brewery Cafe in Manteo, and 1718 Brewing in Ocracoke.
For wine lovers, Sanctuary Vineyards is a popular stop that not only makes varietals that are commonly recognized, but also produces wines that are made with regional grapes. Rum made at the OBX Distillery is exclusive to the area. In fact, the relatively new company distills a rum that is made with locally sourced pecans and honey. Make a non-traditional mojito with their white rum, lime, soda water, sugar and a local fruit from a farmers market to enjoy after a long day at the beach. Delicious!
Kill Devil Hills, North Carolina
Outer Banks Brewing Station
Visitors might find it odd to see a wind powered turbine behind the Outer Banks Brewing Station. This popular pub was the first in America to incorporate a turbine into its energy system, providing about 10% of the power used. The pioneering owners brought micro brewing to the area after a stint in the Peace Corps.
Their philanthropic mission carries over into local fundraising using their platform to promote social issues. Their award winning brews have had a cult following since their 2001 introduction. Promoting social issues and peace corp values have carried over into their everyday business ethos.
Manteo, North Carolina
Kill Devil Rum/Outer Banks Distilling
Four ex-beer brewers traded hops for mollases and opened the number one  rum  distillery in North Carolina, Outer Banks Distilling. Fast forward a few years and the owners of Kill Devil Rum have been winning numerous awards for their unique blends.
The owners' enthusiasm is infectious and I have no doubt their distribution will expand quickly. The name is one inspired by the area's pirate lore. Seems there was a New England liquid strong enough to kill the devil that once washed ashore from during an unfortunate wreck. Don't miss a swig of their limited-edition Shipwreck Series inspired by the treacherous coastline. Silver, Pecan and Gold varieties are also offered.
Pro Tip: Make sure to visit the shipwreck museum if you are interested in learning more about the vessels claimed by the shoals over the years.
Scuppernong Wine
Nearby, also in the charming, walkable seaside town of Manteo, visitors can learn about wine making in the area. Tucked inside a small shop, the counter of Scupperning Vineyard is the spot for a tasting of the areas offering. The personable representative will walk visitors through a sampling of the vineyards offerings.
Buy Local with an Artisan Souvenir
Outer Banks natives as well as transplants are an independent lot. Residents who choose to call the OBX home are islanders with a unique perspective on life. Firmly committed to the area, these three artisans crafting hand made products allow visitors to take a taste of the Outer Banks home with them; sure to bring wonderful memories of their visit to this unique piece of North Carolina.
Pen Bryant
One good way to end a trip to North Carolina's Outer Banks is with a local souvenir. I had the opportunity to chat with local artisan Pen Bryant over lunch at Nags Head Pier.  As a Jersey Shore girl who probably took her first steps at the beach and spent many a day bent over searching for sea glass, we had an immediate connection. Pen's jewelry and larger works focus on sea glass.
He has amassed a large collection of antique glass both found and purchased. It was fascinating to learn about his methods of dating and finding his glass treasures which are becoming harder and harder to obtain.
Later he gave me a tour around the KDH Cooperative Gallery and Studio in Kill Devil Hills. He shares the space with other local artists from the area. If you like to take home a hand crafted piece that will remind you of your visit, make sure not to miss the shop.
Hatteras Saltworks
Two tastemakers from Cape Hatteras are solar harvesting sea salt, captured during lunar high tides. Using recycled home construction materials and hurricane debris, this company represents everything I love about local, creative, small batch makers.
The Outer Banks offers a unique location where the warm Gulf Stream and cool Labrador current cross paths, resulting in a high mineral content in their salt. Solar rays evaporate the water leaving an elevated salinity content.
Talk about the perfect gift for the foodies in your life. How do you like your salt? Pecan smoked, rosemary infused or pure? I had ulterior motives when I brought some back for my sister who makes the most divine salted caramels! You can find Hatteras Saltworks at local shops and online.
Kill Devil Rum
The friendly guys at Kill Devil Rum are happy to package a bottle for your suitcase. Just remember you'll have to pack it in your luggage-no carry on allowed. (I've made that mistake with wine!) Make sure to get some of their spiced pecans as well. Like Hatteras Saltworks, they make an excellent gift.
♥
No matter the weather or temperature, when I'm near the ocean, beach walking calls my name. Thank goodness, as the local flavors of the Outer Banks restaurants packed copious amounts of food and drink into my schedule. Combined with running up and down the dunes during my stint at flight school, I might have managed to balance off all those delicious flavors on the menus. Other wise my host would have had to roll me onto the plane.  After all local culinary delights I packed into my short stay I was not returning to Boston without extras!
While beautiful beaches and a relaxing vacation will always be excellent reasons to put North Carolina's OBX on your getaway list, seeing the effort made towards responsible travel in the area is impressive. Encouraging visitors to support local makers, the environment and a sustainable seafood industry is an inspiring role model for other destinations to emulate.
My one disappointment?  I missed the Outer Banks restaurant season for fresh soft shell crabs. Guess that means the #OBXnow will be on repeat in the near future.
Disclosure: Complimentary transportation, accommodations, meals, and activities were provided by The Outer Banks Visitors Bureau. As always, this post reflects the honest opinion of the author's experience without outside influence.
Pin Me ♥ Best Outer Banks Restaurants