Best Guide To A Luxury Doha Layover in Qatar
On a recent trip to Africa from Boston, I decided to break up the flying time with a luxury Doha layover via Qatar airlines. Their stopover program makes it super easy to have 24 hours in Doha and see highlights of the best things to do with a city tour. For a nominal booking fee, I experienced another country, stayed in luxury hotel and ate some of the best hummus I've ever tasted. Who could ask for more on a long-haul flight!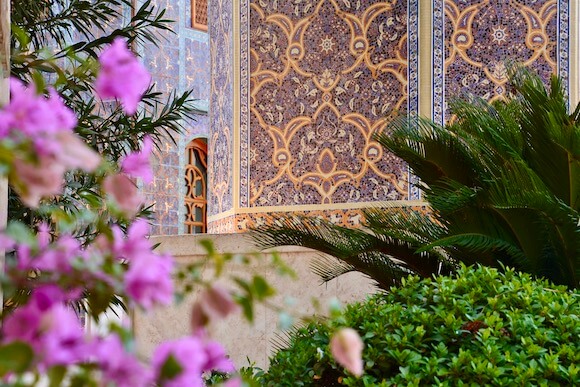 Doha, the capital of Qatar, is relatively small and very well laid out.  With the discovery of the third largest gas reserve in the world, the country has quickly shed it's antiquated dessert image in exchange for one wrapped in luxury and accompanied by all the accoutrements and modern conveniences befitting the richest country in the world.
Being compact, many of the top sites can be seen on a short term layover. I have never visited the Middle East and while I'm a firm believer in avoiding helicopter tourism whenever possible, I felt the Doha stopover was an opportunity to see a destination that I probably would not be visiting anytime soon. Qatar Airways makes the layover easy to book on their web site and the recent introduction of visa-free entry for citizens of 80 countries facilitates one of the details that previously made it more complicated.
Visa Requirements
Currently Qatar has a visa-free entry for citizens of 80 countries. The United States is one of them. Make sure your passport is valid for 6 months and check updated visa information here. Hamad International Airport, a modern structure that runs like clockwork, is about 20 minutes outside of the city. Qatar Airlines serves every continent of the globe making a Doha layover practical from many locations on a long flight.
Best Time to Travel-Weather
There's no getting around the fact that Doha is hot. With average temperatures hovering in the 90's and stretching to an otherworldly 110˚ in summer there's good reason that heat reflective shades of white cover so many surfaces. That being said, most of the highlights mentioned are air-conditioned and at night temperatures cool considerably to the point where outdoor dining and people watching can be a delightful option. The hottest months are June, July and August.
Fun Facts
Qatar is the richest country (per capita) in the world.
Qatar will host the next FIFA World Cup to be staged in 2022.
Citizens pay no taxes
Best architects in the world choose to build in Doha making the skyline a bold and remarkable feat of engineering fronting the Arabian Gulf.
More foreigners than locals live in the country–an astounding ratio of 8/1.
The Pearl is the only place foreigners can own property.
In the Islamic tradition, leafy courtyards are found everywhere. They represent a foretaste of paradise and are places to find shade and gather with friends and family.
Food is influenced by many cultures, but rather than having a melding into a typical Qatari cuisine, each type can be found separately in different restaurants.
Riyal (QAR) is the official currency with 1 QAR = .27 USD at time of publication.
All citizens of Qatar receive free education and medical care.
Booking Your Doha Layover-Where to Stay
As you make your way through the ticketing process on Qatar Airlines, one of the first things to do with the Doha layover is book your hotel. There is an excellent selection of 5 star properties available, and as I said, the charge is minimal. Where else can you stay in a luxury property for under $50.00 US a night?
I highly recommend selecting the Souq Waqif Hotel by Tivoli. This collection of nine boutique properties is the only hotel option in the historically charming Souq Waqif market area. Souq Waqif translates to "standing market" and visitors will find themselves smack dab in the middle of the historic part of town. All of their properties share amenities including pool, spa, restaurants and a darling golf cart to transport you in the pedestrian area of the souq.
Insider Tip:
When booking the Souq Waqif Hotel, the web site will not tell you which property of the nine you will be staying in. I tried for hours to get an answer, emailing everyone I could find both at Qatar Air and the hotel. All in vain. Yes, it's a flaw in the system for those of us that like details. But…save your energy- All of the properties are lovely. Transportation from the airport will bring you to the main check in area and you will be transported to the proper hotel for your stay.
Guests immediately feel a sense of place in this neighborhood, a safe, clean and inviting district. The Souq Waqif Hotel offers a complimentary evening tour of the market area for guests as well as the opportunity to arrange transportation from the airport. My stay was in the Al Bidda Hotel where a warm and friendly staff welcomed me with a large dose of Doha hospitality and made sure I was comfortable in the luxurious setting. The Arabian aesthetic in the property feels luxurious and authentic at the same time.
Getting Around in Doha
Public transportation is hard to come by in the city, so options are limited. Karwa taxis are available. Getting around by foot is nearly impossible. While you can walk around pedestrian friendly zones like the Souq Waqif and Katara Cultural Center, getting from point A to point B requires transport. Remember that the temperature is hot and the desert climate exhausting to anyone not acclimated to 90º temperatures. A City Tour is your best bet for making the most efficient use of your time on a Doha layover.
Packing for A Doha Layover
As I said before, Qatar is hot. Sunblock, sunglasses and a hat are a must. I like to be respectful and follow local customs when visiting. For me that meant covering shoulders and knees. A loose fitting, lightweight dress or tunic and pant is appropriate and will be good for both weather and cultural visits.
When packing, I always including a Coolibar outfit as part of my capsule travel wardrobe.  Sun damage can occur in any temperature, I have multipurpose sun protection clothing in my suitcase, no matter the climate in a destination. Their fabrics are incredibly soft and provide UPF50 that never washes out.
Best Things to Do on a Doha Layover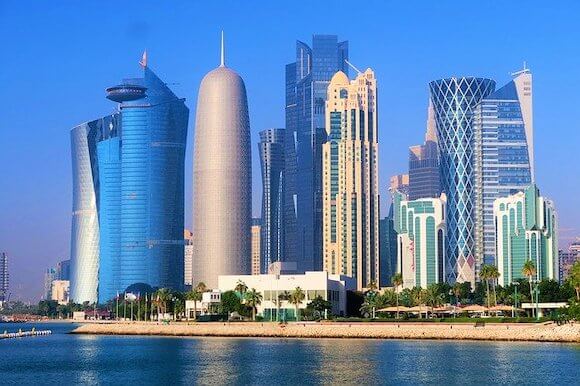 Corniche
With one of the world's most compelling skylines, a walk along the Corniche is a must for every visitor during a Doha stopover. Nowhere else can you get the sense of the city skyline and see a great cross section of the population out for a daily stroll. As the richest country in the world (per capita) the contrast of modern and traditional is remarkable.
This is a city where the best architects from around the globe have chosen to have their work represented. Many view it as one of the most impressive skylines anywhere. The capital city is surrounded with a unique landscape and everchanging skyline as new design landmarks are completed. This eclectic mix of architecture is especially glittery at night, highlighting a futuristic oasis and international hub of the Middle East.
Museum of Islamic Art
Anchoring one end of the Corniche, the I.M. Pei designed Museum of Islamic Art is remarkable for a number of reasons. Built on reclaimed land near the dhow harbor, the architecture is a testament to Islamic culture both past and future. The vast collection of art spans 14 centuries and is presented in creative and interactive displays.
The interior design is magnificent. Floor to ceiling windows overlooking the water provide sweeping views of the skyline. Intricately carved lighting circling above the main atrium is reminiscent of oil lamps in mosques. Every detail is thoughtfully crafted. Peering out above all from the oculus atop are half moons. Are they the eyes of a woman behind traditional dress?
Insider Tip:

Foodies must make a reservation at IDAM, the Museum's restaurant helmed by French chef Alain Ducasse. Featuring one of the best views in the city, the chef gives new meaning to mezze; blue lobster, camel and truffles all making an appearance on the menu.
Souq Waqif
I would have to say that Souq Waqif represents the beating heart of Doha. Surrounded by a building boom that can hardly keep up with itself, the market holds ties to the country's Bedouin past firmly in place. Although the market has been rebuilt, the 19th century feel is still authentic and beautifully restored. Once inside, it is not hard to imagine traders marching their sheep and goats through the alley ways. The heady scent of spices fills the air and colorful baskets overflowing with ingredients line the stalls.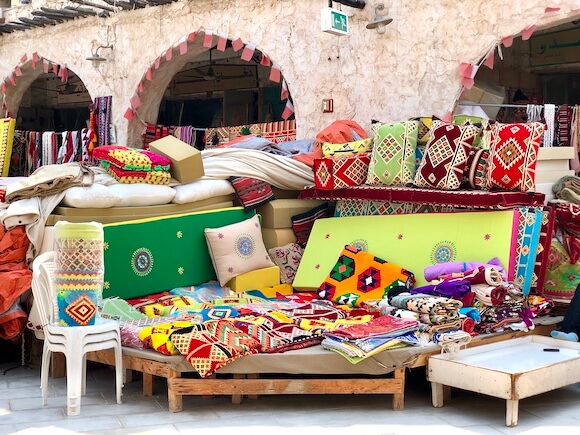 If possible, visit the souq in the evening when the air cools and the locals come out to socialize. The area buzzes with pedestrian traffic and lots of action. Outdoor cafes are filled with people enjoying a meal or taking part in a shared hookah (shisha). A menu arrives with different flavors–mint, apple and cherry smoke is hanging in the air.
I chose to eat at Al Terrace, housed within the Al Mirqub hotel. The restaurant has a Lebanese menu and has great offerings for both vegetarians and carnivores. While my travel partner inhaled a generous plate of kebabs, we fought over some of the best humus either of us had ever tasted. A great combination of good food and atmosphere all while absorbing the local scene and listening to hypnotizing live music. Hmmmm, let me weigh the option–a luxurious Doha layover or cramped airline seat…..Win all around!
Dhow
The traditional dhow is an iconic symbol of this area of the world. There are many companies offering an opportunity to book a ride on one of these traditional forms of transportation. If the timing works for you, sunset provides a romantic setting and many Instagram worthy backdrops for photo opps.
Take a Selfie with Royal Camels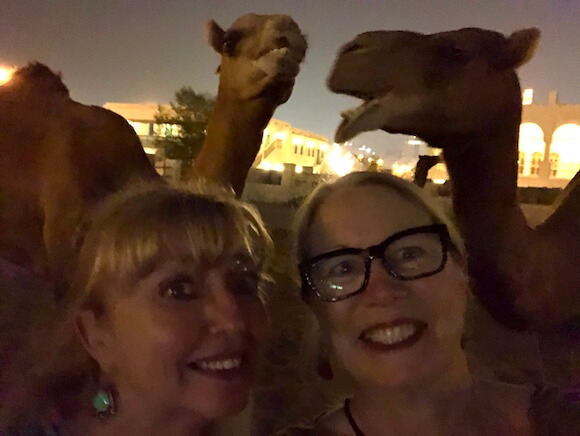 Who can resist interacting with well behaved camels. After all, they are royals. You'll find them at the edge of the Souq Waqif, and not surprising, they are quite at home in front of the camera.
Al Zubarah Fort
What was once a bustling pearl and trade town on the shores of northwest Qatar, Al Zubarah Fort is now a museum that showcases the history of the 18th century town of Al Zubarah that it overlooked. It's still a popular spot for tourists and is one of the UNESCO World Heritage Sites. This historic fort has been around since the 18th century and is given credit in the advancing of Qatar and the modern Gulf states. The fort is open every day from 8 a.m – 6 pm with the exception of Friday mornings. After checking in with the guard, visitors are free to explore the fort on their own.
Katara Cultural Village 
The Katara Cultural Village was born during the Doha Tribeca Film Festival in 2010 and has been open to visitors ever since. One of the biggest draws in the Cultural Village is the Katara Amphitheatre. Overlooking the city and the sea, this feature is not only architecturally stunning, if you are here for an extended stay, it is a great place to attend a concert.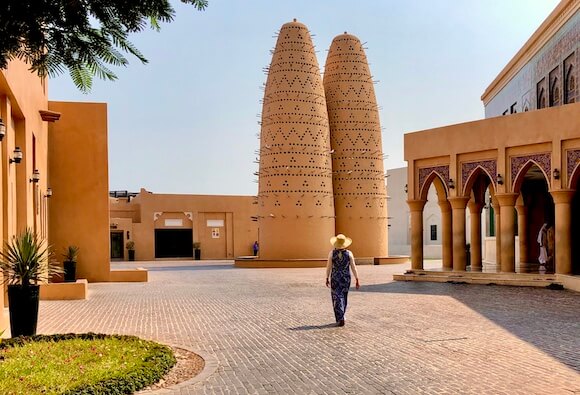 Also in the cultural village, you can find the Katara Opera House–home to the Qatar Philharmonic Orchestra–as well as book shops, coffee shops, restaurants and greenspace. It's a great place to walk around, take in the sights and see some great artwork.
Falconry Culture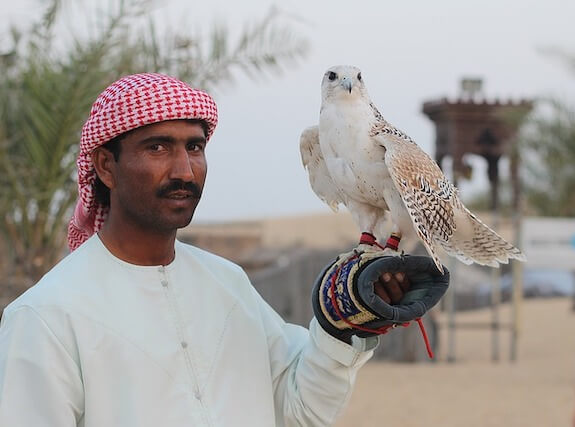 Falcons are an important symbol to Qatar, and while I'm not crazy about this type of activity, the falcon XX is culturally important and hard to avoid.   You may have even seen them on the wrists of residents as you are walking through the city. Qatari residents have trained falcons for racing and hunting for many centuries. It's a part of their culture stemming back 2,000 years when it was brought here from Iran.
In Qatar, you can purchase falcons in downtown Doha at falcon souqs and the birds are still prized possessions—some even are granted passports! If you are visiting in the winter months to Qatar, you can attend a hunt or race to really understand how falconry is a intertwined with life in Qatar.
Take in the Outdoor Sculpture on a Doha Layover 
Qatar has a bustling art scene with an impressive array of public art installations created by local and international artists. The best way to see these sculptures is to make a list of the sights you want to see and then google public art nearby. Tourists will find it throughtout the city. A few that you need to see are: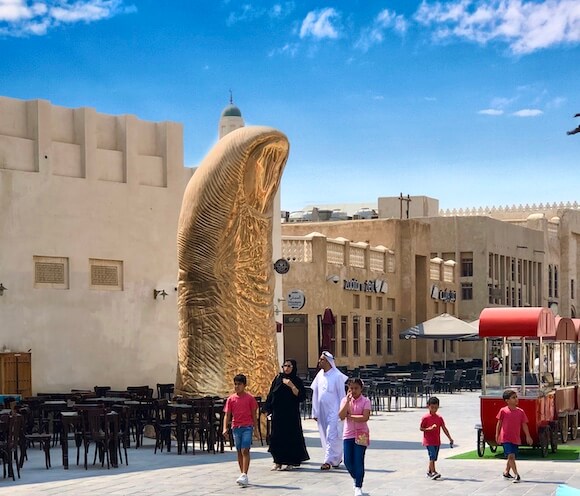 Le Pouce, a sculpture in the shape of a giant thumb, created by César Baldaccini. Baldaccini (1921-1998) best-known for  creating larger than life experiences. Celebrating the 2019 Qatari win of the Asian Cup for football, the giant thumb represents an inspiring work mixing with everyday life.
Insider Tip:

The Souq can get confusing and Le Pouce is a well known marker if you need to extablish a rendezvous point with others in your group.
Other Instagram Worthy Sculptures
The Challenge – This is a series of bronze sculptures with huge hands reaching to the sky. This is a popular picture spot and is located outside the Lusail Multi-Purpose Sports Hall.
The Force of Nature II – Inspired by a hurricane that hit the coast of Thailand,  by famous artist Lorenzo Quinn  It pays homage to the power of nature. You can find it at the Katara Cultural Village.
The Spider – This sculpture by Louise Bourgeois located at the Qatar National Convention Center is a favorite of adults and kids alike. It symbolizes motherhood and strength.
The "7" Sculpture – Perhaps one of the tallest sculptures in Qatar, 7 stands 80 feet tall and is made entirely of steel. Sculptor Richard Serra used a minaret in Afghanistan as inspiration.
These are just a few of the public art highlights to see when you are out and about on a Doha stopover. There are so many more to discover and photograph!
National Museum and Local Culture
If you want to get an in depth history of Qatar and its people, you must add the National Museum on your list of places to visit. This newer museum is separated into three "chapters" – Beginning, Life in Qatar and The Modern History of Qatar. The outside of this museum is just as impressive as the inside. It's inspired by the desert rose and the sprawling facility is hard to miss. Inside you'll find cafe's, parks, interactive learning experiences, a huge auditorium and thousands of artifacts and exhibits. There's a little something for every age at this attraction.
Islamic Cultural Center-FANAR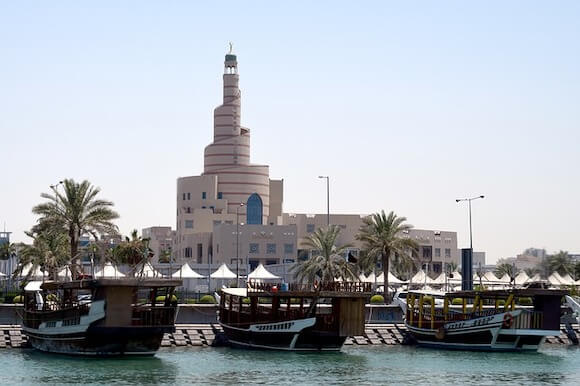 Welcoming visitors of all faiths, the Al-Fanar Islamic Cultural Center is one of the most well-known landmarks in Qatar. Some say it looks like a wedding cake. Whatever image the iconic structure reminds you of, a tour of the cultural center will certainly be a learning experience about the Islamic faith. There are exhibitions, language courses and if time permits, visitors can attend the Friday service in English or one of the other events from Sunday – Thursday. For those not of Muslim faith, take special note of the etiquette in the Mosque.
The Pearl-Over the Top Doha
No trip to Qatar is complete without a trip to the Pearl. This engineering fete has garnered world attention for its use of reclaimed land. What was once sea, now represents a 4,000,000 square meter "island" that can house up to 50,000 residents. Prices insure the population represents a Who's Who of the rich and famous as The Pearl is the only place in the country where foreign nationals can own property.
This area is known for over the top lifestyle experiences. There is luxury shopping, dining and living. Visitors on a Doha layover can stroll along the boardwalk, especially in the evening to get a view of the waterfront and really appreciate how unique and unusual the skyline is.
Sand Dune Adventure on a Doha Layover
The sand dunes in Qatar are spectacular. There are few spots in this world that exhibit the vastness that the dunes illustrate and there is no way better to explore them than through a tour on a Doha day trip. Full-day tours may include a camel ride and end with a 4×4 experience over the dunes in the desert. If you want a truly magical experience and your stay is more than a 24 hour layover, choose a sunset tour with dinner at one of the desert camps where you can get a glimpse of what the Bedouin life is like in the desert.
Aspire Zone for Sports Lovers on a Doha Stopover
Also known as the Doha Sports Center, this sporting complex has some of the best training facilities in the world. The tower is one of the tallest strucutres in Doha and their Academy is renowned as a training destination for future athletes. The comples also houses an aquatic center, three stadiums and a medical center for sports related injury research. As host to the 2022 FIFA World Cup, some of the games will be played in the Aspire Zone.
Pin Me for Later ♥ A Luxury Doha Layover