Best Bites 2015 Eating Local Around the Globe
This week I've been talking travel with a lot of friends and the conversation always comes back to food. Everyone is asking me about my Best Bites for the year. Can you wrap that up into one post? I've been thinking about it for days and the meals that circle back again and again are the tastes that made the list.  One universal thing I look for when traveling, is tasty bites. A girl's got to eat right? Why not make as many of those eats as delicious as possible. You increase the odds if the ingredients are the best local a destination has to offer. 2015 was an especially good year for scrumptious food from around the globe. Come along as I take you on a tour of my Best Bites 2015.
My year started off with a trip to Cuba. Beforehand, I had been warned about the food. 'Don't expect much, Get ready for rice and beans, Make sure to bring snacks with you'…..Anyone who had been there had a negative comment about the food. And yes, I did have plenty of rice and beans and I was glad I packed the Luna Bars, but I am here to tell you that there is plenty of great food to be had on this island. As trade regulations loosen, I'm sure it will only get better and better. One such meal was at La Guarida., semi famous for it's placement in the movie Fresa y Chocolate. As you enter this crumbling shell of a building, there is a perfectly faded blue painting of Che Quevera on the side wall. An enormous, curved, stone staircase takes you to the second floor where the plaster has a patina designers have been trying to recreate for years. Stark white tablecloths and napkins hang at attention draped in diagonal patterns across the room. The visual people in our group were awestruck and could barely drag themselves up the final staircase for the piece de resistance. You'll have to wait to read more in an upcoming piece I am working on, but suffice to say that the restaurant was a highlight of a trip full of contradictions. The seafood course I had was perfectly shaved pieces of a white fish as light and fresh as any I have tasted. Simply drizzled with olive oil and a pop of red pepper couli, it was a stand alone winner. While I might have been intoxicated by the decor, I think it would have almost tasted as lovely if I were wearing a blindfold.
Let's move on to Spain. Decisions, decisions. One of the best ways to get your feet wet in a new destination is a food tour. After the Devour Barcelona Food Tour, I almost had to be rolled home. Their tours are one of the best I have ever been on anywhere. Combining history, great tastes and old world charm is Devour's specialty and one of the things I liked best, was the route, which was neighborhood oriented and off the usual tourist path. Exploring the Garcia neighborhood was a delight and while all the tasty morsels we were able to sample were fantastic, the one that makes the list, was the olive bites from the Mercat Abaceria Central. One big mouthful of olive, salt cod, and sundries tomato~Bonissim! There's a reason the tapas style of eating is becoming so popular around the world-it's fun, full of many flavors and the perfect activity to enjoy with friends. This olive bite embodied that concept to 9th degree and so much more. Plus it taught me much about an entertaining style that I carried back home with me.
A former monastery, beautiful people, fresh local food and exceptional wines. Need I say more. Practically every dish from this meal could have made the list, but If I am forced to pick one that remains in my mind's eye, it would have to be the small bite of baby squid with a cream sauce of young peas straight from the adjacent garden. Decorated with an edible flower, this was a small part of a feast for the senses that I wished would go on for ever.
As many of you know, I am a Brand Ambassador for Stonyfield. This year the company introduced the most unique frozen yogurt treat that in addition to being a best bite, had to be included on this list for shear chutzpah alone! Long the champion of sustainable and eco-friendly food production, it was a dream of ceo Gary Hirshfield  to create a food item that was completely self contained (including the packaging). The Pearl was born-a no mess, no melting-no spoon or packaging required dessert. Just a delicious bite of frozen yogurt surrounded by a tasty edible fruity shell. Genius and perhaps the wave of the future.
In case you haven't noticed, the food of Spain lingers in my memory. Freshly picked morels tasting of the sweet forest and earth, swimming in a rich coating of  barely cooked egg with a yolk unlike any I have ever tasted. Perhaps an addition of some butter and cream. If you could touch the glands on my neck, you would know I am salivating as I type the memory of this bite from Madremanya, Spain.
Family traditions hold a dear place in my heart and one of my summer favorites is digging fresh clams. The process, the whining, the success, the shucking, the cocktail, the eating. It all adds up to a best bite no matter what year.
The first time I saw grilled haloumi on the menu, I ordered it because I was more intrigued than anything else. Grilling cheese, with out bread, and somehow it doesn't turn into a runny, melted mess? No, it does not ladies and gentlemen! Haloumi is a Greek cheese-chewy, dense and devisive. Like India-you either love it or hate it. I obviously fall into the former camp of both, and am thrilled to see it appearing on menus in the Boston area. Having first tasted it in Greece when I was there as an exchange student, it is now one of my favorite plates at Nantucket's Proprietor. Served over a puree of charred eggplant and topped with crispy chick peas and a drizzle of honey, it is a dreamy dish.
Sometimes the best bites can be comfort food with the ability to transport you back to another time, before you were all grown up and the world was a different place. A good BLT used to do it for me, but since I no longer eat meat, I've been searching… This summer I tasted a riff on my old favorite and decided I had to figure out how to make it at home. Very finely sliced eggplant with a sauce made with liquid smoke can do the trick and I think almost better than the original.
I ate many oysters this year. Too many to count. There were the flavorful Irish Giga oysters from Galway Hooker Brewery, and then the mellow, sweet ones from Poulnasherry Bay, representing my first meal on the Emerald Isle. Rich and luxe oysters Savannah from Yvonne's in Boston paying homage to the former Lock-obers, but my favorite had to be the tasting at Robert's in Maine. After taking an up close and personal ride with the pros from the New Hampshire Coastal Conservation Association to see some of the beds where they are grown, getting a professional shucking lesson once back on land and hearing about the best way to chew and swallow, hands down the favorite oyster bite of the year was  Dr. Grizzel's Wagon Hill.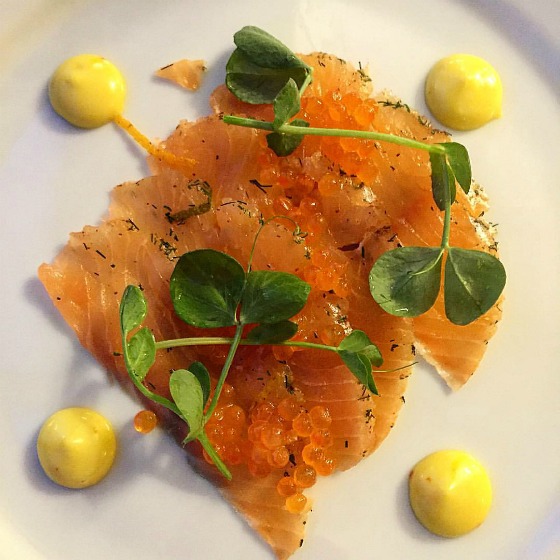 This was a dish I could eat every day for the rest of my life. Connemara salmon, soaked in Irish whiskey and Pernod, topped with trout caviar, pea tendrils and lemon aioli with a hint of saffron. To think I was living out every young girl's fantasy of staying in a castle to boot…..we'll let's just say it was a dream come true!
Rounding out the year was the dessert on my birthday staycation at the Envoy Hotel in Boston's Seaport. While the entire dinner was filled with tasty flavors, the best bite award had to go to the dessert. If you've been reading Green With Renvy for any amount of time, you know that my sense of smell lives in a rarefied world (both to the detriment and delight of my life experiences) When the chef surprised us with a celebratory dessert, all of my senses were thrilled. Cracking the lid to the canning jar containing the homemade marshmallow transported both my husband and I to crackling wood and summer campfires. Smokey, artisan marshmallows, dense chocolate fudge and cookie crust-Oh My!
Pin Me – Best Bites 2015
And there you have it-My Top Best Bites 2015. The list could go on, but I had to make choices. What were your most memorable dishes tasted this year? Any travel worthy plates I should consider booking a ticket to savor?
Photo of Smore's via Outlook at The Envoy Hotel