Bed and Breakfast in Kennebunkport, Maine
The Kennebunks have been a favorite destination for New Englanders long before past presidents put this coastal spot on the map. If you're looking for a romantic destination close to the ocean, try a bed and breakfast in Kennebunkport, Maine. The myriad of choices has something for everyone. Historic properties such as the selections featured are eco friendly by maintaining a piece of American history; properties have been thoughtfully updated and renovated. Turning a portion of a large historic home into a place to stay was quite common in years gone by. It established a means for homeowners to hold and sustain their homes.  As a forerunner to today's popular AirBnB, these stately homes have survived the wrecking ball, preserved their history and kept travelers coming back to this quaint seafaring town year after year.
Less than two hours north of Boston, this destination reflects a bygone lifestyle while being updated with modern amenities satisfying today's travelers. Tucked away in the oceanside town are award winning properties and spas, delicious farm/sea to table restaurants, galleries, wine bars and world class shopping. Whether you are looking for some mid winter romance or a summer getaway by the sea, the bed and breakfast experience in Kennebunkport will have you falling in love with New England charm.
Bed and Breakfasts or B&Bs as they are commonly known, are typically a smaller and more intimate in size than an inn. Options range in size with guest rooms, depending on local zoning. A full morning meal is offered, often at a large dining table with family style seating. Normally the owners are part of the staff, welcoming guests and taking care of their needs. Usually they live on site. Inns are typically larger in size and offer dinner. Both have common areas for their visitors to share additional space.
I recently had the opportunity to experience four Bed and Breakfasts in Kennebunkport, Maine. Each property had common characteristics running through them, but was equally distinct in feel and would appeal to visitors for different reasons.
Inn at English Meadows
Welcoming travelers for over 75 years to Kennebunk's Lower Village, the Greek Revival Inn at English Meadows has been recently renovated with a modern and chic aesthetic.  As soon as I walked into the property, I was filled with a deep sense of calm. The colors and decor reflect the nearby ocean with subtle shades of ivory, blue and pale green. Local (mostly) contemporary artwork is strategically placed throughout, alongside historical and found mementos. The feel is urban and contemporary, melding with a country inn charm which reflects the natural beauty of the rocky coastline less than a mile away. The creative backgrounds of owners Kate and David Parisi is immediately evident.
All of the nine guest rooms plus a bungalow (available in the warmer seasons) feature Vera Wang hypoallergenic mattress and luxurious Frette linens and robes. I loved the fact that they encouraged you to take the bed slippers to use again and again. They are perfect for travel, and I always thought it was such a waste to dispose of them after one visit. Toiletries are by one of my favorite eco brands, Malin and Goetz , made from natural ingredients and great for sensitive skin. Many of the rooms feature a gas fireplace as do the delightful common areas, where it would be easy to spend an afternoon with a good book.
We stayed in the Quiet Moments suite which was located on the first floor of the carriage house. The ample sized bedroom, decorated in blue and creamy whites had an additional sitting room with couch, chairs and TV. Coffee and tea are offered in the common areas and neopresso machines are in all the rooms. Even though our bedroom was right next door to the common area, it was very quiet. In the summer, one can gaze at the heritage lilacs and alpine gardens from the comfortable king bed. The new bathroom features a custom shower with rain maker shower head.
Another highlight of your stay will be innkeeper Kate's three-course gourmet breakfast and homemade baked goods that are served each morning and afternoon. She leans towards the savory, one of my personal favorites. Freshly baked coffee cake highlighted apples from the property. An exclusive coffee blend comes locally from Portland. Poached pears with marscapone and pistachios showed off Kate's creativity, and an egg frittata finished off a terrific start to the day. Some of her favorite recipes, including one for ginger cake, can be found on their web site.
In the warmer weather, the Inn's patio is a great place to relax with a glass of wine or favorite cocktail. Kate hopes to provide tapas and light snacks to accompany a small selection of wines and perhaps favorite cocktails. Gardens have been updated with naturalized plants. Adirondack chairs are at the ready for warm weather enjoyment. The Inn's patio is a favorite spot as well. During the winter months, curl up by the fire with a mug of their special hot cocoa.
Seating at breakfast give you options for privacy if so desired. The open central kitchen is inviting and welcoming especially through the large picture windows overlooking the terrace. You'll find a modern personality here that extends to innkeepers Kate and David as well. I found the experience at English Meadows a feast for the senses in every sense of the concept.
♥
Captain Jefferds Inn
History buffs will love The Captain Jefferds Inn. Located just a short walk from town, the highly rated inn was built in 1804 for Captain Jefferds, his wife and their 11 children. In 1888 the house was remodeled in the Colonial Revival architecture. Over the years, porches, a cistern and carriage house were added to the original structure. Eventually, the house transferred outside of the family, and the carriage house was converted into rental suites for it's first foray into the B&B experience.
While owners Erik and Sarah Lindblom made plans to purchase an inn as soon as they were married, Captain Jefferds did not become theirs until after they became empty nesters. The Inn has 16 rooms, each individually decorated with unique furnishings and a private bath. This is the only pet-friendly B&B in the Kennebunks, and the owners supply extra towels, a bowl and treats for this loved member of the family. They even have pet-sitters available by prior arrangement.
The Arundel room, where we stayed, is one of the larger rooms in the house and exudes romance. A neutral palate was accented with warm chocolates and cranberry. A romantic whirlpool tub sits in the corner next to a gas fireplace. In addition, there is a nice sitting area for relaxation. After a night of fresh snowfall, it was difficult to leave the comfort and warmth of the delightful space.
Breakfast is a three course affair served in the beautiful dining room where guests gather in the morning and share stories about their experiences. Moving from poached pear to blueberry pancakes, everyone exchanged stories and spoke of how many years they've been returning again and again to the ship captain's house while creating their own sense of tradition and memories.
Enjoying the winter sun on the cheerful porch, Sarah shared with me the long history of ownership of the ship Captain's house. I never knew that high ceilings in these historic properties reflected a homeowner's wealth. Only the very rich could afford to heat such an expansive space. Many generations of Jefferds passed the property from generation to generation for over 80 years; the federal colonial was sold out of the family more than 125 years ago.
Seafaring traditions have been translated to different parts of the architecture both inside and out. The curved signature staircase mimics the admiral's bridge on a ship. Decorative accents reflect the seafaring history. The original interior wooden shutters, an ingenious design element, move from the windows like a sliding pocket door and disappear into the wall. A wood burning fireplace in the comfortable living room is set every afternoon in cooler months and is a gathering place for guests, as is the sunny porch, with afternoon snacks of cookies, crackers and cheese and a selection of teas and coffee. The barn was converted and additional rooms are in the carriage house with a private entrance and screened porch making it a perfect getaway for families or a girlfriends getaway.
While I loved hearing all about the background of the centrally located property, the story most appreciated was the desire Sarah and Eric always had to be owners of a B&B. They took their first innkeepers course 25 years before they found the perfect property. Long before they acquired The Captain Jefferds, they had purchased a grandfather clock, knowing full well that one day, it would greet guests when they entered the foyer of a future property. You have to admire the spirit of a couple who acquired and saved the furnishings and accents for an uncertain future. Deep down, they knew that becoming innkeepers was their destiny, and they love to chat and share stories about the area and life at the Inn. When I asked Sara if the experience was what she thought it would be, her reply with a smile was, everything and more. As they close in on their 11th anniversary of ownership, the electric candles in all the windows are a steady reminder of the warmth and hospitality Sarah and Eric have created.
♥
Maine Stay Inn and Cottages
Another stately merchant sea captain's home which has been welcoming guests since 1946 is the Maine Stay Inn. Listed on the National Register of Historic Places, the property is located on a quiet street and is an ideal base to explore historic Kennebunkport and the coast of Maine. Judy and Walter Hauer are your gracious hosts and they acquired the house in 2008.
Built as a private residence of Melville Walker in 1860, it was held in the family until 1891. The original house is considered to be square block Italianate, and additions have been added over the years. Inside you'll find starburst crystal glass windows, decoratively carved mantels and moldings as well as a suspended spiral partially flying staircase which has been lovingly hand restored over the years.  The cupola provides distant views to the nearby coastline and is similar to the widows' walks found in Nantucket where wives could watch for their husbands returning from sea.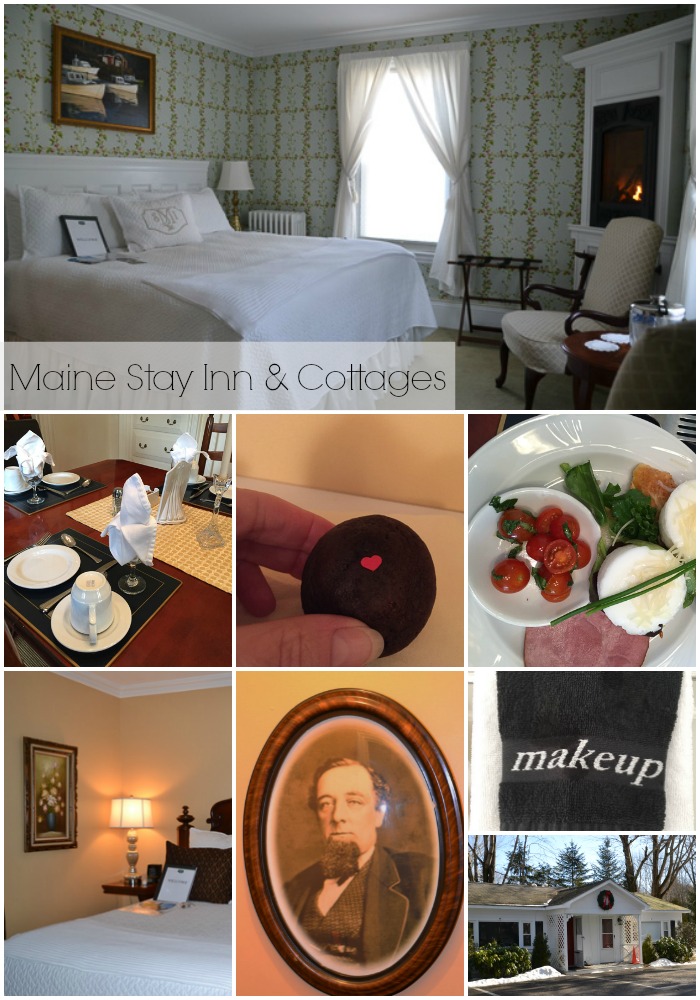 Captain Walker's suite was a large unit on the second floor. The carved mahogany king bed was quite plush with a pillow top mattress. The marble surround on the gas fireplace added a touch of elegance. Next door, the sitting room had a full size sleeper and a kitchenette, topped with matching marble. The private bath featured a walk in shower and I just have to mention that I loved the black makeup washcloths offered by all the properties. Such a smart idea that keeps the linen in circulation that much longer.
Here the specialty afternoon snack was mini whoopee pies (insert smile on my face), along with other goodies. The common area has a table for puzzles, afternoon teas and cozy spots for reading. The wrap around porch is just calling for a rocking chair and a glass of wine in the summer.
Breakfast the next morning was a three course gourmet feast, and insured you were well fueled no matter what you had planned for the day. Breakfast in bed is an option if you are staying in one of the suites, but I love the experience of sitting at the common dining room table and meeting others. Guests were more than happy to tell their stories of loyalty to the Inn. One couple has been visiting for years and the other shared how they had come last year during the blizzard and after many hours in traffic, Judy and Walter were kind enough to have a pot of chili and garlic bread waiting for them when they arrived. It was obvious that a fond friendship had been formed by all.
I would suggest this would be a good spot for families, as 11 of the 17 rooms are actually located in the five quaint cottages that dot the rear of the property. Parents will appreciate the kitchenette available which can make traveling with kids a little easier. While some of the rooms retain their Victorian character, many of the options are updated with a modern flair.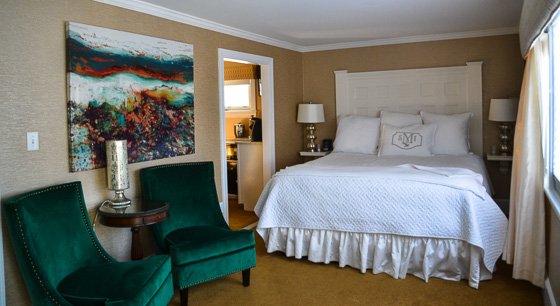 Walter and Judy have a sixth sense about just how much information a guest wants about the area, and when to step back and let you have your privacy. Their knowledge of the Kennebunks insures you will see everything on your agenda, eat great food and have a relaxing getaway; just what one is looking for with a Bed and Breakfast experience.
♥
1802 House Bed & Breakfast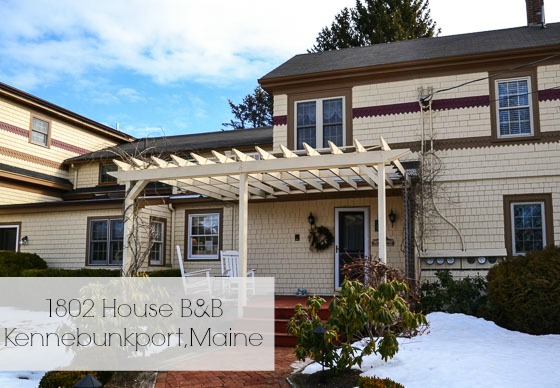 A tiny bit further from the center of town, and beautifully situated next to the Cape Arundel Golf Course, you'll find the peaceful 1802 House Bed&Breakfast owned and operated by the team of Teri and Roger Walker. The pair have returned from living abroad-Teri is American and Roger's charming English accent is a bit of a giveaway-and acquired the property four years ago. The landscaped gardens sit among towering pines and add to the relaxing atmosphere. Innkeeper Teri brings a wealth of knowledge about the area and provides a truly personalized experience for guests of the privately owned bed and breakfast.
I found myself in the Camden room in the front of the house.  Named for the well known summer colony further up the Maine coast, the poster bed features luxury linens with delicate embroidery in lovely shades of dusty blue. The private bath has a welcome heated floor and walk in shower with body jets.  Afternoon light streamed through the lacy curtains and a gas fireplace quickly took any chill out of the air. A mirrored armoire allows for hanging space and like all the other properties I visited, thick, plush robes are waiting for you.
The owners  have been slowly renovating the property and bringing it back to its former glory.  Teri and Roger live on site with their friendly and adorable black lab Tobey. For those that like to walk in nature, plenty of paths are close by. Six beautiful guest rooms offer elegant accommodations. Common spaces are filled with reading material and afternoon sun. It is a short walk to Dock Square's shops, restaurants and galleries. Rocking chairs await summer guests, a spot by the fire takes away the chill in winter.
Teri is a great cook, and the abundant gourmet breakfast lets her talents shine. Freshly made pumpkin bread was accompanied with a local apple-cranberry cider from Maine's Ricker Hill Orchards. A healthy dollop of thick, Greek yogurt was topped with grilled pineapple and  drizzled with passion fruit syrup, a great taste of the tropics-indeed a good thing on a cold winter's morning! A light soufflé followed, alongside a grilled tomato with arugula. Having a small salad from breakfast was a nice change for me and something I can see incorporating into my morning weekend routine.
Terri shares some of her favorite recipes on the 1802 web site and a sure hit is her Maine take on a classic: oatmeal, blueberry and white chocolate cookies. A perfect treat as you settle in my the fireplace with a stack of magazines that the owners have strategically placed close by for that afternoon cup of tea. Many of her ingredients are organic. Accommodations are made for dietary restrictions without compromising quality. For instance she uses a gluten free multi purpose flour for a delicious pumpkin bread and a love of baking has her experimenting all the time. This is the kind of passion, combined with a genuine, sunny personality that makes a stay at the 1802 so special and welcoming.
♥ 
With close to 20 B&B's in the area, I wondered how they could all survive. For starters, Maine Tourism has done an excellent job of enticing visitors in the shoulder and off seasons. The Kennebunks have something to offer year round. While there might be a friendly competition amongst the innkeepers, what I found was a common thread running through the properties' ownership: a strong support system and sense of respect and cooperation amongst the innkeepers of these historic bed and breakfasts in Kennebunkport, Maine. Even though each might not have known exactly what they were getting in to, I recognized a passion among all, and as an entrepreneur myself,  know how deeply it can connect you with others of the same mindset. Although clearly each visit was different, I came away with a unique experience that exceeded my expectations when it came to hospitality and comfort. I know summer is the time most visit this area of Maine, but there is a definite advantage to coming for a stay in the winter. The pace is slow, everything is quiet and the innkeepers can give you as much attention as you would like. Guests who overlapped my visit come back year after year, and couldn't say enough about their wonderful stay.
Select Registry
All of the Bed and Breakfasts  above are part of the Select Registry portfolio of over 300 properties in North America. Select Registry was founded in the late 1960s by Norman Simpson, to catalog a select group of lodging properties around the country in order to encourage travelers to visit and experience the very best accommodations the travel industry has to offer. To qualify and remain a Select Registry Property, each member has to pass an unannounced, rigorous, 200-point quality assurance inspection. No other hospitality organization goes to such lengths to assure travelers guaranteed quality and exceptional service.
Select Registry is the first independent hospitality organization to enroll over 170 properties in the Tesla Destination Charging program all at once. ClipperCreek HCS-40's (above) were also added to allow for Electric Vehicle models that do not work with the Tesla Supercharger. This equally important flexibility means virtually any electric vehicle can now be recharged when visiting the enrolled properties. It's exciting to see a brand at the forefront of the next chapter in personal vehicle transportation. During my visit I was test driving a Ford Fusion for the Driving on Energy program; the timing was perfect to take advantage of the charging stations and I had the ability to charge on the go in Maine.
A variety of special touches are offered at each of the B&Bs, such as free WiFi Internet access, docking stations, flat-screen TVs, Nespresso machines, plush robes and flashlights.  And can we talk a minute about the sheets…600 thread count makes all the difference in the world. Getting into a bed that feels so luxurious is a memory that lasts long after you have returned back to the real world!
♥
My stay was hosted by the individual properties through Select Registry, but as always opinions are my own. I believe the hospitality gene is part of a person's DNA;  it runs deep in all of the innkeepers I had the chance to meet.