Bagan Photo Essay
BPE
There is so much to see in the city, a Bagan photo essay is the best place to begin.  Landing in the early morning is like stepping into a fairy tale.  A slight haze is surrounding the temples which stretch as far as the eye can see.  Antiquity and mystery is scattered across the dry plains. Colors are completely different from Yangon, there is very little green and the countryside is not filled with the glistening gold of our first stop, but golden grasses and naturally colored brick temples of an ancient capital.
The morning was spent walking around the Min Nan village and exploring the stupas and temples of the area.  Each is more beautiful in it's decay than the last.
The area is still home to over 2500 structures, so you can imagine how many must have filled the area in the 11th and 12th centuries.  Families created their own buildings as a sign of wealth and power, probably similar to the thought process behind all the McMansions that pop up around Boston, my home town.
The country is much more primitive here.  Many people rely on ox cart for transportation and the roads are often not paved.  It is a simple way of life.  The internet has arrived, but it is slow and painful. After a BIT of frustration, we found it was better to just turn off for a few days and take in all the countryside had to offer.
It was impressive to see the restoration work being done on the inside murals.  Many have all ready been restored to their former brilliant glory.  It is a slow, painstaking process of removing years and years of dirt and grim buildup, but the magic revealed underneath is pretty spectacular. Especially when you consider how old the original paintings are, and the natural materials they must have used for pigments.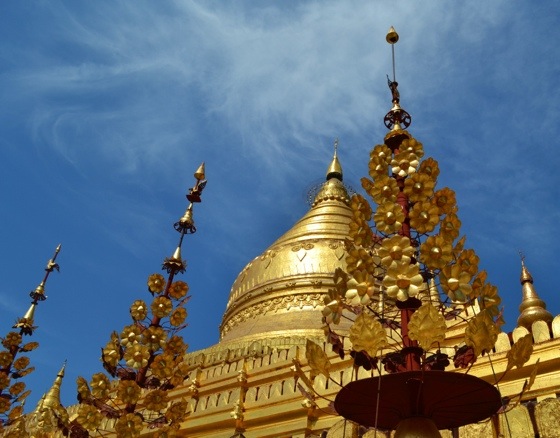 We did have our fair share of gold leaf.  Shwe Zigone Pagoda is the most impressive local golden pagoda from 1090 AD.  It is said to house Buddah relics and introduced us to Myanmar's unique Theravada Buddhism.  This intricate combination of animism, alchemy and worship of the Nat Gods, was fascinating to learn about. Modern day practice focuses more on the gentler side of Nat culture and ones favorite spirits are looked to bring success in everyday life.
The craft scene in Bagan is very active.  Well known for their parasols and laquerware, we were able to see demonstrations of the process of both. Bagan House Lacquer has a very comprehensive collection and demo area.  They sell a selection ranging  from small bowls to dining room tables.  And of course they ship worldwide.  In the back area is an impressive collection of antiques.
To get a taste of village life,  many horse carriage and ox cart rides are available.  Traveling inside the villages this way allowed you to really see a slice of everyday living away from all of the temples and pagodas. You're up high enough to see over the walls, kids chase the carts, women are cooking and it's a bumpy backstage pass to Bagan.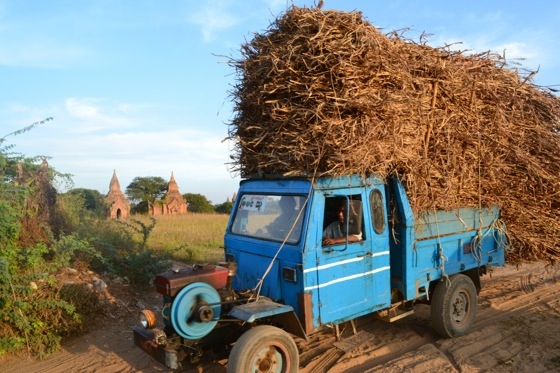 Sunset is one of the great joys of this area.  The temples outline the hills and for the moment all is peaceful and good in the world. Our wonderful guide made sure we saw it from a unique vantage point each night.
Ahh…..and the Bagan Lodge.  What a great spot to come back to and recharge when your mind is swimming  trying to process all of the sites of the day.  A pool to relax by and a fully stocked cocktail lounge.  Like I said, all is good in the world………
Part 2 will take you through the rest of our stay in Bagan.