Back to the Yard for Meatless Monday
I'm back in the kitchen with Tangerine tango this week and more flowers from the garden on this Meatless Monday. I segued from the loads of zucchini blossoms in a friend's garden to the abundance of day lilies in mine. The flower pods have such a strong similarity I found myself wondering if you might be able to eat them in the same way.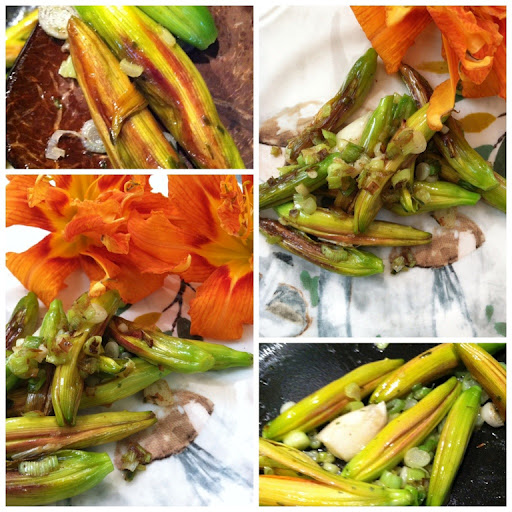 Leave it to google to show me the way. There are many hunters and gathers on the web with an abundance of information. Turns out the day lilies are quite edible in a variety of recipes.
As with anything wild-make sure to taste a small piece first to make sure you don't have an allergic reaction to them. And always know your source!!! You don't want to eat anything that has been treated with pesticides,
For centuries daylillies and Tiger lillies have been a source of food for people in the Orient. Chinese food shops throughout North America sell dried daylily blossoms. All parts of the daylily are edible. You"ll find you can use them in any dish to add a melon like flavor. The new roots, the shoots from the crown, the buds and the blossoms are all used in Chinese cooking. If one accepts the daylily as a vegetable, the beauty of the plant can be complemented by its nutritional value. The buds of daylilies provide more vitamin C than either asparagus or string beans, while, also, boasting a much higher percentage of protein than either of these two well known western vegetables.
In the Orient daylilies have been considered a source for medicines. The roots of daylilies have long been believed to own pain killing properties. They have been used to treat a range of illnesses in the East, including jaundice, fevers and some tumors. As Eastern natural medicines gain closer study in the West, the daylily may one day be valued and grown for its pharmacological benefits.
In the American Far West swaths of daylilies for mile after mile have been planted across some Californian hills as firebreaks. Since daylilies consist mostly of water and can suffer benign neglect in terms of maintenance, they are ideal for use in this novel way.
Daylilies, especially tiger lilies, have long been used in Chinese cooking. One cup of the dried flowers contains 35 calories, 4 g of fiber, 7 g of carbohydrates and 1 g of protein. Be very careful when choosing fresh lilies to eat, as some varieties have laxative properties when eaten in volume.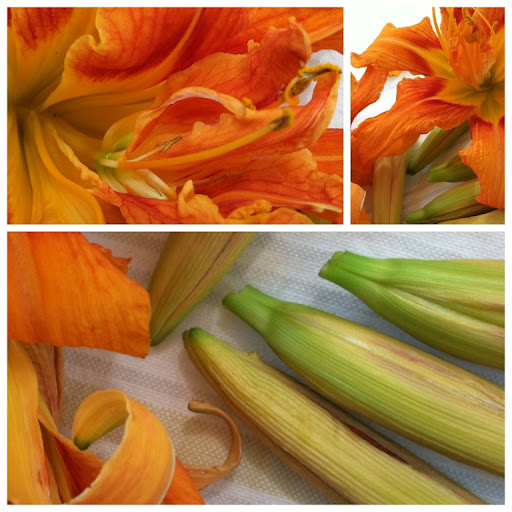 So the daylily is not just "a pretty face" but a plant with many uses, some, perhaps, yet to be discovered. Try introducing your family to the many virtues of this plant that already gives us great pleasure in the garden.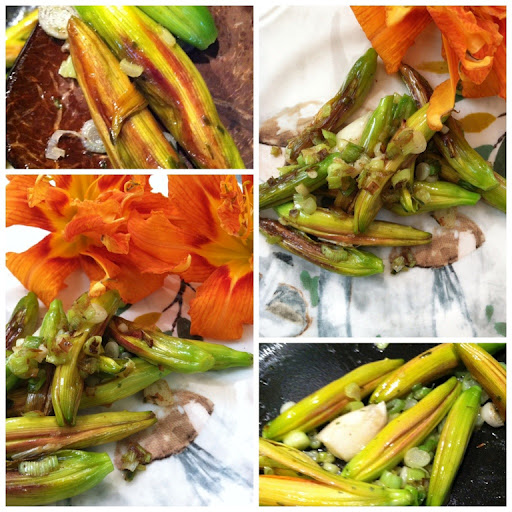 With a little trepidation, I washed my bounty and then tried the top of the stalk-up close to the pod. It was surprisingly delicious! Crunchy, with a mild flavor similar to asparagus, I wouldn't hesitate to add it to any salad. For me, this was the best part.
I next made a sauté with garlic, olive oil and a little chive. The pods barely need any cooking and would be a great addition to a stir fry. Just make sure to put them in last, so they don't get too soggy.
Finally, I added the flowers to a salad cut up with my kitchen shears. Pretty, but not as much flavor as the nasturtiums from last week.
I would stay away from the stamens inside the open lily blooms. They were kind of stringy, and less than pleasant.
My daughter came in shortly after and popped one of the cooked pods in her mouth-claiming them a winner. I was really pleased with my little experiment of urban foraging. Would love to hear if you have other ways to experiment with these plentiful beauties.