Aragosta and Keep the Catch
BOS
Looking for a real taste of New England? As you know, I've been exploring my own backyard this summer and I recently had the opportunity to take part in what might be called a quintessential Boston experience. Have you ever found yourself wondering what it might be like to be a lobsterwoman? Of course anyone can have a fab lobster dinner in a restaurant, but what about the chance to catch the lobster and then have a chef prepare the catch for dinner? The Battery Wharf Hotel, Boston Waterfront has just such a unique experience and it's an adventure for the forager wannabe in all of us!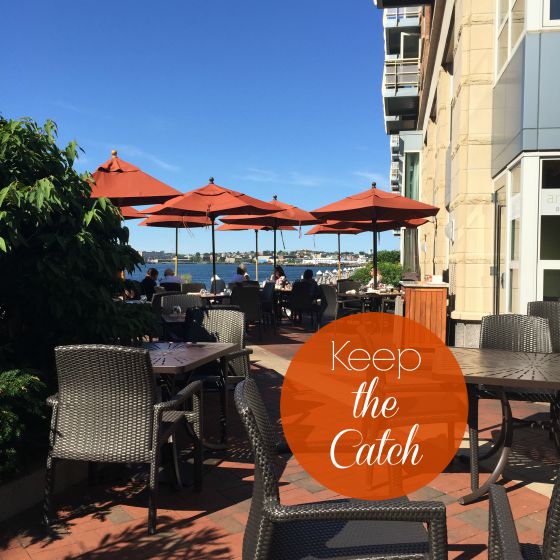 There's no better way to see the beauty of Boston than from the water, and the Keep the Catch Tour gives you a beautiful vantage point. In addition to leaning how to bait, drop and haul in the lobster traps, Captain Wes Penny is filled with historical details about the city and it's waterfront.
Wes Penny and his son Fred deliver an authentic, seafaring adventure on their commercial lobster boat, the Sixpence. I guarantee you will learn more about the tasty red crustacean during the 2 1/2 hour trip than you ever thought possible.  You can even try your hand at banding that dangerous, delicious claw.
En route, take in the scenery of Boston's Harbor Islands. Captain Penny will share information about Spectacle Island, resurfaced with landfill during the Big Dig.  The island was covered and built up with dirt, capped with two feet of clay, and covered with two to five feet of topsoil. Thousands of trees were planted, and paths, buildings, and a dock were built. Just 20 minutes from downtown Boston, Spectacle Island is ideal for hiking, swimming, boating, and learning. Stop in at a "green" visitor center with exhibits about the history and evolution of the island. Go swimming on a sandy beach (one of the few on the islands) supervised by trained lifeguards in the summer. Take in panoramic views of the harbor and city from the tallest hill on the Boston Harbor Islands. The marina makes it a popular destination for boaters.
And now about those lobsters:
A regen is a lobster that is regenerating one of its claws (above)
Lobsters were once considered the poor man's chicken. In Colonial times, it was fed to pigs and goats and only eaten by paupers.
Lobster fishermen throw back lobsters that are too small and lobsters that are too big. The small ones need to grow, while the large ones add vigor to the gene pool
A female lobster can only mate just after she has molted.
Lobsters can swim forward and backward. When they're alarmed, they scoot away in reverse by rapidly curling and uncurling their tails.
When food is scarce, lobsters can turn cannibal and dine on smaller lobsters.
Lobsters have teeth in their stomachs.
Lobster eggs are called roe, just like fish eggs.
Lobsters can grow up to four feet long and weigh as much as 40 pounds.
It is believed that lobsters can live as long as 100 years.
Lobsters have a crusher claw and a pincer claw; some lobsters have the crusher claw on the right side and others have it on the left.
After an informative and adventurous morning, we docked back at the hotel and our lobsters were brought to the kitchen to be prepared for the evening's meal. Later, a beautiful meal followed with perfect temperatures for an outdoor feast at Aragosta Bistro+Bar. The setting near the water with comfortable seating and fire pits warming our lobster dinners couldn't be a better al fresco summer dining experience.  Chef Joseph Adamo put together a lobster bake with corn and the daintiest teeny purple potatoes. It was hard to believe that morning the lobsters had been freshly caught in the nearby waters of the harbor.
Of course any time summer, fire pits and eating are combined, you have to finish off the meal with s'mores. I am normally a purist, put have to admit I loved the addition of peanut butter cups and bananas to finish off my meal.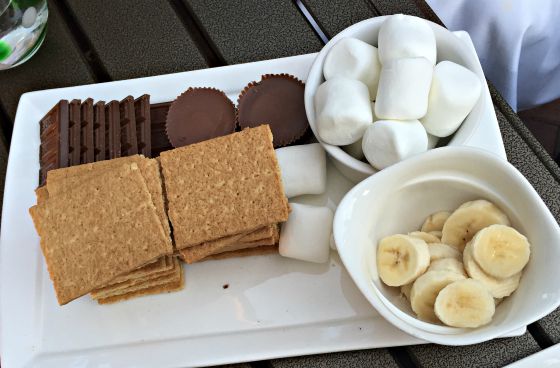 In addition to the Keep the Catch experience, Aragosta is a pretty cool place to settle in for a cocktail. Many thanks to the staff for sharing the recipe of their infamous house drink, The Cilantro Sting.

CILANTRO STING
SERRANO CHILI-INFUSED SAUZA BLUE TEQUILA
FRESH LIME, CILANTRO
1 ½oz Serrano chili infused Sauza blue Tequila
1 ½oz Finalandia vodka
¾oz lime Juice
½oz simple syrup
5 springs of cilantro
All ingrdients in to a shaker with ice, shake, double strain, serve in a martini glass and garnish with a serrano pepper round.
The 411
Keep The Catch Lobster Excursion: Leaves from Battery Wharf Hotel every Saturday at 1:00 pm and returns at 3:30 pm. The cost for the excursion is $60 per person. The Lobster Bake for two at their Fire Pits is $45 per person with your catch. The boat accommodates a maximum of 6 guests per excursion. Reservations are required at the time of booking, with 5:00 pm or 7:00 pm dinner reservation options. The excursion is currently available only on  Saturday's.
Aragosta Bar + Bistro is open from 6:30 am until 10:00 pm, the Dinner menu is served until 10:00 pm, the Bar is open from 11:00 am until 12:00 am, the Bar Menu is available until 11:00 pm, and the Patio is open from 9:30 am until 10:00pm (the last dinner seating at 9:30pm).