Arabic Street Food Flavors of Jordan
Jordan's famous hospitality is featured nowhere more than in their Arabic street food and delicious restaurants, unless of course you are invited into someone's home. After a visit, one might think the term 'feasting like a king" was invented here! Whether snacking, sipping or sitting down to a complete meal, tasting the flavors of this country is likewise taking a deep dive into the Jordanian culture.
Villagers take joy in preparing a meal together, especially for festivals and community events. Restaurants are filled with extended families eating as a group. When combined with Jordan's legendary welcome, each meal is another way to express warmth and kindness to visitors. Welcome (to Jordan) ­– Ahlan wa Sahlan – a phrase I heard throughout my trip!
History of Arabic Street Food in Jordan
Jordan's history is deeply rooted in the traditions of the Levant. This area, known in Arabic as the Bilas al-Sham, covers most of what we now call the Middle East. The states of Cyprus, Jordan, Lebanon, Israel, Palestine, Syria and parts of Iraq and Turkey all have played a part in the cultural development and customs of the area.
Trade throughout the Middle East brought an overlap of indigenous goods. This of course led to an influence on the cuisine. Each specific area might have left their mark on a version of hummus for instance, but the basics of the ingredients are centralized to the region.
Jordan has been conquered and settled by many diverse groups over its complex history. Each of the different chapters chronicles an influence on the culture as well as the cuisine. Combined with the nomadic Bedouin traditions in the surrounding desert, the result is a confluence of technique and practices. Simple preparations blended with local ingredients featuring a myriad of fresh herbs and spices yields a cuisine that is diverse, complex, and delicious.
Exploring the food of a new destination is always a great way to dig into the culture. Many of the best modern dishes originated as street food. When traveling to a new destination, I am always curious to see local markets. What will be on the menu for the vegetarian or pescatarian (of which I am)? Luckily, I was already a fan of Middle Eastern flavors before I even landed in Amman.
Community Based Tourism
My trip to Jordan was centered around a Trip of Highlights with GAdventures. I had the opportunity to explore a few days on my own before joining the group. One of the features that attracted me to partnering with this company was their dedication to community-based tourism. Their trips are so much more than just sightseeing. Itineraries are built to support local communities, a tenant of responsible travel.
Ripple Score
The company's unique Ripple Score is a means for travelers to evaluate how their money is spent on the services during the tour. Accommodations, restaurants, and transportation are all part of the equation. Mealtime was an instance where this was especially on display.
Authentic food is one of those #GforGood experiences I really enjoyed. Our guide Manny did not disappoint when it came to keeping us well fed with the flavors of Jordan. We visited so many authentic restaurants. I never would have found them on my own without the help of a local expert.
Knowing that your dollars are staying in the community feels good when you travel. Our meals were in restaurants owned and operated by people from the area. Tasty, authentic dishes made with locally grown ingredients.
Food for Vegetarians
My menu of choice anywhere would be mezze or small plates for a variety of flavors. And no worry for vegetarians. Plenty of aromatic salads, grilled haloumi (cheese) and hearty vegetable stews to satisfy!  Speaking about hospitality, their national dish Mansaf (yes meat based, but I'm making a point here) is as much about their well-known welcoming spirit and sharing a meal as it is about the flavors.
The food in Jordan exceeded my expectations at every meal! Whether it be the distinctive mezze, Arabic street food, or the elaborate meal at a festival, visitors will be amazed at the variety of flavors Jordan has to offer. I was in the country for 10 days, and this post features the food from both my GAdventures days as well as my own solo discoveries. Seafood in Aquaba, provided two delicious meals. The rest were vegetable or grain-based dishes that kept me intrigued and looking for more. Calling all vegetarians, "get ready for the proverbial party in your mouth!"
Favorite Arabic Street Food
My definition of street food hinges on tastes that can be found from vendors, usually on the street or inside tiny shops that have few seats for their customers. Street vendors are often selling from carts or shouting their goodies from trays precariously balanced on top of their heads.  The rich and varied tastes of Arabic street food can range from flavorful snacks, to hearty quick foods and traditional sweets.
It is often said if you can get a handle on a city's street food, it will give you valuable insight into the inner workings of its culture. It certainly did when I visited Xi'an, China and Amman is no exception. The city originally was built on seven hills. Intertwined in the narrow lanes and small shops come aromas enticing visitors to find their source.
Some of the best Arabic street food can be found in Jabal Amman. The neighborhood is one of the original seven hills and near the downtown area. You'll see people everywhere congregating around petite stalls or street corners to chat and sip a cup of freshly squeezed sugar cane or pomegranate juice throughout the day. Read more about my rules for safely eating street food; it is always a work in progress.
Often these same Jordanian street food items are on the menus in restaurants. This post will give you an overview of some of the best flavors to look for when vegetarian snacks are on your mind and of course the list is not all inclusive.  These were my favorites when I was exploring the foodie adventures Jordan had to offer.
Breads
Shrak
Shrak, also known as markook, is a traditional Bedouin bread that is popular in Jordan and throughout the region. The proficiency of its maker is critical to the paper-thin thickness achieved before tossing it onto a hot iron griddle. Skill is equated with translucency!
The griddle or saj is the shape of an inverted wok and cooks the large circles in record time. I took great pleasure in watching an expert prepare it for my meal. Can you see her smile dancing through her eyes?
Pita Bread
This universal pocket bread is served at just about every meal in Jordan. An excellent medium for dipping, stuffing and sampling fresh out of the brick oven where it is usually made.
Ka'ak
When you hear the vendors calling out ka'ak, ka'ak, ka'ak in the street, don't hesitate to indulge in this local favorite. The round or oblong sesame bread is often eaten for breakfast with a hard-boiled egg and a sprinkling of za'atar. One of the most famous spots is Salaheddin Bakery serving the delicious carb for over 70 years. Visitors will find it on King Hussein Street near the downtown area of Amman.
Street Food Snacks
Hummus
There's no arguing that hummus is one of the most well known of Arabic street foods in Jordan, probably the most famous in the middle East.  It's amazing that so many different flavors can come out of recipes using the same simple ingredients. Portions and techniques are the secret sauce of the creators.  Everyone has their favorite spot to get this creamy, lemony, garlic appetizer.
Purists are probably horrified by some of the newer flavor profiles. Additions include everything from black beans to yes, chocolate hummus. I think the variety of this healthy snack is great. Some are positively dreamy, like this beet version from the Ukraine. I can honestly say I've never met a hummus I didn't like.
A great dish for vegetarians, especially when drizzled with olive oil and a sprinkle of za'atar, it is a cheap filling dip loved now around the world.
Falafel
Made from ground chickpeas, herbs, and spices, falafel is an incredibly popular street food all over the country. It's nutritious, inexpensive, and easy to find. The deep-fried and staple Middle Eastern dish—typically served in bread, with a tahini sauce, vegetables, pickles and spicy sauce is served throughout the day. The tasty combination of flavors and ingredients is hard to beat.
Chickpeas are often the beans of choice in the Levant, green fava beans often make an appearance in Egypt. When made with chickpeas, falafel is high in protein, complex carbohydrates, and fiber.
I found falafel was ubiquitous, from the back alleys to roadside strip malls and always on the menu in restaurants. Some were better than others, but all were tasty, warm and filling. Even leftovers came in handy on a long bus ride!
Turmos
I first discovered turmos, or lupini beans, in Ecuador. After learning about their nutritional value, I now put them in salads and stir fries all the time. They are low in fat and carbs and higher in protein than chickpeas. The plant is native to west Asia and evidence of the ancient legume has been found as far back as 2000 BC in Egypt. The beans can be quite bitter if not cooked properly, but once you have a taste of this hearty snack, they can be quite addictive. Find them from street vendors and in the downtown fruit and vegetable market.
A Tradition of Food and Hospitality
Like many countries known for their hospitality, Jordanians incorporate food when expressing their welcome to guests. Whether in a home or marketplace, visitors will quickly find a cup of tea, a delicious, mouthwatering fig or some other tasty offer of generosity to titillate their tastebuds and fill their heart with kindness.
Mezze
From my perspective, one of the most loved features of Levantine cuisine is the mezze. Mealtime begins with this course of hot and cold small plates and primes your appetite for the main dish. Varied in flavor, texture and ingredients, it is shared at the table and most often served with pita and shrak bread. However, be forewarned. The amount is plenty for a complete meal. Save room if you've ordered an additional entre.
These are some of the typical dishes you could expect to find on the mezze section of the menu.
Fattet Hummus
Are you a fan of five layer dip? Jordanian cuisine puts together an interesting twist on the concept. This creamy chickpea favorite crosses all international borders. In Arabic, the word fatteh translates to crushed or crumbed and is an inventive way to upcycle stale pita. The bread is toasted or fried, and the small pieces sprinkled in a layer with other ingredients of minted yogurt, hummus, and roasted chickpeas. Sprinkled on top are pine nuts and a generous drizzle of olive oil.
Moutabel
Moutabel is another equally delicious, but lesser-known, smoky-flavored dip made of pureed roasted eggplant, garlic, lemon juice and yogurt. Similar to baba ghanoush, this dip comes with more of a kick.
Dolma
These stuffed leaves come with a variety of fillings. Make sure to ask, as the default is usually minced meat, but you can find them with rice and vegetables.
Haloumi
Haloumi is a white cheese often used in cooking. With a high melting point, it can be grilled or easily fried and is popular with vegetarians as a meat substitute. The semi-hard, unripened cheese is usually made from a mixture of goat and sheep's milk. The texture of haloumi seems to be a flash point for whether or not you become a fan. Chewy in mouth feel, I love eating it both hot or cold. In Jordan it's found grilled on every menu and also as an ingredient in salads.
Manakesh
This local favorite has been popular in our house for years. We are lucky to have several Middle Eastern grocery stores close to our home and Arabic "pizza" is delicious street food! My favorite is the round shaped flatbread topped with za'atar. This spice mixture, with a secret combination of thyme, oregano, salt, toasted sesame seeds and sumac has an unforgettable taste and many would call it a cultural icon of the Middle East. With a drizzle of olive oil, I often top it off with a poached egg for a complete meal!
Usually cooked in a brick oven, visitors can find it served 3 meals a day. With a cup of mint tea, it makes a delightful afternoon snack. Like "pizza" everywhere, tourists will find it with a wide variety of toppings local to the community.
Salads
These are dishes I would typically classify as salads. In Jordan, they can be served in the mezze course as well.
Tabbouleh
Party in your mouth anyone? I've always thought of tabbouleh as an explosion of flavors. This Levantine dish, served as a starter or salad, is a mixture of garlic, tomatoes, finely chopped parlsey and bulgar wheat. A dressing of fresh lemon juice, olive oil and salt really makes the taste buds pop and gives a tart freshness to the dish.
While you might be tempted to scoop it up with a pull of pita much like hummus, in Jordan, it is typical to eat the lovely salad with a spoon.
Arab Salad
Salad with tomato, cucumber, onion, mint, olive oil and lemon juice.
Olive Salad
As one of the largest producers of olives in the world, take advantage of the abundance by tasting them at every opportunity. They certainly come in all shapes and sizes, the salad version is usually mixed with carrots, green pepper and chilis, dressed with a heaping drizzle of olive oil.
Fattoush
This Mediterranean favorite is so refreshing in hot weather. It seemed to be on a "must try" list, as almost everyone recommended it when I asked locals for their Jordanian favorites. Two unusual (for me) ingredients were purslane, a succulent with a slightly tart flavor and wonderful crunch, along with sumac, the ground red berries used in Middle Eastern recipes. The spice is usually sold ground and adds a tangy, lemony layer of freshness to a dish. Along with cucumbers and radish, the salad includes toasted bits of pita bread to give it a delicous crunch.
Traditional  Dishes and Main Courses
Mujaddara
A popluar vegetarian dish of lentils, groats (usually rice) and garnished with caramelized onions blended together with aromatic spices. This filling, protein rich combination of flavors is rumored to have super powers for women. In Jordan, the addition of pine nuts cranks it up a notch. Served with a dollop of labneh, a rich creamy yogurt, mujaddara makes a filling meal.
Galayet Bandora
A simple mixture of tomatoes, hot peppers, onions and seasonings, this Jordanian comfort dish is both affordable and satisfying. Topped with pine nuts and fresh herbs, galayet bandora is made with local ingredients and can be found on mezze trays as well as menus. I had the pleasure of eating it after being baked in a clay pot. A delicous, smoky flavor went perfectly with warm, freshly made pita.
Maqluba
The traditional maqluba is not a vegetarian dish, but the restaurant had made a special version for the vegetarians in our group, so I've included it. Usually served as a dish meant to be shared, if you are not a strict veg, it's easy enough to enjoy the rice and vegetables part of the ingredients.
The pot is prepared with all the ingredients in one dish and then flipped upside down before serving. A successful flip is pretty impressive tableside.  Folks seem to think you need a  portion the size of my head when meat isn't involved. In any case, the traditional Maqluba, a traditional Palestinian upside down rice dish was served with great fanfare.
Fasoulya
A dish with multiple origins, seen also in Lebanese cooking, Fasoulya consists of white or red beans cooked in tomato sauce with rice. Often served for breakfast with pita, it is hearty and filling, a stick to your ribs kind of dish.  Fasoulya translates to "bean", so the dish can vary slightly depending on where you are, or the ingredients on hand, but will always contain the beans.
Freekah
Like quinoa, freekeh is considered a super grain and is gaining in popularity in modern kitchens. This ancient grain is made from roasting the young, green grains of durum wheat, and it has been a staple in Middle-Eastern and North African cuisines for centuries. It's a nutritional powerhouse that cooks up quickly into a slightly firm and chewy grain with a nutty, smoky, and savory flavor. It could be substituted in a recipe that calls for quinoa, wheatberries, or farro.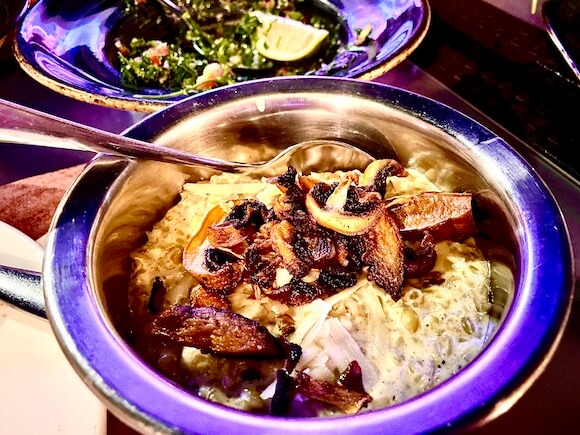 The dish on the menu was simply called Creamy freekah,  cooked in a thick sauce further enhanced by an assortment of roasted mushrooms. Super delicious, but very rich, almost like a savory dessert.
Bedouin Culture
One of my favorite experiences in Jordan was a visit to the Wadi Rum desert. This stunning landscape, the set for many a famous movie, is a region of wild rock outcroppings and colorful, striated sand dunes. Here the traditional Bedouin culture comes to life. Hospitality is always on display beginning with an invitation into an authentic goat-wool tent.
A Cup of Tea
A welcome cup of tea is the centerpiece of Jordan hospitality. Unlike the mugs we so often use, or a dainty cup of British tea, the beverage here is served in tiny glasses without handles. Awkward to hold when its right from the heat, but oh so satisfying with the scent of cardamon, sage and cinnamon filling the air before it hits your taste buds. "Would you like some tea" rolls off the tongue just as easily as "hello".
Zarb
Cooking underground is a technique used around the world. The traditional Bedouin dish of zarb takes it to a new level. As nomads, the tribes developed a cuisine that could be cooked in a harsh environment. A hole in the ground is specifically used as an oven and the unique three-layered pot puts together rice, vegetables and meat separately over the hot coals in a fire pit. Covered with sand and blankets, the dish is cooked for hours and flavored by the smoke. I enjoyed the vegetables and rice along with a deep dive into the Bedouin way of life, capping off the night with glamping under the stars.
Dessert in Jordan
Some of the specific flavors of Jordan can be found as far back as the Paleolithic age and while a paleo diet was probably the origination of many dishes in the country, Jordanians manage to have their fair share of scrumptious deserts. The selection is broad and will more than likely send a sugar rush coursing through your veins.
Kunafa
If there's one dessert you must try on your trip to Jordan, do not miss kunafa (knafeh). Better yet, try to get it warm and crispy, right from the oven. I am always a bit warry of going to highly recommended restaurants. Especially when there are lots of tourists. Give me off the beaten path filled with locals any day of the week. HOWEVER, sometimes straying from the norm will yield unexpected suprises! Over and over again came the recommendation for Habibah Sweets, a local treasure with 70 years of history attached.
I tried kunafa all over Jordan and no other came close to the quality of this tiny shop. There are  several locations, I visited the branch downtown and was richly rewarded. On my little paper plate was a treat so filled with local goodness, my mouth is watering as I type. Warm, with just the right amount of crunch, this cheese filled pastry soaked in simple syrup flavored with rose water is a memory maker.
Insider tip: Get there for a mid morning snack. By the time we had finished scarfing down our hefty serving, the line was around the block. Don't be deterred, it does move quickly and is worth the wait!
Ice Cream
Amman has some wonderful ice cream shops and the hot dry climate has made the refreshing cones especially popular when temperatures rise. Independent shopkeepers as well as several chains can be found all over the city of Amman. Rosewater was my favorite flavor and I'm a fan of the essence in any way shape or form.
Coffee and a Date
Dates have always been a staple in our house. I love using them as a sugar substitute when cooking sweets, adding them to smoothies, including them on charcuterie boards and stuffing them with a bit of blue cheese. Even though we can get fresh medjool dates in specialty stores during the season, you haven't lived until you taste the real thing–fresh and local. OMG!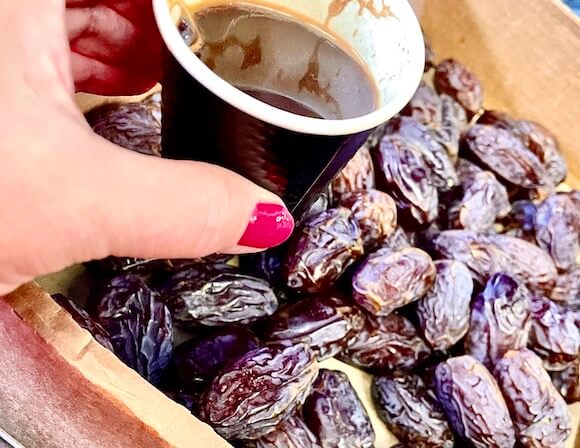 It's hard to imagine anything so moist and tasty could grow in this desert climate. But grow they do and satisfy the sweet tooth in the most delicous of ways. However, enjoy them while in the country and don't be tempted to bring some back into the US. As much as I love them, US Customs does not!
Coffee in Jordan is a rich aromatic blend made with one of my favorite spices-ground cardamom. Served in a small cup, it is rich and often made sweet. Combined with the caramel goodness of the fresh date, it was pretty close to perfect.
A Few Favorite Restaurants in Amman
Sufra, Amman – My favorite spot. The setting in an old historic building on Rainbow Street area. It's was the most expensive spot I visited, but well worth all the hype I had read about before visiting.
Beautifully decorated with the Jordanian version of bohemian chic. The back patio is surrounded by blooming trees and flowers. My first taste of lemon mint, the drink of choice that transported me back to summers on the Jersey shore and followed me every night in the country. Food was excellent.
Habibah Sweets, downtown Amman – At 70 years and counting, it's known as the oldest sweet shop in Amman and has the best kunafeh I tasted.
Souk el-Khodra – Downtown Outdoor Market, Amman – Location of many Arab street food vendors in Amman, a feast for both the eyes and taste buds. The market stalls are brightly colored with fruits, vegetables and a great variety of local delights. Most of the warren of narrow streets are covered.
Dali – Jabal Lweibdeh, Amman Great coffee cafe with snacks and strong wifi. Nice outdoor terrace area. Very relaxed and friendly vibe.
Sakeyat Addaraweesh, Amman –– Known for the technique of cooking in clay pots. Lots of variety and delicous.
Arabic Street Food-A Few Good Phrases
shukran / le shukran – thank you / no thank you
Ana Nabatee ­–I am vegetarian (male)
Ana Nabateeya – I am vegetarian (female)
Mish Akool Lahma walla Ferekh Khalis – I don't eat any meat or chicken
Hathi alwajba kanit kateer zakia — This meal was very delicious
Ana  shibaana, alhumdulallah –I am full, Thank God (for women)
Ana  shibaan, alhumdulallah – I am full, Thank God (for men)
Saha / Sahtain – translates directly to "to your health / to your health twice."
Final Thoughts
As I discovered during my travels, food embraces a large part of the Jordanian culture. From snacks of Arabic street food to fine dining, the spirit of the people is woven into their cuisine.  Traditional cooking techniques still hold for recipes passed down from generation to generation.
Local grains and vegetables when combined with a delicious array of fresh herbs and spices turn simple ingredients into unforgettable dishes. Have you ever been transported to another place just by a taste or aroma? It's magic. Savoring authentic food – no matter the location – will always leave you with amazing memories and stories to tell.
Pin ME Save for later ♥ Arabic Street Food