A Stylish Stay-The Seattle Kimpton Palladian
Dark, lacquered walls and deep, plush banquettes in rich jeweled tones seemed appropriate. Afterall, the retro speakeasy, Pennyroyal is just off the lobby. Jimi Hendrix greets us decked in 19th century military costume.  Kelsey Grammar holds court at the end of the hall. I can't decide if I'm dreaming or jet-lagged. A delayed flight had us arriving at the Seattle Kimpton Palladian well past midnight, but from the get go, the Kimpton team is hospitality ready. Within minutes, a welcome platter and bottle of wine arrived at our door. Hello Seattle, I'm happy to meet you!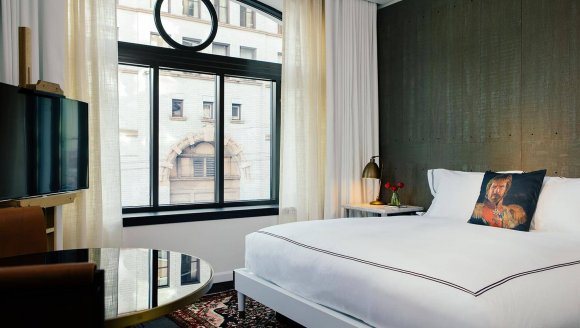 Walking across the terrazzo floor in the lobby of the Seattle Kimpton Palladian Hotel, you will instantly feel the combination of a respect for the past interlaced with a chic boutique hotel that doesn't take itself too seriously.
The vintage decor and moody color scheme is accented with pops of color and eclectic artwork featuring famous Seattle visitors.  Behind the front desk, traditional room keys hang as they would have almost a century ago. They are as decorative as they are functional. This hotel has been resurrected to its original glory with today's amenities appealing to the modern traveler.
The 97-room property is in a prime downtown location. On the edge of Belltown, the Kimpton Palladian is close to the bustling retail district and blocks from the waterfront and Pike's Market. After a visit here, I can't think of a more perfect address for a weekend visit to the Emerald City.  
Sustainable Practices at the Seattle Kimpton Palladian
If  walls could talk, this building would have quite a story to tell. Originally opened as the Calhoun Hotel in 1910, years of neglect had caught up with the former mariner's lodge before the Kimpton Hotels group stepped in to give it new life. The brand has a knack for unearthing neglected treasures and respectfully bringing them into the modern world. 
Builders took specific care to keep the beautiful Palladian windows and pay homage to Seattle's rich history. From the raw wood accents honoring the timber industry to the metallic fixtures and their nod to the Gold Rush, no detail was left unnoticed, including their impact on the environment.
The Kimpton Palladian and other Kimpton hotels are Green Key and IHG Green Energy certified and use sustainable practices. Some of the practices they employ are using energy-efficient lighting, using water-efficient bathroom fixtures, improving air quality and taking part in sustainable meetings and event management. Restoration and keeping a building out of landfill is a pretty big plus in the ecofreindly category as well.
Location, Location, Location
You can't get a better address for your stay in Seattle than Belltown. This densely populated neighborhood is located close to the waterfront and its many attractions.
From the Kimpton Palladian, you can walk to virtually everything, from world-class shopping, to Pike Place Market and the amazing waterfront. It's situated in a trendy, busy neighborhood with no shortage of award-winning restaurants, live music and cafes. Within easy reach is the MOHAI (museum of History and Industry).
You can easily get lost and spend hours in this neighborhood, but, as we found on our second day. If you would like to reach additional attractions like the Space Needle, Chihuly Garden and Glass or MoPOP (the Museum of Pop Culture), you can use one of Kimpton's custom bikes for guests. 
Sleeping With Celebrities
I was hoping for Brad, but had to settle for Nick… Arriving to your room is an adventure in itself. When you walk down the long, dark and mysterious hallways, you wonder,  "what exactally were they thinking?" Silly me-how could I not recognize such an instagramable moment? Just when you think you have the Kimpton Palladian's dark decor figured out, you reach your room and it surprises you again.
Open the door to your room, and the space is  flooded with natural light and city views, even on the darkest and dreariest of Seattle days. Some of the windows catch a sparkle of the nearby waterfront. The walls and decor are a stark contrast from the dark feel of the lobby and hallways. Pop art pillows featuring celebrities like Brad Pitt accent the neutral colored fabrics covering the comfortable, pillow-top mattresses.
The crisp white Frette Italian linens against the custom wood headboard give this space a peaceful, tranquil vibe. The pin stripped robe is divine after luxuriating in the claw footed tub. The rooms are filled with vintage accents like clawfoot tubs but have high-tech amenities that every traveler desires. There are a ton of places to charge all of your devices and lightning fast WiFi.
They also have a few things you may not have thought to bring, like a yoga mat supplied for all rooms and if you forgot your toiletries, the room is stocked with Luxury Atelier Bloem bath products.
Amenities Abound at the Seattle Kimpton Palladian
The Seattle Kimpton Palladian is rich in amenities. Be sure to join their IHG club, which offers members free WiFi and opportunities for other perks like spa and bar credit.
One of the most notable benefits is their on-site restaurant, Shaker and Spear. The food is carefully curated from the Pacific Northwest and prepared by chef Carolynn Spence, who onced graced the kitchen of the Beverly Hills icon Chateau Marmont. She uses locally sourced ingredients and coastal fare in her amazing dishes.
More conveniences that you will enjoy are a fully equipped fitness center and a spa with treatments like massages, wraps and aromatherapy facials. 
If you don't want to leave your pet at home, bring them along to explore Seattle with you! There are tons of parks and outdoor spaces you can explore together in the neighborhood. This property is pet-friendly and even offers amenities like pet bowls in the room, leashes and bags, and pet sitting, grooming and dog walking services they can arrange for you.
 •
With stylish features, vintage charm and an amazing location in the middle of it all, it's easy to see why Seattle's Kimpton Palladian Hotel has been featured in "best-of" lists in magazines like Fodor's Travel and Travel + Leisure. The Next time you are visiting Seattle, put this property on your wish list and enjoy the city from it's warm embrace.  
Pin Me ♥ Chic Style at the Seattle Kimpton Palladian