A Healthy Path to the Holidays
Indulgence is creeping into the calendar and I want to stay ahead of the game. Having a delicious start to the day and eating a healthy breakfast is one way to stay on track. I recently tasted two new flavors of Nature's Path Organic and found a healthy path to the Holidays.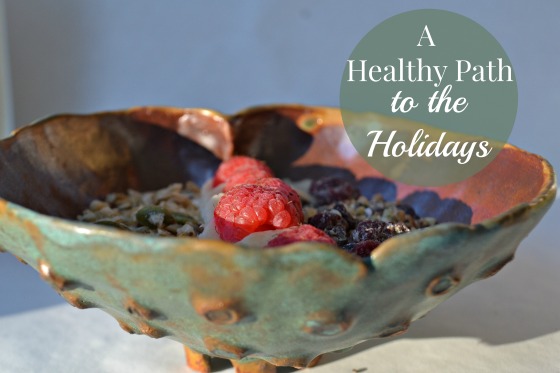 Just think of the natural pairings at this time of year. Turkey and stuffing, pumpkin and cranberry, potatoes and butter. Delicious? Of course, but also calorie loaded and heavy. For my healthy take on seasonal flavor pairings, how about yogurt and granola? Nature's Path Organic has a Pumpkin Flax Granola what's pairs perfectly with Stonyfield greek. I always like a bit of crunch! Add to that a Cranberry Vanilla  Qi'a (Kee-oh) superfood, and you have two healthy seasonal flavor profiles to take you into the holidays and beyond.
Nature's Path is a family run, independent company that has been organic since its inception over 30 years ago. Their mission is to make delicious, nourishing food available for everyone, and each year they follow a path towards a more sustainable future, vowing to leave the planet in a better place than they found it. In addition to other responsible business practices, Nature's Path diverts over 92% of their waste from landfills.
If you're looking for an alternative to the regular breakfast cereal, Qi'a might be just the batch of superseeds for you! Made of chia, hemp and buckwheat, this powerful trio will boost your nutrition in smoothies, oatmeal, pancakes or even salads. Flavored with vanilla dusted cranberries and almonds for a bit of extra crunch, the chia seeds expand when mixed with liquid, having the additional benefit of filling you up. Make ahead and mix up a batch sprinkled into oatmeal, with almond milk, add fruit on the top layer (let sit overnight) and you have a portable breakfast ready to go on a busy morning. By the way, Qi'a means energy and is an excellent source of ALA Omega-3. Unlike fish based Omega-3, ALA is a plant based Omega-3, high in fiber, often overlooked, but with many health benefits as well.
Pumpkin-yogurt bowl anyone? Again non GMO, certified organic and loaded with omega rich pumpkin, you can be sure when you combine this with Stonyfield greek, your day is off to a great start.
So there you have it-breakfast prep on a healthy path to lighten up the holidays. Does your diet change at all before the season?
Artisan ceramic bowl from the multi talented Emma Vesey 
Disclosure: I am a Stonyfield Ambassador and receive products samples and/or compensation for sharing Stonyfield news and products with my readers. As always, thoughts and opinions are 100% my own.