6 Ways to Bring Home Global Decorating Style
There's nothing I like more in home decor than a space reflecting the well-travelled owner. World travelers can bring a certain je ne sais quoi  to the aesthetic of their home. But what is their secret? How do they create the perfect blend of treasures from abroad and mix them with favorite pieces without making it look like the Grand Bazaar? Global decorating style can feature a bowl from Africa, a hand loomed throw from Myanmar, or artwork from a local market, all perfectly woven together resulting in a calming interior. The only thing loud and clear is good taste and a good eye.
A well edited space reflects, rather than screams
I am a frequent flyer
.  These suggestions will help you create a space you love, reflecting your inner
Isabella Stewart Gardner
. We've all seen homes that appear to be perfectly curated and reflective of world travels. A bowl from Morocco here, a hand-woven throw from India there, all perfectly mixed in with the rest of the space and design. Though it may seem like you need to travel the world full-time to achieve this look, I promise, this is not the case! Whether you're traveling across the world or simply to the next town over, these tips will help you create a space you love, and one that also reflects your travel experiences.
Head to the Markets
The first place I visit when I arrive in a new destination is the local market. If you haven't had time to research beforehand, ask a local where they like to shop nearby. Usually it's a food market, but you can find anything from jewelry and clothing, to antiques and local crafts. One of the best ways to pick up the area's vibe and meet some people is shopping where the locals shop. Markets can also be a fabulous place to pick up a souvenir or remembrance of the destination. Bringing home a special local gem can add a perfect detail to a grouping of accessories and will always help you to remember an area's unique nature. Engaging with a vendor, even if it's in sign language is an interactive way to leave a lasting impression for both of you. Supporting the local economy with a purchase from an artisan is a way to help sustainable tourism.
Curate a Collection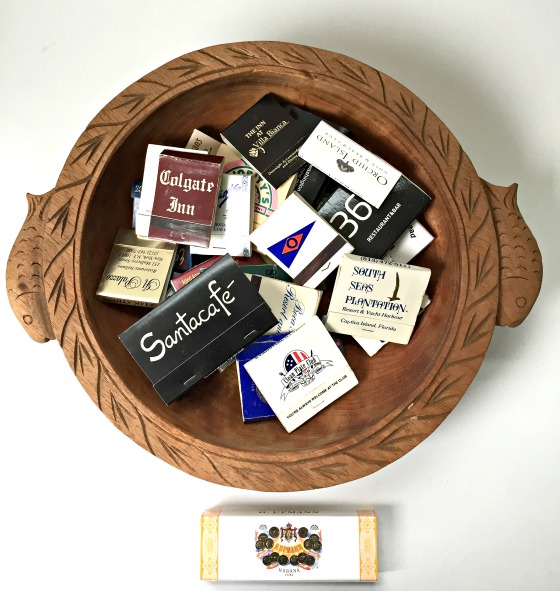 My home is overflowing with much loved collections. If you are feeling a little intimidated by design and home decor, think about what you might like to collect. I have hundreds of matches that I've picked up over the years. Many are framed in shadow boxes, and a collection sit in a wooden bowl from the Philippines ready to be used to start a fire or light candles. Tiny glass bottles from flea markets house little bits of sand from my beach travels. My daughter has snow globes. These selections couldn't be more different, but when grouped together each looks curated, full of meaning and memories. Don't fill your suitcase with STUFF that might not even be made in the country you're visiting.  A postcard, tea towel, stone from the beach or coaster from a favorite restaurant are all inexpensive, easy to find and simple ways to start off your decorating savvy. Choose something that reflects your style. Just make a commitment and stick to it until you have enough to tell a story.
Look to Food
I don't know about you, but I spend a large portion of my time when traveling seeking out great restaurants that serve fresh and  local ingredients. As a matter of fact, my last trip to Costa Brava featured an embarrassingly large amount of time around the table, fork in hand! Bring memories home with artisan and small batch products from the region. They'll do wonders for your pantry and recipes. Chefs are often thrilled to have a guest inquire about a favorite dish they have eaten and will often share a recipe or two. You can then visit a local grocery store to bring the taste back to your kitchen. A mortar and pestal on the kitchen counter can be a great accessory. Just make sure to check regulations when bringing food products. I can tell you from experience, seeds and fried grasshoppers from Oaxaca don't qualify. Olive oils, wine and regional grains are great as are some cured meats and spreads.
Research the Destination's Specialty
I always do copious amounts of research before I travel and one of the things I look for are local crafts. What is the specialty of the area?  Going in with a better understanding of an region's history and culture is a pretty foolproof way to guarantee success. Knowing that Morocco is a rug lover's paradise, textiles in India will drive you mad and laquer ware from Myanmar is superb is a good start to helping you know what your looking for. Best of all, this is a way of insuring sustainable travel and supporting local craftspeople in a trade they have worked hard to perfect. The end result is a wonderful piece of home decor.
Seek out Function
Take a mental survey of your space before you leave. If necessary, take a photo on your smartphone of the space and measurements for an item you are hoping to find. Do you need a bowl for your rings, a spot for your partner to put his watch and change when they come home? What about the kitchen, is there a tool that you can use on a regular basis? Think of the sweet dreams you could have on that hand embroidered pillowcase from the market in Morocco every night as you go to sleep. This focus will insure that when you get the shopping bug, you'll purchase items that will be used and cherished as a memory of your wonderful travels. The best souvenirs are the one's that will serve a purpose, help you feather your nest and are used rather than sitting on a shelf gathering dust. You'll often find they are great conversation starters when entertaining.
Shop Online or Locally
Truth be told, you don't even need to leave your home town to get that worldly feel. Granted the online part is a last resort-we'd all much rather be traveling-right! But there are times when that is just not possible and perhaps your travels aren't taking you to a destination where a handwoven runner you so desperately need for the front hallway is being crafted. Many online sites sell beautiful home accessories from around the world. Two of my favorites where goods are ethically sourced are  Mohr & McPherson, which has a brick and mortar in Boston's South End, and the tribal chic site of Maryam Montague owner of the impossibly gorgeous Peacock Pavilions  outside Marrakech (shown above).
You can also find great accessories at local ethnic markets. Pretty drink bottles with foreign lettering look great grouped together as vases on a table. Tea and cigar boxes can be used for storage. Who knows what ideas you'll come up with when wandering the aisles.
Most importantly, don't get carried away in the moment. Your're in a rug bazaar where everyone is indulging. Will that traditional kilim look out of place in your industrial loft? Proabably not, kilims look good just about everywhere, but you get my point. When searching for these items, make sure you look at things that will work with the current design of your home. Pinterest is a great spot for boards that feature examples of a curated well-travelled home. After all, won't you get much more enjoyment out of using that unusual set of measuring spoons when cooking or looking at the traditional miniature painting you picked up in the bazaar in Jaipur then another airport shot glass?
Do you have a collection of favorite items from your travels? What about more elaborate statement pieces? If you have a home that speaks of your travels, send me a note and perhaps we can feature you on Green With Renvy.
Photo credits: Peacock Pavillions, Floral tea caddies via  Martha Stewart Weddings.