5 Things I Learned Using my iPhone for Travel Photos
Close other programs so your shutter speed will be faster. This way you can capture many photos in a row quickly.  Here are some instructions to close running aps.
Florence Flower Market, Piazza della Repubblica
You can scroll through any video you have taken and capture a screen shot to be edited later in your picture program.  You would be amazed at how many valuable pictures there can be in a video.
By slowly walking with a moving object before taking the photo, you can often keep it from blurring.
Everyday objects in a store window can make for a very interesting composition.  Here it's a Valentino perfume bottle display in a department store.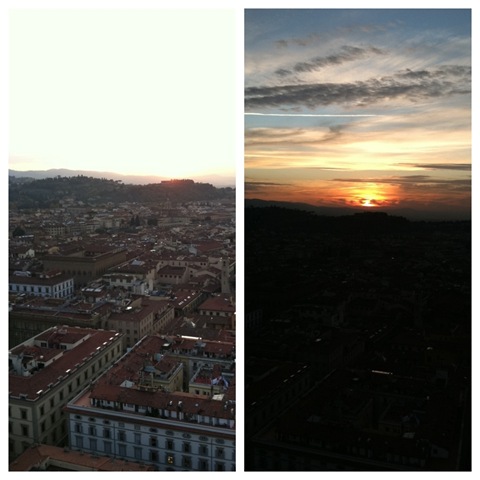 Florence at Sunset Atop Giotto's  Bell Tower, Piazza del Duomo
In early evening, I had to make a choice with low light.  On the left, I tapped the screen in the center of the photo to bring the buildings into the shot.  On the right, just a few seconds later was the shot the iPhone took automatically.  In low light you have to either sacrifice detail or the true color.
I ended up shooting almost our entire trip with the iPhone.  It was one less thing to carry and I was pretty happy with the results.  I'll have more photos to follow and will be interested to hear what you think. Do you have any additional tricks you'd like to share?