29 Romantic Things to do in Miami for Couples
Looking for romantic things to do in Miami for couples? The Magic City is made for romance and excitement. Whether you're looking to up your instagram game at the Wynwood Walls, greet alligators and fluffy roseate spoonbills in the wild, vogue on Miami's 35 miles of beaches or dine on some of the best seafood and Cubano sandwiches in the States, there's a romantic spot just waiting for you in southern Florida.
Combined with a myriad of fresh, exciting hotels focused on eco-luxury and a level of cultural excitement that draws visitors from around the world, this city checks the boxes for a getaway of fun things to do in Miami for couples. Visit the Gateway to the Americas for a weekend or a full 10-day adventure. You'll find plenty to keep you busy!
Is Miami a romantic city?
Heck yeah! Can you spell HOT, LATIN and SEXY? Miami is famous globally for its turquoise waters, sandy beaches, art deco buildings, wild nightlife, and international food scene. Whether you're on your honeymoon or just looking for a romantic locale to escape the winter temperatures, Miami is one of the top cities in the US for a fun, romantic couples getaway.
Though most couples visit Miami for the serene beaches and tropical climate, the city has an abundance of rich cultural history. Influences from Native Americans, Spanish colonizers, the Cuban diaspora, and wealthy landowners have all played a role in the current landscape of this south Florida hot spot. Once the research begins, most visitors will be shocked by the variety of choices offered in the 305.
Location
Located on the east coast of south Florida, Miami is 156 miles from Key West and 40 miles from the entrance to Everglades National Park. The wealth of activities available to visitors can be at once irresistible and overwhelming.
Tourists should think about how they want to spend their time and keep in mind that the traffic in and around Miami should be a consideration. This post will give you many options for your dreamy holiday. You can then put together your own itinerary depending on your interests and time available.
Miami is divided into several zones: the North, South, West, and Downtown. Downtown Miami, located on the eastern and ocean side, is the heart of the city and includes Brickell and the Port of Miami.
Also known as the Cruise Capital of the World, the Port of Miami is where you'll board cruising beauties like the Seven Seas Explorer. It's also the central business district for all of South Florida. South Beach is located to the east across the Biscayne Bay. Northwest of Downtown is the Civic Center.
Southern Miami includes Coconut Grove and Coral Way. The historic area of Coral Way was constructed in 1922. Coconut Grove was established 100 years earlier and the architecture reflects the history.  The west side of the city includes Flagami, a portmanteau of the names Flagler and Tamiami. In Little Havana you'll find the heart of the Cuban community in the United States.
Planning Your Visit to Miami
If you're planning on a beach vacation, then staying on the Atlantic along Collins Blvd. is a no brainer. Staying a few blocks off the beach at a hidden gem like the Esmé, will give you the best of both worlds.  If your trip doesn't center around the beach, I would suggest something more central along the lines of The Gabriel.
My advice would be to decide how you want to spend your time and then pick a hotel in an area that would make a could base for your travels. I also hope having so many options will motivate you to return for round II!
Population
I was surprised to learn there are under half a million residents in Miami. Somehow it felt much larger. This coastal metropolis is the seat of Miami-Dade County in South Florida and the second most populous city in the state behind Jacksonville.
Active Adventures for Couples in Miami
Everglades National Park
Our primary motivation for a Miami getaway was a visit to Everglades National Park, a World Heritage Site and a truly one-of-a-kind environment.  I hadn't been to this National Park for years, really since our kids were young, close to 20 years ago.
Several winters back, I had saved a NY Times article about The River of Grass. The piece has stoked our  curiosity to visit again in a much different way. While some might question my notion of hiking in the water of the Everglades for a romantic and fun thing to do, my husband and I were up for the adventurous challenge described in the press. We find all our escapades together full of love and gratitude.
About an hour southwest of the city, the Everglades is far enough away that you really are in the middle of nowhere. Not a high-rise to be seen. The largest subtropical wilderness in the United States, it has rare and endangered species – and, these days, even some invasive pythons. Covering wetlands, swamp, hammocks and mangrove forests, this unique landscape is not found anywhere else in the world.
I can't say enough about the experience! Our small group of seven made their way through the cedar canopy in thigh deep water spotting owls, alligators, orchids and snakes. It was thrilling to be with a guide who knew the area like the back of his hand. His knowledge and safety made the exploration a walk without fear.
The 2nd half of the main event was kayaking in a lake. The wind was fierce, so we couldn't attempt the ocean. Maneuvering through the mangroves was plenty of challenge, especially when it came time to steer around the crocodiles.
This National Park is a true gift to the world and we can all do our small part to raise awareness and travel responsibly when we visit. The drinking water for 2/3rds of Floridians comes from this wild space. Sea level rise, over tourism, fertilizer runoff and even an invasion of snakes has taken its toll on the fragile environment.
Our guide shared that already the pythons are responsible for the demise of several species in this fragile eco-environment. In the future, I won't be able to think of south Florida without remembering my visit to the 1.5-million-acre River of Grass and the essential protection it must be given.
Treetop Trekking Miami
Now for a change of pace… not that hiking next to an alligator isn't a variety of adrenaline rush.
Ziplining in Miami!? Who knew? Treetop Trekking Miami is South Florida's first and only aerial zip line adventure park. This adrenaline junkie hotspot opened on Watson Island in 2022.
The parks designers have done an excellent job incorporating zip-lines, balance bridges and Tarzan like swings into a tropical setting. Visitors are immediately transported from a concrete jungle into a lush green space inhabited by iguanas, gibbons, lemurs and the rodent capybaras, which look like a guinea pig on steroids.  Test your skills and trust your partner as you muscle and balance your way through over 55 challenges and 7 ziplines in the park's "wilderness".  
Parks in and around Miami
While the beach is certainly a main draw, many are looking for couples things to do in Miami off the beach. See a different side of Miami in one of several parks within and just outside the city limits. One is Oleta River State Park in North Miami. Although the bustling downtown core is important to feel the Miami Heat, the city offers so much more than clubs and restaurants.
In fact, there are actually numerous Florida state parks in the area to "get away from it all" and escape to nature. In Oleta River State, couples can enjoy hiking numerous trails, paddle boarding among the mangrove-dotted coastlines, and fishing for a wide variety of local fish. This is also a great spot for animal watching or even a romantic picnic.
Additional green spaces can be found throughout the city. Bill Baggs Cape Florida State Park Florida is minutes from Miami and has stunning views from the top of an historic 1825 lighthouse (parking fills quickly, so get there early). The 17-acre South Pointe Park is in the South Beach neighborhood with scenic views south to Fisher Island. In fact, Miami boasts over 147 beautiful parks totaling more than 1400 acres.
Kayaking Fun for 
With all the waterways around Miami, kayaking is easy to find. Three of my favorites are:
Within sight of Miami, but further out is Biscayne Bay park. This designated marine sanctuary has calm water and perhaps the chance to see a manatee or dolphin. Suitable for all levels, the seagrass and mangroves provide an interesting backdrop and occasional shade.
When staying in the Miami area, Oleta River State Park is a great spot for kayaking, They have all the equipment for rent that you would need for a day on the water. The river is scenic and lined with mangrove tunnels, a plus for those who don't want all day in the sun. Take a break on one of the white sandy beaches and recharge. Enjoy the abundance of nature but beware and alert. There are also alligators in the waters.
For a kayak experience with many changes of scenery, try the Middle River. Offerings along the way include a butterfly park, more than a few multi million dollar mansions along the water and an historic cemetery along the way. All skill levels would be comfortable here. The abundant mangroves along the shore attract plenty of wildlife including birds, fish and perhaps a manatee.
While a bit of a stretch for a day trip, if you're traveling north, John D. MacArthur Beach State Park at the top of Singer Island is a great spot for calm waters and isolated islands when the tides are right. The park is also known for the many trails, the two-mile stretch of beach and plenty of birds. (link)
Romantic Venues for Date Ideas in Miami
Fairchild Tropical Botanic Garden
Fairchild Tropical Botanic Garden is an 83-acre paradise for rare and endangered tropical plants. Voted #1 Garden in the United States my USA Today, it's located in the seaside Miami suburb of Coral Gables. Established in 1938, the garden promotes and preserves tropical plants and is one of the best outdoor attractions in the Miami area.
Named after botanist David Fairchild, he spent a lifetime exploring the world of exotic plants and flowers. He paved the way for the transition of our meat and potatoes culture into the culinary future of avocado toast and the ancient grain quinoa. Fairchild was responsible for bringing over 200,000 exotic species and crops into the US. (think pistachios, mangos, nectarines and bamboo to name a few).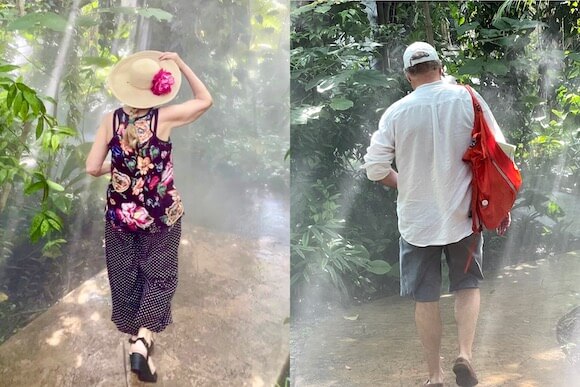 Garden lovers and romantics will love strolling through the only outdoor example of a tropical rainforest in the continental United States. The property is one of the many magical spaces at this venue in Coral Gables. Dreamy and refreshing on a hot Florida day!
It's easy to see why this garden path is a favorite of brides from around the world. The Allée and Overlook provides a spectacular setting for the Wedding March.
My favorite new discovery was the cannonball tree. Native to Central and South America, the flower has a delicious, fragrant scent and droops low on the many vine like branches. Best of all is the cannonball fruit with a rather stinky flesh that is used as a natural medicine against illness and skin diseases.
Don't miss the Chihuly Studio glass sculptures that blend so beautifully with the botanic species. You'll find them both inside and out of the 83-acre botanic wonderland. Perfect for a couples photo op.
Insider Tip: There is a very nice airconditioned café overlooking the butterfly house if you are in need of a break from the heat.
Vizcaya Museum and Gardens
A favorite of the instagram crowd and not far from Simpson Park is Vizcaya Museum and Gardens. Visitors are transported to the Gilded Age through the acres of gardens and main house mansion. Once the winter home of American industrialist James Deering, this grand mansion is filled with fun photo ops and romantic nooks and crannies.
Built on the shores of Biscayne Bay, it reminded me of the incredible Ca D'Zan Mansion  in Sarasota. Visitors can only imagine the parties that used to take place in both locations as guests would pull up along the waterfront in their yachts in the early 1900's.
Talented artisans were used to create the estate, intentionally designed to take on the characteristics of a 400 year old Italian villa. Rooms are filled with descriptions of the lifestyle of opulent lifestyle of the former residents.
Daily tours are offered of the elegant rooms and its art collections. But most visitors go there to enjoy the grand gardens overlooking the water, a mix of Renaissance Italian and French designs that took seven years to complete.  My suggestion is to get there early in the day to avoid crowds and the heat.
Check the schedule for the evening events. There are moonlight garden tours with soft jazz that should be enjoyed by every couple looking for a fun evening out.
Coral Castle
Dating back to the 1920's, Coral Castle was built by Edward Leedskalnin. A talented sculptor and engineer, this Latavian-American constructed the castle without the use of modern tools. With over 1,200 tons of coral rock in the park, this spectacular site makes a great backdrop for fun loving couples looking for unusual photos.
Located just outside of the entrance to the Everglades, it makes a great stop in Homestead on your travel in or out of Miami. 
Arty Activities in Miami for Couples
Wynwood
Creatives will be thrilled with Miami's own art district called Wynwood. With a collection of over 70 art galleries, interesting boutiques and fabulous farm to table restaurants, it's easy to focus a whole weekend getaway around this fun neighborhood. Walking tours are available to dig a little deeper into some of the world's most famous mural talent.
Miami's original street art museum is the main event. Wynwood Walls, opening in 2009, has transformed this once seedy neighborhood into an urban revitalization model for cities around the world. The structure itself represents over 100 top graffiti artists from 21 countries who have painted their creative ideas onto 35,000 square feet of walls surrounding the space
For those of us who are real fans of this type of art, I love having an actual "museum" housing so many works in one arts center. Each work is authored and titled with a QR code to learn more about the artists and the story behind their creative process.
Days could be spent just exploring the neighborhood of exciting street art, galleries, boutiques and farm to table restaurants. Though most couples come to Miami for the tropical climate and hip beaches, the cities rich cultural history is reflected in the Wynwood Art District.
Miami Design District
Creativity is also on display in the Miami Design District. Most well known for the home of ART BASEL, this trendy area covers about 18 square blocks. The walkable neighborhood is filled with contemporary art, outdoor sculptures and trendy restaurants are dotted with luxe designer boutiques.
The neighborhood's premier museum, the Institute of Contemporary Art (ICA) showcases contemporary art from international and local up and coming artists. With an interesting sculpture garden and rotating shows, there is always something new to discover.
Don't miss Dozie Kanu's "Support System", a transportive installation that will bring you back to days on the playground as it winds its way through the district.
There's no better place for a romantic dinner than Itamae in Palm Court. Dining under the stars is given new meaning with team Nando's Nikei inspired Peruvian cooking. It's a heady seafood experience if you can block out the people watching!
Tasty Treats for Couples in Miami
Florida was recently recognized as the 5th state in the US to be reviewed for the Michelin Guide. With an ever changing population, especially the influx over the last 2 years, Florida is a melting pot of cultures. It is called the Gateway to the Americas for good reason.
Expect to taste a heavy mix from the influence of Colombian and Cuban flavors. Asian chefs have also made their mark. Eleven restaurants currently have Michelin stars and a number of more casual eateries have received the Bib Gourmand.
Little Havana
Visitors to Miami's Little Havana will feel the beat of Latin culture as soon as they step foot on Ocho Rio. While all aspects of culture are on display, Cuban food is one of the highlights and couples will find some of the tastiest food Miami has to offer.
Stop by the Visitor Center and then wander up and down Calle Ocho. It's easy to spend a few hours having a self-guided tour. Indulge in empanadas and a true Cuban sandwich at XXX and finish it off with flan or one of the many unusual flavors of ice cream topped with guava from Azucar, across from the Tower Theatre.
For those that would like a more intense tour filled with history and culture (and a lot more to eat!) look into a Food Tour and take a 2.5 hour deep dive into delicous and authentic Cuban dishes. You'll discover historical facts, and maybe even a bit of salsa dancing.
Miami Beach
Of course the beach is always fun for couples, but to be honest, my husband and I were focusing more on things off the beach. As a newly winged snowbird, I had plenty of opportunity to get to the surf and sand in the Jupiter area this winter.
One of the things I loved about the location of the Esme Hotel was a short walking distance to South Beach. Even though we didn't plan on spending time on a chaise in the sand, we do enjoy an early morning stretch. There is a wonderful walkway along the edge of the beach and we had to get a few fun photos and a walk in before we head out for the day. Just remember your sunblock!
That being said, most couples feel no trip to Miami is complete without spending some time on the famous Miami Beach. Known for its Art Deco architecture, vibrant nightlife, and wild nightlife scene, South Beach is an iconic part of the city. It also happens to boast some of the most beautiful beaches in the entire country.
Even More Fun Romantic Things to do in Miami!
Rent a boat during the day to explore all the interesting nooks and crannies of Miami. There's no better perspective to see hidden Miami than from the water. Depending on your skill, you can captain the boat yourself, or jump into luxury wth a fully crewed yacht. Prices start at about $200 and can go up into the thousands. Pack a picnic, some bubbly and enjoy the scenery.
For a birdseye view of the waterfront and city, book a ticket on Skyviews Mimi. This ferris wheel takes visitors almost 200 feet in the air over Bayside Marketplace. For that truly special occasion, they even have a VIP Gondola featuring leather bucket seats, a custom LED light show, and a glass bottom floor. Get there just before sundown and watch the city light up at night.
Looking for Additional Date Night Ideas in Miami?
See Miami by helicopter for a bird's eye view of the city skyline and iconic beaches.
Stroll along the Miami Riverwalk. Beginning at Bayside Marketplace, it continues for about a mile along the river and ends at the Riverwalk Metro Station. There are many options for dinner at the Bayside Marketplace.
Enjoy a couples' spa treatment.
Join the nightly salsa class at Mango's. Sip, savor and salsa the night away to live music.
Choose one of the many rooftop bars for champagne with a view.
One of the most romantic things to do in Miami at night is dine by candlelight on the waterfront.
Sail into a sunset on a luxury yacht. You can request anything from soup to nuts.
Take a walking tour of the Art Deco District and explore Miami's restored collection of over 800 buildings in the South Beach area.
Where to Stay in Miami for the Romance
There are a myriad of hotels and Airbnb's in Miami to satisfy all tastes. I'd recommend first deciding how you want to spend your time and then choosing a hotel in the surrounding area, Traffic in the city is not something to take lightly. If you come with a car, park it and UBER around. On a recent trip, I used Uber to travel all over the city and the cost was never more than $23.00.
I tend to plan my getaways around hotels. I know it sounds a little crazy, but saying I travel for the hotels isn't too far from the truth. Sustainable design is always a priority, and I love a property that has a real sense of place.  A sexy new destination with a focus on revitalizing a neighborhood and re-imagining it into a fantastical experience, YES PLEASE!
Let me introduce you to Esmé.
Although this property is not directly on the beach, they have an arrangement with access complete with loungers and umbrellas should you need a break from the rooftop pool!
Built in 1925, the buildings along Espanola Way make up what is known as Esmé Village. With a long history that includes Al Capone and Desi Arnaz, this historic group of landmark buildings villages has rhumbaed its way into the future thanks to the work and vision of Infinity Hospitality and designer Jessica Schuster.
We wanted to bring a different style of hotel to Miami Beach; one that honors the storied history of a near century old property, while reimagining it to create something beautiful and special. said James Stuart, Director of Infinity Hospitality.
Special indeed. You'll have to take my word for it!
Conclusion
Miami is no longer just a winter retreat for snowbirds. This thriving city has a multicultural flavor that's hard to match anywhere in the United States. Combined with unique outdoor activities, a flourishing food scene and plenty of fun in the sun, the Gateway to Latin America is a windfall for couples looking for some heat and romantic things to do on a getaway.
Pin Me ♥ Romantic Things to do in Miami for Couples