15 Top Ireland Highlights
I have a dear friend with a home in Ireland, and her stories and photos had me primed for the charming Island I was about to visit. It was romanticized in my mind with rolling hills, captivating towns and rugged coastlines. What I didn't expect to find was a country on the verge of becoming the next great foodie destination in the world and a buzzing city life complete with tattooed hipster chefs and baristas along with enough extraordinary scenery around every hair pinned turn to fill my camera ten times over. Every day was more inviting than the last and I found it hard to choose my 15 Top Ireland Highlights.
This being my first visit to the Emerald Isle I had a definite hit list of places to see and things to do.
What better place to taste my first Guinness than in the location where it all began. Served slightly warmer and with a flavor redolent of chocolate, I could see this would be my drink of choice for the next two weeks.  Combined with my new found love of  brown bread, my carbo content was going to take a beating. World wide, over 2,500,000 pints of the lively brown stout with the slowly poured, creamy head are consumed daily. Tip-if you are going to visit the Guiness Brewery and Storehouse in Dublin, get there early. The lines are long!
No matter how many times you have seen photos of the Cliffs of Moher in county Clare, visiting this iconic sight does not disappoint. The height and beauty will take your breath away and if you can block out the crowds, the magical vista, where you can see dolphins and puffins, along with a goat or two,  will capture your heart immediately. Tip:Keep an eye out for the lovely harp music of Tina Mulroney. She was singing while we were there at the top of the walk from the visitor center.
We decided to take a ferry from Kilrush to Tarbert to cross over from Clare into the south and avoid the drive around past Shannon. The roads might have been a bit more remote, but the scenery was well worth the extra time. Being on the water with the wind in my hair instead of behind the wheel of a car is a choice I will always make.
The Republic of Ireland has six national parks, each with their own identity and landscape. Killarney (above) was established in 1932 and is located on The Ring of Kerry. I had the chance to visit three (Burren, Connemara and Killarney) and can't recommend each highly enough. Ireland is a beautiful country and the opportunity to view the spectacular scenery and take advantage of all the walking trails is a highlight. Plus they are free!  The first park which was established in Ireland was the Killarney located in County Kerry in 1932. Tip: The roads here are notorious. Buses make them more so. The buses travel in only one direction, so if you are going to drive the whole ring-make sure it's in the same direction.
Ancient castles are sprinkled all around the country, no matter where you might be traveling, you can find  one in various states of ruin. Although I was a bit unsure about the Blarney Castle being the right choice, I ate my words after the visit. The site was built over 600 years ago and changed hands many times.  Granted we were not visiting during the height of the tourist season; I'm sure a certain times of year the crowds are overwhelming. You'll get the chance to climb a teensy, circular passageway of stairs to get to the famous Blarney stone, where you may or may not be granted the gift of gab, and the castle itself will transport you back to another time and place. From the top you can view the countryside and surrounding area from 360°. The gardens and plantings are beautiful and the poison garden is interesting for adults and kids alike. Tip:They also have a nice cafe and seating area so it's a good spot for planning a mid day stop.
Make sure to take the time to set the alarm for at least one sunrise-preferably when water is involved. In October, it's not really difficult, as it's dark until almost half past eight! Yes, it usually involves a plan, but you will find it so worth it. The Irish light dances in the first few hours; it will leave a lasting impression.
I had heard about the Skellig Islands from a wide variety of people. All who had made the trip said it was not to be missed. The jagged rock formations jutting out of the Atlantic were inhabited by monks until the 12th century. Although they now represent sanctuaries for sea birds, the beehive huts and tiny rock chapels atop Skellig Michael dating from 600 AD remain 700 steps above the sea and are breathtaking. The one hour boat ride is weather dependent and many have tried and failed to actually get there. We had scheduled two days for the attempt, as it was at the top of my wish list. Success on day 1 and as you can see from the photos we had spectacular weather. (feature photo of Skellig Michael) Tip: Book a trip with John O'Shea leaving from Port Magee. You can reach him at
For such a small island, Ireland has an impressive array of world renowned cooking schools. Some have wonderful hotel stays related to the property to insure a getaway with a difference. The Tannery is one such place. Owned by Chef Paul Flynn and his wife Márie, arrangements can be made to cook, eat and stay. The well known restaurant focuses on modern Irish food with a twist and reflects the ingredients of the changing seasons. Confidence and techniques are on the menu of the light filled kitchen in the school, served with a meal in the charming dining room filled with bespoke antiques and decor. The Townhouse is a collection of 14 tastefully decorated rooms, perfect for someone (like us) traveling a distance to eat in the restaurant or coming for a cookery course. Dungarvan is a delightful town on the water, a little bit less well known than some in the surrounding area and a The Tannery offers a winning combination for those wanting good food with a unique stay.
Wild and often overlooked beauty is growing along the twisted, rugged roads of the country, along with fields and craggy rocks that appear where its hard to imagine something finding life. Make sure to stop and smell the flowers as they say. Fuchsia grows in hedge form, rhododenren is considered an invasive species and hydrangea boast some of the most intense shades of azure blue and royal purple I have ever seen on a flower.
There's a reason Dublin was just chosen as the #3 city to visit by the Lonely Planet. One of the highlights was Trinity College, founded in 1592 by Queen Elizabeth I in the heart of the city which boasts an impressive list of alumni from Jonathan Swift, to Bram Stoker and Samuel Beckett. The Old Library houses the famous Book of Kells, on my must see list since I studied about it in college. It was every bit as vibrant and magical (no photos allowed) as I had hoped it to be. Upstairs, the impressive long room houses over 250,000 books, all leather bound and reeking of scholars who have turned their pages. Under the barrel-vaulted ceiling and dark wood, its easy to imagine writers being inspired in this historical learning environment.
Across the country in Connemara, I stayed in my first castle, Ballynahinch Hotel & Estate, living out every girls' fairy tale dream. Maintaining over 30,000 acres of unspoiled woodlands, the grounds are a nature lovers version of paradise. Over 10 miles of trails surround the property with the opportunity to hike, fish, kayak and cycle in the habitat. Dark rich woods, stoked fireplaces, private spaces and glorious views make this timeless location a great base to explore other areas of the west coast.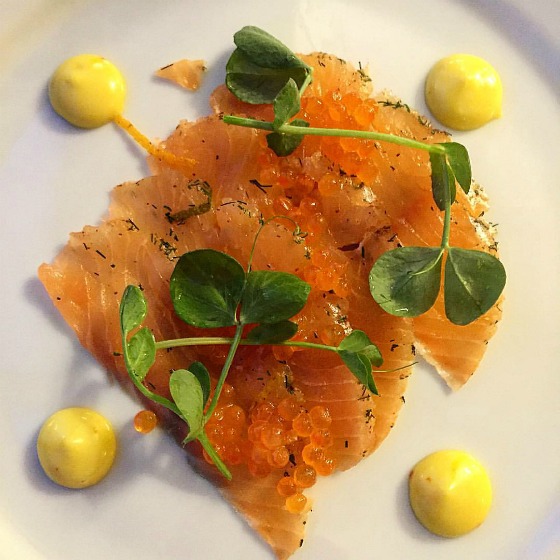 Of course there would be seafood in a place surrounded by water. I just didn't know how wonderful and tasty it would be EVERYWHERE. The organic salmon lives in protected waters off the Irish coast  and is part of their cultural heritage. It is delicately smoked or flavored for a wonderfully mild and refined flavor. My favorite was the dish above that had been soaked in Irish whiskey and Pernod, and was served with trout caviar and lemon aioli. The caviar popped in my mouth and lingered with a taste of the sea. My tastebuds are  watering as I type. I basically couldn't get enough of the salmon and was able to indulge morning, noon and night in some of the best I've ever tasted. Tip: Eat it– Burren and Connemara Smokehouse were two of the best.
There's something about being in the mountains with a gentle mist falling over the landscape. When a garden is so appealing you don't notice the rain, I guess they've done something right. The Victorian Walled Garden at Kylemore Abbey is just such a place. Constructed at the same time as the Castle, it's one of the few formal walled gardens grown on an Irish bog. The 6 acre area is divided by a stream into both a kitchen and flower garden. The location backs into the Dúchruach mountain and was perfectly placed to take advantage of the sun. Glasshouses have been restored, as has the head gardener's house leaving the visitor with a real sense of what the site must have been like in it's heyday.
I wanted to see a thatched roof cottage and of course the countryside rewards me with a few in various states of disrepair. With less than 1500 remaining on the island, it's no wonder they are valued so highly, as they represent centuries of history and tradition. In the 1800's more than half the population slept under this type of construction. While they are durable and environmentally friendly, the materials used varied depending on region and wealth. This picturesque gem was found on my last day on the way to the airport.  As closely associated as thatching is with Ireland, it was also widely practiced in a variety of other countries: Japan, Peru and Denmark are a few examples.
Prepare yourself for rain and maybe you'll be pleasantly surprised like we were. When the weather is good, this country has a photo op around every corner. With so much of Ireland left to discover, I can't wait to return.