14 Awesome Sacred Valley Experiences in Peru
Machu Picchu will always remain the big event in the Inca Heartland. However, Peru is  such a popular and inviting destination because of the myriad of Sacred Valley experiences you'll find as you make your way north to the mountain forest and grand Unesco World Heritage Site. The majestic Machu Picchu reigns supreme. Along the way travelers will discover the secrets of an amazing Andean life, rich with cultural heritage.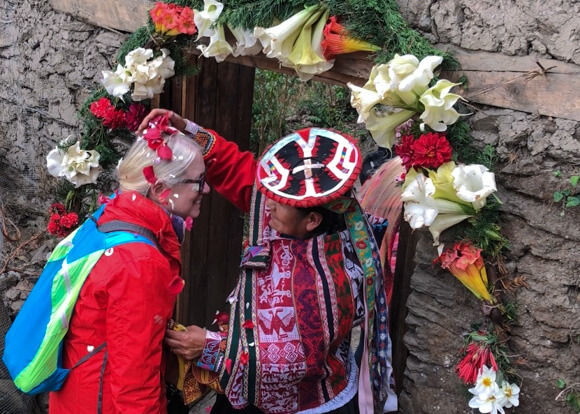 The Inca Heartland is the center of Peru's ancient history and today remains a charming and vibrant area for tourists. For over two centuries the Incas called this location home, during which time the culture reached its religious and military peak. The high water mark of 1493 found the kingdom stretching for almost three thousand miles.
Putting together all the pieces of a travel puzzle requires a lot of research and organization. One of the reasons the Lares Adventure itinerary with AdventureSmith Explorations is so appealing is their on the ground resources for access to authentic experiences. Combined with their deep commitment to responsible travel, they can turn complicated planning into the trip of a lifetime.
Upon arrival, the toughest part of the trip (outside of the physical) was deciding  which of the Sacred Valley experiences to choose. After a night in one of the luxurious mountain lodges along the trail, there were two hikes and one cultural offering each day. Many mornings I found it hard to make a decision. Each of the Sacred Valley experiences sounded so unique, challenging, educational or all of the above!
Time after time AdventureSmith Explorations was able to underline the Inca's uncanny ability to live in harmony with nature. Many of the sites felt ahead of their time and certainly contain information which contemporary anthropologists and scientists continue to learn from today.
14 Awesome Sacred Valley Experiences
Dealing With Altitude
You're probably already saying altitude sickness doesn't sound like an awesome Sacred Valley experience, and you'd be right.  Nothing can prepare you for the feeling your body will have trying to adjust to the thin air. Flying into Cusco, at just over 11,000 feet, is one of the highest points of the Inca Heartland. The change hit me immediately. Of course I was excited and wanted to hit the ground running. Luckily, I recalled my daughter visiting 10 years ago – the altitude knocked her flat for a couple of days.  My advice:
Slow down and give yourself time to adjust. It was tough and the most difficult part is not having any control. Go with the flow; listen to what your body is telling you.
There are several medications your Dr. can prescribe. Take the meds. I took Acetazolamide beginning 3 days before I arrived and had little or no side effects with it, and yes it helped. A LOT.
Coca Tea or mate de coca is available everywhere. It was the first thing I was offered checking into hotels, it's sold on the street and the leaves are at the ready to chew and massage in your gums like tobacco. Take advantage of a tradition the Incas have been using since Machu Picchu days. While the medicinal qualities are sketchy, I'm all for trying a local remedy to alleviate a headache and altitude sickness.
Drink plenty of liquids and try to stay away from the Pisco sours-at east for the first couple of days.
So, back to the awesome Sacred Valley experience. Where am I going here?
Eventually the meds will kick in an your body will adjust. When everything starts to feel back to normal, you will have the most awesome Sacred Valley experience.  Get ready to  enjoy being on top of the world!
Meet the Locals
South America's largest indigenous population is in Peru and the Quechua of the Andean region number about 13 million. Their official language, which goes by the same name, is the 2nd language of Peru and spoken by about 3 million people.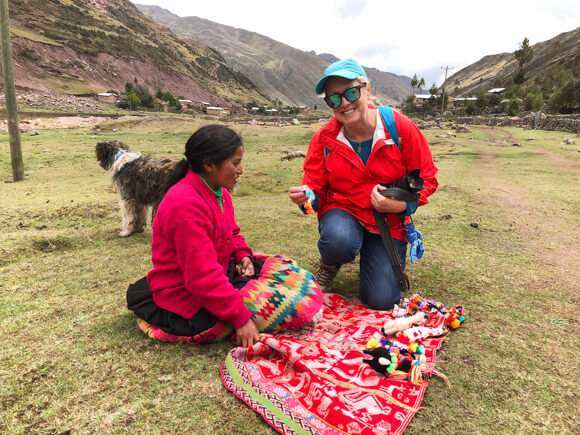 AdventureSmith Explorations took us on the less traveled Lares Trail. Many days I never saw another foreigner on our hike. It was wonderful to be able to interact with the local communities. Often on the trail children, several friends or a mother and child would come running down from the hills when they spotted me.  With a pack under their arm, by the time I reached them, their temporary Pop-Up shop of handicrafts was rolled out on a beautiful hand woven blanket and ready for business.
Although I didn't speak Quecha, everyone seemed to be able to communicate in the universal language of dollars. After a day of chasing waterfalls  at 12,500 feet and huffing and puffing my way to the top, interacting with the locals made me forget about the struggle. The altitude was challenging, but the beautiful vistas and warm, friendly greetings made it a lot easier to deal. I particularly loved this area of Huacahuasi, it was a favorite.
Birthplace of the Rainbow
One of the first stops outside of Cusco was on the Anta plain at 12,375 ft. The 16th century ruin of Chinchero is rumored to be the birthplace of the rainbow.  I would be hard pressed to argue those refractions of light could have a more beautiful beginning.
A wonderful outdoor market overlooks the ruins and there are many weaving cooperatives to explore in the village. Locals work hard to preserve cultural customs speaking Quechua and wearing colorful traditional dress. By supporting the talented women and buying local you assist in making their lives more self sufficient through their craft. If you're looking for colorful blankets, I thought this market had one of the best selections.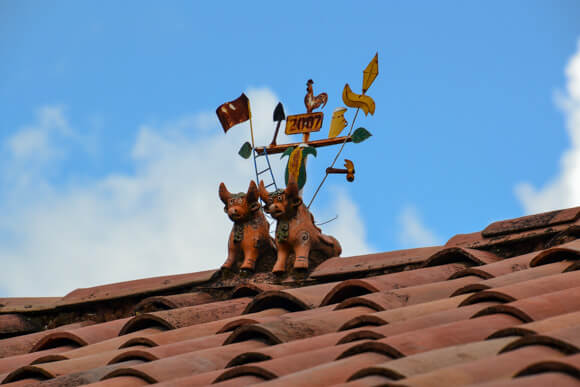 Heads up to see the traditional bull atop many of the homes. Always in pairs, they symbolize abundance, fertility and harmony for the family living below.
Pachamanca
Everything centers around Mother Earth-Panchamama. She is the supreme diety of the indigenous population and sustains life on earth.
It comes as no surprise that  the traditional cooking technique of hot stones underground has special significance and is called Pachamanca. (pancha means earth and manga-pot).  Meat is roasted in a pit, along with a handful of the local vegetables.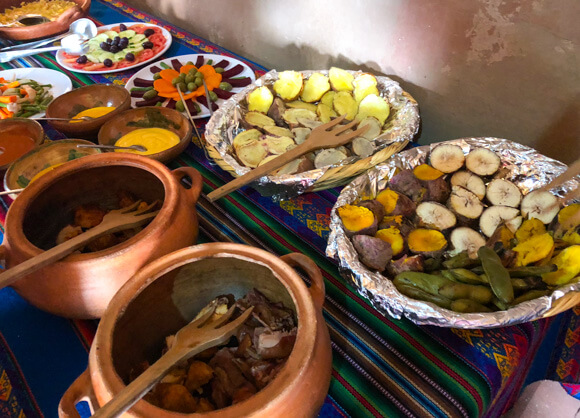 Welcome to lunch at 13,000 ft. I knew a lot of the Peruvian diet was meat centric, but had no trouble eating the rainbow and finding pescatarian meals in the land of the Incas.With over 3,000 varieties of potatoes, different varieties were available for breakfast, lunch and dinner.
Pisac
Vistas in Peru just keep on wowing all along the Lares Adventure. The lunch we had at 13,000 ft made climbing to the top of the ruins of Pisaq's lower elevation feel like a breeze. (HA-that's my story and I'm sticking to it). This site is another important ruin inhabited since the 10th or 11th century.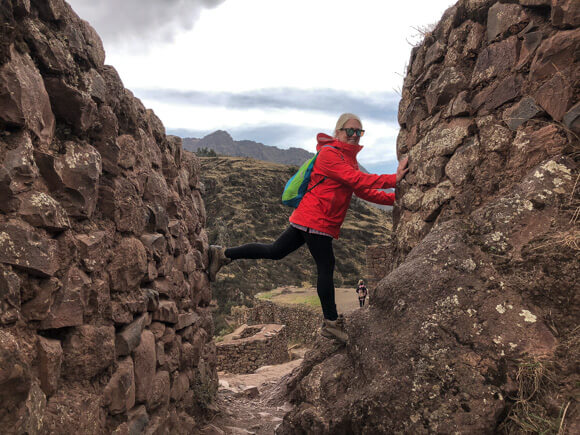 It is believed the town began as a military post and evolved into a residential and ceremonial center. Terraces lead up to the hilltop, where once again I saw how adept the Incas were at building on difficult and challenging sites.
Try Mother Nature's Natural Lipstick Right off the Tree
A quiet respite from the crazy market in Pisac is the Felipe Marín Mereno Botanic Garden. Created in 1917 by Peruvian botanist Moreno, the garden is now run by his son José. As I slipped away from the noisy crowds in the streets surrounding the garden, I discovered a charming enclosed colonial space filled with blooms the palate of the rainbow.
This little slice of nature is loaded with information about native Peruvian plants and trees and showcases 200 of the country's over 3,000 varieties of potatoes. Butterflies and insects hover thru the outdoor riot of color. It's easy to forget the cacophony of activity taking place right outside the walls.
Discover airampo in my Youtube video above. One of Mother Nature's natural cosmetics.  I was first introduced to the fruit in a cocktail in Cartagena  and later discovered the plant has fever reducing properties as well.
The fruit grows on a cactus similar to the prickly pear. With the renaissance in Peruvian cooking, chefs are using it regularly in dishes featuring Andean ingredients.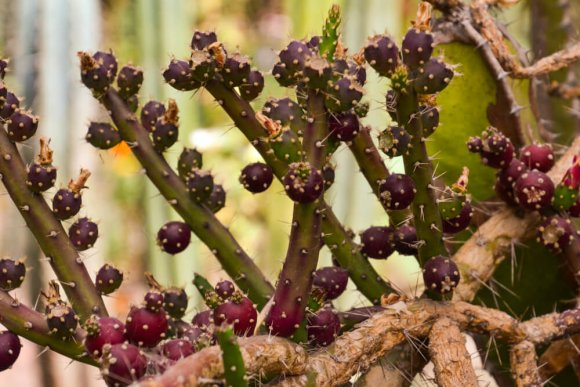 Other features include Kantu, the national flower of Peru, represented with over 12 varieties. I found it looks very much like a relative of our fuchsia. Local weavings are colored with the deep red cochineal dye which comes from a beetle living on the pads of the garden's prickly pear cactus.
Master Weavers of Lares
There is traditional weaving and then there is master weaving. In case you haven't noticed, textiles are my secret sauce, and I have an extra suitcase on hand for what I'm sure will always be a hard to resist plethora of opportunities. I try to find some sort of textile craft where ever I might be. The lotus weavers of Myanmar and natural dyers of India were incredible examples of efforts to keep traditional craft alive.
In the Sacred Valley of Peru, local women are known for their friendly spirit and vibrant, eclectic traditional dress.  After receiving a blessing from the master weaver in the village of Lares (feature photo), I was given the additional gift of seeing this highly skilled artisan passing down skills; teaching others how to continue the traditional craft.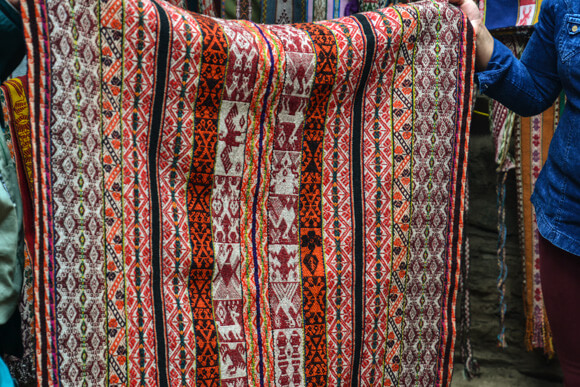 Nimble fingers worked to demonstrate a skill that few can master.  I am still kicking myself for passing on one of the larger masterpieces on display at this community based tourism initiative. I know I've made a mistake when I can picture it perfectly in my mind's eye and still have dreams about a piece.
Mares
Wonder and awe crept into my mind trying to imagine the Incas coming up with the concept of a crop laboratory. This advanced culture possibly experimented with different weather and soil conditions looking for the best conditions for a crop to thrive.
Remarkable right? While at first glance they might remind you of a Greek amphitheater, these elliptical terraces allowed each level to provide variances in soil, temperature, water and shade. Traces of over 250 grains and vegetables have been identified in the area.
Salty Sacred Valley Experiences at Salinas de Mares
Over 3000 man made salt pools dating back to pre-columbian times are still harvesting salt using traditional techniques at Salinas de Mares. Owned by several different families, I'd wanted to visit ever since I saw them featured on chef and food personality Eddie Huang on Vice.
Salt water runs thru interlocking evaporation pools and is still harvested using the traditional techniques. The discovery of salt allowed the ancient culture to preserve meat and change the basic diet.
No matter how delicious your ingredients are, most would agree that salting correctly brings out the best flavor. Knowing what artisan salt sells for in a store in the US, it was hard for me to imagine that it wasn't the middle man who was making most of the profit here. I was happy to come home with several bags sold on site knowing the money was going directly to the owners of the salt cooperatives.
A Living Inca Town
To explore a living ancient city is always a unique experience. Residents have been walking the cobblestone streets of Ollantaytambo  since the 13th century and still try to maintain ancient traditions today.
The town is divided into courtyards with most of the homes behind walls covered with fuchsia bougainvillea. Little has changed except for the occasional hostel or restaurant sign. Aqueducts are still filled with water running down from the mountains.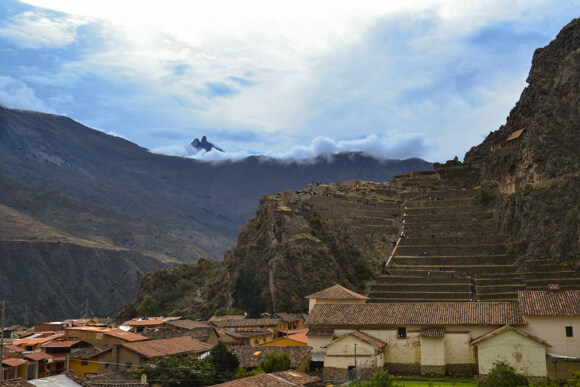 A hillside fortress protected the valley from invaders. Storage facilities, used to replenish the supplies of warriors can be seen built into the mountain. Stones for both were queried from adjacent areas and into place by elaborate pulley systems and ramps.
Shop 'til You Drop
Weathered faces with apple rose cheeks greet you in the many markets of the Sacred Valley. Here you can find hundreds of exotic fruits and vegetables. Purchase grilled guinea pig and enough coca leaves to take you straight to the moon. And did someone say textiles?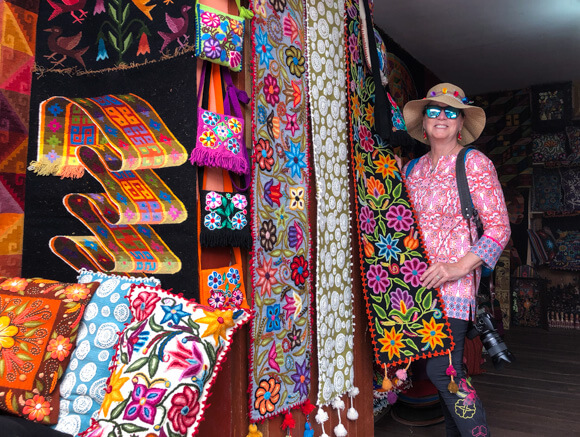 Here's where you'll be happy you have that extra suitcase.
Meeting the Sexy Woman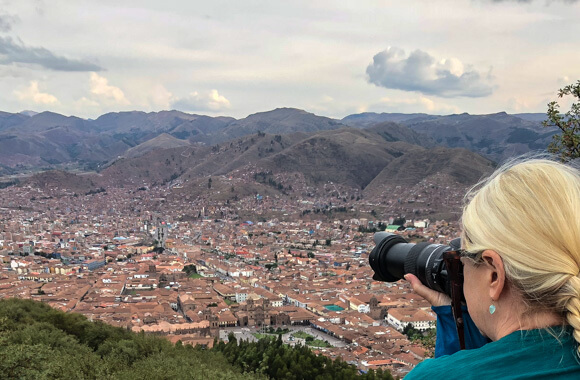 I often struggle with the name of foreign cities; could you even begin to guess how to pronounce Sacayhuamán ?  With the help of my guide,  I will now remember it all the days of my life. "Sexy Woooman". Easy right.
This site just outside Cusco is a prime example of the precise stone cutting skills the Incas had mastered. Many of the huge boulders were so tightly fitting you couldn't slip a piece of paper between them. From the highlands you have a great view of Cusco.
Walking on the Inca Trail
Much of the Inca Trail has been replaced or repaired, but there are spots where you can actually follow in the footsteps and walk on the original stones that were put in place thousands of years ago.
The opportunity presented itself several times, but the trek I enjoyed the most was the day we left from the Lares Pass and hiked on to the village of Totora. Even though it was drizzling for most of the trip, being in such an historical site alone with my thoughts was magical. We passed through several different climate zones. The eucalyptus forest was intoxicating with fragrance. Waterfalls and wooden bridges were many along with crumbling stone walls and the occasional llama. The only people I passed were locals until the end of the trail. It was a very special day.
Cómo se Llamas?
Speaking of llamas-I just couldn't resist. Who knew these cute creatures related to the camel would be so endearing. After a camel mishap in India, I wasn't  sure we would bond. Au Contraire, no one can resist these photogenic creatures and you'll see them everywhere. Some are tame enough to touch, all have eyelashes the average boomer woman would die for!
Native people have used the llamas as pack animals for centuries. They can carry loads of up to 75 pounds and were found to be much less destructive to the ancient Inca trail then horses and mules.  You'll find them at Machu Picchu and they might even pose for pictures.
Don't confuse them with their smaller alpaca cousin whose fur is softer and more desirable. The fibre produced is fine, strong, hard-wearing, soft, lightweight, luxurious, thermal, and hypo-allergenic. Alpaca fiber can be found in over 22 natural colors ranging from shades of white thru brown variations to a dense black.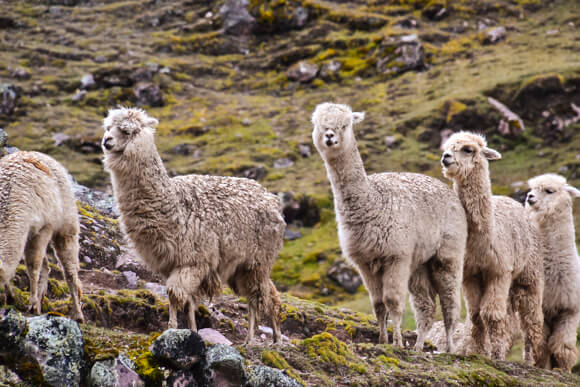 Peru seems to be on the radar screen of many travelers of late. Believe me when I say the
Bucket List destination
of Machu Picchu is worthy of all the hype, but the additional Sacred Valley experiences visitors can have along the trail make this a country deserving of the No. 1 spot.
♥
I love the fact that in the Quechua language goodbye does not exist.  So with that in mind: T'inkunanchuscama (until we meet again)…
PIN ME ♥ 14 Sacred Valley Experiences in Peru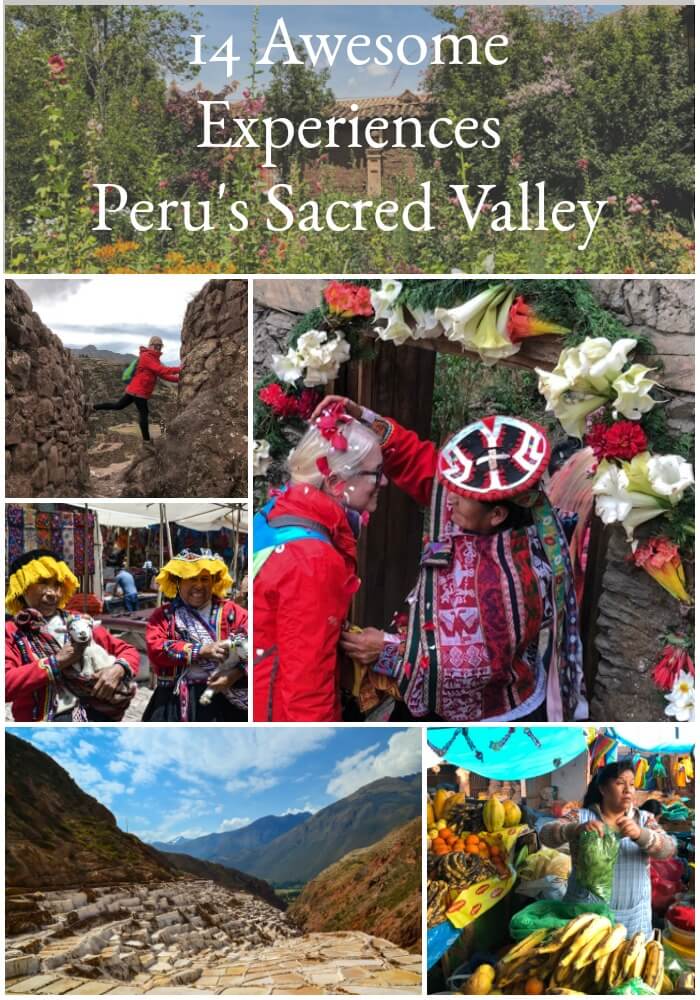 ♥ PIN ME TOO ♥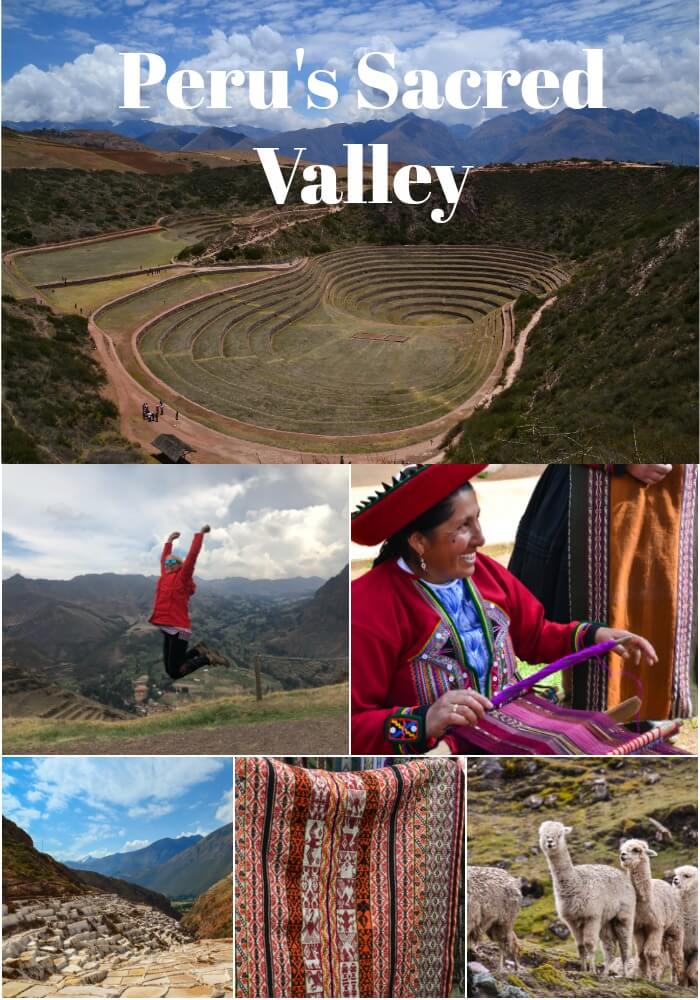 Disclaimer: AdventureSmith Explorations was the host for my trip to Peru's Sacred Valley and Lares Adventure. As always, opinions and reviews are my own.