12 Food Surprises in Catalunya
BCN
12 Tastes I Never Thought Would Cross My Lips in Spain
Preparing for a trip always brings food excitement. I try to seek out what's local and indigenous to the country, and for this trip, that meant tapas. My taste buds had no idea of the roller coaster ride ahead. There were so many  food surprises, it's hard to know where to begin. One thing I do know is that some type of Greek Goddess/Herculean spell was at work during my travels. Perhaps Demeter was in the house, for the harvest had been picked and I was one of the lucky ones reaping the rewards of the cultivation of the soil and the gifts from the sea. 10 hour days were the norm and I drained additional hours into the night trying to keep on top of my full photo cards. In addition there was the heady food coma that inevitably arrived regularly after consuming copious amounts of food that some might consider a form of torture. I've eaten good meals in a lot of places, but for day in and day out memories lingering long after I returned to reality, I think I might just have to move Catalunya to the head of the class.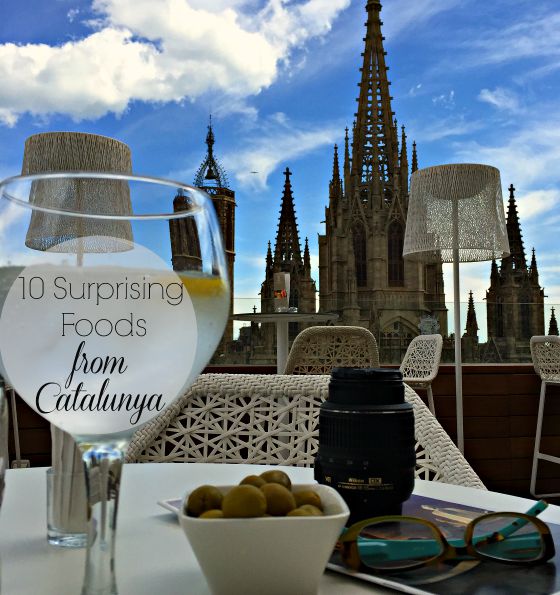 Catalan gastronomy dates back to Roman times and is influenced by Mediterranean, Provencal, Arab and Jewish cultures. When I no longer could resist, I decided the best plan of attack was to just sit back and put myself in the hands of the talented chefs, to trust whatever was coming my way. Under normal circumstances some might call me the teensiest bit controlling when it comes to my eating habits. Thus, all this talk of mythic spells…I have no other explanation for devouring these 12 tastes I never thought would cross my lips in Catalunya.
It all began on the rooftop of a luxurious hotel. I arrived early in the day, and spent hours exploring Barcelona on foot. Trying to combat jet lag and not fall asleep too early, I found a quiet spot to look through photos, have a bite and relax. You can see by the surrounding, which by the way I had entirely to myself, that if I wasn't already under Barcelona's spell, it was about to happen. And so it began-this walk down an experimental food alley. I knew I would see anchovies on this trip.  Spain is the number number 3 producer of prepared and preserved anchovies in the world. What I didn't know was what a fan I was about to become. Olives stuffed with anchovies-a salty combination washed down with the sweetness of a vodka tonic.
Did you know that Christopher Columbus returned from the new world with a pocket full of cacao beans? Although he didn't realize what a fuss would be made about the delicious seeds in the future, chocolate is part of Spain's culinary history. I had no idea the country had such a love affair with chocolate. The Spaniards added something the Mayans and Aztecs could not, sugar, and the first version of hot chocolate was born. Somehow they managed to keep the secret sauce from the rest of Europe for almost a century, and then it quickly swept across the rest of the elite in Europe.
As our group of travel bloggers tasted our way thru Barcelona's Old City as part of Context Travel's City of Chocolate Tour we visited the shop of the Escribás family. Representing the third oldest chocolatiers in the city, they have been in business since 1906. Chocolate in their shop is a work of art, as the many sculptural pieces lining the shelves demonstrated. Remember the red wax lips that make an appearance on Halloween? These chocolate versions were a lot tastier and disappeared quickly once melting on our lips.
Sweets didn't stop with chocolate in Barcelona. I had the opportunity to take a food tour with Devour Barcelona and can't recommend it highly enough if you'd like to discover the tastes of the city. Discovering the neighborhood of Gracià, which reminded me of charming villages found throughout Europe, was a far cry from the hustle and bustle of central Barcelona. Shop keepers and restauranteurs have been in this neighborhood for generations. What a pleasure to meet the owner of Patisserie Principe who fell in love during a vacation trip and decided to call Barcelona home. He was typical of the community flavor, displaying his Syrian heritage in the variety of baked goods in his shop. So many choices, each more tempting than the next. Eating baklava with a hint of rose water here was unique taste treat.
Sampling the nectar of the gods was an unexpected and truly appreciated surprise. The sustainable travel and food movement has emphasized the au courant talk of terroir on foodies lips these days and I do love anything that has an earthy, herbal taste to it like this dark and fragrant liquid. Ratafia is the Catalan digestive liquor and the 1842 artisan brand had me unsuccessfully prowling liquor stores and bar selections for the rest of my visit. A heady mixture of liquor, herbs, nuts, flowers and spices, it epitomizes the slow food movement. Hints of mint, sage, rosemary lavender and chamomile. Rose and carnation add to the aroma and clove and cinnamon finish it off. None of the others I came across could hold a candle to 1842.
I did a double take when I saw the red velvet cupcakes filling the bakery window in Lloret de Mar. Once I learned they were made the natural way with beets, I couldn't resist comparing them to their American counterparts. Thumbs up on this tasty surprise.
One of the highlights of my trip was a mid afternoon lunch in Tamariu. Hosted by a number of travel industry professionals and local chefs, the setting for the meal was a traditional fishing shack, prepared by a Michelin starred chef with live havaneres and flaming cremat. A truly one of a kind piece of experiential travel.
Under normal circumstances, I would never eat something looking so phallic. Especially when it was complete with tentacles. On top of the shape, this broad tailed squid was stuffed with sausage. Luckily, one of my fellow bloggers was more than happy to eat any and all meat that made it my way. I swear he had a tape worm. The surprise was how much I enjoyed the squid. I was quite happy to have the tentacles pass my lips for the rest of the trip.
And then there was the time I had no one else to eat the meat…the time more explainable spells were at work. The spell of a different wine with every course, and pretty things that caught me eye no matter which direction I chose to look. As you may or may not know, I haven't been eating meat for about 8 years now. That doesn't mean every once and a while I don't get a craving. Well now I have a confession to make. This pretty dish was about the fifth plate in AND I was served a different wine with every morsel  AND I was eating in a former monastery where I would have dropped everything to move in at a moments notice if given the chance, so when I tell you the pomegranate foie gras with edible flowers, pine nuts and a waffled carrot from the garden outside the dining room window was divine, please forgive me. I fell off the wagon in a big way, but for that moment, it was oh, so worth every delicious, savory second. Plus, I had no idea it was foie until it passed my lips and by then I couldn't help myself.
Mató is a soft textured cheese similar to ricotta or farm cheese. Traditionally served with honey, it is a light, flavorful ending to what is often a very large meal. I wanted to try both of the sauces, the waiter was horrified to put them on the same plate; the honey definitely reigned supreme. Served with a bright dessert wine from the Mediterranean, it is a take away I have repeated often after returning home.
The history of Catalunya is deeply entrenched with the influence of Cuba and the area's Indiano past. The term Indiano was applied to adventurers and traders who emigrated to the American colonies and then returned home as successful citizens to spread the wealth. The mojito, a cocktail with deep roots in Havana, was something I never thought would pass my lips in Spain.
Sardine pizza anyone? I had the opportunity to visit the fish auction in Palamos. Upstairs, the restaurant/cooking school takes full advantage of all the fruits of the sea. A pickled sardine~Verat Escabetxat~showcased fresh ingredients made into a delicious tapas. I admit I couldn't really taste the difference between all of the members of the herring family, the fact that I was enjoying them was remarkable.
As if the seven previous courses we were served at the Hotel Aiguablava were not enough of a trip down the gastronomy road, this dazzling plate of assorted desserts arrived to take us on an additional spin. Never before have I squirted the contents of a travel sized tooth paste tube between my lips. What an odd + unique way to taste the lemon mouse filling. 
I love eggs, but if I think too long about them, I get a bit squeamish. Can you imagine the first person who got up the nerve to eat one? Raw or cooked? I took the recommendation of my server for this barely poached egg that perfectly coated the locally foraged morels, for a creamy, almost dessert like soup surprise my final night. Simple, fresh ingredients, simple preparation and a perfect finish for a week of food surprises in Catalunya.
And then the wake up call. Reality bites on Alitalia to make the recent memories of those 12 food surprises from Catalunya all the more special. More importantly, it emphasized what I could learn if I explored and experimented with the local food and trusted the chefs who knew best how to prepare and amaze with the best of local ingredients.