10 Reasons-Travel to China with Viking Cruises
The mysteries of The Forbidden City, the Empress Dowager, Imperial Beijing and historic Tiananmen Square are pieces of the Chinese puzzle. Add in a glimpse of the quickly disappearing hutong neighborhoods, ancient back lanes and rickshaw rides. Admire the massive scale of the Terra Cotta Warriors and cruise a portion of the Yangtze river through the scenic Three Gorges and you'll have a taste of travel to China with Viking Cruises. And I haven't even mentioned the markets or food.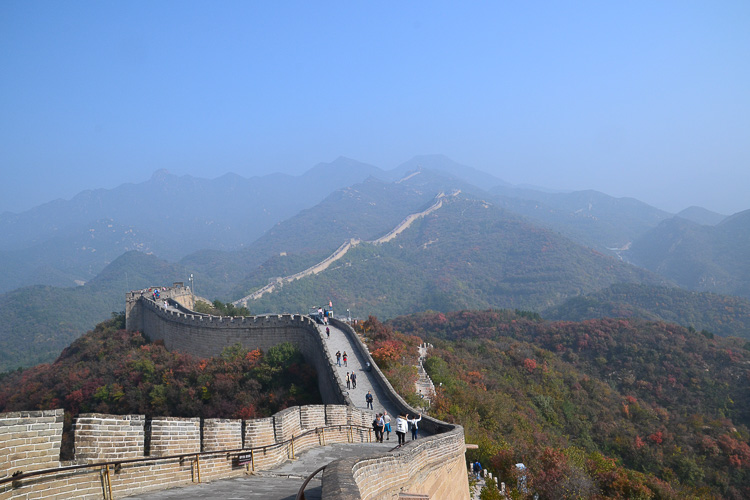 Visiting China is difficult. The language barrier is very real, cultural etiquette can be challenging, the country is vast and the most populated in the world. Many well traveled friends just shake their heads when talk centers around a trip to The People's Republic. The conversation quickly changes to more approachable and easier destinations. After my most recent experience there, I now have an answer: "travel to China with Viking Cruises".
I think I'm a woman who knows her way around the globe. I've been to China 4 times (if you include Hong Kong) and easy is not a word I would ever use to describe it. Far away, crowded, and internet deprived, the country throws up many roadblocks during the planning stages.
On the other hand, it offers some bucket list Great Wonders of the World and is rumored to be taking over the planet. Historian Paul Friedman, in his new book Ten Restaurants that Changed America, credits San Francisco's The Mandarin as one of the greatest influencers of today's restaurant culture in the United States. So admit that you've at least had a passing thought about what's behind The Great Wall of China.
Pack your bags, as Viking River Cruises offers a wonderful solution: add The Imperial Jewels of China into your travel plans. I'd like to give you a few of the reasons you should consider this itinerary when your thoughts turn to Asia. I can assert how easy this award winning company makes traveling to this part of the world.
♥
10 Reasons to Travel to China With Viking Cruises
Viking has a fantastic in house travel agency that will take care of all your airline needs, both international and intra country. Once you are booked, their web site portal allows you to make any seat changes or special dietary requirements and keep it all organized in one spot. All hotels during the itinerary are arranged by them as well. English speaking guides meet you at the airport and transport you to the hotel upon arrival.
The ship is a comfortable oasis. After three cities, two flights and endless miles, it was heaven to arrive at the Viking Emerald. unpack and know that for six days we were on a floating hotel that would blissfully take us down the Yangtze River.
Management is extremely careful about food and hygiene. One supplier provisions the boat and I did not hear of anyone getting sick on the trip. The food is good, and offers a combination of Chinese and International cuisine. Multiple offerings are on the menu each night, and they are very accommodating to vegetarians, pescatarians or food allergies.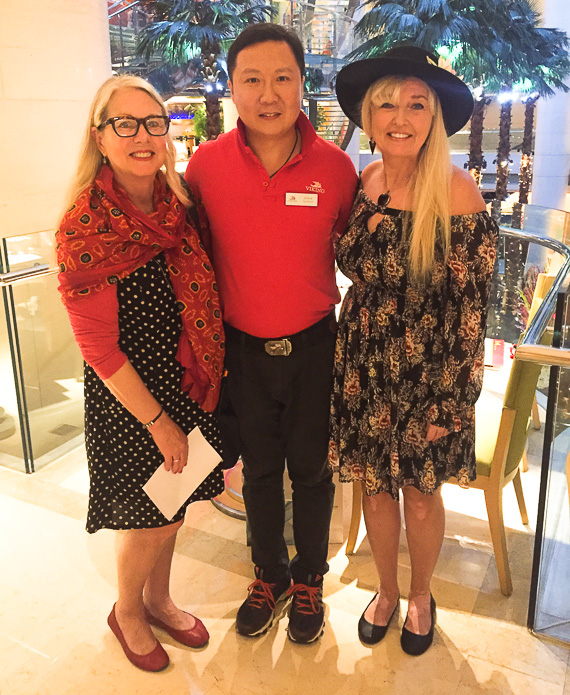 Our guide Joshua was one of the highlights of the trip. With over 200 people on board, it never felt crowded as everyone is broken up into smaller "families". Unlike other cruises, the family and guide stay together for the entire trip. It was always nice coming into the dining room and seeing a friendly face at meal time. By the end of the trip our "family" had become quite close.The guides are incredibly knowledgeable and you will learn as much from them as you do from the site visits.
♥
 How do I know about more then one guide you ask? On the first day, Patti, my traveling companion, and I got separated from our group in the very crowded Tiananmen Square. After an initial panic, we were thrilled to see the round Viking emblem appear with another group. They befriended us immediately and we moved along with them until we reconnected with our family. No harm done, except for the fact we gained a bit of a reputation after the incident!  There is a friendly competition amongst all the guides to be the best and it shows in their delivery.
Percentages indicate it is more than likely you will only have one trip to China. You will see all of the major attractions, cover mind blowing miles, and have all the details taken care of for you. That removes a huge headache and worry from the travel formula. Even when something does go wrong, someone else will solve the issue. Just wake up in the morning and decide what you'll have for breakfast.
This is your journey. Viking is very aware of everyone's different travel styles and does everything in their power to accommodate your travel needs. If you skip something or don't want to participate that's fine, but your Family will miss you. In both Beijing and Shanghai there is free time to make your way out on your own for further exploration.
Hospitality, respect for elders and focus on family are principles of Chinese culture. It shines through everywhere with the staff.
Everyone wants to visit the Great Wall of China. Masses of tourists visit every day. Viking knows how to avoid the crowds wherever possible.The photo above was taken the same day as the feature photo, but the crowds had soared by the time we left. Want to spend more time at this Wonder of the World? Another option for beating the crowds is a unique idea! What about camping on the Great Wall of China.
Viking journeys are multi faceted and the company characterizes  itself as the thinking (wo)man's cruise line. Shore excursions offer experiential learning and onboard demonstrations and lectures provide a cultural curriculum to help scratch beneath the surface of a destination.
Beer, wine and soft drinks are included with all onboard meals. If you would like an "open bar" approach with premium spirits, wines and beers, espresso drinks, soft drinks and juices available throughout the day, you can purchase a separate Silver Spirits package.
Good to Know Before You Go:
You will be seeing modern, urban and historic parts of China, not the China of rice fields and water buffalo.
I'm not crazy about China's Friendship stores and quite a few were part of the tours. They feel very touristy and governmental. However, if a big purchase (carpet, sculpture, jade) is on your wish list, they are a reliable source where you can have things shipped back home.
The air pollution is intense inside the big cities. Keep an open mind, but if you have respiratory issues check to see what time of year it's best to travel.
Bring a good pair of walking shoes. There are many opportunities to see all China has to offer and you want to take advantage of as much as you can.
The lights go out at 10pm sharp on The Bund. Make sure you leave enough time for the photo op!
My journey was from Beijing to Shanghai, and since Shanghai was my favorite city, the trip ended with a wonderful energy and high note for me. Take that into consideration when looking at itineraries. The reverse would have given a very different feel to the trip. I was happy we covered the major sites and heavy lifting in the beginning and then moved into a more relaxing phase.
Although it seems like China is expanding and progressing with each passing day, the country still has a long way to go. It's an interesting time to visit during this transition and the treasures of Old China are not to be missed. I came away with a new understanding  of this complicated country. I climbed the Great Wall, saw the Terra Cotta Warriors my mother had described to me when I was in high school, walked the ancient alleys where the Empress Dowager had ruled and visited the controversial Three Gorges Dam. This is just the short list, I have so much more to share about the trip. As you can see, travel to China with Viking Cruises is quite a remarkable experience.
Pin Me 
♥

Travel to China with Viking Cruises
Disclaimer: I was a guest of Viking Cruises for the Imperial Jewels of China Cruise. My experiences and opinions are 100% my own.