10 Eco Friendly Yoga Retreats
10 Eco Friendly Yoga Retreats-International
One of the qualities I like best about yoga is the fact that I can take it with me so easily when I travel. Yoga does not require special equipment. I always pack "workout clothes" and only a small space allows me to practice just about anywhere. It's a great cure for jet lag, and I've found that by stretching slowly and mindfully I can nourish and refresh the muscles and organs in my body after a long flight.
As Jacqueline Gifford, special projects editor for Travel+Leisure discussed at the game changing Le Miami conference recently, only 51% of employes use their vacation time. "People need to switch off or they are going to burn out." Embracing the unplug concept, destinations and hotels are offering yoga retreats around the world. Find your namaste at one of these 10 international eco friendly yoga retreats. Wellness travel represents part of the new definition of luxury.
Travel can be stressful, getting there has become one of the no-so-relaxing parts of the journey. Choosing a vacation that revolves around yoga, healthy eating and mindful travel will allow you to press the reset button. You'll end up relaxed, centered and in tune with your body, mind and the environment, ready to conquer the challenges ahead.
Puerto Rico
The El Conquistador Resort & Las Casitas Village, Waldorf Astoria Resorts in Puerto Rico was recently honored for its commitment to environmental conservation. They offer a three-night wellness retreat throughout the year on their sustainable property. Spa/yoga packages are named after the 4 elements: Air, Fire, Earth and Water and combine cross training activities for a full experience. Choose from beach workouts on the resorts 100 acre private Palomino Island or zip lining in the nearby El Yunque Rainforest. Combine yoga with a bio bay tour to the luminescent waters and finish off with a hot stone massage. Find your zen while meditating in the outdoor labyrinth. Farm to table cooking classes use locally harvested ingredients and herbs from the resorts garden. Raw food or  juicing are two of  the healthy options for meals.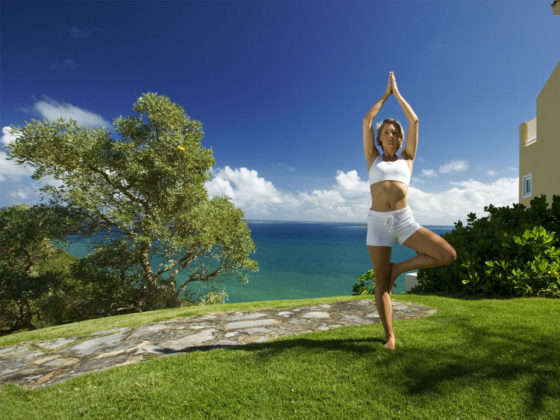 Single occupancy rates for the three-night retreat start at $1,600. All retreats include accommodations, airport transfers, nutritious meals, activities, spa access with eucalyptus saunas, waterfall Jacuzzis, an Organic Tea lounge, daily exercises class and a fitness center, one spa service plus 20% off additional spa services or at the spa boutique, and a personalized fitness plan to take home. (photos courtesy  El Conquistador)
♥
Morocco
Escape to Shape offers fabulous luxury getaways in exotic destinations around the world. While I'd be hard pressed to make a choice between Peru, Bhutan and Morocco, I think Marrakech is an ideal spot to focus on wellness. You'll be staying in a Moroccan style villa perfectly situated between the Atlas mountains and the medina.
Along with the cultural and natural wonders, guests can enjoy an invigorating yet relaxing(is there any other kind?) hammam, meandering through the marketplace, belly-dancing lessons, a camel trek through Berber villages and a cooking class on how to prepare traditional Moroccan cuisine.
I can't think of a better place to learn about new exotic ingredients and healthy cooking in a tagine than the local market, Jemma el-Fna. The hyper frenetic pace of life here will leave you in a receptive space to embrace your yoga practice and quiet the mind. You'll be happy you've strengthened those biceps during the week, as no doubt after visiting Jemma el-Fna your suitcase will have gained a few pounds for the ride home. Prices begin at $4000/7days.
♥
Nicaragua
Having completed over 75 wellness retreats in 25 countries, Grace Van Berkum is an expert in the field. Join Gracious Living Lifestyle for a superfood-themed week-long yoga retreat in Nicaragua. Each day enjoy organic, clean, fresh foods from the earth to complement yoga classes.
The specially crafted menu will include fresh juices,  plant based smoothies, plant proteins, medicinal mushrooms, adaptogenic herbs, organic fresh vegetables and fruits grown from the on-site garden and greenhouse. This healthy menu pairs perfectly with daily lectures led by a holistic nutritionist and anti-stress coach. De-stress while staying in eco-chic cabañas nestled among beachfront coco-palms not far from the water.
This week long retreat takes place at different times during the year and rates start at $2,084.
♥
Scotland 

You might have noticed I'm a fan of outdoor bathtubs. Combine that with Outlander fever and you can bet this retreat from ecoYoga Scotland is high on my radar! Now in their sixth year, the tranquil river-side retreat in the Scottish highlands, is dedicated to teaching Yoga along with sustainable eco living.
Owners Nick and Rachel have created this retreat at Inverliever Lodge as an expression of their eco friendly lifestyle. Set in the magnificent Scottish landscape, the turbine and solar powered escape is a model for a luxurious carbon free living.
In the off the grid studio, overlooking the gorge of the River Liever, you can learn the art of yoga from some of the finest yoga teachers in the world. The 60sqm shala is built with under floor heating and a very calming ambience. Your body can melt into the warmth of the floor during Savasana (yes I admit, one of my favorite poses at the end of a Yoga practice) whilst the mind is gently soothed by the sounds of the nearby waterfalls.
There are several bathing areas and showers to choose from. Inspired by the Japanese tradition of the 'Sento' or public bathing house you can soak in natural wooden hot tubs in the Dome, or choose some hideaway bathing spots in the forest or river bank. Food comes straight from the seasonal organic garden, emphasis on delicious vegetarian dishes. Retreats are run throughout the year and you can find more details the retreats page.
♥
India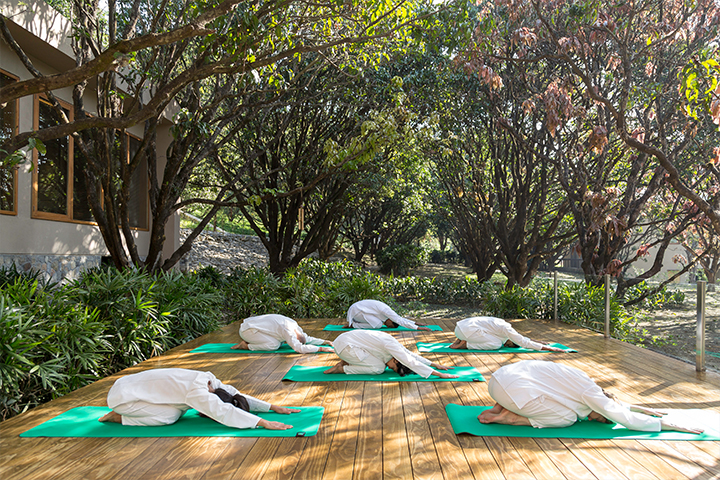 Vana Malsi Estate
It's no secret I have a long lived love affair with India. This Retreat is defined by the natural wealth within and around the natural surroundings, as well as its unique design and architecture. Protected by sal forest of large deciduous trees on two sides and blessed with its own orchards of mango and lychee, Vana sits on 21 acres of land spread at various levels. As the hustle and bustle of India goes on outside, it is a sanctuary for all those that seek wellbeing.
The various wellness, shared and private spaces of  Vana Malsi Estate are spread across the retreat. While certain spaces find themselves closer to the forest, others look into our gardens and orchards. All are a visual delight.
The city of Dehradun is close to the foothills of the Himalayas and well-connected to New Delhi and Mumbai by air and train. Dehradun enjoys pleasant climate through the year, with the exception of a few days in summer, winter and the monsoon. While winter evenings can get cold, and certain summer days very hot, each season is embraced at Vana and this is reflected in both the cuisine and landscape Even the wellness offerings are responsive to the environment. Great care was taken to preserve and enhance the ecology and footprint left when creating the space.
The resort is dedicated to holistic wellness, incorporating Tibetan healing, fitness, spa treatments, Ayurveda, and more to create a truly peaceful atmosphere for visitors. Yoga lies at the heart of Vana's approach, and encompasses a programme that teaches body postures, meditation, and breath control; custom private sessions are also offered. Minimum stay of 5 nights, prices are based on each guests requirements and begin at approx. $360/night.
♥
Ananda Spa
Also abutting the breathtaking expanse of the Himalayas, Ananda Spa aims not just to help guests relax but to fully redefine their lifestyles. Reputed to be one of the best yoga retreats in India, the wellness offerings here are as extensive as they come. After choosing from over 80 treatments in the 24-room spa, guests can embark on a yoga class following one of five different programmes: Hatha, Gatyatmak, Kriya, Pranayama, and Advanced Pranayama with Bandpass. The offerings are very comprehensive.
Close to the mythological cities of Haridwar and Rishikesh the area is surrounded by graceful Sal forests and  overlooks the peaceful Ganga as it meanders into the distance. Ananda is the spiritual pathway to the ultimate, discovered through the union of body, mind and soul.
It is not just a retreat that will leave you marveling at the enchantment of its surroundings, but assists in redefining lifestyles to include the well-known traditional Indian wellness regimes of Ayurveda, Yoga and Vedanta combined with best of International Wellness Experiences.
Yoga at Ananda is completely pure and traditional in form, stemming from the roots of Hatha yoga and adapting it to suit individual needs. It is a disciplined science teaching the techniques of the renowned Bihar School of Yoga encompassing all aspects of life in different ways and levels to balance the mind, body and spirit. Trained and experienced yoga teachers will design a specific yoga and meditation program for guests, balancing your well being and assisting you to achieve health and peace. 7 day packages begin at $860/night.
♥
Yoga Magic
Goa has a certain magic about it, so there is good reason for naming the Yoga Magic retreat. Amongst the swaying palm trees there is a sense of calm, Rajasthani silk flags fluttering gently in the warm breeze. Surrounded by a water creek and paddy fields abundant with tropical birdlife, Yoga Magic is an oasis of peace just two kilometres from the golden beaches of north Goa.
Whether you are looking for relaxation and tranquillity or rejuvenation of mind, body and spirit, the retreat aims to ease you back to nature without compromising on luxury. Glamp it up in one of the tented eco-chic lodges, or find yourself in a boutique hotel room in the main house.
The tents feature solar halogen lighting, natural composting toilets and waste management using EM (effective micro organisms). Hot solar showers will ease muscle aches and where possible buildings are constructed from locally sustainable materials such as mud, clay, stone, bamboo, jute, wood, palm leaves and the ever-present cow dung (and no it does not smell).
Daily classes every morning and several evenings are held in the Yoga temple, shaped from the earth. Yoga is by no means compulsory here, participate in some, all or none. All levels are welcome, and programs are tailored to fit the individual. 7 night yoga retreat starting at $800.
♥
Costa Rica
AmaTierra
Eco friendly yoga retreats have been a fixture in Costa Rica for quite some time. At AmaTierra Retreat and Wellness Center, the focus isn't just on yoga, but on restorative activities as we. Daily Hatha classes are combined with additional options of massage therapy, energy balancing, ear candling and exfoliation, and nutritional consultations to promote overall wellness. The center's AmaTierra Foundation offers eco-tourism opportunities that promote recycling, environmental education, and organic farming initiatives in the local town of Turrubares. I must admit the thought of practicing yoga in Costa Rica in a magnificent open-air pavilion overlooking the Costa Rican mountains while exotic birds fly overhead is a pretty seductive picture.
At AmaTierra you can nurture yourself with delicious organic foods and professional wellness services. Take a tasting tour of the organic greenhouse suppling ingredients for their rejuvenating cuisine or find serenity on a hike to the stream.
In the rural mountain eco-lodge, surrounded by friendly Costa Rican people, you can glimpse the local culture in a safe and natural way. A 7 night yoga and wellness package begins at $1350.
♥

Anamaya Resort
Anamaya Resort is truly an exotic place focused on mind, body and spirit. built on a cliff edge and overlooking the most incredible ocean views. The resort is a few steps away from epic waterfalls, surrounded by rainforests, and located in one of the world's most beautiful tropical beach towns. "Anamaya" is Sanskrit for "good health" and that is the focus. Offering gourmet organic food, several types of yoga classes and yoga retreats, a variety of luxurious spa services, and an array of uniquely designed retreat packages, and workshops all in respect to the body, mind and spirit.
Anamaya  has captured the attention of retreat leaders from around the world. The unique, top notch location is next to a spectacular waterfall and has 270 degree ocean views. A beautiful infinity pool centers the resort. Anamaya offers guests fire dancing and circus entertainment experiences, exciting local excursions, and intimate and tranquil accommodations to enhance the exotic and unique experience of visiting Costa Rica.
7 nights of accommodations plus 3 healthy meals per day (not including classes, tours or alcoholic beverages) start at 895/person for dorm style accommodations. Private and casita styles are also available.
♥
Santa Teresa beach is the dreamy location for this eco friendly yoga retreat. The intimate, consciously designed oceanfront hotel exudes a boho chic vibe. The large pool and exquisite yoga deck puts the focus on relaxation.  Tropical beauty combines with nature in an exotic and friendly ambiance. Along with world-class surfing and top-quality Yoga classes, numerous activities and adventures await. Immerse yourself in the beauty and ease into nature's rhythm.
The award winning property offers luxury two-story villas built around a free-form saltwater pool, tropical gardens, and elaborate beachfront villas. The decor is punctuated with Balinese architecture and many indigenous natural materials. Natural light streams through the many windows, giving the added luxury of fresh sea breezes.
All levels of yoga are welcome and guests will be challenged both physically and mentally at this retreat in the beautiful Costa Rican landscape.
Taste some of Costa Rica's local fruits and vegetables, explore creative vegetarian cooking or experience fish and seafood bought from local fishermen of the Peninsula. They offer something for every palate and are more than happy to accommodate special dietary needs or lifestyle choices.
Pranamar's restaurant sources the freshest ingredients for the menu with a strong emphasis on using organic and locally produced products whenever possible. The Costa Rican chef focuses on using fruits and vegetables as natural as possible, emphasizing flavor and taking advantage of the natural qualities of the ingredients.
The menu coincides with the North Pacific seasons of Costa Rica reflecting sustainable principles of seasonal cooking. The style combines Pacific Rim cuisine with Asian and native influences. Pranamar is well known for the dining experience, their eco friendly accommodations and high quality yoga program.
5 Day surf and yoga packages begin at $800.
♥
Belize

Ak'bol Yoga Retreat
Ak'bol Yoga Retreat on Ambergris Caye, Belize, is a collection of seven cabanas that let you commune with nature in ways ranging from adventure sports to leisure stroll. Guests can scuba dive on one of the world's largest barrier reefs, kayak, sail, or visit ancient Mayan ruins.
Cabanas are mindfully positioned by the sea. Owners Milio and Kirsten are fond of saying, This is life unplugged, and you will quickly understand why. Awaken to the sound of tropical birds, morning sun salutations greet solar rays peaking over the reef each morning. Watch the sunset later over the lagoon each evening.  Eat on the beach or sip a Mango Madness by the pool.Sounds pretty restorative to me!
Ak'bol welcomes yoga and wellness retreats throughout the year and offers teacher training. Classes are held every day at the end of the pier overlooking the clear blue water. They are tailored to four different levels, from introductory to advanced. The destination also offers space for retreat groups. An organic garden provides fruit and vegetables for the restaurant and juice bar. Minimum 3 night stay starting at $145/night.
♥
♥

Pin Me: 10 Eco Friendly Yoga Retreats
All photos except featured image via the individual retreat's web sites.