10 Best Eco Friendly Travel Gifts
Take a deep breath because yes, it's that time of year again. Congratulations for looking to Green with Renvy for ideas about sustainable living. Your holiday shopping just got a little easier! Each of these affordable, eco friendly travel gifts for the frequent flyer in your life will put a smile on their face. In addition, they won't harm the environment and just possibly will contribute to making the world a little better place.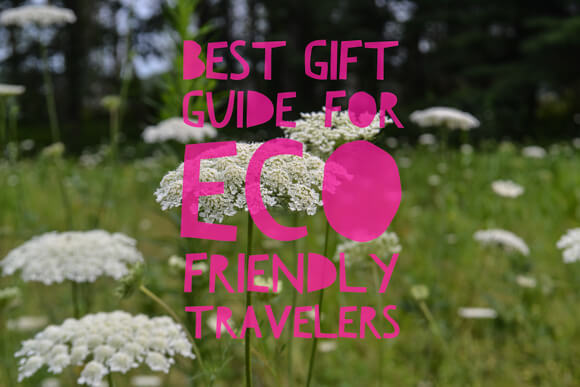 10 Best Eco Friendly Travel Gifts
The Little Black Dress of Eco Skin Care
I must admit, I am truly in love with my Kari Gran travel kit. Hailed as  the little black dress of green skin care, I'd have to say I agree. My skin is super sensitive, and after using their products for two years, I've never had a problem.
This eco-luxe, all natural brand provides a simple and elegant solution for women on the move. Each product is all dressed up in recyclable, dark violet, light blocking bottles. This prevents molecular decay for their preservative and toxin free ingredients. Their starter kit is perfect for the frequent flyer and introduces users to their signature four-part skin care system. You'll find a simple, elegant solution that works for any age and skin type. The kit includes an ample two-week supply of Cleansing Oil, Essential Serum, Three Sixty Five SPF 28, and Lavender or Rose Hydrating Tonic (both are heady and heavenly)— perfectly sized for travel, or the occasional sleepover. Retail Travel Kit (they call it a mini kit): $48.00
♥
Sensual Scents – Lurk
Inspired by a long-time passion for sustainable living, eco beauty & the power of essential oils, LURK was created to develop luxury perfumes for the modern, organic lifestyle. Their perfume oil is a perfect travel size and comes in a wide variety of scents. Take a walk in the forest and meet the combination of rare woods and lush florals. The blends transcend age, gender and attitude.
I have a tendency to gravitate towards more masculine scents and my current favorite is PRM 016. Deeply sensual, it provides a counterpoint to the more feminine OM 11. The exotic combinations take on different notes as they combine with your body's own natural aroma.  Each comes packaged in a printed muslin bag. Retail 6ml $54-66.00
Shop here for additional scents
♥
Wildlife in Wild Lands
Granted, this is not a gift you'd tuck in your suitcase, but any animal loving traveler will obsess over this coffee table beauty. Wildlife photographer Laura Crawford Williams (lcwphoto.com) invites you to take a walk with her on the wild side and behold her breathtaking photography captured during her eight-year journey through South America's most robust landscapes. Wildlife in Wild Lands: Photography for Conservation in Southern South America, is a stunning collection of unique animals in dramatic landscapes. I love the way she shares the limelight with everyone who has helped her put this book together.
An internationally recognized and award-winning photographer, Williams captures and shares her inspiring journey within 244 vivid pages, accessible in both English and Spanish. In Wildlife in Wild Lands: Photography for Conservation in Southern South America, she commemorates her colorful career.  The exclusive images in this table top book, 10 years in the making, resonate with a strong theme of conservation, allowing readers to connect to a world in need of exposure thousands of miles away.
"It's my sincere hope that Wildlife in Wild Lands may influence others to care more about the unique, fragile and irreplaceable beauty of our world," she said. "It's up to those of us who know we cannot live without wildlife to inform those who foolishly believe they can." Retail $49.95
♥
The National Parks and Federal Recreational Lands Pass Series
I know this was a big one last year as boomer travelers rushed to get their lifetime pass at the bargain basement price of $10. My husband and I were two of the lucky ones. However,  I still consider it a bargain for any of you that missed it. A pass is your ticket to more than 2,000 federal recreation sites. Each covers entrance fees at national parks and national wildlife refuges as well as standard amenity fees (day use fees) at national forests and grasslands, and at lands managed by the Bureau of Land Management, Bureau of Reclamation and U.S. Army Corps of Engineers.
A pass covers entrance, standard amenity fees and day use fees for a driver and all passengers in a personal vehicle at per vehicle fee areas (or up to four adults at sites that charge per person). Children age 15 or under are admitted free. Fees range from $20.00 for an annual pass to $80. for a lifetime pass. Just think of all that hiking you could do. America the Beautiful National Park Pass.
Combined with a  S'well Water bottle, you're all ready to take to the trails without adding to the plastic pollution. Hot or cold, it keeps beverages the right temperature for hours. Their color selection is off the charts, starting at $25.00
♥
Metal Straws
Plastic Straws are one of the most destructive single use plastics around. At a recent conference on sustainable travel in Costa Rica, I was given this beauty, and now I pack it in my purse and always carry it with me. Extremely affordable, they make a great stocking stuffer for the whole family. This set of four comes with it's own cleaning brush.  SipWell Retail $6.99
♥
Envirosax
This gift is a no-brainer, something everyone on your list could probably use. I've had a set of 5 since the company started in 2004. Envirosax® web-site says the bags can last up to five years-I beg to differ as I've had mine for 12 and use them every week for grocery shopping. One also goes into my suitcase every trip I take and basically takes up no space. Who doesn't shop at least a little when they are on the road-right! Each bag can potentially replace 5,000 single use bags over their lifetime.
One-use plastic bags take years to photo-degrade, they clog drains, cause flooding, pollute rivers, streams and oceans, kill animals and destroy plant life. There exists a 'plastic island' approximately 500 nautical miles off the Californian coast made up of 9 billion pounds of plastic garbage and it's reported to be growing.
Envirosax®, renowned worldwide for providing the original designer eco-friendly alternative to disposable shopping bags. The brand has grown substantially since it's start and offers a wide variety of prints, sure to coordinate with anyone's travel color scheme.  Retail start at $4.00
♥
Sea Salt from Peru 
Having just returned from Peru and visiting the Mares salt pans outside of Cusco, I was thrilled to learn of fellow Colgate University alum Jason Kaplan's Salt of the Earth Co. Like me, he brought back pink salt from the area and was smitten with the textural elements of it's quality.
The hand harvested salt is available online, and a portion of the profits is sent back to the community in Peru. Season with a purpose. $6.50-$12.00
♥
Happy Shopping!
Pin Me ♥ The Best Eco Friendly Travel Gifts Guide
♥OR ME ♥